This is one of the most asked questions we receive – some ask it with a humorous tone, some ask it with concern, and some with pure bewilderment. Today we'll break down the pros & cons of living in 16 feet and shed a little light on how we do it!
How Do You Live Fulltime in Such a Small Camper?
[youtube https://www.youtube.com/watch?v=uZ3dzsPrdrU%5D
Keeping it 100%, we'll start with the cons. The list isn't too long, but there are some issues that make living in a small space pretty frustrating at times.
CON #1 – Storage
It's pretty obvious; we don't have much storage. This is particularly an issue in the kitchen. We aren't able to travel with many pots & pans – or any other fun kitchen item. For Example, our biggest kitchen gadget – a NuWave oven – lives in the back of the truck.
Storage for our recycling is also an issue. The shower is filled up with cardboard boxes and tin cans.
CON #2 – Kitchen Counter & Sink
There's probably one square foot of prep area on our counter. Cutting, dicing, mixing and blending are all risky propositions in the kitchen. Our sink is also very shallow and the water faucet has minimal clearance. We can fill up our tea pot, but not much else. Filling up a 20 oz. bottle from the kitchen faucet should be an Olympic event.
CON #3 – Standing Area
We have one "standing area" in our camper – its a combination of a foyer, kitchen, and central hallway. This space is made for one person. When all three of us are in this space at the same time, someone (and sometimes everyone) ends up grumpy!
CON #4 – Bed & Dinette Combo
When hunting for the perfect camper, we really wanted a separate bed & dinette. But, this Fiber Stream was just too unique to pass up, so we made the sacrifice. Before we complain about the bed too much, let us state that it is huge! Its an oversized king bed – this was a big selling point. However, it takes a long time to break down and convert to the "U-shaped" dinette.
CON #5 – Small Tank Capacity
Our fresh water tank holds 20 gallons and our grey water tank holds 7 gallons – you do the math! Emptying the grey water tank so often is annoying; we've become masters at conserving our water consumption.
Now it's time for the PROs!
PRO #1 – King Size Bed
Its one of the only "upgrades" we made when moving into a camper. The bed gives us so much room to lounge – all three of us can get comfy without invaded the others space.
PRO #2 – Mobility
We're able to navigate this camper into tight spots, down sketchy roads. The reward has been beautiful boondocking locations with complete privacy. The size it also helpful when visiting a busy parking lot are crowded gas station.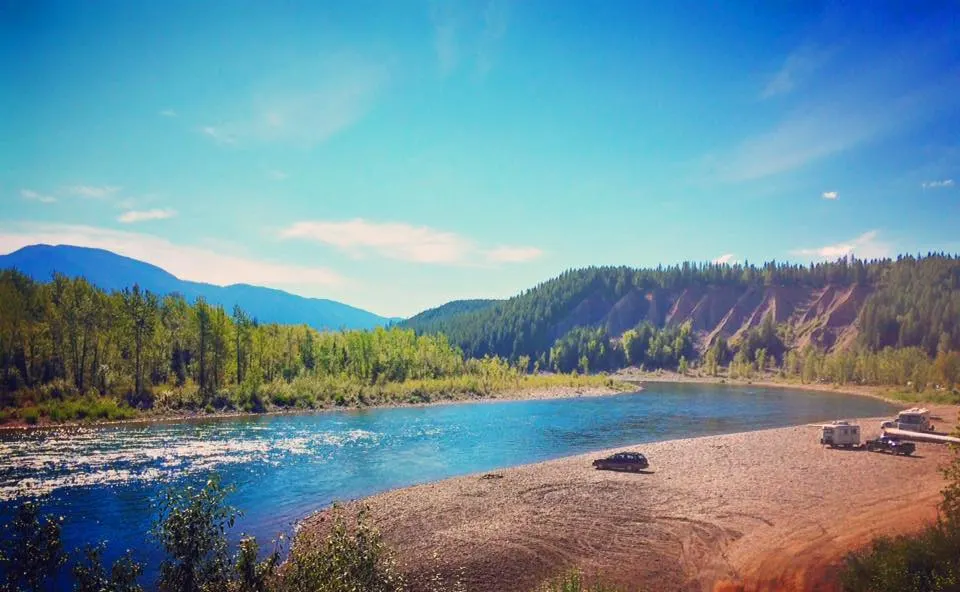 PRO #3 – Consumer Awareness
Buying "stuff" is out of the question because we have no room to store it. We're really aware of the fresh fruit & veggies as well – it forces us to eat all of our food before we buy more.
PRO #4 – Cost
As a rule of thumb, smaller campers cost less than big rigs. In fact, the tires on a Class A cost more than our entire camper! We've enjoyed the cost savings of our initial investment and on the continued maintenance.
PRO #5 – Easy to Clean
Even at its most cluttered, it only takes an hour to clean and re-organize the camper. Everything has a home, so if there are things scattered about, we know right where they belong.
PRO #6 – Relationship
Living in such a small space makes it difficult to hide bad vibes. If we're angry, frustrated or whatever, the small space makes us talk about the issue and work it our pretty quickly. We also really like each others company – we're two introverts that enjoy solitude and reflection, but also like getting out and exploring.
PRO #7 – Encourages Exploration
Even though our living space is 16 feet long, our backyard is the entire world! We love seeing new places and learning about history and culture. Our small camper reminds us daily to get out and explore!
Thanks for reading our blog. Help support our mission – to live freely and deliberately – by checking out our Etsy store or shopping Amazon through our link.