The Best RV Events & Rallies
If you're looking for the best RV events, you've come to the right spot! Today we're diving deep into all the best meetups, rallies, shows and convergences in the RV community.
One of the common misconceptions about RV life is that community is hard to find. We're here to bust that myth and help guide you to the perfect event for your unique travel style.
From California to Florida, these twenty events will surly be a good time. Even if you don't have an RV, it's worth renting one to experience these nationwide meetups.
Let's dive in!
#20 Quartzsite Big Tent Show
Dates: January 18th – 26th
Location: Quartzsite, Arizona
Price: FREE
Why You'll Love This RV Event: The Quartzsite Big Tent Show is a rite of passage for RVers in America. Under the big tent you'll see booths from huge brands like Dometic and Battle Born. There's also a lot of fun "as seen on TV" products.
Even though its a cheesy event (and Quartzsite is pretty much a bust), it harkens back to the "good ol days" of RVing across the USA.
What's The Word: Paul & Lorena Charron of the The Motorhome Experiment have this to say about the Quartzsite experience: "When you first arrive in Quartzsite, you may wonder what it is that attracts 1,000s of RVers to this barren desert each winter. Then you meet the people and hear their stories and you realize, it's the people that make Quartzsite what it is."
#19 Escapees Escapade
Dates: June 21st – 26th
Location: Rock Springs, Wyoming
Price: Starts at $250
Why You'll Love This RV Event: The Escapees Escapade is the OG of RV events! In fact, 2020 will be the 60th anniversary of the rally. Attendees will have the opportunity to attend seminars about RV life and talk to vendors about RV modifications. It's not all education, though!
In the evenings you'll find live music and community gathers every night.
What's The Word: Travis Car, President of the Escapees RV Club, says, "Community is the heart and soul of Escapees RV Club and we are proud to provide an array of social opportunities for RVers with an inclusive environment. The annual Escapade, started in 1979, provides 5-jam packed days of education and entertainment. The event moves to different venues each year and appeals to all types of RVers."
#18 Full Time Freedom Week
Dates: Mid-November
Location: Virtual & in-person (location TBD)
Price: Starts at Free and increases depending on the package.
Why You'll Love This RV Event: Full Time Freedom Week began as an online event aimed to educate folks how to become full time RVers. Now, in its 4th year, the event has become both virtual and in-person.
The event organizers pull together over 30 seasoned RVers to share their wisdom with the community. Attendees learn about ALL aspects of RV life. From boondocking to remote work, you'll get tons of valuable insight.
What's The Word: Liz Wilcox, co-founder of Full Time Freedom Week, says: "Full-Time Freedom Week is the largest online event for RVers. After 3 years, we continue our pursuit in providing the most robust education and inspiration for those living the RV lifestyle and those still dreaming. In 2019, we added a live component for an exclusive small group of about 50 people. It was a smash hit with attendees, sharing community and curriculum among those live attendees, and the thousands of others online.
We've already started planning for 2020 and are excited to share more details as they come for this one of a kind hybrid in-person and online event. Join our email list here to stay up to date with details as they emerge. "
#17 California RV Show
Dates: October 2nd – 11th
Location: Fontana, California
Price: around $10
Why You'll Love This RV Event: If you're on the west coast, this is the biggest RV show within driving distance. In 2019 the show boasted more than 1,300 RVs onsite. Attendees can also take part in daily seminars.
There's a ferris wheel for the kids & celebrity signings for the sports fans. Best of all, its located at the Auto Club Speedway…you can watch races after a day of looking for RVs.
Here's our Complete Guide to the California RV Show!
What's The Word: Tom Gaither, director of California RVIA Show says, "This is the only show on the West Coast sponsored by RV manufacturers that has more than 1,000 new 2020 models on display, and it's the only time consumers can meet the manufacturers, get advice on the different RVs on display, and make a great deal with one of the 14 dealerships we will have there."
#16 Golden Palms 6th Annual Vintage Trailer Event
Dates: April 22nd – 25th
Location: Hemet, California
Price: $69 and up per day / minimum 2 days
Why You'll Love This RV Event: If you love admiring vintage RVs, this is the event for you! The "tin can" trailers at Golden Palms will have you inspired to renovate your own trailer. With many renovators and vendors onsite, you'll receive a lot of valuable insight for your next project.
What's The Word: The Tin Can Tourist websites adds this: "You will get to see some of the finest vintage trailers and campers, plus vintage vendors and incredible classic cars and motorcycles while enjoying live music and more."
#15 Xscapers Alaska Cruise
Dates: August 14th – 24th
Location: Seattle, Washington
Price: Starts a $1177.99 per person
Why You'll Love This RV Event: If you need a break from RVing, but still want to hang with your RV friends, this cruise is for you! Leaving from Seattle, this 7 day cruise will take you along the Southern seaboard of Alaska.
The Xscapers are a rowdy bunch. If you like a crazy, good time…you may love the Xscapers. We probably wouldn't label this a family friendly activity though.
What's The Word: Here's how the Xscapers website sells it: "Want to head "North to Alaska" but don't want to drive the hundreds of miles in your rig? Why not cruise to Alaska on one of the newest and most advanced ships in the region? Join the Xscapers on our second cruise August 14th to 21st on Royal Caribbean's "Ovation of the Seas" for 7 days of Beautiful Scenery, Fun Excursions and Awesome nightlife options. "
#14 RV Buyers Bootcamp
Dates: January 11th
Location: Tampa, Florida
Price: $99
Why You'll Love This RV Event: This event is for RV buyers! If you're wanting to make the leap into RV life, but feel intimidated about making the big purchase, we recommend this one-day, educational event.
RV Buyers Bootcamp covers all the major purchasing topics. From RV types to understanding financing, you'll leave with more knowledge than when you arrived!
What's The Word: Jason Miller, co-founder of RV Buyers Bootcamp, says: "RV Buyers Bootcamp will cover all the topics that we wish we knew when we were purchasing an RV for the first time. It's a culmination of experience from multiple people over multiple years. The event will cover the whole buying process from picking your perfect floor plan to everything you need to get started RVing (and what you don't). We hope it will save people thousands of dollars and countless hours of research. Not to mention this event wraps up with live music and an open bar!"
#13 Western Winter Blast Pyrotechnics Show
Dates: February 13th
Location: Lake Havasu City, AZ
Price: $5 per person
Why You'll Love This RV Event: Just imagine what a pyrotechnic industry convention would look like…that's what this show is! In the evening, all the newest fireworks are put on display for industry insiders and spectators alike.
We consider it an awesome RV event because of its location and timing. The temps are great and the free RV camping in Lake Havasu is plentiful.
What's The Word: Western Pyro says, "Since 1990 it has been held in Lake Havasu City; right on the beautiful Colorado River in Arizona. Like a PGI convention, we have seminars, trade shows, class C and pyrotechnic supply vending, open Class C and Class B shooting, BBQ's, afterglow parties, and much more. If you have never been to a Winter Blast, you don't know what you're missing. WWB is the premier pyrotechnic event of the Winter Time."
#12 Rubber Tramp Rendezvous
Dates: January 18th -27th
Location: Quartzsite, Arizona
Price: $5 donation requested
Why You'll Love This RV Event: According to the New York Times, the Rubber Tramp Rendezvous is "the real Burning Man." That's quite a compliment. However, a few things have changed since the NYT was at the event.
The RTR is aimed towards van dwellers and minimalistic nomads. In the years past, admission was free and it took place in the middle of the Quartzsite desert. This year the event is being held at the La Paz County Fairgrounds. Event organizers are requesting a $5 donation from all attendees.
PRO TIP: We recommend reading the Pros & Cons article about RTR to find out if its for you.
What's The Word: Penelope Green, in the New York Times, describes the attendees: "Committed nomads come to share tips on solar power, stealth overnights in parking spots on city streets, van conversion, mail, hygiene, finances and low-cost dental care, which can be found over the border in the Mexican town of Los Algodones, an hour and a half away."
#11 Fulltime Families – Family Reunion Rally
Dates: March 8th – 14th
Location: Madison, Florida
Price: SOLD OUT
Why You'll Love This RV Event: Fulltime Families provides fun for all ages and their annual Family Reunion Rally is their biggest event of the year! The scheduled activities include "parents night out", hands on learning, kids marketplace, dance parties and much more.
If you travel fulltime with kids, this rally is a great opportunity to make new friends on the road.
What's The Word: Here's how the Fulltime Families website describes the event: "Fulltime Families is heading to Madison FL for the 2020 Family Reunion Rally. Get ready to enjoy the week with friends at Ragans Family Campground, a Fulltime Families Rally at a water park! The schedule includes a variety of family games, arts and crafts, educational seminars, campfires, Potlucks, Coffee Talks, and big time fun!"
#10 Hershey RV Show
Dates: September 16th – 20th
Location: Hershey, Pennsylvania
Price: around $10
Why You'll Love This RV Event: The Hershey RV Show is the largest RV show in the USA. For those of you in the northeast, it's your best bet for RV shopping. In addition to the great RV discounts, the Hershey Show offers seminars and lessons about RV travel.
This is a great introduction into the world of RV living!
What's The Word: The Hershey RV Show website says, "Hershey America's Largest RV Show is designed for you to see all the manufacturers in one place. With more than 1,400 RVs on display, it's so much easier than driving to all the dealerships in town. Dealers are on hand to answer your questions about the models, features and available options as well as help you get the financing you need to purchase your RV."
#9 Burning Man
Dates: August 30th – September 7th
Location: Black Rock Desert, Nevada
Price: starting around $425
Why You'll Love This RV Event: Burning Man is a huge act of art. In fact, its described as, " an experiment in community and art, influenced by ten main principles: radical inclusion, radical self-reliance, radical self-expression, communal effort, civic responsibility, gifting, decommodification, participation, immediacy, and leave no trace."
This isn't specifically an RV event; however, many travel by RV to partake in the activities.
There's something for everyone at Burning Man, but you must be ready for an intense experience. The location is remote. There aren't resources available onsite. The days are long and the nights are longer!
What's The Word: Elon Musk, founder of SpaceX, has this to say about Burning Man, "If you haven't been, you just don't get it,"
#8 Spirit of the Road Rally
Dates: February 12th – 16th
Location: Live Oak, Florida
Price: $39.99 and up
Why You'll Love This RV Event: Spirit of the Road Rally is the perfect introduction to a large RV rally. The campground, Spirit of the Swannee Music Park, offers comfy camping in a forested setting.
There are casual social gatherings, intense learning sessions, live music and expressions of art. Curtis Coleman, event creator, envisions the rally to be the canvas and the attendees the painter. You have full creative control over your experience of the rally!
What's The Word: Curtis Coleman, Founder of RVillage and Spirit of the Road Ralley, says, "Spirit of the Road 2020 is all about connecting with fellow RVers for five amazing fun-filled days in beautiful Florida. Meetup with old friends and make new ones, enjoy live music and dancing every night, attend master classes, shop the vendor booths, kayak on the Suwannee River, enjoy world class entertainment… and so much more!"
#7 FMCA Convention
Dates: March 26th – 29th
Location: Tucson, Arizona
Price: $50 and up
Why You'll Love This RV Event: The community at an FMCA event is amazing! From book swaps to pot lucks, you're bound to make new friends. The average age at the FMCA Convention seems to be older than other events; however, all are welcomed.
The convention also includes vendor booths, seminars & presentations, live entertainment and outdoor games.
What's The Word: The RV Atlas has this to say about the event, "We became members of the FMCA last year almost immediately after they began accepting towable owners. Now, after talking to Doug, we know that we'll attend the next convention that's in our neck of woods."
#6 Alumapalooza
Dates: May 26th – 31st
Location: Jackson Center, Ohio
Price: Starting at $515 for two people with trailer
Why You'll Love This RV Event: If you love Airstreams, you'll love Alumapalooza. More than any other manufacturer, Airstream owners take serious pride in their RVs. From vintage to modern, Alumapalooza celebrates all things Airstream! Best of all, it takes place in the town Airstreams are built.
The event includes morning yoga, hands-on workshops, happy hours, and a factory tour.
What's The Word: Brett Greiveldinger, organizer at R&B Events, says, "Alumapalooza is a 5 or 9 days of total immersion in the world of Airstream ownership. Seminars on systems, cooking, and travel ideas are combined with group gatherings for bike rides, happy hours and live entertainment. You will arrive not knowing anyone else and leave with more new friends than you can count."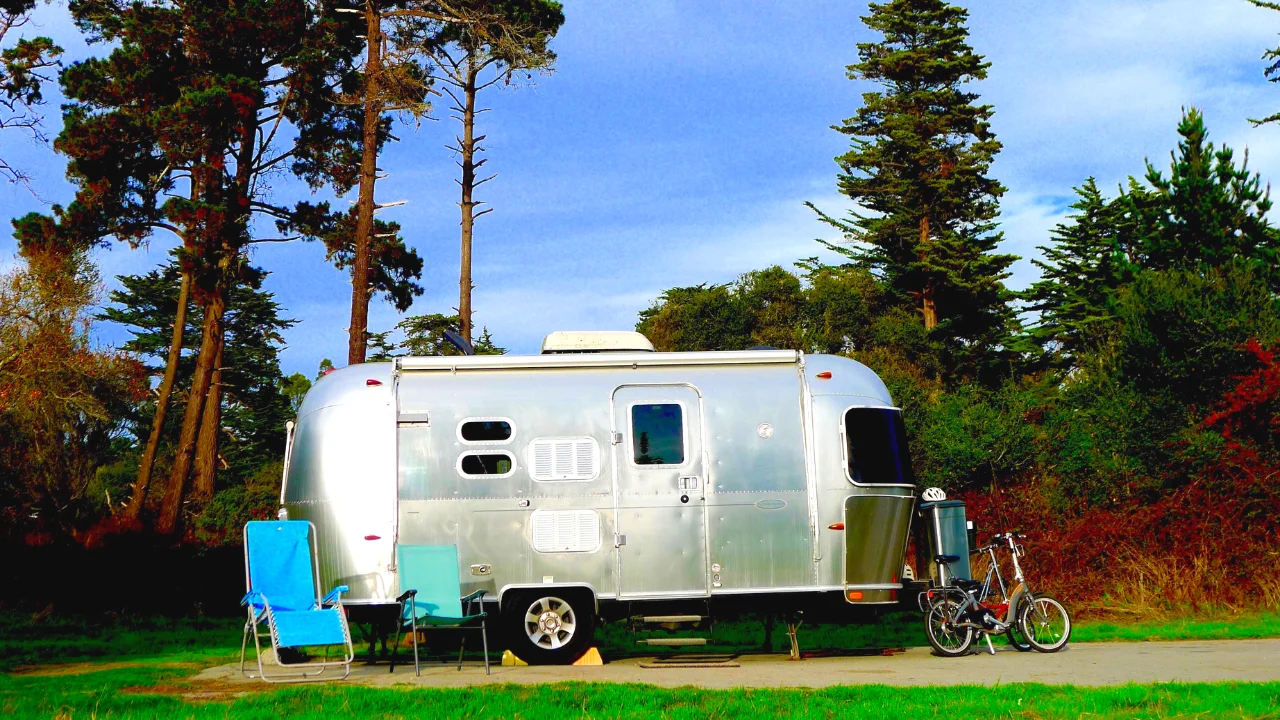 #5 Battle Born Get Together
Dates: September 10th – 13th
Location: Fallon, Nevada
Price: $300 and up
Why You'll Love This RV Event: The Battle Born Get Together makes it debut in 2020! This inaugural event includes live music, seminars, guest panels, yoga classes, skoolie tours and more.
Here's a list of Battle Born Ambassadors that will be attending: Mortons on the Move, Drivin' & Vibin', Getaway Couple, RV Love, Explorist Life, Levi Allen, Chris Penn, and many more!
What's The Word: Sara Yup of Battle Born Batteries says, "The Battle Born Get Together is an event where all travelers alike can get together, relax, and enjoy a schedule filled with fun and exciting activities including: two huge concerts, a fishing event for the kids, a Battle Born facility tour, and fun activities with our brand ambassadors!"
#4 Florida Super Show / Tampa RV Show
Dates: January 15th – 19th
Location: Tampa, Florida
Price: $12
Why You'll Love This RV Event: Even though the Tampa RV Show isn't the largest RV show in the country, it is probably the most fun! It's the perfect time of year for RVers to converge in Florida and experience the RV community.
You'll see many organic meetups happening in and around the Tampa Show.
If RV buying is your goal, you're still in luck! Many manufacturers and dealers will be onsite offering deep discounts on new units.
What's The Word: Mark & Julie Bennet from RV Love share these tips about visiting the Tampa Super Show. Here's a very important tip from them, "Arrive early in the day to avoid crowds. The show tends to be busier in the afternoons than the mornings, so you'll be able to see more with fewer crowds if you get off to an early start. The show doors open at 10am every day and close at 6pm (5pm on Sunday).
#3 The RV Entrepreneur Summit
Dates: March 19th – 22nd
Location: Lake Guntersville, Alabama
Price: $275
Why You'll Love This RV Event: If you run a business from your RV, this is the event for you! Nowhere else in the USA will you be able to converge with so many like minded RV nomads that are also small business owners.
The event includes in depth business seminars and inspirational presentations. Best of all, it's a great platform to meet fellow entrepreneurs and build long lasting relationships.
What's The Word: Heath Padgett, Founder of the RV Entrepreneur Summit says, "When Alyssa and I first hit the road, we didn't have any friends who were working to create a business and also living in an RV.
Along the way through our Facebook group and the podcast, we started meeting others (like you guys!) who were pursuing this lifestyle. It made a massive amount of difference to have people in our corner who were working towards a similar life.
We hosted our first RV Entrepreneur Summit as a way to bring together others who were running a business from their RV so we could learn from each other and share highs and lows. Now, we really try to run the event like a true business conference for RVers and facilitate great speakers, workshops and meet ups all focused on growing a location independent business."
#2 Xscapers Annual Bash
Dates: January 11th – 19th
Location: Lake Havasu, AZ
Price: $250 and up
Why You'll Love This RV Event: Xscapers RV Club (and the Annual Bash) is perfect for active RVers who love a good time. The event includes scheduled activities such as a margarita throw down, pot luck, a freakin' rave, star gazing and live music.
There are also organic activities like hikes, dog walks and yoga.
Unlike the previously mentioned FMCA Convention, Xscapers events tend to be younger in age (in the RV world 50 is young)!
What's The Word: Melanie Carr, Co-Founder of Xscapers, says, "Xscapers, a subgroup of Escapees catered towards the working aged RVer, hosts an Annual Bash each year that has spread like wildfire. Our team works hard to bring new, fun and unique offerings each year that you won't find at any other RV event! There are plenty of other opportunities throughout the year though, and in 2020 we'll even be taking an Alaska cruise for those who don't want to make the long trek in their RV but still want to experience the beauty with their Xscapers family."
#1 Albuquerque Balloon Fiesta
Dates: October 3rd – 11th
Location: Albuquerque, New Mexico
Price: $10 and up
Why You'll Love This RV Event: The Albuquerque Balloon Fiesta is great for RVers for two reasons. Firstly, the sights are amazing. Seeing so many colorful balloons in the air is unlike anything you've seen before. Secondly, there are so many ways to experience the event.
You can attend on your own or attend with your favorite RV group. All major RV clubs have, at least, a small group of members attending. However, since this isn't specifically an "RV event", you won't feel out of place if you attend with no group affiliation!
What's The Word: Jessica Norah of Independent Travel Cats says, "It was so exciting to see the first balloon take off during my first mass ascension and almost as equally exciting the second and third times! The next 2 hours were filled with hundreds of balloons taking off in a sort of organized chaos. During this time you can wander around the field taking photos and watching the balloons go up.
Trip Routing to The Best RV Events & Rallies
Trip planning to RV events and rallies is essential. The west is known for its terrifying mountain passes. The east is know for massive tolls and low hanging bridges.
With RV Trip Wizard you can get a much better understanding on what to expect for travel day. After spending a big amount of money on an RV, you don't want to run into a low hanging bridge!
We use RV Trip Wizard to route our cross country trips. With tools like budgeting, fuel planning, and avoiding bridges, we can easily travel safely through the USA.
You can also avoid steep passes, tolls and tunnels when you select the appropriate filters. Give RV Trip Wizard a try!
The Best FREE Camping in the USA
We love camping across this amazing country. And, we really love it when its free. Here's our list of the 20 Best Free Campsites in the USA.
If you haven't tried free camping before, also known as boondocking, take a look at our beginners guide to boondocking filled with everything you need to know to get started.
Become a FREE CAMPING INSIDER and join the 100,000 campers that love to score the best site! Simply enter your email below.