7 Ways to Creatively Go Camping
We all love camping! Whether it's in a tent, RV, van or cabin – camping is an American tradition as old as time.
Today we're breaking the mold of what classic camping looks like by sharing 7 unique ways to get out in nature.
These creative camping options may not be cheap, but they sure are interesting.
Let's dive in.
1. Camp in a Cave
Want to spend a night among stalagmites and stalactites? How about a colony of bats?
In McMinnville, Tennessee at Cumberland Cavers you can camp overnight inside one of the longest caves in the world.
In addition to the cave campout Cumberland Caverns offers private tours, kid-focused adventures and live music in the cave!
2. Camp on the Water (Literally)
If camping shoreside just isn't doing it for you, try camping on the water! We're not talking about a canoe or kayak, we're talking about a full blown tent that floats.
The DAMA floating tent is great for floating on still water!
In theory, this seems like a fun way to spend the night under the stars. However, we have some safety concerns.
Take a look at this Q&A exchange on Amazon 😂:
Question: What prevents you from dying if it flips over when you're sleeping in it?
Answer: First, we offer you ropes for you to fix the tent with the dock. Second, when you want to sleep in the water we recommend you to check the forecast first and choose the good day without big wind or torrent water. Third, If you are a girl I advise you to find a chubby boyfriend incase you fall into the water, you can take him as the floating dock.
Hope my advise can help you.
3. Vineyard Camping
If you love wine and camping – you're gonna love this! Harvest Hosts is an RV camping club that allows you to camp for free at vineyards and breweries.
The membership is only $99, but there's a catch. You have to camp in a self-contained RV. Sorry tent campers.
What's not to love about free camping at a vineyard? Cheers!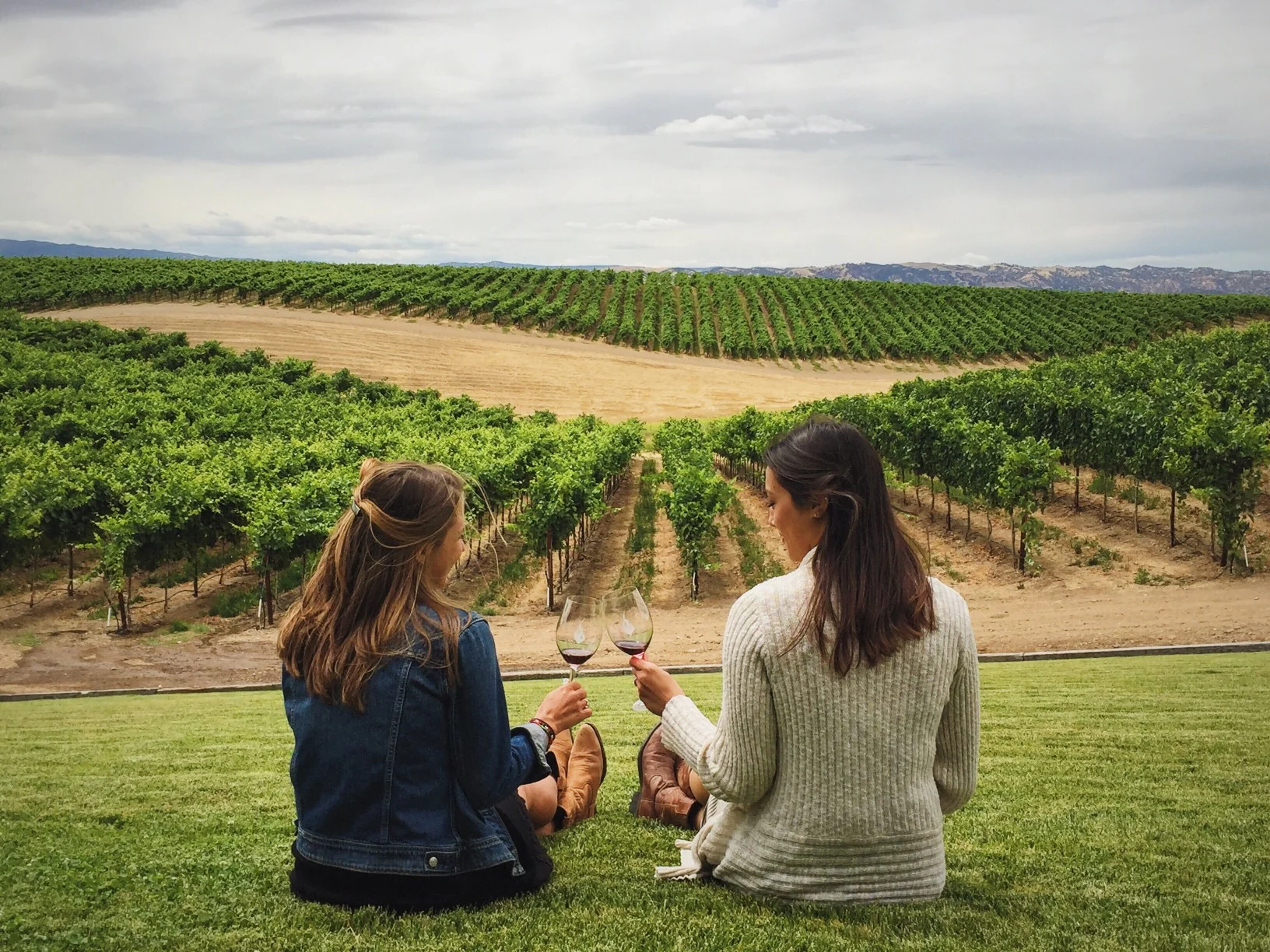 4. Vintage Campers with Style (for all you Instagramers)
If you're looking for a stylish camping session, primed with the perfect Instagram backdrops, you've got to check out these spots:
Hotel Luna Mystica: Located in Taos, New Mexico, Hotel Luna Mystica has a ton of vintage campers to choose from. You can even stay in a vintage camper hostel, sharing the space with fellow campers.
AutoCamp: This is a chain of Airstream specific glamping options. They're located near all the most popular National Parks.
El Cosmico: It's got those bohemian vibes! Marfa, Texas is a funky desert town, and El Cosmic is a perfect representation of that funk.The hotel hosts many activities; themed appropriately weird! Cosmic Karaoke, Hot Dogs & Corn Hole, and Big Sky Yoga are among their upcoming events.
Here's our guide to the best Airstream Hotels in 2020!
5. Tree House & Hobbit House Camping
Tucked away in the Maryland wilderness, tree house & hobbit house camping abounds! The Tree House Camp is spread out across 20 acres in Rohrersville, Maryland.
In addition to standard tent camping you can reserve multiple tree houses, hobbit houses and tree cabins.
Inside, there is plenty of natural light, a mural of an enchanted forest, and a unique hand-made harvest table that can seat eight people.
6. Driveway, Couch & Moochdocking (Urban Camping)
Stuck in the city? You can still find interesting "camping" options.
Couchsurfing.com is a site dedicated to offering up couches for sleeping on. Yes, it may take an adventurous spirit, but the directory includes 1000s of listings.
Boondockers Welcome is a similar concept with less risk. This club connects RVers with driveways to park in, also known as driveway surfing.
If you want to dabble in "urban boondocking" take a look at freecampsite.net. The have many free camping locations near urban centers.
7. Cliff Camping
Have you ever longed to camp on the side of a cliff? Yea, me neither.
Just in case you're crazy enough to want to go cliff camping, Kent Mountain Adventure Center in Colorado offers cliff camping tours. The package starts at $1,200 for one person and includes hiking to the top of the cliff and rappelling down…and trying to sleep in a suspended tent at some point.
The Best Free Camping in the Entire USA
We love camping across this amazing country. And, we really love it when its free. Here's our list of the 20 Best Free Campsites in the USA.
If you haven't tried free camping before, also known as boondocking, take a look at our beginners guide to boondocking filled with everything you need to know to get started.
Become a FREE CAMPING INSIDER and join the 100,000 campers that love to score the best site! Simply enter your email below.