What is an RV Macerator Pump?
Dumping your waste tanks uphill and never worrying about clogs… Is that even possible? With an RV macerator pump it is!
So, what exactly is an RV macerator pump, what does it do, and who needs one? We're learning all that and more today. Let's dive in!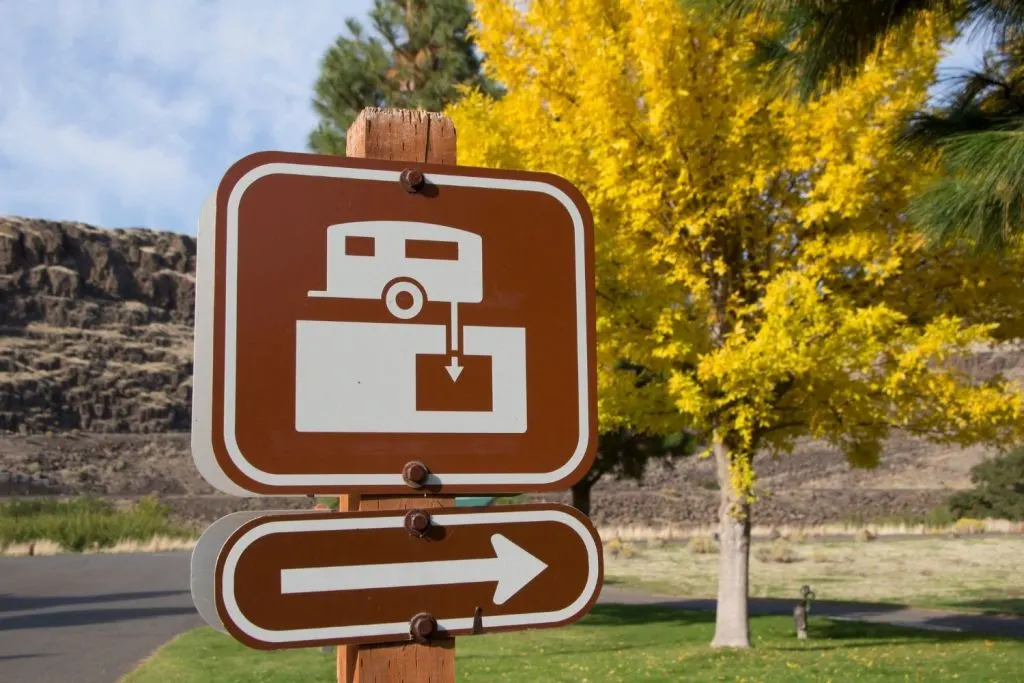 What is an RV Macerator Pump?
An RV macerator pump (affectionately known as "the blender") is a portable device used for dumping RV black and gray waste tanks. Most of us are already familiar with the large flexible gravity-fed RV dump hoses. These work just fine for many applications.
But, macerator pumps are handy for situations where you need to pump the waste uphill. They're also handy for pumping over too long of a distance for regular dump hoses.
As the two words in the name reflect, the "macerator" literally chews up the waste and bath tissue. The "pump" uses pressure to push the slurry discharge through a smaller hose to its ultimate sewer or septic destination. This is a great help for people who dump on their own property where the cleanout is either too far from their RV pad or uphill from where they're parked.
If you're asking yourself whether the blenders really work or not, the answer is, "Absolutely yes!".
This doesn't mean they don't have their limitations. But as long as you're diligent about only flushing human waste and bathroom tissue, the macerator blades are very capable at cutting through the solids and pumping the discharge to your sewer cleanout.
Dumping at home is a huge convenience compared to waiting in line and paying to dump at a public location. It's a common courtesy to dump as quickly as you can if people are waiting behind you. This means you don't normally have time to rinse and flush your black tank as thoroughly as you'd like to.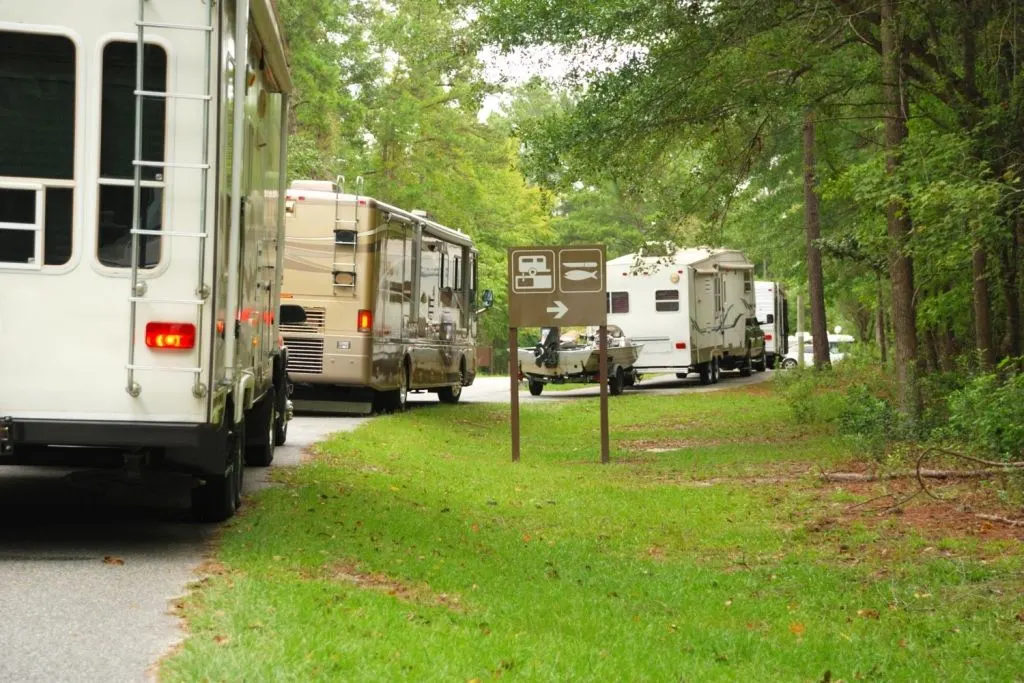 Who needs an RV macerator pump?
An RV macerator pump can be incredibly beneficial if you're parking somewhere that you don't have a sewer hookup but are close to something like a sewer cleanout or even a toilet.
When using a macerator pump, you can use a regular hose. You can purchase these in varying lengths to reach far-away dumping spots.
Note: you can't just dump your waste anywhere. It needs to be in an area that leads to an appropriate sewage dumping spot like a toilet, sewer cleanout, etc.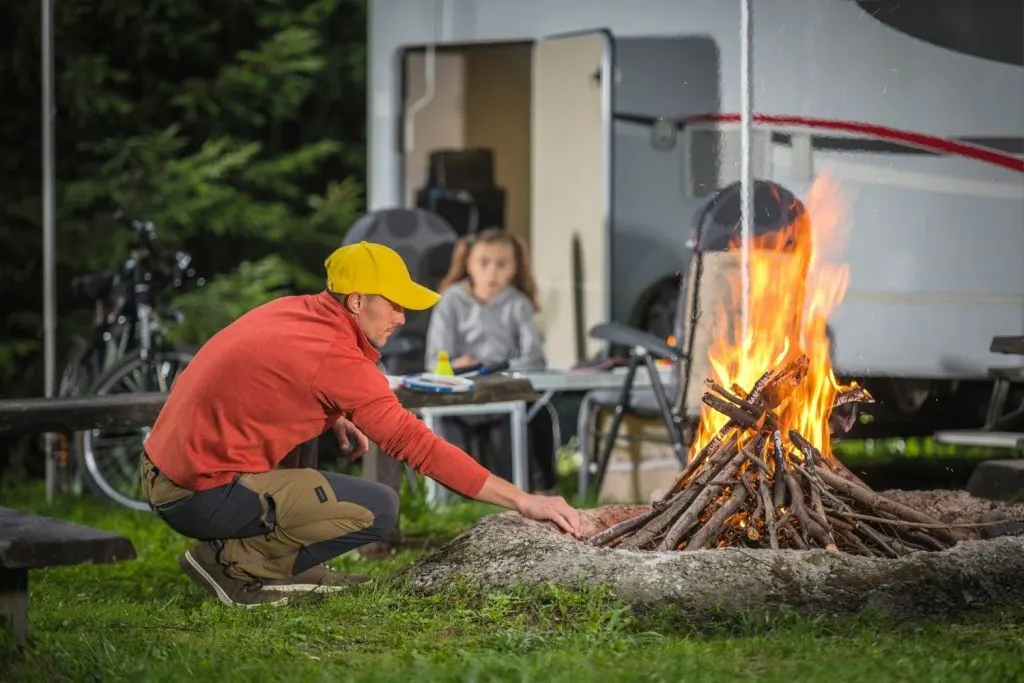 What's included?
All RV macerator pumps have a large bayonet fitting on one end to connect to your waste valve and a discharge outlet on the other end that you connect to a smaller drain hose or even a garden hose. Many pumps also have a third fitting to connect to a fresh water hose to flush out the tank, although this is redundant if your RV already has a black flush valve.
Manufacturers specify the distance the discharge can be pumped, and they vary by brand and model to pump usually around 50 feet. Some users report regularly pumping up to 75 or even 100 feet.
What you receive out of the box also varies by brand, with models like Flojet and Shurflo just providing the pump, power cables, and carrying case. The pricier Clean Dump kit includes the pump, cables, and case, but also includes a starter hose, three fitting types, and an incredible 150' pump capacity. Additional extension hoses can be pricey, but you can use cheaper garden hoses instead.
Just make sure to use a dedicated hose, because it will be forever contaminated even after you flush it out.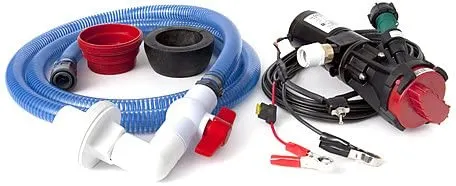 What's the cost and where to buy?
Prices vary depending on brand and model, and portable or built-in. The most common brands like Flojet and Shurflo are available at Camping World, Amazon, and even Home Depot in the $200 to $250 range, and the Clean Dump system is currently on sale at Amazon for $325.
There are other brands too, but they don't seem to have the same reputation for longevity.
To Sum It Up: Do You Need One?
If you only camp in parks with full hookups, then you probably don't need anything besides your gravity-fed dump hose. But if you like to boondock or just prefer to dump at home, treat yourself to "the blender" and pick up an RV macerator pump.
Discover the Best Free Camping Across the USA
To be honest with you, we hate paying for camping. There are so many free campsites in America (with complete privacy).
You should give it a try!
As a matter of fact, these free campsites are yours. Every time you pay federal taxes, you're contributing to these lands.
Become a FREE CAMPING INSIDER and join the 100,000 campers who love to score the best site!
We'll send you the 50 Best Free Campsites in the USA (one per state). Access the list by submitting your email below: