RVers Love This Store, But No One Buys Anything Ever
Along a lonely stretch of desert highway in far west Texas lies a store that draws RVers from all over the country… But literally no one buys anything, ever.
And the reason for that is simple: they can't!
Nothing is actually for sale at the Prada in Marfa, Texas. But that doesn't stop people from coming from all over to see it.
What Is Prada Marfa, And Where Is It?
Prada Marfa is an art installation along Highway 90 outside of Valentine, Texas. Prada Marfa is a representation of a Prada store, and it's actually stocked with merchandise.
This installation was built out of a biodegradable adobe-like substance that is meant to decay back into the earth slowly.
This unique "store" and art installation is a popular spot for road trippers and RVers and makes for a surreal Instagram photo.
The Prada Marfa storefront looks identical to the Prada on Rodeo Drive in Los Angeles, but it's a smaller scale. Prada Marfa is a one-room building with fixed doors and bulletproof glass, but it is fully stocked!
When the art installation was first completed, it was broken into and vandalized within days. Looters made off with several expensive Prada bags and several shoes, but the shoes were all right-footed.
After the looting and vandalism, the structure was updated with bulletproof glass and restocked with bottomless bags and right-footed shoes. The structure is still subject to vandalism today, but it doesn't stop it from being a popular tourist destination in the middle of nowhere.
Can You Go Inside Prada Marfa?
The doors on the Prada Marfa building are non-operable. So, no, you cannot go inside Prada Marfa. You can look inside and take photos, and that's the extent of interaction you can have with this fake "store."
The Deal With Prada Marfa
Prada Marfa was created by Berlin-based artistic team Elmgreen and Dragset. This installation was meant to be a surrealist depiction of Western materialism. But, even Miuccia Prada – the famous designer – was in on the project.
Prada Marfa "opened" on October 1st, 2005. It received a lot of press coverage in the early days, which led to break-ins and vandalism.
While the "store" was intended to be left to decay in the desert, after the initial vandalism, the artists stepped in and took some precautions to fortify the structure.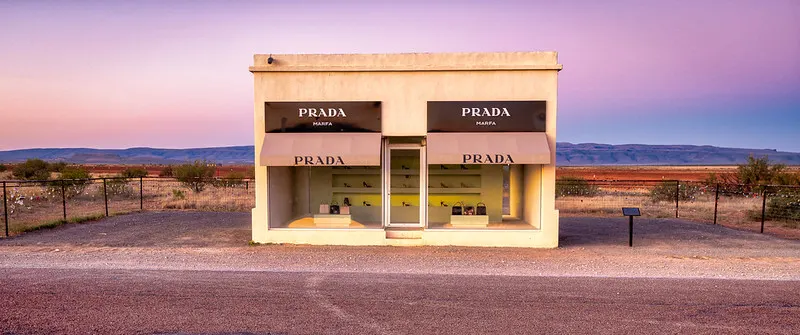 About Marfa, Texas
If you're planning to make a trip to the west Texas desert to see Prada Marfa, plan to stick around and enjoy the area!
Marfa is home to the "Marfa Lights" phenomenon. The Marfa Lights are mysterious glowing orbs that float through the desert at night and seem to have no explanation. The lights have been seen since 1883 – before cars – and no one knows what they are. Theories abound from UFOs to natural occurrences.
The town of Marfa is home to unique art, and travelers can have unique camping experiences in Yurts and campers just outside of town.
This small desert town is quiet, peaceful, and serene. It's a perfect break from city life with a fantastic local food scene and unparalleled night sky viewing!
Pro Tip: If you've come this far into West Texas, we recommend stopping by Big Bend National Park.
Is a Trip to Prada Marfa Worth It?
Do you like unique and unusual roadside attractions? If so, a trip to see Prada Marfa is definitely worth it!
A long stretch of desert highway, mysterious glowing orbs in the distance, a fake Prada store, and great food and art… What more could an RVer want in a place?
Discover the Best Free Camping Across the USA
To be honest with you, we hate paying for camping. There are so many free campsites in America (with complete privacy).
You should give it a try!
As a matter of fact, these free campsites are yours. Every time you pay federal taxes, you're contributing to these lands.
Become a FREE CAMPING INSIDER and join the 100,000 campers who love to score the best site!
We'll send you the 50 Best Free Campsites in the USA (one per state). Access the list by submitting your email below: