This Is the Sexiest Small Drivable RV
Can a small drivable RV be sexy? Sure it can!
There's no reason you can't get a small drivable RV that's still everything you want and more.
A small RV can still be sleek, shiny, and a bit luxurious.
Let's check out the sexiest small drivable RV ⬇️
The Sexiest Small Drivable RV is the Airstream Atlas
The Airstream Atlas is Euro-chic and as sexy as they come. It sits on a Mercedes-Benz Sprinter van chassis. Airstream refers to it as a class B+ because it has lots of pluses. It even has a slide-out in its 24'9″ coach.
Pro Tip: Unsure what different class sizes mean? This is What Is A Class B+ RV?
This Small Drivable RV Is Pure Luxury
Luxury features exist on this motorhome from front to rear bumper. It has all the creature comforts you can imagine. The pull-down murphy bed has lots of extras like reading lights and shelves. And you can access the hideaway Samsung smart TV and built-in soundbar with the push of a button.
Turn to the countertops, and you'll notice they are quality Corian.
The residential-style bathroom exudes luxury as well. It has a pocket door with a three-piece layout that goes across the entire width of the coach. The shower has teak inlays and stainless steel fixtures.
In addition, it has a closet and drawers to keep your clothes and towels in one place.
For the decor, you can choose between five modern color combinations. This allows you to customize the Atlas into your home on wheels. And that's one of the reasons it's the sexiest small drivable RV in 2021 compared to other models.
How Much Does the Airstream Atlas Cost?
The Airstream Atlas starts at $260,260 before add-ons. It's a pricey investment, but for a good reason. The Atlas sits on a Mercedes-Benz Sprinter van chassis, which is a premium brand.
That, coupled with the many high-end features and technology throughout the class B motorhome, drives up the price.
Pro Tip: Airstreams can be worth a pretty penny, which might have you wondering Are Airstreams Worth The Price?
This Small Drivable RV Has a Murphy Bed, Shower, and More
The floor plan on this small drivable RV is the sexiest part. Airstream's Atlas maximizes storage space, seating, and sleeping space. The living area includes a couch with reclining seats by day, and you can pull down the Murphy bed at night. Across from the sofa and bed is a media cabinet with a 40-inch TV.
The lounge area extends when the captains' chairs turn to face the coach.
The kitchen features an L-shaped counter with a stainless steel sink and a two-burner gas stove. There is also a convection microwave, slide-out pantry, and refrigerator with a freezer. At the rear of the Atlas is a full bathroom that includes a large vanity with ample storage. The shower has a teak inlay.
And there's a closet and drawers in the bathroom for clothes and linens.
Specs of the Airstream Atlas
Let's get into the specs on this small drivable RV. The Airstream Atlas is 24 feet nine inches from bumper to bumper and eight feet three inches wide. The interior height is six feet six inches, and the width is seven feet 4.5 inches. It can seat four people and sleep two.
The Atlas sits on a Mercedes-Benz Sprinter 3500 Chassis and has a Mercedes-Benz 3.0L V6 Turbo Diesel engine. It gets approximately 16-18 miles per gallon on the highway. It can tow up to 5,000 pounds. Depending on how much you're towing, the gas mileage may decrease.
There are 300-watts of solar on the Atlas. And it has a 50-amp multi-stage charger and a 1,000-watt Pure Sine Inverter. It also has a 3.2kW diesel generator with a remote start.
Its freshwater tank holds 23 gallons of water. The gray tank holds 31 gallons, and the black tank holds 23 gallons. All of the tanks are heated while running off the house battery.
Benefits of a Small Drivable RV
The benefits of a small drivable RV are numerous, but we'll touch on four of the main pros. Let's jump in.
Versatility
If you're in the market for a small drivable RV, you likely crave versatility. The ability to park almost anywhere is one of the main benefits of a small RV like the Atlas. For example, you can park in a grocery store lot without taking up multiple spots.
And getting into campsites is a breeze with the easy turn radius and backup camera.
Easy to Drive
Motorhomes under 30 feet are easy to drive, whereas maneuvering large RVs can add to the stress of travel. An RV the size of the Atlas gives you peace of mind. It operates similarly to a large SUV or truck.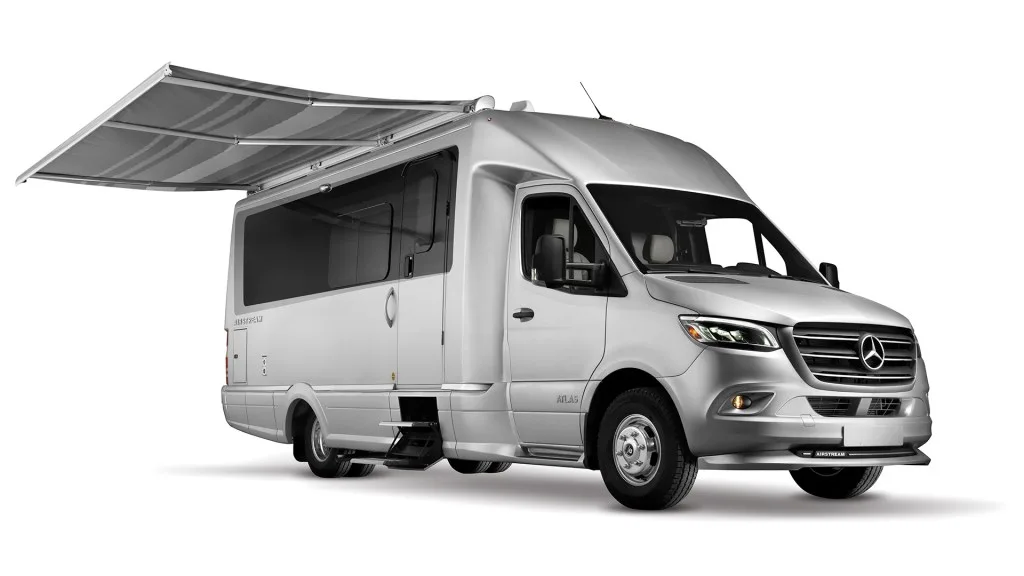 Better MPG
The Atlas gets 16-18 mpg on the highway. That's significantly better than a three-quarter-ton truck pulling a small travel trailer. As a result, a small drivable RV can save you money on fuel, which can get you to more places.
Function and Luxury
An RV like the Atlas is functional with luxury. You don't have to forego creature comforts to have a small drivable RV that can get you from destination to destination with ease. The Atlas has lots of bells and whistles.
But at the same time, it's highly functional with the full bathroom, kitchen, multi-purpose lounge area, solar power, and generator. And its tiny size provides ultimate versatility.
You Can Take the Airstream Atlas Anywhere
The Airstream Atlas is the sexiest small drivable RV that you can take anywhere. Whether you travel on the weekends or for long cross-country road trips, it's a luxury home on wheels that doesn't disappoint.
We highly recommend doing a walk-through of an Atlas if you get a chance.
What's your favorite small drivable RV?
Discover the Best Free Camping Across the USA
To be honest with you, we hate paying for camping. There are so many free campsites in America (with complete privacy).
You should give it a try!
As a matter of fact, these free campsites are yours. Every time you pay federal taxes, you're contributing to these lands.
Become a FREE CAMPING INSIDER and join the 100,000 campers who love to score the best site!
We'll send you the 50 Best Free Campsites in the USA (one per state). Access the list by submitting your email below: