While weekend campers and full-time RVers use campgrounds, they do so very differently. We're not here to say one style of RVing is better than the other. However, we will say, in our experience, you can quickly identify a weekend camper in several ways.
Let's look at some of the characteristics and habits of many weekend warriors.
What Is a Weekend Camper?
People who only camp on weekends are the most common type of camper. These people enjoy getting out in nature and often do so on weekends during the peak camping season. They typically make reservations at a nearby state park or private campground.
Weekend campers often go to connect with nature, create memories with their loved ones, and escape the norm.
You'll find weekenders in tents, pop-up campers, towable RVs, and motorhomes. For many, camping is more about enjoying the campground, those around them, and the experience.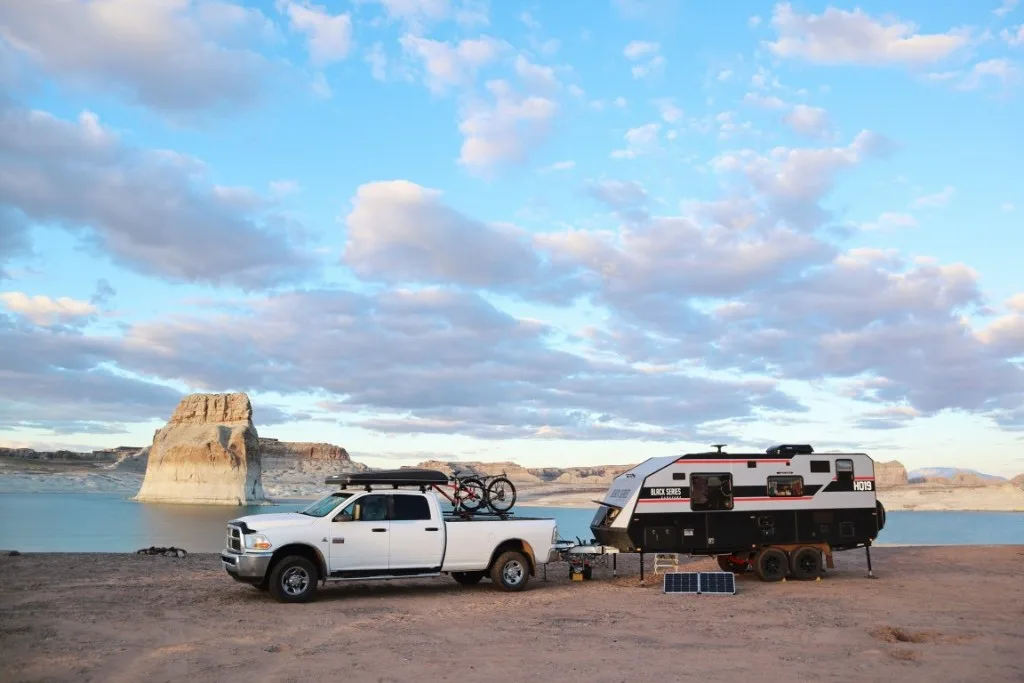 What Do You Need to Go Camping?
One of the best things about camping is that you don't need much. You simply need a place to sleep (camper, tent, or car) and food. Yes, many accessories and other pieces of gear can make it more comfortable, enjoyable, and easier. However, not having every fancy gadget or piece of equipment shouldn't be a reason for you to put off going.
In this day and age, you can make camping as rustic or luxurious as you like. If you want to leave technology behind, you can. On the other hand, you can also easily enjoy a luxury glamping experience.
What Do People Do When Camping?
While camping, many people take the time to enjoy the surrounding nature. You can go hiking, fishing, or enjoy the views on scenic drives. You have practically infinite possibilities for how you can enjoy nature.
Many campers also take advantage of the time to connect with loved ones and fellow campers. This can be through fun games and activities or fireside chats. Camping can be an excellent way for people to reconnect or form new friendships. This is especially true when the camping experience involves teamwork in setting up camp, making meals, and maintaining the area.
Pro Tip: Going on a weekend adventure? Use our Essential Camping Gear Guide to make sure you're prepared for your trip.
7 Ways to Easily Identify a Weekend Camper
We've spent a lot of time camping in various campgrounds across the country. As a result, we've found some characteristics weekend campers often share. Let's look at how you can spot the weekenders in the campground.
Impressive Outdoor Living Spaces
Weekend campers often bring a ton of stuff with them. We're quite impressed by some of the temporary outdoor living spaces some weekend campers create. We've seen people with potted plants to increase greenery around their site and fancy lighting that sets the mood at night.
Many weekend campers go all out regarding the gear they bring. They often would rather have too much stuff and not need half of it than need something and not have it. They don't want to waste time running to the store or back home to get whatever they don't have.
Campfires Every Night
One dead giveaway when it comes to easily identifying a weekend camper is a campfire. Weekend campers will often have campfires every night during their trip. They'll use the fire for meals, as a light source, and as a gathering place.
Those who travel full-time and stay in campgrounds may go months without a fire. They don't want their clothes to smell like smoke and often find it's faster and more convenient to use the appliances in their RV to prepare meals.
Yard Games
Next, weekend campers often bring yard games like cornhole, badminton, ladder toss, or one of the many other outdoor games. These activities are a great way to get everyone involved and have a good time together.
Full-time travelers often don't have much space for non-essentials. This means they simply just don't have room in storage. So if you're a full-time traveler, it may be worth making friends with your weekend camping neighbors if you want to practice your cornhole skills.
Play Loud Music
Additionally, weekenders tend to cut loose and enjoy themselves a little more than full-timers. This often results in loud music blaring that you can hear throughout the campground. While it's somewhat unfair of us to blame this on weekenders, we've not encountered loud music at a campground during the week.
There's nothing wrong with playing music at your campsite, but keep it at a decent level. If you're on the unfortunate end of hearing the tunes, you'll want to ask them to turn it down respectfully. It may be better to let a camp host or ranger handle a noise complaint to avoid a confrontation.
Disconnects from Technology
Next, weekenders often use camping to disconnect from technology and the rest of the world. Full-timers often work or do school remotely and still need to get things done despite being in a campground. We admire weekenders putting down their devices and connecting with other campers.
Can you imagine a world if more people went camping and disconnected from technology more often?
Uses Campground Facilities
Weekend campers use campground facilities best. Going swimming at the pool, playing a round of mini-golf, or enjoying other amenities at the campground enhance the experience. However, because many full-time RVers spend much of their time in campgrounds, they may not feel as easily impressed or pressured to enjoy the facilities.
Additionally, full-time RVers are often highly self-sufficient. They typically don't need to use the restroom or showers. They can handle all of their needs from their RV. Weekenders in pop-up campers or tents will rely more on these facilities than others.
Have the Best Sites
It's common to find the best sites in a campground booked months in advance by weekenders. Many make it a family tradition to camp in a specific campground each year. Because they have years of experience in a particular place, they know the best sites and when reservations open. And they've possibly formed personal relationships with the campground managers to get early access to booking sites.
Full-time RVers often don't plan out their sites a year in advance. Overachievers may call a week or a month in advance to make a reservation and will have to settle for what's left. RVers may feel jealous of those massive campsites with lots of privacy that weekenders can snag.
Pro Tip: Want to go on a weekend adventure with your partner? Use these tips on How To Convince Your Wife To Go RV Camping.
Weekenders Know How to Camp
Whether you're a full-time or weekend camper, there's no right or wrong way to camp. However, weekenders know how to camp and have a good time. It's great to see more families and people getting out and enjoying the great outdoors. Weekend camping trips are a great way to make memories with your loved ones and develop an appreciation for nature. So get out there and make some memories this weekend.
Are you a full-time or weekend camper? Tell us in the comments!
Discover the Best Free Camping Across the USA
To be honest with you, we hate paying for camping. There are so many free campsites in America (with complete privacy).
You should give it a try!
As a matter of fact, these free campsites are yours. Every time you pay federal taxes, you're contributing to these lands.
Become a FREE CAMPING INSIDER and join the 100,000 campers that love to score the best site!
We'll send you the 50 Best Free Campsites in the USA (one per state). Access the list by submitting your email below: