You can only use your RV for so long before you need to empty your tanks. Truck stops can be a great place to fill up on fuel, resupply your snacks, and even dump your RV tanks. However, you typically want to get in and out of a truck stop swiftly to get on the road and avoid angering any truckers.
Today, we're sharing how you can quickly and efficiently empty your RV tanks at truck stops. You'll pull into a truck stop with the confidence that you won't have a stinky situation on your hands. Let's get started!
What Is a Dump Station?
A dump station is a wastewater facility for RVs and other vehicles to dump raw sewage and additional dirty water. You can often find dump stations at campgrounds, county parks, truck stops, and some rest stops. These facilities typically have a sewer connection in the ground that users can connect to their RV sewer valve using a specialty hose and a couple of attachments.
When you dump your tanks correctly, there's minimal risk of messes or contamination. However, things don't always work perfectly, and most dump stations have non-potable water to clean up messes. The non-potable water is also helpful for cleaning hoses and attachments before storing them.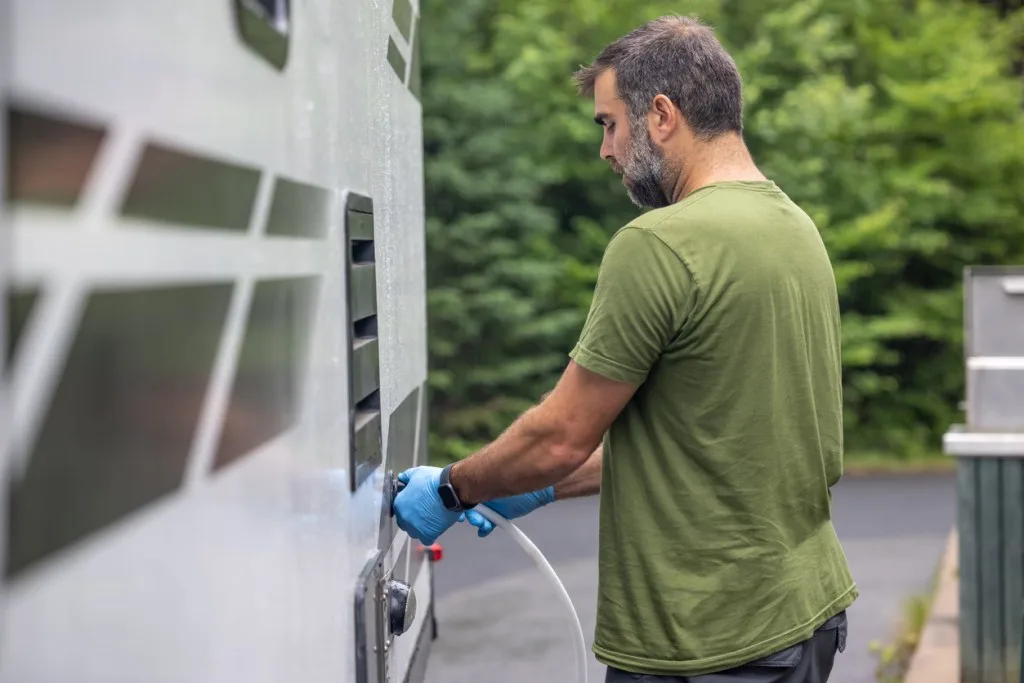 Do Truck Stops Have Dump Stations?
With RVing gaining popularity, many truck stops are designing locations to serve RVers better. Some truck stops are creating fuel pump islands with dump stations so RVers can dump their waste tanks while they fill their fuel or freshwater tanks. However, it can be hit or miss whether a truck stop has a dump station.
Most truck stops do not have dump stations for RVers. For example, Pilot/Flying J has almost 700 locations across the United States and Canada. However, they list only 191 of their sites with RV dump stations. So while they can be highly convenient, they're not nearly as common as RVers would like.
How Do You Find Truck Stops with Dump Stations?
One of the best ways to find truck stops with dump stations is to download the mobile apps for your favorite truck stops. Loves, Pilot/Flying J, and TA are some of the most popular truck stops for RVers, and they all have mobile apps. You can search for locations near you using these apps and scan what services they offer. Some will even let you filter search results to only show locations with the appropriate services, including dump stations.
Other popular resources for finding truck stops with dump stations are Campendium and iOverlander. These apps house vast databases of resources commonly used by RVers. By using them, you can find a place to stay overnight and a place to dump your tanks.
How Much Does It Cost to Dump RV Tanks at Truck Stops?
When dumping your tanks at a truck stop, you should expect it to cost $10 to $15. However, prices vary by location. Some chain truck stops have partnerships with RV clubs. If you're a member of a club with a partnership, you may save a few bucks each time you dump your tanks. For example, Good Sam RV Club members save $2.50 using dump stations at Pilot/Flying J locations.
How Do You Empty Your RV Tank at a Truck Stop?
If you want to avoid a "poopsie," you'll want to follow the proper procedure for dumping your tanks at a truck stop. Let's see what you can do to protect yourself from a stinky situation.
Find Dump Station
There's practically zero consistency regarding which truck stops offer dump stations and which do not. Newer truck stops are more likely to have a dump station than stations that have been around for decades. However, knowing a truck stop has a dump station is only half the battle.
We strongly recommend that drivers use Google Maps' satellite view to scope out the dump station in advance. Look for the easiest possible route for navigating the parking lot or which entrance would be best to use. Having a plan can help ensure no surprises when you arrive at the truck stop.
Have Proper Gear
You'll need a few pieces of equipment to start dumping your tanks. First, we recommend keeping a box of disposable rubber gloves in an easy-to-reach location. Put on a pair of gloves before you handle the various pieces of equipment you'll use. It's better to be safe than sorry.
You'll need enough sewer hose to run from your RV's sewer port to the dump station sewer connection. In addition to a sufficient sewer hose, you'll also need a couple of attachments. We recommend grabbing a sewer hose kit, which provides everything you need to dump your tanks at most dump stations. Most kits come with a 4-in-1 adapter, allowing you to connect your sewer hose to most dump stations.
Connect to Dump Station
Connect the 4-in-1 attachment to your sewer hose and place it into the hole at the dump station. Many dump stations will have a rock, brick, or other heavy objects to secure the sewer hose and avoid it coming loose while dumping.
With the sewer hose attachment connecting to the dump station, you'll want to check that your sewer valves are in the closed position. After confirming, you'll want to place the other end of the sewer hose directly under your RV's sewer port. This will allow you to catch any liquids that got into the sewer port before connecting it. Slowly remove the sewer cap from the port and let any liquids drain into the hose before joining it.
It's best to check all of your connections one more time. You don't want a loose connection in your hose to spring open during the next step. If it does, you'll have a messy situation!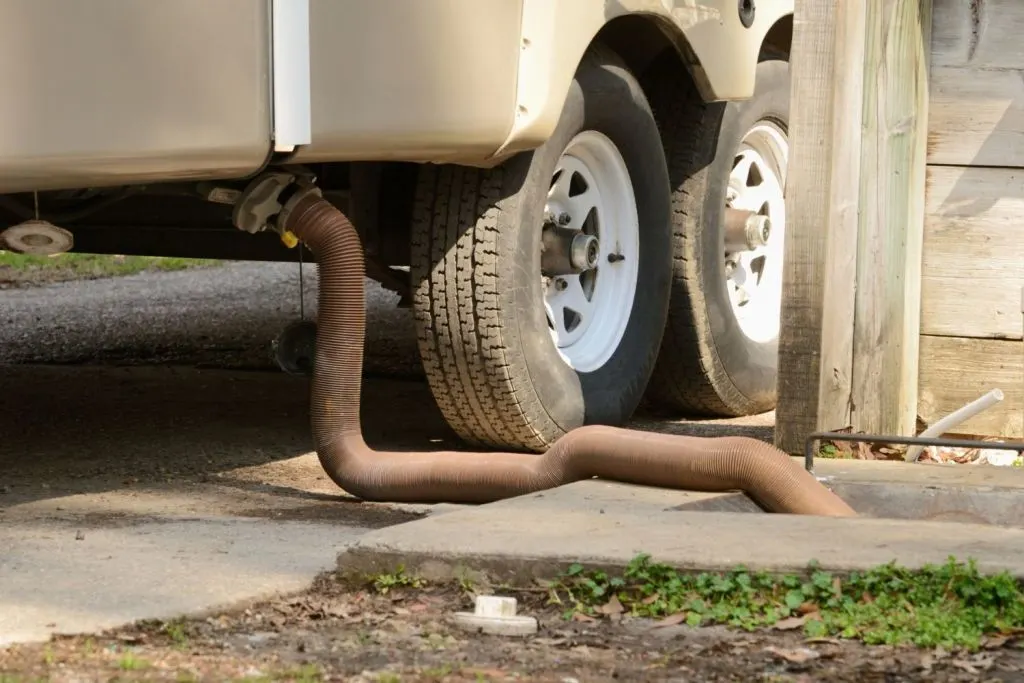 Dump Black Tank First
The order in which you dump your tanks is essential. You should always dump your black tank first. If you have a gray tank for your kitchen, dump it second, then the gray tank for showers. Dumping your tanks in this order allows you to rinse your sewer hose and any attachments thoroughly.
You won't have to worry about sewer gunk or debris remaining in your hoses or attachments when you put them in storage. If you have a black tank flush, use it each time you dump your tanks. However, flushing your tanks can be rather time-consuming. If a line forms behind you, you can skip washing your tanks unless you're planning to take your rig to storage or it's been a couple of weeks since you last flushed them.
Clean Up Area and Gear
Once your tanks are empty, you'll want to clean up your gear and the area. Use the non-potable water to run water through your hoses and attachments while connected to the dump station.
No matter how hard you try, there's a chance a drop or two will get onto the ground. If that happens, spray it down and ensure that any solid materials go into the dump station drain. You should always leave the dump station as clean as possible.
Store Gear Appropriately
With everything clean, you should store your gear in a safe location. We recommend getting a rubber container with an air-tight lid for all your hoses and attachments. This helps ensure no cross-contamination between your dump station gear and other camping supplies. Some RV manufacturers include sewer hose holding tubes they mount under the rig. It's also usual for the bumpers on RVs to be hollow tubes that perfectly fit a sewer hose.
No matter where you store your gear, keep it secure. You don't want to see your sewer hose flying out the back of your truck as you're traveling. Camping gear isn't cheap, and you don't want to replace any of it prematurely.
Dump Your RV Tank With Ease
Truck stops make it convenient to dump your RV tank while traveling. Truck stops with RV lanes explicitly for the needs of RVers will be some of your favorite spots to stop during your adventures. They can allow you to quickly and efficiently empty your tanks and get on the road. Ensure you follow the proper steps and avoid making a mess. Dumping your tanks doesn't have to be complicated, especially when dumping them at truck stops.
Are there any truck stops with dump stations on your upcoming travel route?
Discover the Best Free Camping Across the USA
To be honest with you, we hate paying for camping. There are so many free campsites in America (with complete privacy).
You should give it a try!
As a matter of fact, these free campsites are yours. Every time you pay federal taxes, you're contributing to these lands.
Become a FREE CAMPING INSIDER and join the 100,000 campers that love to score the best site!
We'll send you the 50 Best Free Campsites in the USA (one per state). Access the list by submitting your email below: