RV rules are pretty simple and ensure everyone can enjoy the best parts of RV life. So why are we suggesting you break one?
Just like in everyday life, some RV-related rules are better broken.
Keep reading to find out which one you need to break and why you should break it.
Ok, let's dig in!
What is the One RV Rule You Should Always Break?
If you talk to any experienced RVer or RV dealer, they'll always have something to say about your waste tanks and how to empty them properly. The typical recommendation is to drain your black tank full of human waste first. After that, you should dump your grey tank.
At first glance, this unwritten RV rule makes sense. Your sewer hose will get super funky from dumping your black water, so you need something to wash it out. Most dump stations have non-potable water available for rinsing your hose and anything you need to rinse.
You can use that, but you should first use your grey water to do a preliminary rinse.
Your grey water is the ideal choice because it's primarily soapy water and does a bit of a cleaning job as it goes through your sewer hose. The non-potable water rinse should be your last step.
The rule we think you should break is "dumping black water first."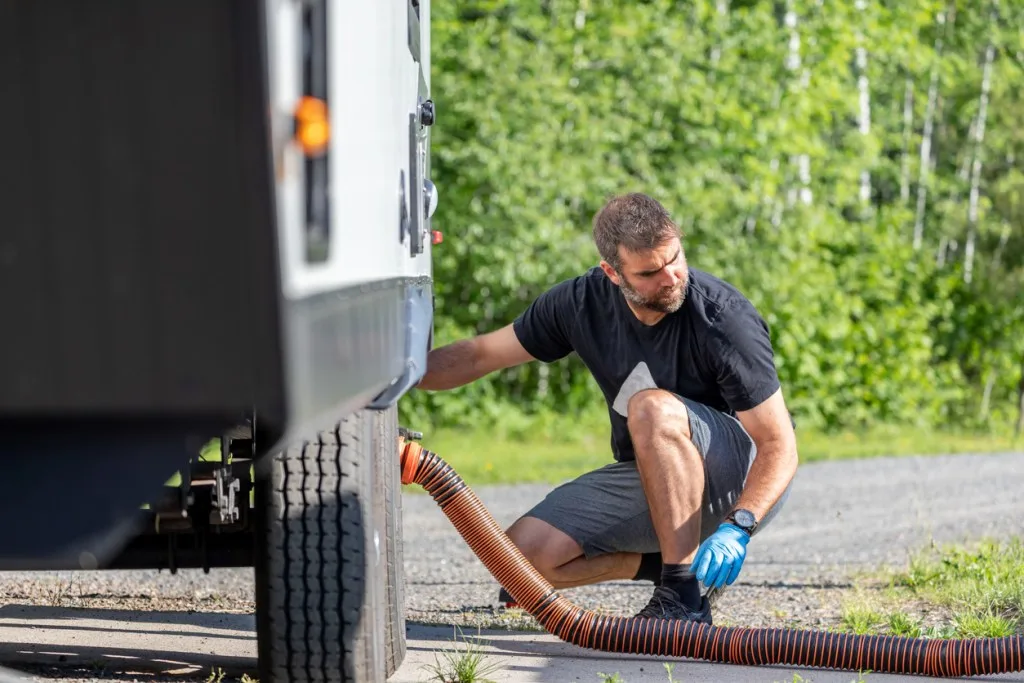 Why Should You Break this RV Rule?
I know that we just said that dumping your grey tank after your black tank is a practical thing to do, but there's a more-improved process! And that better way is starting with your grey water.
Here's the thing. Dumping your tanks isn't a complicated process, but sometimes things go wrong, and when they do, you can end up in a stinky, messy, and potentially dangerous situation.
Breaking this one rule helps you safely detect a potential issue. Once you're prepared to dump, simply do a test dump with your grey water for a few seconds. This test will give you time to determine whether or not your sewer hose is leaking or if your connection point is wrong.
Doing a quick test with your grey water can also give you a few minutes to notice forgotten gloves or other vital supplies. If you start with your black water, you may end up spewing raw sewage everywhere but the sewer, including your ungloved hands!
What is the RV Rule About Dumping Black or Grey Water onto the Ground?
If there's one RV rule that you should never, ever break, it's the one about dumping your black tank. Your black tank, raw sewage, should only be discarded when directly connected to a sewer or at a dump station. Not only is it disgusting to pour it on the ground, but it is also illegal.
But what about the grey water? It's only sink and shower water. Right?
It's illegal to dump your grey water on federal lands maintained by the U.S. Forest Service, Army Corps of Engineers, National Park Service, and Bureau of Reclamation.
However, some Bureau of Land Management (BLM) locations allow RVers to dump grey water on their public land used for dispersed camping. Even then, state and local laws may not let RVers dispose of grey water anywhere.
You shouldn't dump your grey waste while camping on state public lands, either. It's usually banned. Always check official online information on proper grey water disposal before discarding it.
It may not seem like a big deal to dump that grey water wherever you want, but it's harmful to the environment and wildlife. If we're going to continue enjoying nature in its rawest and most beautiful way, we need to remember to keep those waste tanks closed.
Is Dumping RV Tanks at Home Legal?
Most people say dumping your RV tanks at home is legal if you own your own septic system. However, if you're connected to a municipal water supply, you'll need to check with your local government. Whether you have septic or sewer, you should ensure it's legal.
This is one of those questions that isn't easy to Google or find in your online city or county code. We recommend calling your city offices (or county if you're in an unincorporated area) so there's no doubt. If you dump where it's illegal or in the wrong spot, such as a storm drain, you could be heavily fined.
What's a Black Tank Poop Pyramid?
If I have to name a second RV rule never to break, it's the one that will help you avoid the horrible and gross poop pyramid. If you aren't familiar with the phrase, it literally refers to a pyramid of poop in your black tank.
Poop pyramids form when too many solids and not enough liquid ends up in your black tank. It typically develops when RVers leave their black tank valves open. If your toilet drained directly into the sewer, bypassing a waste holding tank, leaving that valve open wouldn't be a big deal.
However, in an RV, solids drop into your holding tank before reaching the sewer hose and finally the sewer. When the valve is left open, the liquids from urine and flushing quickly pass through the holding tank, out through your sewer hose, and right into the sewer. However, the solid waste usually gets left behind in that holding tank.
You know you have a poop pyramid if you have difficulty dumping your black tank but have no issues emptying your grey tank.
Pro Tip: Although creating a poop pyramid is easy. Getting rid of one is not. Here's our best advice on eliminating a poop pyramid.
Have You Broken RV Black Tank Rules?
Now you know the one rule we recommend you break and why. Have you broken the RV black tank first rule yourself? Or have you ever had to deal with a poop pyramid? Let us know!
Discover the Best Free Camping Across the USA
To be honest with you, we hate paying for camping. There are so many free campsites in America (with complete privacy).
You should give it a try!
As a matter of fact, these free campsites are yours. Every time you pay federal taxes, you're contributing to these lands.
Become a FREE CAMPING INSIDER and join the 100,000 campers who love to score the best site!
We'll send you the 50 Best Free Campsites in the USA (one per state). Access the list by submitting your email below: