If you love camping in an RV but don't like trying to find somewhere to park it everywhere, you go, consider getting one of these small fifth wheels from 2023.
These little motor homes can simplify your travels and use creative ways to help you make the most of your space.
We want to share our favorite 5th-wheel RVs with you to help cut down on your research. Whether you need extra sleeping space or a full wet bathroom, we have suggestions for you in almost any price range.
Let's dive in!
What is a Small Fifth Wheel?
Large trailers can be considered fifth wheels depending on which hitch they need to tow. They got their names from the old days of horse-drawn carriages, but they don't function the same way.
These campers usually require a full-sized truck and will connect to the hitch in the bed. This allows for towing with more stability than the traditional connection.
Bigger isn't always better when it comes to travel trailers. A large trailer can be hard to tow and challenging to navigate. It'll also limit your camping options.
Luckily, the RV industry has caught on to the trend of living compactly, and you can find several small fifth wheels in 2023. They usually measure under 30 feet long and have a gross vehicle weight rating of 10,000 pounds or less.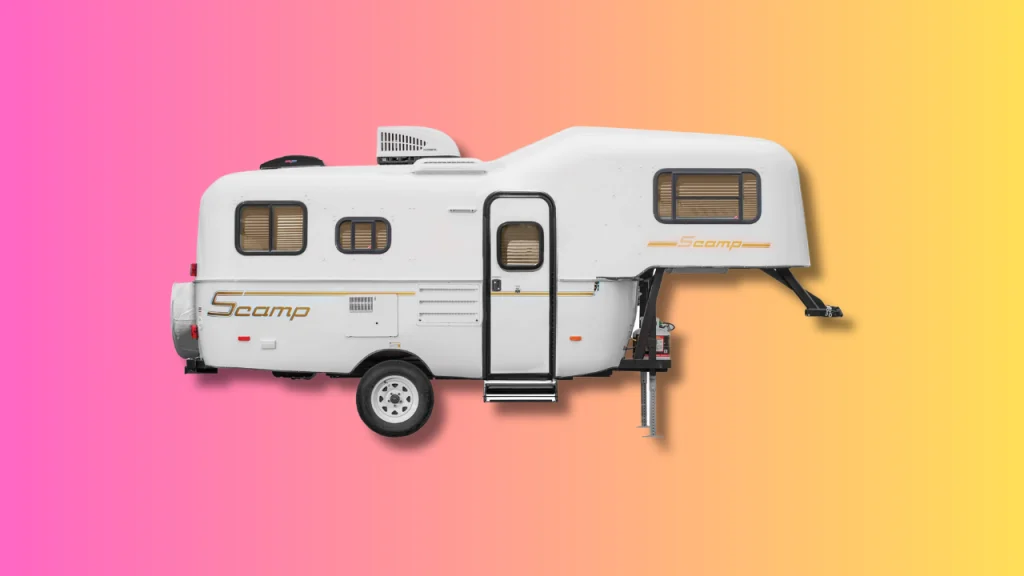 The Benefits of a Small Fifth Wheel
One of our favorite things about 5th wheels is how easy it is to unhook. In a small drivable RV (Class B), on the other hand, each time you want to run an errand, you've got to roll in the awning, get all packed up, and find a place to park your oversized vehicle.
You can get one for much less than you'd spend on a full-size motor home. While towing around your house may seem intimidating, the fifth wheel hitch makes it surprisingly easy.
If you pick a small enough camper, you can use a truck with a quarter or half-ton towing capacity instead of a full one, saving you money.
What is the Best Fifth Wheel Length for National Parks?
If you've ever taken an RV to a national park, you probably already know they won't let you in if your vehicle extends past the maximum length. On average, these recreation areas allow campers up to 27 feet.
About 90% allow 25-foot trailers, and 98% can accommodate RVs up to 19 feet long. About half of the national parks have space for 40-foot motorhomes but add even an inch of length, and your rig can only go to 7% of these recreation areas.
Before deciding which RV to get, check for length restrictions on parks you'd like to visit. Typically, rigs run a little larger than the manufacturer advertises, so we think it's a good idea to whip out your tape measure and double-check it yourself.
The 5 Best Small Fifth Wheels of 2023
If you don't want to worry about whether or not you'll be able to take your RV to bucket-list campgrounds, consider getting a small fifth wheel in 2023. Though smaller than a typical motor home, these trailers' unique designs maximize potential space.
#1 Winnebago Minnie Plus 5th Wheel
About the Winnebago Minnie Plus 5th Wheel:
You might've heard of the Winne Minnie made by Winnebago. We consider it one of the best fifth wheels on the market. It sleeps up to seven people and measures between 27 and 33 feet long.
This fifth wheel has two slideouts, ensuring that you'll have plenty of room to spread out. It has two bedrooms, a bathroom, and a decked-out kitchen. Depending on your preference, you can get versions with two cozy theater chairs in the living space or an additional sleeping bunk.
The Price of the Winnebago Minnie Plus 5th Wheel: $43,094
#2 Escape 5.0
About the Escape 5.0:
The Escape 5.0 isis the perfect option if you want to tow a 5th wheel with a midsized truck. It weighs about 5,500 and has been aerodynamically built to make it easier to pull. At 21 feet long, it is also a very manageable length.
This trailer has a full wet bath and a queen-sized bed. The kitchen has a two-burner stove, sink, and fridge. It even has a built-in microwave cabinet, so you can add more amenities if you'd like.
The dinette at the rear of the trailer seats four and can be converted into an additional bed allowing up to four people to sleep in the Escape 5.0.
The Price of the Escape 5.0: $44,510
#3 Jayco Eagle HT 24RE
About the Jayco Eagle HT 24RE:
If you get one of these small fifth wheels in 2023, you'll get the largest small trailer on the market. The spacious Jayco Eagle HT 24RE has one slideout, and the trailer measures 29 feet long. It has a gross vehicle weight rating of 9,995 pounds.
Customers love the customizable options that come along with this rig. You can choose between theater seating or a couch in the living space and a booth or chairs for the dinette. This luxury RV comes standard with a queen-sized bed, but you can upgrade to a king if you like to spread out.
The roomy, L-shaped kitchen even has a walk-in pantry!
The Price of the Jayco Eagle HT 24RE: $61,725
#4 KZ RV Sportsmen 231RK
About the KZ RV Sportsmen 231RK:
The KZ RV Sportsmen 231RK IS about 24 feet long, so it'll get you into 93% of the national parks. It also has a large tank capacity, making it the perfect small fifth wheel of 2023 to take off the grid. Up to five people can sleep comfortably in this trailer.
Unlike other rigs, the kitchen in this Sportsmen trailer can be found in the back. It has a three-burner stove, microwave, and fridge. We especially love that the unique layout features a bathroom with the sink and shower separated from the toilet.
The Price of the KZ RV Sportsmen 231RK: $58,645
#5 Scamp 19' Deluxe
About the Scamp 19' Deluxe:
If you've been looking for a tiny fifth wheel in 2023, look no further than the Scamp 19' Deluxe. As the name implies, it measures 19 feet long and has a gross weight vehicle rating of 3,500 pounds. This small trailer even has a full wet bathroom!
If a no-frills, tiny RV with all the necessities interests you, consider getting the Scamp Deluxe. Inside the trailer, you'll find a compact kitchen with a two-burner stove and a sink with a cover for extra counter space. The Scamp's loft features a queen-sized bed, and additional campers can sleep on the converted dinette.
The Price of the Scamp 19' Deluxe: Starting at $35,500
Don't Sleep on These Small Fifth Wheels in 2023
There are a lot of reasons to get a travel trailer instead of a mobile home, including cost differences and parking difficulties. We also think going smaller can have more advantages than buying a big rig.
Check out some of these small fifth wheels in 2023 to see if they meet your needs and discover a new way to enjoy camping!
FYI: 5 REASONS TO AVOID A 5TH WHEEL RV
Discover the Best Free Camping Across the USA
To be honest with you, we hate paying for camping. There are so many free campsites in America (with complete privacy).
You should give it a try!
As a matter of fact, these free campsites are yours. Every time you pay federal taxes, you're contributing to these lands.
Become a FREE CAMPING INSIDER and join the 100,000 campers that love to score the best site!
We'll send you the 50 Best Free Campsites in the USA (one per state). Access the list by submitting your email below: