Like many of our favorite celebrities, people can honor Bob Ross's memory by visiting his grave.
Whether you're an aspiring painter or a couch potato, watching this master while he works will probably calm your nerves. His quirky hippy look and soothing voice made viewers of all kinds feel welcome.
Today we'll explore the allure of Bob Ross and where you can go to honor him.
Let's dive in!
About Bob Ross
Bob Ross was a television personality known for his soothing program The Joy of Painting. He's the Mr. Rogers of adult TV viewers. And with good reason.
Ross was raised in Florida and served in the U.S. Air Force from the early 60s to the early 80s. He took up oil painting and sold his artwork as a side hustle. After learning about the television industry from his art mentor Bill Alexander, he launched his own PBS show in 1983.
At the tender age of 40, Bob Ross quickly rose to fame by teaching the world his craft. His show was so simple. It was just the man, some paint, and a canvas. There was no loud music, no laugh tracks, and no distractions. His charming, gentle personality was enough. In fact, some fans say his show and voice literally saved their life.
But for as joyous and uplifting as he was on television, life forced him to face some bad choices. Ross was a heavy smoker. So his two battles with cancer and heart attacks before age 50 didn't surprise him. That said, The Joy of Painting was canceled in 1994 due to his poor health. The gentle artist lost his third battle with cancer and died in 1995, aged 52.
Public interest in the old show ticked up 15 years later once it started streaming on YouTube. New generations continue to discover and love his work.
Where Is Bob Ross's Grave?
The painter is buried in the small town of Gotha, just west of Orlando, Florida. German pioneer Henry Hempel named it after his hometown in Germany. There's plenty of German-inspired architecture and historically preserved land.
Gotha's geography resembles much of central Florida. It's hot, humid, and filled with gum and oak trees. Bob Ross's grave is in Woodlawn cemetery, smack in the middle of town.
Location: Woodlawn Cemetary. 400 Woodlawn Cemetery Rd, Gotha, FL 34734
How Much Are Bob Ross's Paintings Worth?
Although you can watch Bob Ross for free on YouTube, his paintings will cost you a pretty penny. Before he had a television show, he sold his landscapes to Alaskan tourists at bargain prices. If those same tourists were to auction them off now, they'd probably get anywhere from $15,000 to $95,000!
Most of his artwork before his television years have auctioned off for under $20,000. His pieces like Towering Peaks and Meadow Lake feature especially realistic techniques. Fans appreciate this earlier style and the window into his years in Alaska.
In contrast, Row Boat on the Beach sold for $95,000. It's rare in that it's vertical and unframed. But if you're looking for a truly one-of-a-kind piece, check out Gold Pan on eBay. The current asking price is only $69,000!
Honor Bob Ross often with a There Are No Mistakes Only Happy Little Accidents T-Shirt.
Can You Visit Bob Ross's Grave?
Bob Ross's grave is easy to find. First, get to Gotha and locate Woodlawn Memorial Park. You'll find the grave straight up ahead from the cemetery entrance. If you're good with going by lot numbers, it's section O, lot 537. Otherwise, keep your eyes on the ground and watch for colorful paintings surrounding his plaque.
Fans love visiting his memorial because it's almost as joyous as watching his show. People leave flowers, paintbrushes, and random wildlife trinkets. The embossed plaque features a funky etching of the artist with his big bushy hair. While some find graveyard visits morbid, others often are surprised at how peacefully pleasant it can be.
Best Hikes Near Bob Ross's Grave
Ok, now that you've visited Bob Ross's grave on a sunny day, what's next? As long as you're good with hiking in the sun, there's plenty of nature to explore.
Lake Louisa Nature Trail
This year-round trail is about 30 minutes southwest of Bob Ross's grave. It's rated as an easy tread and takes hikers about two hours round trip. But you can also horseback, mountain bike, and take your dog for a wildflower sniffing adventure.
You can access the trail after paying a small car fee to enter the Lake Louisiana State Park. But since the route is poorly marked, we recommend downloading or printing the path before arrival. And be sure to wear sunscreen and a hat.
Once there, you'll see plenty of beautiful views and local wildlife.
Markham Trailhead Loop
Another easy option is the Markham Trailhead Loop in Wekiwa Springs State Park. It's a short, 30-minute loop with plenty of ways to wander to Lake Mary. Hikers recommend the trail but warn that it's filled with roots and bumps. So although it's marked as kid-friendly, it's not ideal for the restless runner types.
Plenty of trees and shrubs are on this trail, making it ideal for bird watching. Swimming, fishing, and canoeing are additional options after you pay the car entry fee.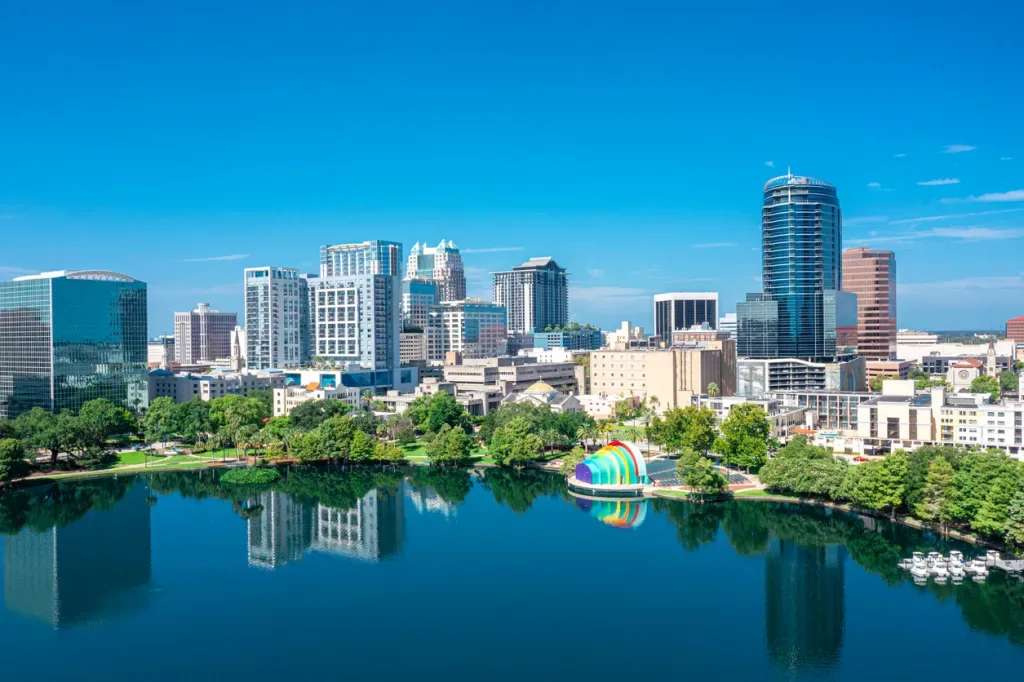 Best Camping Near Bob Ross's Grave
Although camping is available at both parks listed above, we recommend checking these out first. Stage Stop and Lost Lake are a bit more RV friendly. That said, comparing all four options can't hurt.
Stage Stop Campground
This full-service RV campground is only 15 minutes west of Bob Ross's grave. It's got a range of hook-up options, a dump station, laundry, flush toilets, and showers. There's even an office.
Recreational options include a swimming pool, volleyball, horseshoe, and a recreational hall. And because of the convenience of everything, it's not cheap. Nightly rates are around $80, and weekly rentals are almost $500.
Stage Stop is home to permanent residents, who reviewers say are kind and helpful. But that does bring a different vibe to the site than your average state park campground.
Lost Lake RV Park
For a more quirky and styled experience, try Lost Lake RV Park. Once you see the lawn pink flamingos, you'll know you're in the right spot.
This spot is about 20 minutes north of Bob Ross's grave. Prices are slightly more reasonable, around $50 per night and $320 per week. And the park is huge! It has over 80 sites with a range of hookups and free wifi. And there's no shortage of recreational activities like basketball and a swimming pool.
We like Lost Lake RV Park for its charm. There's even a general store. Plus, it's close to additional nature trails. If you're looking for indoor entertainment, check their website for a list of favorite local activities.
We have more options for you here: 7 Best RV Parks in Orlando, Florida.
Is a Road Trip to Bob Ross's Grave Worth It?
If you're a fan, then it's an absolute yes! As long as you do well with humidity and the hot Florida sun. You can find plenty of activities nearby to make a trip out of it.
Bob Ross's habitual optimism is contagious, and a visit to his grave can be a good reminder. Check out his shows on YouTube and see how they make you feel. You may find yourself smiling and wanting to watch more.
Discover the Best Free Camping Across the USA
To be honest with you, we hate paying for camping. There are so many free campsites in America (with complete privacy).
You should give it a try!
As a matter of fact, these free campsites are yours. Every time you pay federal taxes, you're contributing to these lands.
Become a FREE CAMPING INSIDER and join the 100,000 campers who love to score the best site!
We'll send you the 50 Best Free Campsites in the USA (one per state). Access the list by submitting your email below: