Finding free camping near Glacier National Park is no easy task! However, today we're sharing an epic site with you that you'll love!
Here's the breakdown:
[youtube https://www.youtube.com/watch?v=3hSeoXYmSjU%5D
Name: Blankenship Bridge SW or Middle Fork Flathead River
Location: Columbia Falls, MT
GPS: 48.4641, -114.0726
Accessibility: The road in is narrow and has multiple dips. We were able to navigate it without a problem, and in fact there was a 30' class-A that was able to make it, but we recommend walking the path first to view the conditions.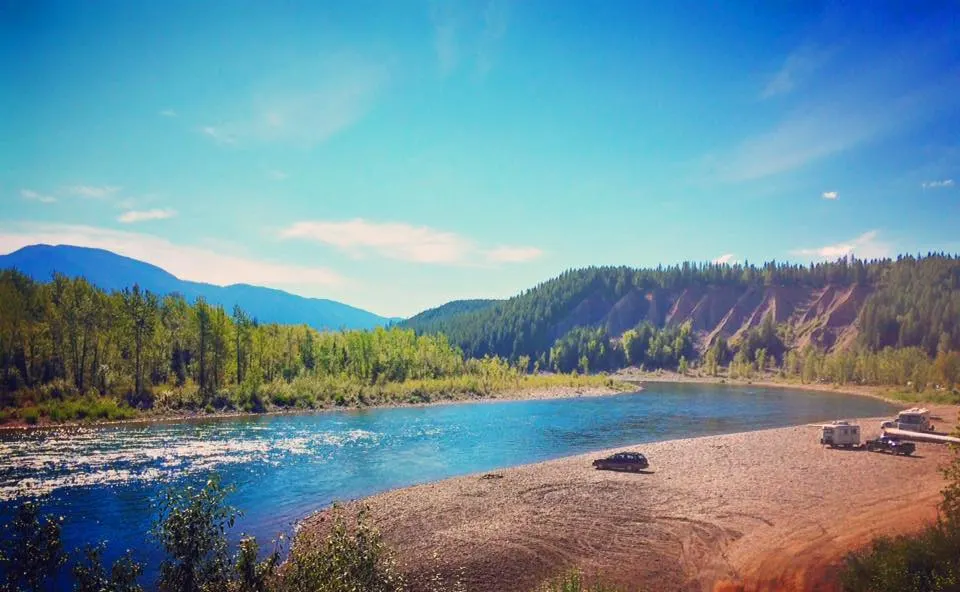 Date/Temp: We camped at Blankenship Bridge for three nights in mid-August. The highs were in the low 90s and the lows were in the mid 50s.
Amenities: This is dry camping with no amenities. There's a vault toilet on the opposite side of the bridge in an adjacent county park. We filled up our 6 gallon water jug at a nearby gas station.
Noise: This area sees a lot of traffic and is noisy during the day. The noise isn't unpleasant though, and at night it becomes quiet very quickly.
Wifi/Cell: Our WeBoost OTR Cell Booster came in handy at this location. It was able to boost the T-Mobile Hotspot from no service to 4 bars of 4G LTE. Our AT&T service received a solid 3G connection.
Grocery/Errands: Downtown Columbia Falls is 10 miles away. It has all the basic shopping we needed – a grocery store, health food store, post office, multiple gas stations & restaurants.
Dog Friendly: This boondocking location is very dog friendly. River loved playing in the water and roaming around the rocky terrain. There were many unleashed dogs here, but there owners seemed to have pretty good control.
Entertainment: Glacier National Park is the main attraction in the area. We haven't explored it yet, but plan to in the next few days. We really enjoyed the Farmer's Market & Concert held ever Thursday in Columbia Falls.
[youtube https://www.youtube.com/watch?v=q9uEi0jqvWo%5D
The Best FREE Camping in the USA
We love camping across this amazing country. And, we really love it when its free. Here's our list of the 20 Best Free Campsites in the USA.
If you haven't tried free camping before, also known as boondocking, take a look at our beginners guide to boondocking filled with everything you need to know to get started.
Become a FREE CAMPING INSIDER and join the 100,000 campers that love to score the best site! Simply enter your email below.