We finally camped in Nebraska – and boy was it a beauty. Oliver Reservoir is a free campsite we found on FreeCampsites.net. It can fit all size rigs and has a 14 day stay limit.
Best of all, its located on the water!
If you're interested in viewing all the free campsites we visit, click here!
Here's the Breakdown:
[youtube https://www.youtube.com/watch?v=a7kT1FdRoa0&w=560&h=315%5D
Location: Oliver Reservoir in Bushnell, Nebraska
GPS: 41.231, -103.824
Date / Temp: We camped here for 5 nights in mid August. The temps were fairly mild with highs in the 80s and lows in the 50s. There were a few afternoons that got a little hotter than we like, but the lake is just a few feet away and makes it easy to cool off!
Amenities: This park offers potable water and vault toilets. However, some of the water spigots are locked – and the ones that aren't locked are only accessible by foot. There are no trash receptacles on site. Please practice "pack in – pack out."
Wifi / Cell: We received 4G LTE with both AT&T and T-Mobile. The speeds weren't great, but we were able to stream movies & music.
Noise: This site is very quiet with one exception: trains. The train track across the street stays pretty busy. This type of noise doesn't bother us, but if you are sensitive to background noise, the site might not be for you.
Grocery / Errands: Downtown Kimball is about 10 miles east of the park. It has a few restaurants and bars, minor grocery shopping, and random mom & pop shops. If you need to do "big box store" shopping, the closest options are Scottsbluff or Cheyenne.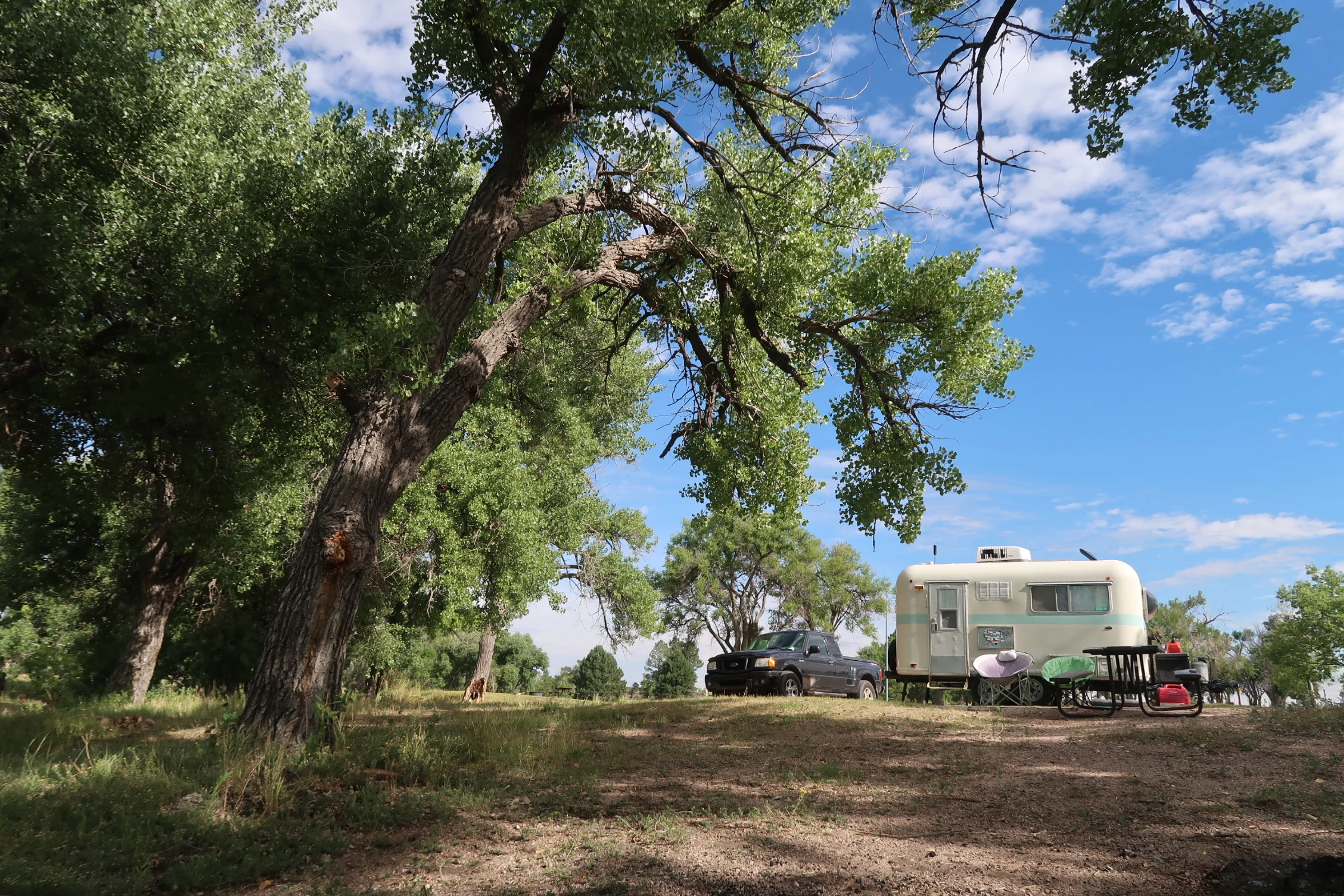 Dog Friendly: This site is dog friendly. River had a lot of space to play and explore. She loved playing in the nearby water!
Entertainment: We loved relaxing by the water and enjoying the solitude this park offers. Streaming Netflix was an added benefit in the evening.
Thanks for reading our blog! Our mission is to live minimally & deliberately as we explore the earth and it's many communities. Help support our mission by shopping through our Amazon Link, visiting our Etsy shop, or better still, listening to our new album!
If you're interested in viewing all the free campsites we visit, click here!