What Is The Angels Landing Hike?
What is Angels Landing? It's the most epic hike in Zion National Park (and one of the best hiking trails in the USA)!
Today we'll be diving deep into the iconic trail. This 2020 guide will cover trail difficulty, tips, history, deaths and more. We'll even let you know the best places to camp when hiking the trail and visiting Zion National Park.
If you want to see the beauty of this trail, you can watch our video hike below. The video is a great place to start, but the article contains much more valuable information.
Let's dive in!
Angels Landing Trail History
Zion National Park, the host of Angels Landing Trail, was established in 1919. The park continued to grow in size as the Zion National Monument and Kolob Canyons became part of the official National Park.
The first recorded hike of Angels Landing was documented in the Washington County News in 1924. Back then it was called the Temple of Aeolus. In 1926 the trail expanded into the solid rock that leads to the top of Angels Landing.
The National Park Service maintains this trail very regularly, adding safety features and rest areas along the path.
Angels Landing Statistics
Let's get into the numbers. Being one of the most challenging hikes in the park, this trail has some pretty impressive statistics.
Trail Elevation Gain: 1,500ft
Elevation at Peak: 5,790
Trail Type: Out & Back
Distance: 5.2 miles
Heavily Trafficked
Coordinates:

37°16′10″N

112°56′53″W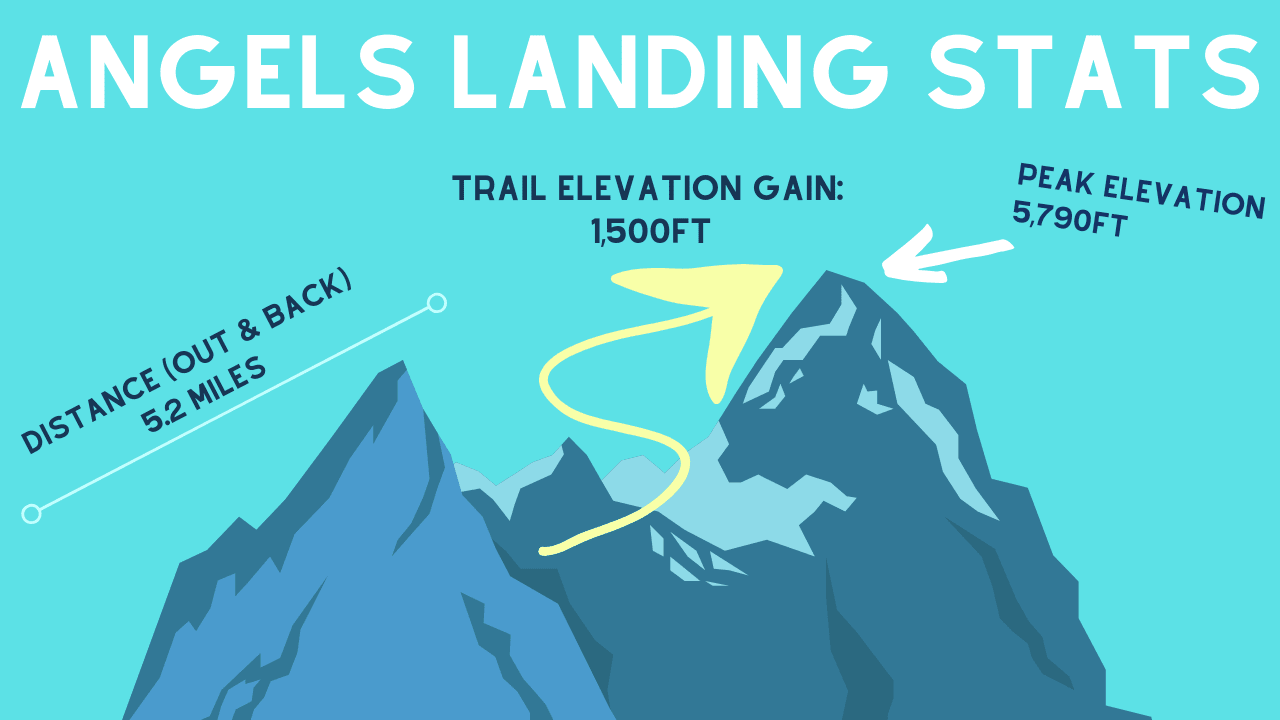 Yosemite Decimal System Rating
The Yosemite Decimal System is a scale to rate challenging walks, hikes and climbs. The scale consists of 5 classes: class 1-2 usually involve hiking & trail running, class 3 is easy to moderate climbing, class 4 is an in-between class that usually involves exposed scrambling and class 5 is very challenging rock climbing.
Angles Landing Trail is rated class 3. There is moderate rock climbing at the end of the trail.
Angles Landing Trail by Section
Angels Landing Trail has three distinct sections, each with their own unique challenges. Before we get into the specifics, let us start at the beginning.
Access The Trail
Angles Landing is accessed by the National Park Shuttle System. Private vehicle traffic to the trail head isn't allowed during peak season. From the Visitor Center you'll take the shuttle to "The Grotto" stop.
The trail head is across the street from the shuttle drop-off. Before you hit the trail, use the bathrooms and water fountains at the shuttle stop.
Section One: The Easy Warm Up
The road to Angels Landing begins with a flat trail that weaves along the mountain side. This is a great warm up to the challenges ahead. You'll begin the elevation climb with a few light switchbacks and paths through the canyons.
Don't get ahead of yourself! Even though the beginning of Angels Landing is fairly easy, there are plenty of challenges to come. Conserve your energy.
Walters Wiggles: The Leg Burner
This is the most physically challenging part of the hike. While other sections may be more terrifying, Waters Wiggles can break a hikers will.
Technically, this portion of the trail is made up of 21 steep switchbacks. That alone is hard as hell, but compounded with elevation and exhaustion, this part of the trail can make you seriously dizzy.
We recommend taking it slow! Don't be like us – we powered through and almost got beat by the wiggles!
Angles Landing Spine: The Terrifying Trek
This is the section of the trail that will make your stomach drop. Crawling along the back of the landing, you'll be holding onto the chains for dear life!
Don't take this lightly – if you have any doubt about your ability to securely hike this section, don't try it!
You'll be crawling over rocks, climbing up the mountain side and walking alongside huge drop offs. There have been multiple deaths reported from this part of Angels Landing Trail.
After all the challenges and scary maneuvers, you'll be rewarded with a breathtaking view of the Zion Valley.
What to Bring When Hiking Angels Landing
This is an exercise of balance. You'll want to bring enough supplies to keep you safe and comfortable, but you don't want to load yourself down with too much weight. Here are two lists: one of supplies we consider essentials, and one of some luxuries you might consider.
The Essentials
Water – Bring more than enough water. We recommend at least one oversized container (3 liters), or two regular size bottles per person.
Hiking Shoes – Don't wear anything less than hiking shoes. Sandals, sneakers or open toe shoes won't cut it!
Protein Rich Snacks – bring food that packs a punch! We took multiple snack stops on our Angels Landing adventure.
Hiking Buddy – You can really benefit from a hiking buddy on this trail. Having reminders to take water breaks and slow your pace can be very helpful.
The Hiking Luxuries
Camera – Taking the perfect photo is important if you make this hike! Your smart phone should work just fine, but if you insist on higher quality, we don't recommend anything larger than a Canon G7X.
Sunglasses – This could be considered an essential on a sunny summer day – make sure they're comfy…a hat might work well too.
Sunscreen – Depending on the weather, sunscreen may help your comfort level!
Angels Landing Deaths
There's good and bad news when it comes to fatalities on the Angels Landing Trail. The bad news is that people have died on the trail. It can be super dangerous if you're not paying attention.
The good news is that as of 2017 (the most recent report I could find) only 15 people have died on the trail since its creation. That's pretty amazing considering the difficulty level of this hike.
Where to Camp When Hiking Angels Landing?
Camping near Angels Landing is fairly easy. You can stay inside the park at on official National Park campground, camp for free outside the park, or set up at a private RV resort.
Watchman Campground
Proximity to National Park: Inside the Park
Price: around $35 a night (discounted for senior citizen NP pass holders)
Why You'll Love It: The location of this campsite is awesome – it smack dap in the middle of the park. You can walk to the visitor center and catch the shuttle from your basecamp. Watchman Campground offers a variety of hookup options and provides bathrooms & showers on site.
North Creek Campground
Proximity to National Park: 15 miles
Price: FREE
Why You'll Love It: North Creek is an awesome, free campsite in Virgin, Utah. The 15 mile drive to the Zion Visiton Center isn't too bad. We camped at both Watchman Campground and this campground – both were very enjoyable.
The vibe at North Creek is way better if you're into off-grid camping. Tents, vans & RVs and camp here. Additionally, North Creek won't be as busy as a campsite inside the National Park. Keep in mind, there are no services at North Creek.
Zion River Resort
Proximity to National Park: 14 miles
Price: around $50 a night
Why You'll Love It: If you want to soak in a hot tub after hiking Angels Landing, Zion River Resort is for you. You can have full RV hookups or rent one of their Camper Cabins. Tent camping is allowed at Zion River Resort, but you'll be paying a pretty penny!
Angels Landing: Conclusion
If you love hiking and exploring National Parks, we highly recommend considering adding Angles Landing to your Bucket List. The trail rewards you with once in a lifetime views and stories to tell for generations to come!
The Best Free Camping in the Entire USA
We love camping across this amazing country. And, we really love it when its free. Here's our list of the 20 Best Free Campsites in the USA.
If you haven't tried free camping before, also known as boondocking, take a look at our beginners guide to boondocking filled with everything you need to know to get started.
Become a FREE CAMPING INSIDER and join the 100,000 campers that love to score the best site! Simply enter your email below.