Honda Generators: 5 Reasons To Buy [and Exclusive Recall Info] EU2200
Since 1965 Honda has been manufacturing personal-use generators for off-grid enthusiasts. Whether for the sake of a tailgate party or a weekend camping trip, Honda's power equipment has been the industry standard for decades.
Today we'll share 5 reasons to choose a Honda over competitors (this is not a sponsored article) and we'll give you all the recall info on its newest EU2200 model generator.
Before we dive into the good stuff, let us first admire the original 1965 E300 Honda generator. The design, functionality and innovativeness of this unit paved the way for many awesome models to follow. Here's a picture of the E300.
We've been using a Honda 2000 & 2200 for five years. As full-time Airstream travelers, we get a lot of use out of the generators when we camp off grid. We've pushed them to their limits and have seen great results.
Without any further ado – let's get to the list!
1. Durability
Honda generators are built to last. We've put them head to head with other brands and have consistently confirmed the build quality is much higher with Honda.
In the video below we put our Honda up against a Dirty Hand Tools generator. One of the key discoveries was that the Honda generators rattled a lot less than the DHT generator. There were no loose vibration sounds with the Honda.
2. Dependability
The Honda (almost) always starts up on the first try. To be clear, the one issue we had in 5 years with our Honda generator was caused by bad gas.
Honda has solved the bad gas issue with their EU2200 model.
Our original problem was that we left gas in the lines while the generator was is storage. The Honda EU2000's gas tank had to be run completely dry before storing…otherwise you may have gas issues.
The Honda E2200 has an additional switch that allows you to dry the lines while leaving gas in the tank. This saves time and money.
The overall dependability of the Honda generator has been it best trait.
3. Holds Its Value
Buying a Honda generator is like buying an Airstream or Jeep Wrangler, they hold thier value. After using our Honda EU2000 for five years (and having bought it used for $550), we sold it within 24 hours for $600.
No other 2000 watt generator will hold 60% of its value after five years of heavy use.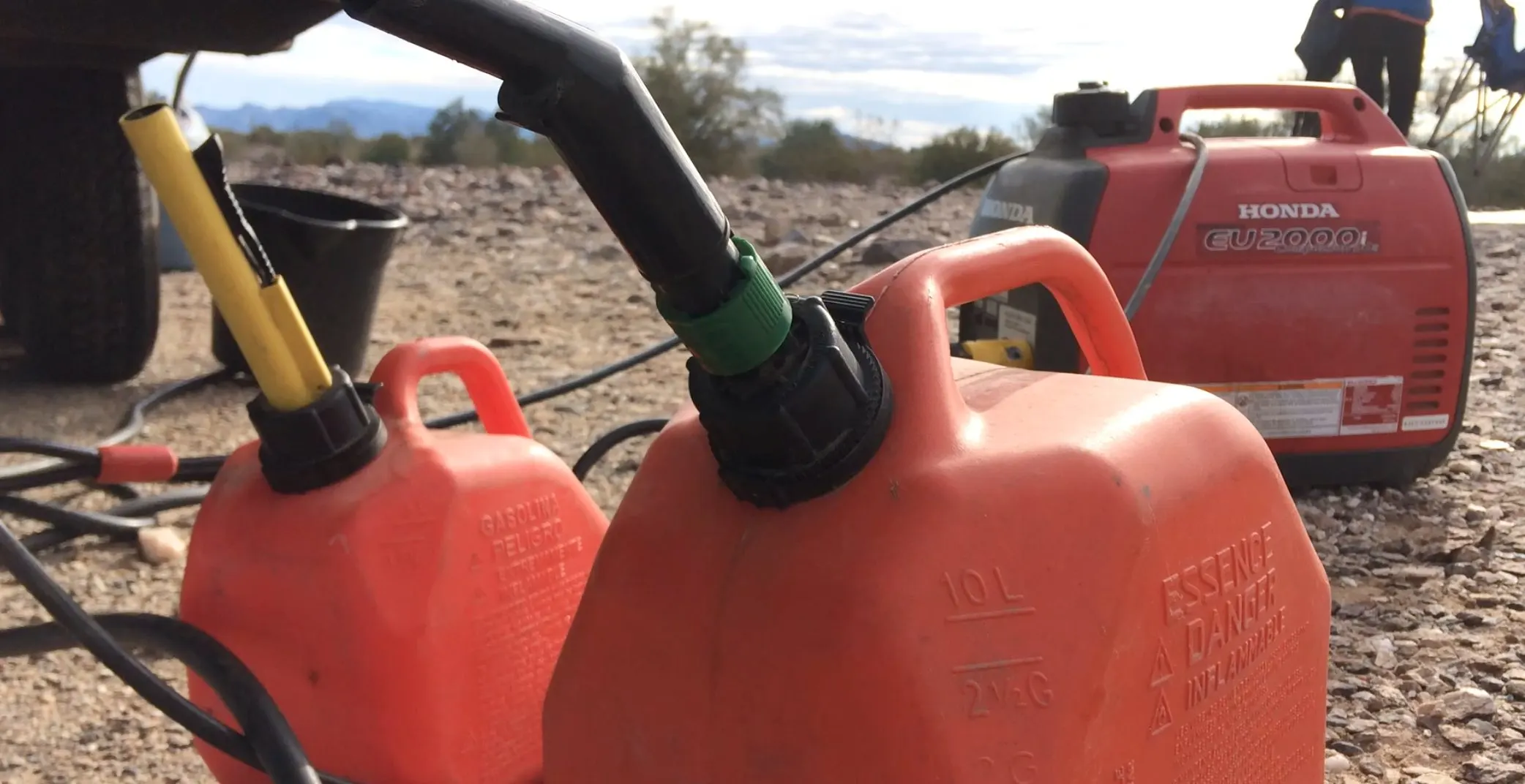 4. Strong, Clean Power
Unlike construction-site style generators, the Honda EU2200 creates clean energy that sensitive tech devices can safely use.
The Honda EU2000 & EU2200 could both power the AC unit on our camper trailer.
Here's what Honda has to say about the power,
The EU2200i can operate a wide variety of appliances, making it perfect for portable use at home, camping, on the job site, or much more.
5. You Get What You Pay For
Sure, you can spend $300-$500 less on another brand generator…and you may have decent luck with it. Odd are, however, that it won't stand the test of time like a Honda generator.
Here's an easy to understand list of why Honda is your best choice:
Spend $1000 upfront
Three Year Warranty: Not only does Honda have a great warranty, they also have a huge network of nationwide repair centers (you won't have that with a cheap foreign brand)
Use it for many years to come: Option 1 is beat the hell out of it. Get all the use you can!
Or, resell it: if you end up not using it very much, resell it without much of a loss.
Enjoy Power Off Grid: The best part of the Honda buying experience is using the power! For us, it's running the AC when we're camping in the boonies.
4 Honda EU2200 Generator Models
Once you decide a Honda generator is for you, there are a few options to choose from. We'll break it down into simple terms.
EU2200i: The Honda EU2000i is its "base" model. This generator has two residential style outlets ideal for a TV, DVD, satellite, fridge, coffee pot, etc.
EU2200i Companion: The Honda EU2200i Companion has two key advantages. Firstly, you can plug your 30amp RV or trailer into it. Secondly, this model can run in parallel with a second Honda to produce 4400 watts of power.
EU2200i Camo: The EU2200i Camo is identical to the base model EU2000…with one exception. This generator is colored with a Realtree camo design. Perfect for the hunting camp.
EB2200i: The Honda EB2200i is a "job site" generator with GFCI outlets that meet work safety requirements.
Honda Generator Recall: EU2200 Models
The recent Honda Generator Recall has caused some confusion among RVers needing to access remote power when camping. Today we're talking to the folks at Honda Power Equipment to find out the Honda generator recall information.
Most importantly – refer to the Honda website for all the most up to date, official information. Here's a link: Recall PDF INFO
Honda Generator Recall Q&A Session:
We were able to ask Honda some important recall questions. Here's a Q&A with the folks at Honda.
Q: How do I know if my generator is affected by the recall?
A: Most EU2200i generators are affected. Check your serial number. If it is between EAMT-1000001 and EAMT-1260796, it needs to be repaired. The recall affects 4 models: the EU2200i, the EU2200i Companion, the EU2200i Camo, and the EB2200i, which is mainly used for construction.
If you purchased your EU2200i since the recall was announced in mid March, it should already have been repaired by your dealer. You can double check that it was repaired by looking for one of three things:
A "green dot" located on the carton, near the serial number label
A black dot on the on the side cover boss (this is the inside of the generator cover)
A "7EP" label on the engine cover (You can also find this inside of the generator cover)
If you still aren't sure, contact Honda for assistance. The easiest way is to send a message at this link: https://powerequipment.honda.com/support/contact-us
Q: Where do I find my serial number?
A: On the lower right side of the unit.
Q: Is the EU2000i included in the recall?
A: No, EU2000i generators are not affected.
Q: Can you just send me the parts for the EU2200 recall?
A: Sorry, parts cannot be sent to the customer. The Honda Generator recall must be performed by an authorized Honda Power Equipment dealer.
Q: Where can I find info on the recall?
A: Honda's website has all the details. Look under the Support, and you'll find the recall page. The EU2200i recall info is at the very top. Direct Link to Poster for Honda Generator Recall
Q: Can customers still use their EU2200i generator?
A: We recommend the customer stop using their EU2200i generator until it is repaired.
Q: My dealer says the part is on backorder. When can I expect parts to arrive?
A: Honda has thousands of parts arriving every week and have been fulfilling orders as quickly as possible. We expect to have all backorders fulfilled in the next two weeks.
We understand that parts availability has been a source of frustration for some customers and our dealers, and we apologize. We continue to work to produce and ship parts as quickly as possible.
Our Honda Generator Recall Experience:
As shown in our video, the Honda generator recall process only took us about 30 minutes. The repair man showed us where the part was located and how it works in the engine.
The shop was located about 20 miles from our basecamp.
If you have a recalled generator and haven't gotten the issue resolved – we encourage you to have an authorized dealer fix it immediately and before you use it again.