7 Best Telluride Camping Spots
Colorado is one of the best states in the USA for camping. It has everything from high elevation Rocky Mountain campgrounds to National Park Sand Dunes camping in the plains of southern Colorado. Today we're excited to share the 7 best Telluride camping spots!
Telluride is a historic mining town located in the Western San Juan Mountains. Positioned at 8,750 feet above sea level, the views are absolutely breathtaking.
Let's get one thing straight – there aren't many campgrounds centrally located in Telluride. Most of the camping spots are located outside the main town area.
We'll include location, amenity and price info for each of the ten featured Telluride campgrounds. Additionally, each site will be ranked on a "Telluride Camping Vibes" scale for easy head to head comparison.
Let's dive in!
#1 Woods Lake Campground
Price: $16 and up
Miles to Downtown Telluride: 22 miles
Why We Love It: This "first come first serve" National Forest campground offers 360 degree views of beautiful Colorado scenery. Woods Lake Campground also offers immediate access to hiking and equestrian trails. Water & vault toilets are available onsite, but not at each camping spot.
What't The Word: JJ on Campendium says, "We had one night at Woods Lake; easily could stay several! Lovely site near the lake. Quiet, clean, campground; friendly camp host; water available; nice restrooms with light. Lovely to walk around the lake – about 2-1/2 miles of woods and wildflowers in June."
Telluride Camping Vibes: 9.3/10 The best camp vibes and mountain views!
#2 Sunshine Campground
Price: $18 and up
Miles to Downtown Telluride: 8.5 miles
Why We Love It: Sunshine Campground is a small National Forest site relatively close to Telluride. They offer composting toilets and potable water onsite. The dense aspen tree foliage is perfect for creating camp vibes.
If you want to take a shower, nearby Matterhorn Campground offers them for $6.
What't The Word: Jenn on Campendium says, "I would not recommend that larger RVs attempt this CG. the sites are small and there is not a ton of room for turning around. It is first come, first serve, and it fills up early. You are taking a risk on a weekend, but if it full, you can find boondocking sites down near Trout Lake and Lizardhead Pass."
Telluride Camping Vibes: 8.4/10 Great location, ideal for small RVs or tent camping.
#3 Mary E Dispersed Camping Area
Price: Free!
Miles to Downtown Telluride: 7.5 miles
Why We Love It: First of all, we love free camping! Additionally, Mary E Dispersed provides trash collection and portable toilets onsite. This is the closest free, boondocking site you'll find near Telluride.
There has also been multiple reports of cell connectivity at this campsite. If you need to dump your black tanks, the Telluride Water Management Facility is just a few miles away.
What't The Word: A recent Campendium Reviewer says, "This campground is quiet, and was never really full. Lots of folks coming in for a night, then leaving. There is a gravel company close to the campground, so during the day you hear the construction trucks, but at night its quiet. Also to note, there are no fires allowed at this campground. The proximity to Telluride is what makes this spot worth returning too."
Telluride Camping Vibes: 9.6/10 Free & near downtown Telluride!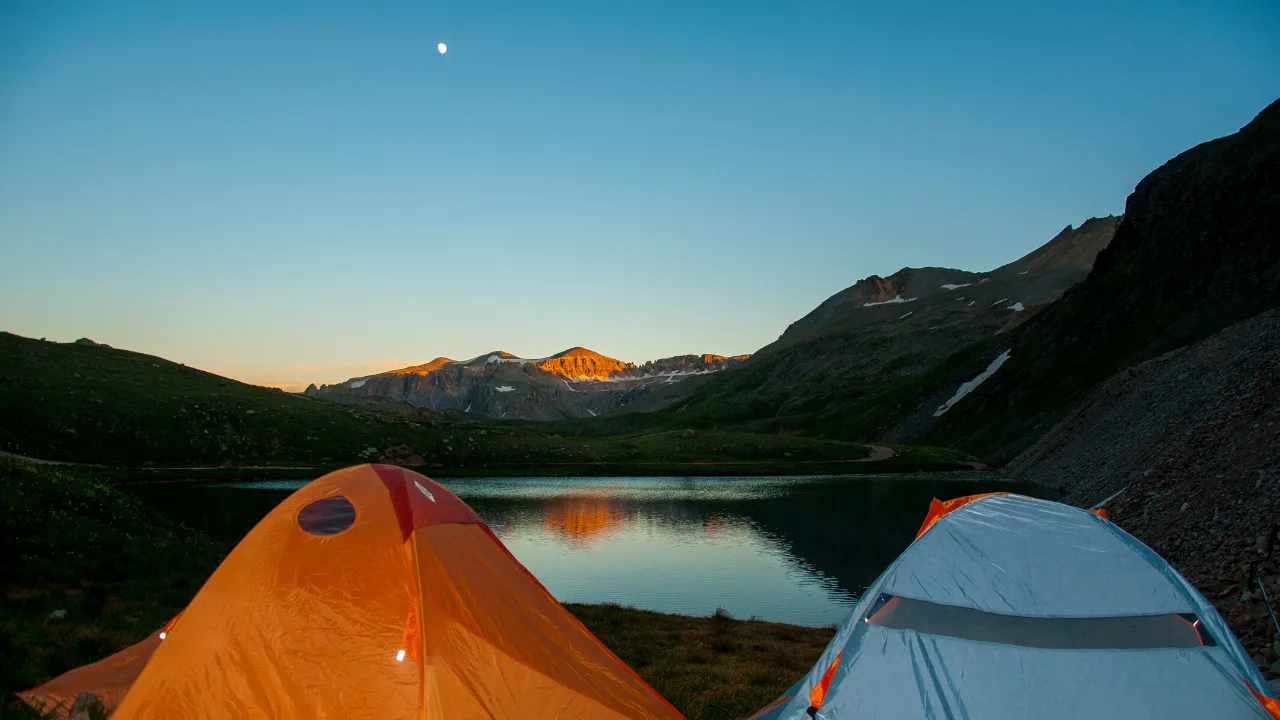 #4 Matterhorn Campground
Price: $22 and up
Miles to Downtown Telluride: 12.5 miles
Why We Love It: Matterhorn Campground is one of the most established campgrounds in the area. Some of the sites offer electric and there's dump availability onsite. Additionally, this campground can accommodate larger RVs.
If you appreciate having amenities, Matterhorn Campground is the spot for you. Reservations are available for some sites, others sites are reserved for "first come first served" campers.
What't The Word: Nosh Bus on Campendium says, "We had 50 Amp service along with water and sewer. Site 7 is really nice without any neighbors nearby. The camp host are really awesome too. There is a 7 day limit to this place…"
Telluride Camping Vibes: 9.6/10 Full hook ups with beautiful views!
#5 Lizard Head Pass
Price: Free!
Miles to Downtown Telluride: 16 miles
Why We Love It: Lizard Head Pass is more of an overnight parking option…not so much an actual campsite. However, if you want to hike the Lizard Head Trail during the day, this is a good place to stay over night.
The only amenity is a pit toilet. You will see many mountain views and wildlife, though!
What't The Word: Grament on Campendium says, "This wouldn't be a good choice if it had been raining, pretty rugged, in spots, on this dirt road. The only small drawback is, although you feel like you're out in the middle of nowhere, the road is fairly close by, so some noise during the morning and evening, but at night, it's pretty quiet."
Telluride Camping Vibes: 6.8/10 Pretty good site, great price!
#6 Priest Lake Dispersed Camping Area
Price: Free!
Miles to Downtown Telluride: 14 miles
Why We Love It: This is free, lakeside camping! We love that combo. There are also nearby hiking trails and wildlife galore. The boondocking site offers a vault toilet, but that's the only amenity you'll find onsite.
This is ideal for tent campers. Large RVs won't be able to access the campsite.
What't The Word: Kdole on Campendium says, "This is a really nice spot for tent camping. There are a number of sites you can pull right up to and a handful of walk in sites with more privacy. There is a decent pit toilet (can't complain) and a beautiful lake."
Telluride Camping Vibes: 8.7/10 Perfect tent camping site!
#7 Alta Lakes
Price: Free
Miles to Downtown Telluride: 13 miles
Why We Love It: We saved the best for the last! Alta Lakes is positioned a whopping 11,273 feet above sea level. The views are like no other. Here's the catch…the road in is dirt, extremely narrow and steep.
Tent camping is ideal. You could, maybe, get a small trailer up to Alta Lakes.
However, if you want to experience the most beautiful spot in Telluride…Alta Lakes is the place to be.
What't The Word: Greg on Campendium says, "The road up is a well packed narrow dirt road with some steep grades. It was a nail bitter for me to drive up and we did come upon a guy going down in a truck and he had to back up a ways for us to pass him. (He acted very upset that we were there and drove backwards in a dangerous fashion.)"
Telluride Camping Vibes: 10/10 Breathtaking!
Trip Routing to Telluride, Colorado
If you're traveling with an RV, trip planning to Telluride is essential. Colorado is known for its terrifying mountain passes. With RV Trip Wizard you can get a much better understanding on what to expect for travel day. After spending a big amount of money on an RV, you don't want to run into a low hanging bridge!
We use RV Trip Wizard to route our cross country trips. With tools like budgeting, fuel planning, and avoiding bridges, we can easily travel safely through the USA.
You can also avoid steep passes, tolls and tunnels when you select the appropriate filters. Give RV Trip Wizard a try!
The Best FREE Camping in the USA
We love camping across this amazing country. And, we really love it when its free. Here's our list of the 20 Best Free Campsites in the USA.
If you haven't tried free camping before, also known as boondocking, take a look at our beginners guide to boondocking filled with everything you need to know to get started.
Become a FREE CAMPING INSIDER and join the 100,000 campers that love to score the best site! Simply enter your email below.