We Live in an Airstream, Here's How We Make Money on the Road
Living in an Airstream and traveling the USA is awesome. We have the freedom to choose our backyard every day.
However, a steady income is essential in creating this freedom.
While there are infinite ways to make money from the road, today we're talking about how we do it. Over our five years of full-time RV life, we've explored many different avenues of income – some successful, some not.
Hopefully you can take these ideas and developed them into your own mobile revenue streams!
Before We Talk About Full Time RV Income, Let's Talk Frugality
Let's talk about frugality.
For us, income is only half of the equation; the other half is budgeting. During our first two years on the road, we tracked every expense, every day. This practice really helped us understand how to better control the flow of money
Additionally, we're always on the lookout for scenic boondocking sites (also known as free camping).
Free camping is great for two reasons. It helps us keep costs down, and it gives us maximum privacy.
Time to talk revenue!
Etsy
Our first source of mobile income was our Etsy shop. For those of you who don't know, Etsy is an online shopping platform that allows users to create their own store to sell craft or vintage items.
Our shop, The Wooden Earth, sold antique maps & prints (ranging from the 1700s to 1960s). We're able to easily travel with the Etsy shop because our products are all pieces of paper. We can safely stack and organize up to 3000 prints.
However, three years into RV life, we discovered better ways to create income without taking up so much space.
Etsy does come with its ups and downs. The monthly income fluctuated greatly and our trends showed buyers leaving the Etsy marketplace.
Affiliate Income
Whenever we say, "We make money from our blog," we're essentially talking about affiliate link income. Affiliate income is money we earn for directing traffic to external sites and converting sales. Amazon is our largest source of affiliate income.
While the sales percentage is small, Affiliate Sales quickly became a main source of monthly income.
YouTube Ads
In addition to writing articles, we also produce YouTube videos on our channel Drivin' & Vibin'.
We create a video, upload it to YouTube, enable monetization, and YouTube places an ad at the beginning of the video. The energy and time it takes to produce a video rarely pays minimum wage. It's a fun way to be creative on the road!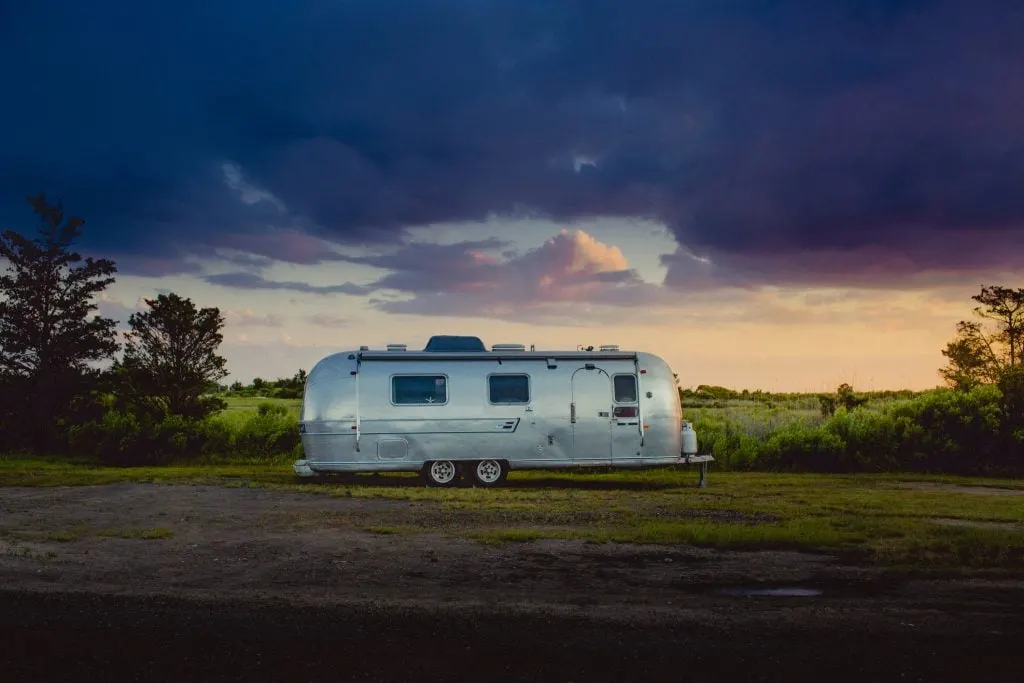 During our first year, we made about $10/month… now we're able to keep the truck fueled up with our YouTube income! It's not big bucks, but it definitely helps.
Recording & Performing Music
In 2017 we wrote & recorded our debut album, Among the Giants.
We were able to get this project off the ground thanks to our community contributions on Kickstarter. Now the album available on all major online music retailers & streaming services.
When the album dropped we had two months of solid sales, but as the months went by, our online sales became sparse.
Playing live music helps add to the revenue stream. It's a chore to book gigs that align with travel. However, where there's a will, there's a way!
Hometown Stops & Savings
Returning to our hometown helps us earn & save. This is a great opportunity for us to make a few bucks.
These home town trips help us restock the savings account.
Lastly, it's important to note, for the entire year before hitting the road we saved every penny we could. We worked overtime and second jobs. This was all for peace-of-mind… so once we finally hit the road we'd know we were prepared.
Discover the Best Free Camping to Save Money During Your RV Adventure
To be honest with you, we hate paying for camping. There are so many free campsites in America (with complete privacy).
You should give it a try!
As a matter of fact, these free campsites are yours. Every time you pay federal taxes, you're contributing to these lands.
Become a FREE CAMPING INSIDER and join the 100,000 campers that love to score the best site!
We'll send you the 50 Best Free Campsites in the USA (one per state). Access the list by submitting your email below: