Can A Portable Generator Run My RV Air Conditioner?
If you're camping off-grid in your RV and the temps are high, you may be wondering if a portable generator can run your RV air conditioner.
The answer is quite simple; it depends.
Today we're going to look at the solutions and limitations of using a portable generator. And to be clear, this article is for everyday campers like us.
It's not intended as a guide for electricians!
Let's dive in.
What is a Portable RV Generator?
When we reference portable RV generators, we're talking about 2000w-2400w inverter generators like the two pictured below. Why are we so specific? These are the most common (and most portable) generators for RV campers.
You can get larger portable inverter generators, but they're super heavy. Most campers, especially those with limited physical capabilities, would struggle to use a 3500w unit.
Inverter Generators vs. Construction-Style Generators
Inverter generators are different from construction-style generators because they supply you with cleaner power that won't damage your RV's electric components.
Additionally, inverter generators are much quieter than construction style generators. It's an RV faux pas to use a construction-style generator while boondocking (aka free camping).
Here's an image that will help you differentiate the two styles visually.
We currently use a Honda 2200w inverter generator. We've also used a 2000w Dirty Hand Tools inverter generator. Here's a head to head comparison of those two units.
A Portable Generator Won't Normally Run an RV Air Conditioner.
Before you stop reading…there are two solutions to make this work. However, with no modifications, a portable generator won't be able to run an RV air conditioner. At least, not for long.
Our first RV was a 16-foot travel trailer with a small rooftop AC unit.
To be entirely honest, we were able to use our portable generator to run that small AC. Unfortunately, it would only last 20 minutes before the generator shut off due to electric overload.
The compressor is your enemy.
An RV air conditioner pulls electricity two ways, the fan and the compressor. The fan doesn't use much power; It's the compressor that draws a big load (the compressor is what cools the air).
In the example of my generator shutting off after 20 minutes – the shut off occurred when the AC compressor tried to kick back on.
So, as we dive into two solutions, we're solving the issue of supplying enough power to keep the compressor happy.
Running Inverter Generators in Parallel
The first solution, and the easiest, is running two portable generators together. This is called "running parallel."
Instead of 2000w of power, you'll have 4000w – which is enough to run your RV air conditioner.
The cons of running parallel:
Even though it's an easy solution, it comes with many drawbacks.
Not all 2000w portable generators can be run in parallel.
You have to buy another generator (expensive!)
You'll need more gas.
The added weight of another generator is cumbersome.
Noise will be doubled.
We seen many RV campers use this approach with great success. If you like the simplicity of it, we say, "go for it!"
However, on our 24′ foot Airstream, it's not the approach we chose.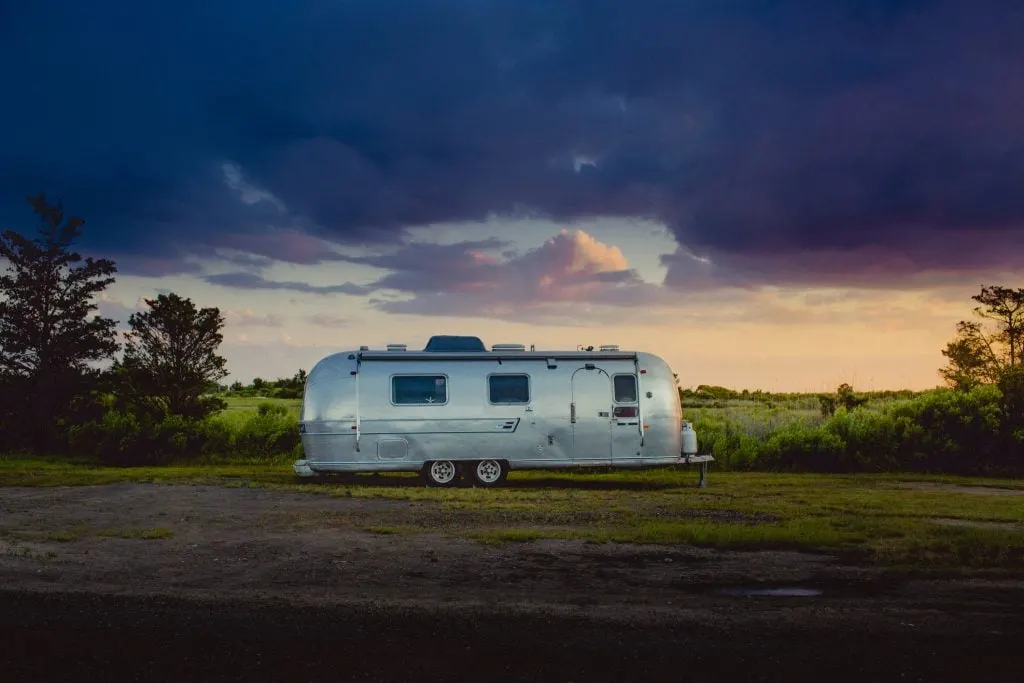 Adding a Soft Start to Your Rooftop RV Air Conditioner
Here's the thing about your rooftop AC unit – it's not super-efficient. New technology exists to help your AC compressor draw less energy.
However, almost none of the AC manufacturers use it.
Enter the Soft Start Device.
The Soft Start device is wired into your pre-existing AC unit and reduces the energy needed to start the compressor. We were able to wire it in ourselves.
RV service shops can do it for you, too.
The Soft Start device allows us to run our Airstream's AC with our generator (2200w Honda) or with our lithium battery system.
Before installing the Soft Start, we couldn't run the AC unit with either of those power sources.
Even though the initial process (installing the device) is a pain in the butt, the long term solution is much better than carrying around two generators.
Currently the Soft Start is priced at $299 on Amazon.
Cleaning Your AC Will Also Make It More Energy Efficient
Keep in mind; your AC needs cleaning at least seasonally. This means cleaning the interior filter (accessed inside your RV) and cleaning your fins and coils.
The fins and coils are harder to reach, but it can seriously increase energy efficiency.
Now that you have your AC pumping out cold air, its time to go boondocking!
Discover the Best Free Camping in America
To be honest with you, we hate paying for camping. There are so many free campsites in America (with complete privacy).
You should give it a try!
As a matter of fact, these free campsites are yours. Every time you pay federal taxes, you're contributing to these lands.
Become a FREE CAMPING INSIDER and join the 100,000 campers that love to score the best site!
We'll send you the 50 Best Free Campsites in the USA (one per state). Access the list by submitting your email below: