5 Best RVs Under $10,000 (with Video Walkthroughs)
If you're in the market for a new RV, but don't want to spend a fortune, we've got you covered. Today we're sharing 5 of the best RV's for around $10,000.
Keeping the cost of an RV around (or under) $10,000 is definitely not an easy task, but if you are willing to entertain the idea of a travel trailer, it becomes much easier.
Along with travel trailers being one of the most affordable class of RV options available, you'll also have more design choices to make your home on wheels comfortable.
Keep in mind: the MSRP for these RVs are often over $10,000. However, in the real world, many buyers have purchased these units at $10,000 or less. Virtually no one pays MSRP at an RV dealership.
What is an RV Travel Trailer?
Travel Trailers are the most common RVs on the road. They have one distinct identifier – a bumper hitch tows RV travel trailers.
This is the hitch on the very back of a truck (unlike 5th wheel RVs towed with a hitch in the bed of the truck).
Travel trailers look very boxy. They can have many slides or no slides.
Here are our top picks for RVs under (or near) $10,000.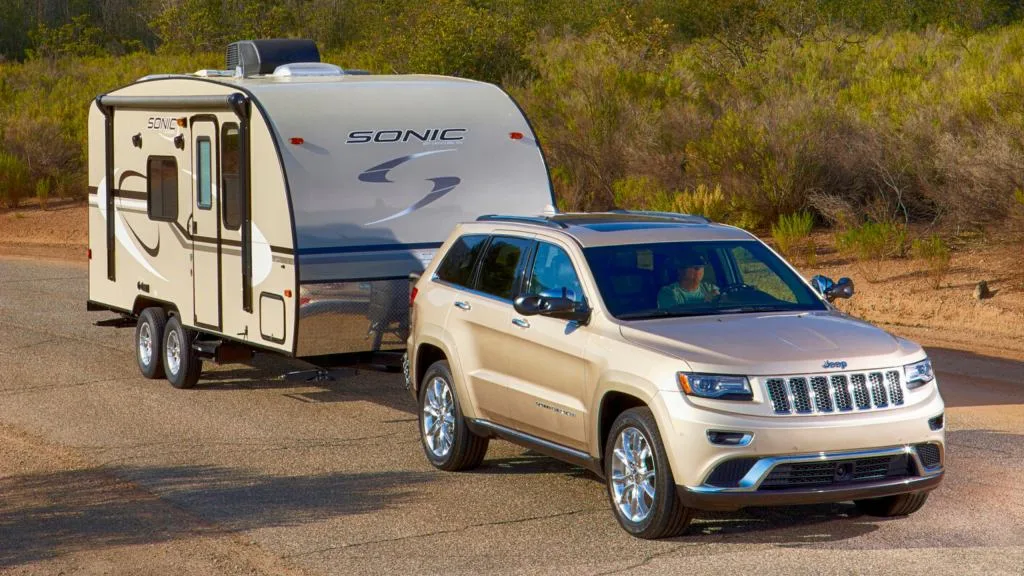 #1 Keystone Springdale 1800BH
This compact travel trailer has everything you'll need to feel right at home. With a triple-seal slide, pass-thru storage compartment and a walkable roof, the exterior is ideal. Bunk beds for guests or for the kids makes it easy to bring family along.
Keystone's Springdale also has two interior and two all-weather exterior speakers. It's 4G LTE and WiFi ready. A Bluetooth stereo, fireplace, and LED lighting make entertaining a breeze.
All you need is a cook!
Weight: 3,394 lbs
Length: 21'5'
Tanks: 27 gallon freshwater tank, and 30 gallons each for waste and gray water
Sleeps: 4
#2 Gulfstream Ameri-Lite 16BHC
The Ameri-lite has a one-piece synthetic vinyl roof, laminated flooring, and power awning. Utilizing all the space wisely, the convertible dinette becomes your queen size bed. With everything you need to live, you'll be able to transition to RV live with ease (and withour a huge payment).
Weight: 2,612 lbs
Length: 18'10"
Tanks: 30 gallon freshwater tank, and 36 gallons each for waste and gray water
Sleeps: 4
#3 Forest River Cherokee Wolf Pup 16FQ
The Cherokee Wolf Pup 16FQ is quite possibly the cutest RV under $10,000. With a bed that converts to a sofa in seconds, you'll have more daytime living space. The double-door refrigerator makes it easy to bring enough food! And, let's not forget the outdoor mini kitchen setup.
This cute camper will keep you warm and cozy when needed, yet still remain feel spacious.
Weight: 3,944 lbs
Length: 21'6"
Tanks: 26 gallon freshwater tank, and 23 gallons each for waste and gray water
Sleeps: 2-3
#4 Jayco JayFlight SLX 145RB
This RV under $10,000 is quite compact; however, you'll have everything you need to make your camping trip a success. It uses a fully integrated A-frame, Magnum Truss™ Roof System, and seamless DiFlex II material keeping you safe and secure. The dinette and sofa both convert into beds. And with its full wardrobe closet, your clothes can all come along.
Overall, the Jayco JayFlight is a great entry level RV.
Weight: 2,465 lbs
Length: 16'8"
Tanks: 10 gallon freshwater tank, and 19.9 gallons each for waste and gray water
Sleeps: 3
#5 Rockwood Geo Pro 19FBS
Constructed of a six-sided aluminum cage with vacuum laminated roof and walls, the water stays where it should – outside. It's also WiFi Ranger Sky 4 WiFi Booster and LTE ready. Along with a dedicated bed space, all you'll need is internet access to snuggle up with a movie here after a long day of playing in Mother Nature.
The Rockwood Geo Pro will have you traveling in style.
Weight: 3,075 lbs
Length: 20'
Tanks: 37-gallon freshwater tank, and 30 gallons each for waste and gray water
Sleeps: 3
Keeping Your Shirt on Your Back is Easy with these RVs fro $10,000
Compact enough to get you almost anywhere you want to go, yet large enough to keep you updated with many of the comforts of a large home, these RVs for $10,000 will keep the shirt on your back and give you enough space to store your outdoor gear…along with another shirt or two.
If you want to spend a little more scratch, check out these 5 Best Small RVs (probably all overpriced).
And, if you want to see a real shocker, check out this $1.4 Million dollar RV.
No matter what you buy, we think boodocking (free camping) is the best way to use your new RV!
Discover the Best Free Camping Across the USA
To be honest with you, we hate paying for camping. There are so many free campsites in America (with complete privacy).
You should give it a try!
As a matter of fact, these free campsites are yours. Every time you pay federal taxes, you're contributing to these lands.
Become a FREE CAMPING INSIDER and join the 100,000 campers that love to score the best site!
We'll send you the 50 Best Free Campsites in the USA (one per state). Access the list by submitting your email below: