5 Best RV Parks in Cheyenne, Wyoming
What can be better than a great camping adventure in the West, with amazing natural sights and a great mix of outdoor and cultural/historic activities?
Well, Cheyenne, Wyoming hits all the marks – no matter what type of trip you enjoy, or if your family has mixed interests. Here's a breakdown of the 5 best RV parks in Cheyenne, Wyoming.
About Cheyenne, Wyoming
Cheyenne is the capital of Wyoming and located along the southern border of the state, just north of Colorado.
This city has quite a bit of history! Including Wild West and Native American importance, governmental development of the territories, and more. Cheyenne was also very important in the advancement of the railroad and the military.
The biggest city event is the Cheyenne Frontier Days rodeo – "The Daddy of Them All." This is the biggest rodeo in the world, held every July. Here are some great places to park your rig while you explore Cheyenne.
While you're in Wyoming, check out the best things to do in Laramie.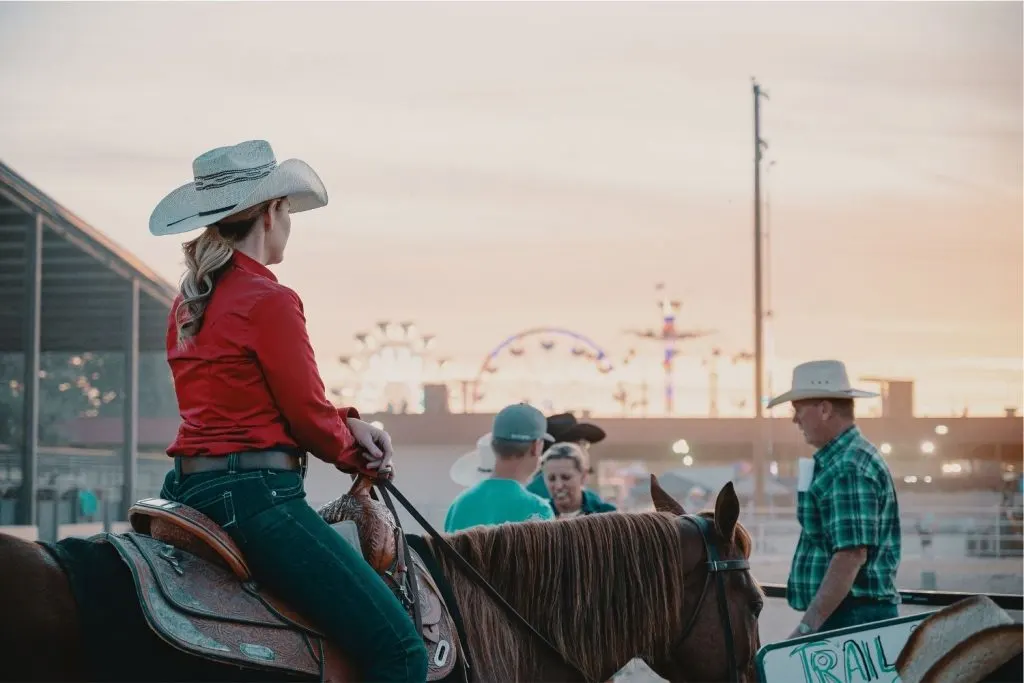 Cheyenne KOA RV Park
Price: $47-$55/daily except during Frontier Days, $89-$101/daily
Miles to Downtown: 3 miles
Why You'll Love It: The Cheyenne KOA campground has huge spots, a pool, mini golf, yard games and laundry. Open year round, there are RV sites, tent sites, and even cabins.
What's The Word: "Very clean, no matter what time of day." "Easy to get in and parked with a big rig." "Very friendly staff." (Google Reviews)
Cheyenne, WY RV Park Vibe: 9/10
AB Camping and RV Park
Price: $23/tent, $42 electric only, $46 full hookup. Closed from October through April.
Miles to Downtown: 1 mile
Why You'll Love It: AB Camping and RV park is a family owned RV park in Cheyenne, Wyoming. This park has a lot of shade trees, which is unusual in the area.
There are 82 full hookup pull through sites, and they have 2 fenced dog runs, 2 shower/bathhouses, propane on site, and offer free cable TV and wifi. They have a mini-store with groceries and RV basics, as well as a take out BBQ restaurant with homemade pies! This is the only Good Sam park in Cheyenne.
What's The Word: "Very friendly park with great BBQ." "We love this park and stay here every year. Very quiet and the bath and laundry facilities are very clean." (Google)
Cheyenne, WY RV Park Vibe: 9/10
Curt Gowdy State Park
Price: $25 plus $5 electric. Campers must pay both day and night fees per vehicle.
Miles to Downtown: 24 miles
Why You'll Love It: There are 159 sites at Curt Gowdy, and all are great spots to relax in the state park, which has a lot of outdoor activities.
There are 3 reservoirs for water fun, plenty of trails for mountain biking, archery, and of course great wildlife viewing. The 19.2 mile IMBA Epic rated mountain biking course draws serious bikers from around the country.
The amphitheaters often host cultural or special events. This park is halfway between Cheyenne and Laramie, making it a great spot to base while enjoying southern Wyoming.
What's The Word: "One of the best parks we have been to." "Really cool place with a lot of activities." "No dump station." (Google Reviews)
Cheyenne, WY RV Park Vibe: 9/10
Terry Bison Ranch Resort
Price: Full hookup $48, Electric/water $42, dry $30. Weekly $290 full, $225 electric/water, $175/dry. Monthly $900,$650, $350. During Frontier Days $110, $82.50, $36. There are tent sites available for $23 a night.
Miles to Downtown: 12 miles
Why You'll Love It: Terry Bison Ranch Resort is a very unique property, with 94 full hookup pull-through sites, 8 Big Rig sites, and additional back in water/electric only and dry sites.
Beyond the camping amenities, The Terry Ranch has wild west history from 1885 onward.
President Roosevelt stayed at the Terry Ranch in 1903 and 1910, and many generals and dignitaries have also stayed here over the years.
Now encompassing 27,500 acres, the ranch is home to the famous Terry Ranch bison herd, horseback rides, and many western theme events. In addition, it houses the only privately owned tourist railroad, the Terry Town Rail Express.
Unique activities at the ranch include train tours, horseback or pony rides, ATV tours (rentals available), a cafe and steakhouse, ride and dine excursions, and fishing (you can have them clean and cook your trout!). Kids of all ages will find interesting animals including ostrich, donkeys, peacocks, goats, and alpacas that can be viewed on the self guided walking tour.
This one of a kind property is sure to have intriguing activities for the entire family.
What's The Word: "This place is like a playground! There is so much to do, and you can eat 3 meals a day in different restaurants. You can even feed a bison from the train or go on an ATV or horse tour. This is a MUST stop." (Tripadvisor.com)
Cheyenne, WY RV Park Vibe: 10/10
WYO Campground
Price: $40-$45 daily full hookups, $35-$40 electric only, dry $30. Frontier Days $70/$60.
Miles to Downtown: 17 miles
Why You'll Love It: The WYO Campground RV park in Cheyenne, Wyoming is conveniently located just off I80 east of Cheyenne and is easy to access.
Sites are level and have full hookups. There is free wifi and pay laundry as well as shower facilities. Pets under 30 pounds are welcome. There is a pool and game room available.
What's The Word: "Convenient but we were underwhelmed." "Nice spot to pull off the highway on our way through." "Friendly managers." (Campendium)
Cheyenne, WY RV Park Vibe: 6/10
Cheyenne Wyoming is a great town to visit if you enjoy history or outdoor pursuits. There is much to do from fishing and hiking to downtown attractions, and even unique activities like visiting a bison ranch! The camping options vary in taste from simple but convenient to remote and natural to fit with any RV'ers needs.
Discover the Best Free Camping Across the USA
To be honest with you, we hate paying for camping. There are so many free campsites in America (with complete privacy).
You should give it a try!
As a matter of fact, these free campsites are yours. Every time you pay federal taxes, you're contributing to these lands.
Become a FREE CAMPING INSIDER and join the 100,000 campers that love to score the best site!
We'll send you the 50 Best Free Campsites in the USA (one per state). Access the list by submitting your email below: