5 Must-See Ghost Towns in Oregon
Ghost towns elicit thoughts of dark and dreary nights… complete with horrifying sounds, mist-shrouded cemeteries and things that go bang in the night.
But, what may not cross your mind is the general life of everyday people that used to reside in these previously bustling and economic busting towns.
Ghost towns portray stories of lives gone by, yet remembered through the faint whisperings you may hear as you wander the streets of each of these five ghost towns in Oregon.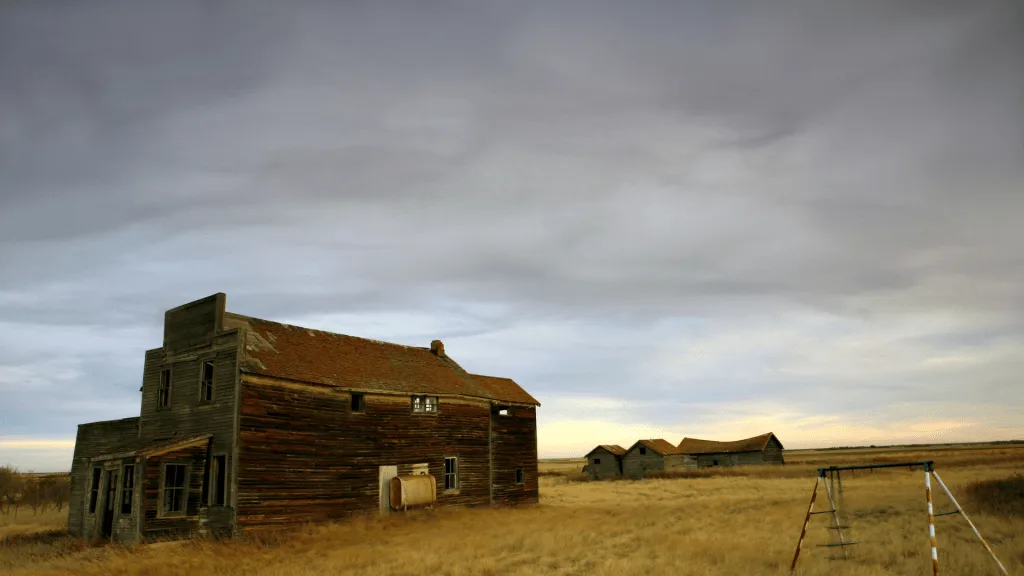 What is a Ghost Town?
A simple definition for a ghost town is a place where there are little to no inhabitants. But using that meaning opens up the many farming communities into being defined as ghost towns, and that doesn't quite fit.
A better way to define a ghost town may be by giving the town justice to what it used to be. A town that once played a role in society: offering entertainment, lodging, law enforcement, settlements, and a way to earn a living. No longer needed by the people and the community it served, the buildings and their belongings were left behind to the forces of Mother Nature and lack of societal rules.
It is this abandonment that ironically draws people to the ghost towns of Oregon and all across the U.S.
But, oh, if those old walls could only talk. The creaks in the floorboards, the bend in the walls, the stains on the ceilings…those walls are talking, Can you hear the stories being told?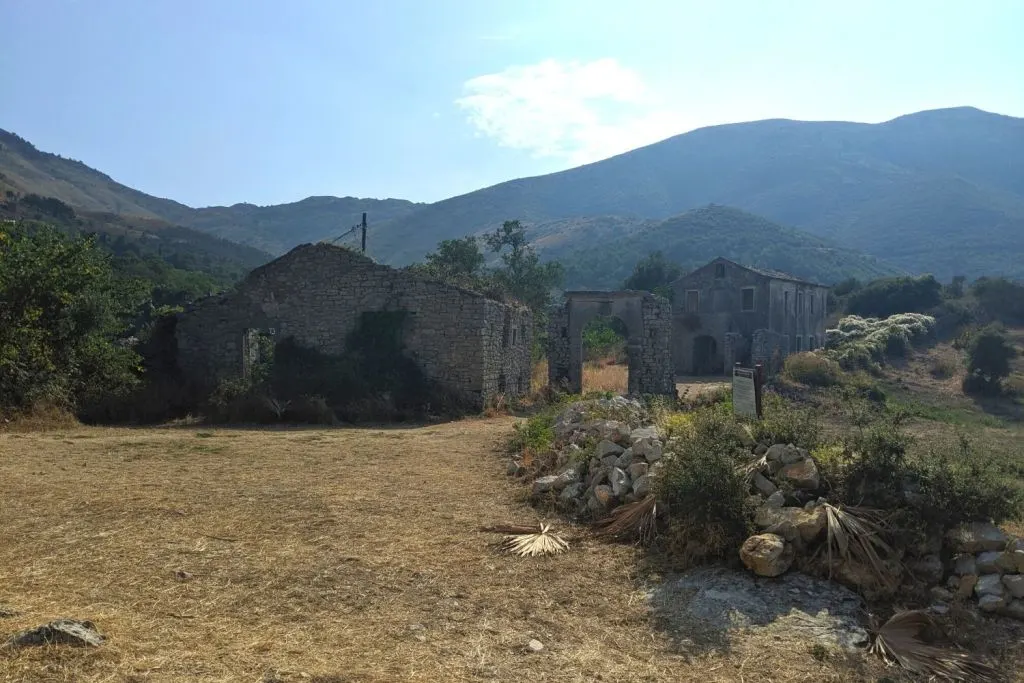 How Many Ghost Towns are There in Oregon?
According to several historians, Oregon has the most ghost towns in the U.S, clocking in at over 200 ghost towns.
Some are completely abandoned, some with a sparse population, some with many intact buildings preserving much of the region's history, and others with only a few dilapidated buildings and a cemetery left behind to give any evidence of its once bustling existence.
Whichever style of ghost town you are drawn to, they all contain a bit of mystery, a lot of history and a window into a past time that we will only experience through memories and artifacts left behind, and the secrets only the walls know, if there are any.
Shaniko
In a single decade, the town of Shaniko in north central Oregon, went from the "Wool Capital of the World" to the liveliest ghost town in the state. Gaining in popularity due to the railroad, its population of 600 people in 1910 began declining rapidly when a competitor began building a new railroad line along the Deschutes River Canyon to Bend.
The Columbia Southern Hotel, known today as the Shaniko Hotel, has been one of the only constants in this Oregon Ghost Town. A local businessman tried to renovate and re-open in the hotel in the early 2000's, but without success. The current population of Shaniko fluctuates from around 30-40 residents.
Today, visitors to Shaniko can:
Wander the town streets
Attend an annual celebration called Shaniko Days held every August
Visit the town museum
Visit the annual wool gathering
Attend the Tygh Valley Bluegrass Jamboree and the Ragtime and Vintage Music Festival held nearby.
Nearby Camping: Shaniko Ghost Town Campground
Located right off of Highway 97 in the middle of nowhere, this free camping site is the perfect place for any size rig to park for the night with easy access to Shaniko. With both paved and unpaved spots, and a few picnic tables under a shelter, your ghost stories can be told as soon as you finish touring the town.
Sumpter
Sumpter became a town in 1898 named after the original residents came across a rounded rock reminding them of a cannonball and Fort Sumter in North Carolina. Where the "P" comes from, nobody knows. Within a decade Sumpter became a gold mining boomtown, gaining over 2,000 residents almost overnight.
Sumpter's population and popularity declined rapidly after a huge town fire and many mines running empty. At that time, $9 million in gold had already been drawn from the region. However, Sumpter's gold dredge (a machine that filtered gold from the gravel) continued running for years up until 1954. The dredge consequently damaged the neighboring lands and waters.
Today, visitors to Sumpter can:
Explore the town streets and surrounding area
Visit the Sumpter Dredge Visitor Center and Gift Shop
Hike the Elkhorn Crest Trail nearby
Experience the beauty of nearby Olive Lake
Nearby Camping: Sumpter Pines RV Park
Located in historic Sumpter, Oregon, you'll find all the amenities of a full hook-up RV park at Sumpter Pines. From winter to summer fun, this is the place to stay.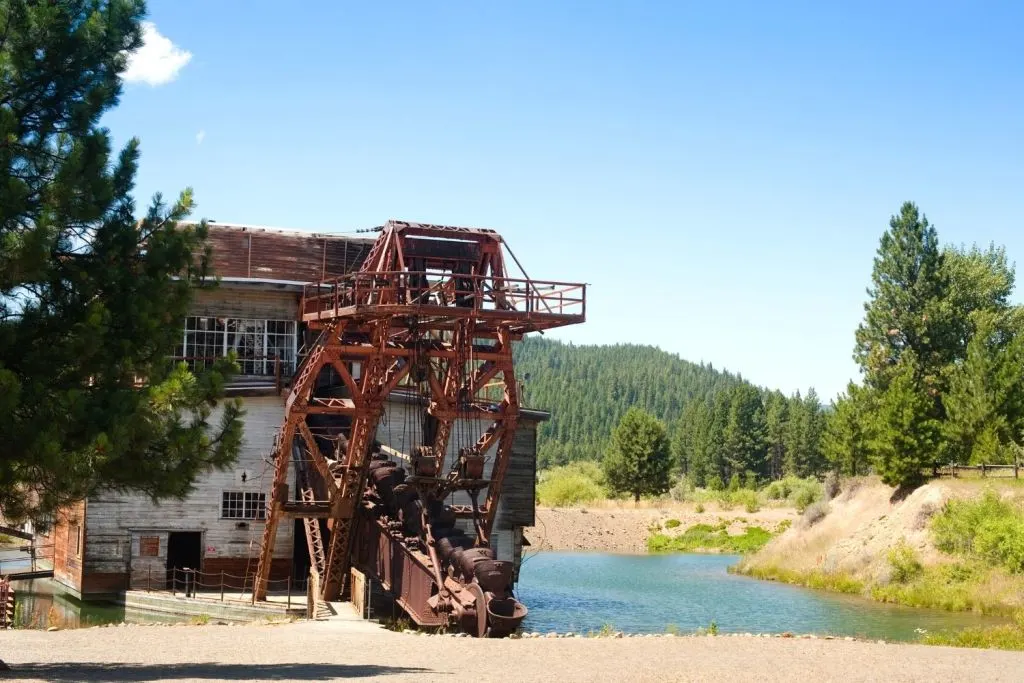 Golden
Started in the 1850's as a mining camp, Golden became a bustling town of 100 people. The town also serviced more folks in the region's remote areas. Golden had 2 active churches and no saloons. As such, it became known as the driest mining town in Oregon.
Regardless of its religious foundations, it remained true to the demise of many mining towns. Even without a saloon, when gold production slowed down, people left the town for other opportunities.
Golden is not a 'living ghost town', nor is it commercial, so you won't find any attractions, restaurants, or stores. The main attraction is the town itself.
Nearby Camping: Wolf Creek County Park
Located a mere five miles from the historic ghost town of Golden, Oregon, Wolf Creek Park offers tent camping and RV sites with water and electric available. Here, you'll find yourself on the shores of a beautiful mountain creek alongside the historic Wolf Creek Inn. You'll also find the London Peak hiking trail to keep you entertained in the beautiful woods of Oregon.
Bridal Veil
In the late 1800's two small lumber towns worked well together. Starting in Palmer, Oregon, felled timber was rough-cut, then sent down the 1.5 mile long flume to the finishing mills and railroad at Bridal Veil.
Bridal Veil was named after the nearby falls of the same name. This was a milling town that took advantage of the great trees along the steep banks of the river.
When Palmer closed in 1936, the future of Bridal Veil was in question. Until the Kraft Food Company purchased it, that is. The town of Palmer continued with its wood-cutting until 1988 when timber resources were dwindling. Bridal Veil continued its operations alongside Palmer, as well.
Today, Bridal Veil's milling operations are known as one of the longest running towns and milling operations west of the Mississippi River. It operated continuously for over 100 years.
Bridal Veil is not a 'living ghost town', nor is it commercial. So, you won't find any attractions, restaurants, or stores. The main attraction is the town itself. However, the post office here is still a functioning post office.
The post office teamed up with the wedding industry so couples can have their invitations postmarked "Bridal Veil".
Briday Veil is also located near the Waterfall Corridor. The Waterfall Corridor has many famous waterfalls and natural attractions!
Nearby Camping: Ainsworth State Park
Ainsworth State Park marks the end of the famous Waterfall Corridor that begins at Crown Point. Located in the Columbia River Gorge, you'll find full hookups, shaded sites, and access to several hiking trails nearby. Also, you'll find nearby access to the ghost town of Bridal Veil.
Greenhorn
Greenhorn is known as one of the first eastern Oregon mining towns. Started in the 1860's, Greenhorn may have been named after the many inexperienced miners coming to town to strike it rich. While Greenhorn never became a booming mining town, it had enough residents to boast a post office, two hotels, a store, a jail, and even a brothel.
The 1943 gold mining ban pretty much put an end to this little mining town. With the buildings left to rot, nobody gave Greenhorn much thought until 1963, when its little wooden jailhouse mysteriously ended up in the middle of a still active neighboring town, Canyon City, where it remains to this day.
Greenhorn is situated at 6000 feet, the highest town in Oregon. As it is apparently still incorporated as a town, it also has the lowest population…zero
As with many of the ghost towns in Oregon, Greenhorn is not a 'living ghost town', nor is it commercial, so you won't find any attractions, restaurants, or stores. The main attraction is the town itself, and neighboring Canyon City to check out its newest, oldest jailhouse.
Nearby Camping: Bates State Park
Once a thriving lumber mill in the Blue Mountains, this state park now offers primitive campsites to both tent and RV campers alike. Paying tribute to the Bates family that founded this area, there are many historical markers around the campground, keeping history alive, and keeping you in tune with your ghost towns of Oregon.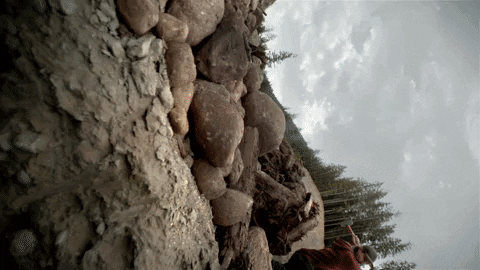 The Ghost Towns in Oregon Will Tell You Their Secrets if You'll Listen
These five ghost towns in Oregon only offer a small piece of the history that Oregon has to tell. With its wooded wonderlands, peaked coastal lands, and vast expanses of wide open prairies and tree-banked rivers, Oregon may never give up all of its secrets. Unless, you are willing to listen to the ghosts of the past, you'll never understand the gifts of the future.
The walls have ears, you know.
Discover the Best Free Camping Across the USA
To be honest with you, we hate paying for camping. There are so many free campsites in America (with complete privacy).
You should give it a try!
As a matter of fact, these free campsites are yours. Every time you pay federal taxes, you're contributing to these lands.
Become a FREE CAMPING INSIDER and join the 100,000 campers who love to score the best site!
We'll send you the 50 Best Free Campsites in the USA (one per state). Access the list by submitting your email below: