7 Best Sites for Free Camping in New Mexico
There's a reason to seek out the best free camping in New Mexico, chief of which is the boondocking lifestyle. Also, many people in RVs travel to New Mexico to escape the colder temperatures of northern winters.
Aside from that, there is another reason that so many RVers head to New Mexico.
The state has a ton of free camping on BLM (Bureau of Land Management) and National Forest Service land, which is a rather freeing experience. If you like the off-the-grid lifestyle that is still often close to the conveniences of a town, New Mexico has numerous areas for you to spread your snowbird wings.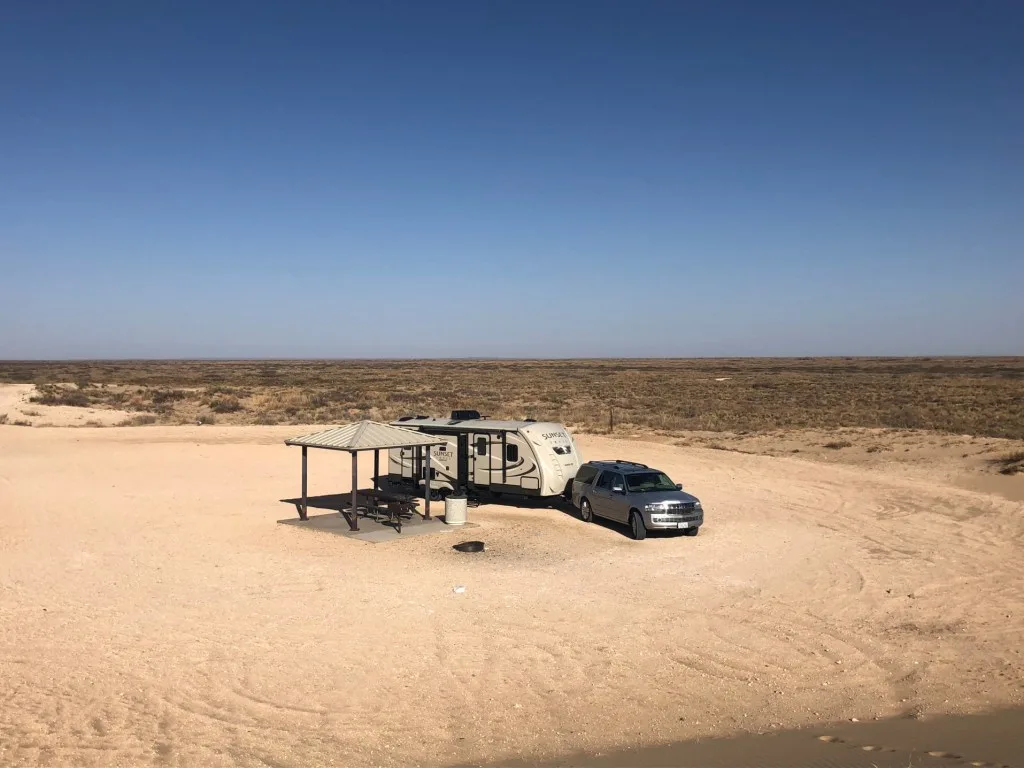 Free Camping in New Mexico Basics
Most of the best free campsites in New Mexico are on BLM land, which generally allow up to a 14-day stay. But just be sure to check, as limits sometimes vary.
Also, even though there are few restrictions, whenever you're boondocking, it is best to follow the principles of leave no trace. Simply put: pack it in, pack it out, and try to leave the site a little better than you found it.
#1 Cebolla Mesa Campground near Taos
Cebolla Mesa Campground is easily one of the best free campsites in New Mexico. How can you beat camping near cliffs that overlook the Rio Grande Gorge?! And you're only a short drive away from Taos.
Cebolla Mesa Campground is located down a 3-mile dirt road, passable by most cars, but a bit bumpy at times. There are three or four sites that can fit an RV, though it is not really recommended for rigs larger than about 25 feet.
The scenery is absolutely stunning.
As mentioned, you are camped atop cliffs that overlook the Rio Grande Gorge and there is a trail that takes you on an easy hike down to the river.
There are typically a few day users here, mostly hikers and people fishing.
There are picnic tables, fire rings, and a vault toilet on site. There's also a bit of cell signal.
GPS coordinates: 36.6405, -105.6891
Free Camping in New Mexico Vibes Score: 10/10 By far, our favorite in New Mexico
#2 West Mesa Road Dispersed Camping near Ruidoso
Located just southeast of Albuquerque, West Mesa Road dispersed camping is another gem. It's not far off of the highway, but far enough that it still feels private.
What really makes West Mesa one of the best free campsites in New Mexico, however, is easy access to nearby mountain biking and hiking trails.
There is also an equestrian (horse riding) campground just down the road where you can fill up with water and dump your tanks.
If that isn't enough, how about the fact that you're only about an hour away from Roswell, home of the International UFO Museum and Research Center. Get your space case on!
GPS coordinates: 33.517, -105.5153
Free Camping in New Mexico Vibes Score: 8.2/10 A great option near Albuquerque.
#3 Caja Del Rio near Santa Fe
Looking for a great, wide-open spot that can fit anything from a tent to the biggest of the big rigs? And right outside of Santa Fe? We've got you covered!
Caja Del Rio dispersed camping is part of the Santa Fe National Forest overseen by the U.S. Forest Service.
There are no amenities, but there's plenty of room to spread out. And if you're cranking the solar power, this spot is your jam when the sun is shining.
Just watch out for the directions from your GPS device. It may try to bring you in from the south, which you don't want to do. The best way to enter is from the north of the campsite. Only about 20-30 minutes away from town, it's a great home base from which to explore Santa Fe.
GPS coordinates: 35.6891, -106.0942
Free Camping in New Mexico Vibes Score: 7.1/10 Try it out if you're traveling through Santa Fe.
#4 Dog Canyon Dispersed near Alamogordo
Just 30 minutes away from White Sands National Park, Dog Canyon dispersed camping is another great area for any size rig. There is more space than you can think of in which to park, with wide open views and beautiful starry nights.
Just up the road is Oliver Lee Memorial State Park. A day pass there will get you access to several amenities, including a shower, as well as easy access to hiking trails.
GPS coordinates: 32.7442, -105.9306
Free Camping in New Mexico Vibes Score: 6.9/10 We don't love Alamogordo, but this campsite is a highlight.
#5 Monticello Point Road near Truth or Consequences
This is really a great stop just off of Interstate 25 if you are traveling across New Mexico. Again managed by the BLM, Monticello Point Road is one of the best free campsites in New Mexico because of its convenience.
More of that wide-open desert-like terrain, Monticello Point Road has plenty of space for any size rig and the sunshine you need for solar. It's a great place to hunker down or a good jumping-off point if you want to explore some quirky New Mexico towns.
Located just north of Truth or Consequences, don't forget to take advantage of the Hot Springs around the area.
GPS coordinates: 33.3275, -107.2699
Free Camping in New Mexico Vibes Score: 9.1/10
#6 Joe Skeen Campground near Grants
Another BLM managed area, the Joe Skeen Campground is the creme de la creme if you are looking for a true campground. This is probably tops of all the best free campgrounds in New Mexico… though it is limited to a seven-day stay instead of the typical 14 days.
There are several sites that have a fire ring, picnic table and shelter, and can accommodate big rigs. There are also vault toilets and trash cans.
Joe Skeen Campground is located in the El Malpais National Conservation Area, so there are a ton of things to see and do here. There are sandstone cliffs, canyons, the La Ventana Natural Arch, the Chain of Craters Backcountry Byway, and the Cebolla and West Malpais Wilderness Areas. There is lots of hiking, wildlife viewing, and photography opportunities.
GPS coordinates: 34.9435, -107.8204
Free Camping in New Mexico Vibes Score: 8.3/10 Very nicely developed site.
#7 Hackberry Lake OHV Area
Hackberry Lake OHV Area is just what it says, an Off Highway Vehicle area, first and foremost. So that's something to consider if you are thinking of spending up to 14 days here.
But if you're into any type of OHV recreation DO… NOT… MISS… THIS!
If you're camping, but okay with sharing space with OHVers (we've done it several times without issue), this is a great BLM site. Most campsites have a covered picnic area, garbage can, and BBQ area. There is also a pit toilet.
The Carlsbad 100 Desert Race, an annual motorcycle event that traverses more than 44 miles of public land, is held here annually.

GPS coordinates: 32.6349, -103.8695
Free Camping in New Mexico Vibes Score: 6.2/10 OHV lovers must see!
Discover the Best Free Camping Across the USA
To be honest with you, we hate paying for camping. There are so many free campsites in America (with complete privacy).
You should give it a try!
As a matter of fact, these free campsites are yours. Every time you pay federal taxes, you're contributing to these lands.
Become a FREE CAMPING INSIDER and join the 100,000 campers that love to score the best site!
We'll send you the 50 Best Free Campsites in the USA (one per state). Access the list by submitting your email below: