7 Best Florida Beaches (And Awesome Nearby Campsites)
The white sand, the warm breeze, and the blue water that begs you to jump in, that's Florida.
Whether you go to the beach to work on your tan, or walk the pristine miles of shoreline, there's something for everyone in the Sunshine State.
These are 7 of the best Florida beaches, and nearby campsites to rest in after a hard day on the sand.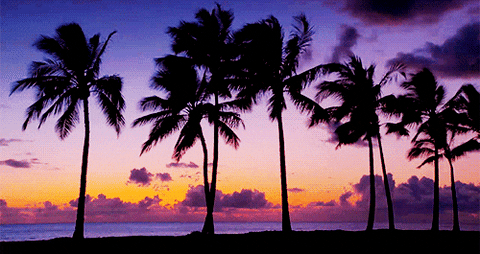 Bahia Honda
Why You'll Love It: Bahia Honda means "deep bay" in Spanish. The channel at Bahia Honda is one of the deepest natural channels in the Florida Keys. The history of this key is linked to Henry Flagler's over-water railroad to Key West. Parts of the bridge are still there creating a great place to snorkel and kayak. There are tours available. This is a great place to watch the sun rise and set and watch the multitude of stars.
Florida Beach Vibe Score: 10/10, there's so much to do and see here.
Nearby Camping: Bahia Honda State Park
36850 Overseas Highway, Big Pine Key, FL
With 86 sites, right on the water, Bahia Honda State Park is a beautiful place to soak up the sun. Camping is $36 per night, plus a $6.70 reservation fee, which includes water and electricity. There is a vehicle height restriction of 6'7" to go under the new Bahia Honda Bridge to access the campground.
Fort Zachary Taylor State Park Beach
Why You'll Love It: Located on an old Navy base that has been converted to a state park, it's one of the best places to see the sunset in all of Key West. The entrance to the water is a bit rocky, but once over that the sand is soft and white. You can rent huts for shade and swim gear at this beach. There is also a fort on site that can be toured privately or with a guided tour.
Florida Beach Vibe Score: 9.5/10. History and great snorkeling.
Nearby Camping: Leo's Campground
5236 Suncrest Road, Key West, FL
Leo's Campground features thirty-four sites nestled in the city of Key West. Reserve early because only half of the sites in the park are for transients. RV sites with two adults and full hookups are around $110.00 per night in the winter.
Clearwater Beach
Why You'll Love It: Clearwater Beach, on the West coast of Florida, is not too far from Tampa. The clear, blue water is great for water sports of all kind. Due to the relatively calm water, paddle boarding is popular. There are a lot of restaurants on the boardwalk. It's more than just a day at the beach. The pier offers fishing, live music nightly and beautiful sunsets.
Florida Beach Vibe Score: 8/10, this is a great spot if you like a busy beach with lots of alternative activities.
Nearby Camping: Clearwater Travel Resort
2946 Gulf to Bay Blvd, Clearwater, FL.
Clearwater RV Resort is great to spend a day or a few months. It's in the hub of the beaches, sporting events, museums and more. With over 150 sites, this resort is described as like coming home. Daily rates for 2 start at $51. The monthly rate is $625. Rates go up November through April.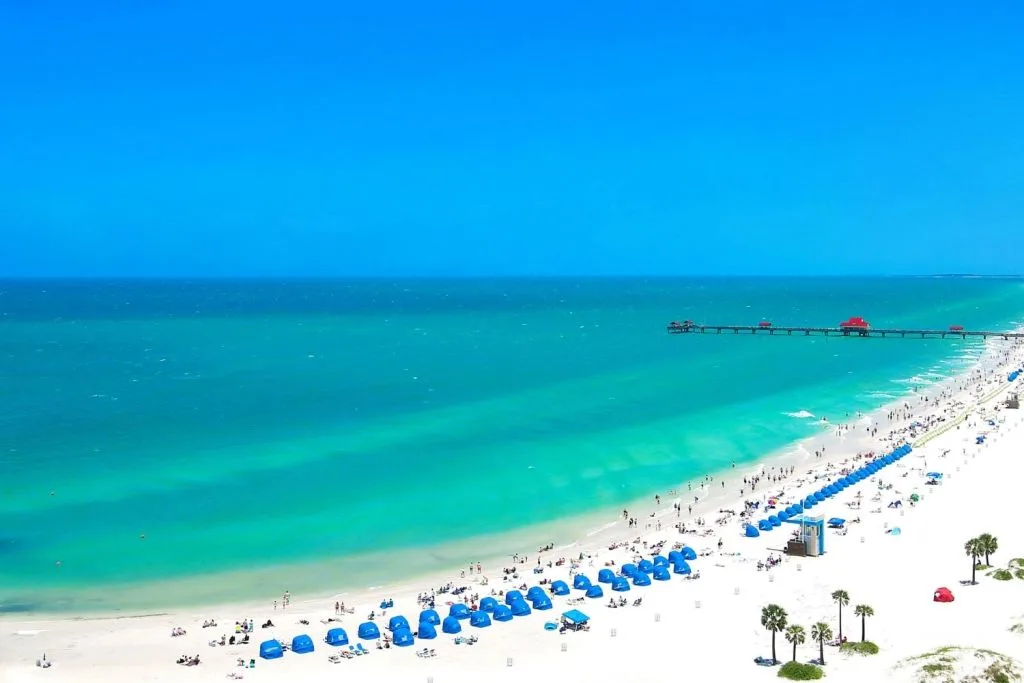 Cocoa Beach
Why You'll Love It: Just South of Cape Canaveral Air Force Station and Kennedy Space Center, Cocoa Beach is known for the great waves to surf and a boardwalk for eating delights and shopping. There's also a great place nearby for seeing wildlife like manatees. It's a busy beach for family vacations, especially in the winter. There are also a few popular culture museums in town, for when you are too sunburned to continue to lay on the beach. Cocoa Beach is not just the beach.
Florida Beach Vibe Score: 7.5/10.
Nearby Camping: Jetty Park Campground
9035 Campground Circle, Cape Canaveral, FL
Jetty Park Campground has a prime location next to a park and the beach. It has access to a fishing pier that doesn't need a license, and is an awesome place to watch rockets take off from Kennedy Space Station. Cruise ships also pass by regularly. There are 172 sites and prices are around $49 per night for full hookups.
Henderson Beach State Park
Why You'll Love It: It's on the west coast of Florida, which is known for sugar white sand beaches and emerald green water. Boardwalks provide access over the dunes to the beach for swimming, sunbathing and fishing. There's a picnic area and playground for kids. The beach is ADA accessible and includes beach wheelchair availability. If you can walk or bike to the beach, it's only $2 to get in. Usually, it's $6 per vehicle.
Florida Beach Vibe Score: 9.5/10, white sugar beach sand and warm water, enough said.
Nearby Camping: Henderson Beach State Park
17000 Emerald Coast Pkwy, Destin, FL.
At Henderson Beach State Park, reservations are suggested up to 11 months out, as this is a very popular place to camp right next to the beach. Privacy in the 60 sites is good with lots of scrub brush between sites. If you play golf, there are no less than 5 golf courses within minutes. Prices are standard for Florida State Parks, $30, plus a non-refundable $6.70 reservation fee.
Miami Beach
Why You'll Love It: Iconic Miami Beach is where the beautiful go to be seen. You'll love it for the nightlife, the culture and the architecture. You can swim at any of Miami's beaches, but watch for weather trends and rip currents, as the water in the Atlantic can be unpredictable. That being said, the water is always warm and inviting. Just off the beach is a bustling community of arts, shopping and nightclubs. There's no chance of being bored here.
Florida Beach Vibe Score: 8.5, it's iconic, but also busy.
Nearby Camping: Whispering Pines/Topeekeegee Yugnee Park
3300 N. Park Road, Hollywood, FL
In the winter season, prices at Whispering Pines are $50 per night. There are two water playgrounds and a swim lagoon at this campground that's just off I-95. It's near the water and the campground has full RV hookups.
St. Augustine Beach
Why You'll Love It: One of the beaches is on Anastasia Island, known for its wide beach facing the Atlantic Ocean and is quieter than other beaches in town as you can't drive on it. St. Augustine Beach stretches 40 miles from Vilano Beach to Flagler Beach. Each section is known for something different. Crescent Beach has free parking and good restaurants. You can drive on the beach and bring your own food and beverages. It's also close to the history of the vibrant community.
Florida Beach Vibe Score: 6.9/10, it doesn't feel as Florida as some other beaches.
Nearby Camping: Anastasia State Park
300 Anastasia Park Road, St. Augustine, FL
Anastasia State Park campground gets excellent reviews except that you have to book almost a year in advance. There are 139 sites, and camping is $28 per night, plus tax and the non-refundable $6.70 reservation fee. It's a short walk or bike ride to the beach. Maximum RV length is 38 feet. There's a lot of nature to explore when staying at Anastasia State Park.
Enjoy the Best Beaches in Florida
No doubt there is a beach for you in Florida.
From the tip of Key West to the north at St. Augustine Beach, from east coast to west coast, it's all in how you like to spend your day and night at the beach. Do you want an exciting nightlife? Check out Miami Beach.
If you are looking for a more relaxed experience, try Fort Zachary Taylor in Key West. As long as you remember the sunscreen, you can't go wrong with one of these best Florida beaches.
Discover the Best Free Camping Across the USA
To be honest with you, we hate paying for camping. There are so many free campsites in America (with complete privacy).
You should give it a try!
As a matter of fact, these free campsites are yours. Every time you pay federal taxes, you're contributing to these lands.
Become a FREE CAMPING INSIDER and join the 100,000 campers who love to score the best site!
We'll send you the 50 Best Free Campsites in the USA (one per state). Access the list by submitting your email below: