When you're driving an RV down the road, there are some safety precautions you must take. If you don't have the right tools, it's hard to know if all your systems are functioning properly.
And, one of the most important parts of your RV is the tires.
Do you know how your tires are faring when you're in motion? Pro-tip…stopping frequently to check the tire pressure on every single tire would take ages.
The best way to know keep an eye on your tires is to have an RV tire pressure monitor.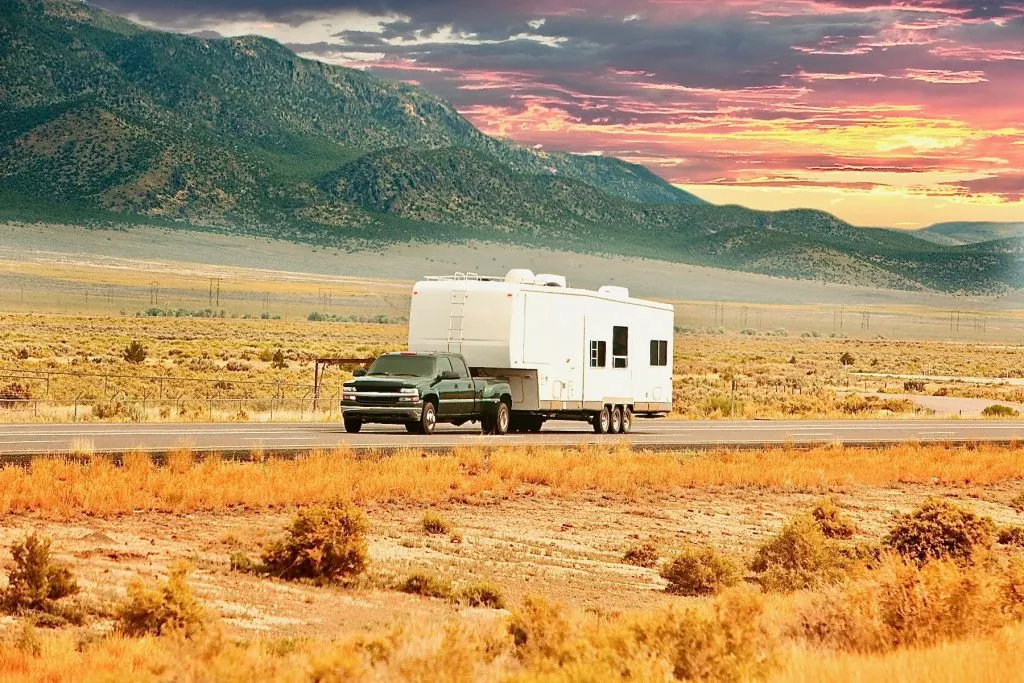 So, What exactly is an RV Tire Pressure Monitor?
An RV tire pressure monitor is a system that provides real-time data about tire pressure and tire temperature. A control module inside the RV means you can know at any moment if your RV tire pressure is appropriate.
This not only helps your tires last longer and improves gas mileage, but most importantly, it can prevent you from having a tire blowout while traveling down the road at high speeds.
RV tire blowouts may be more common than you think.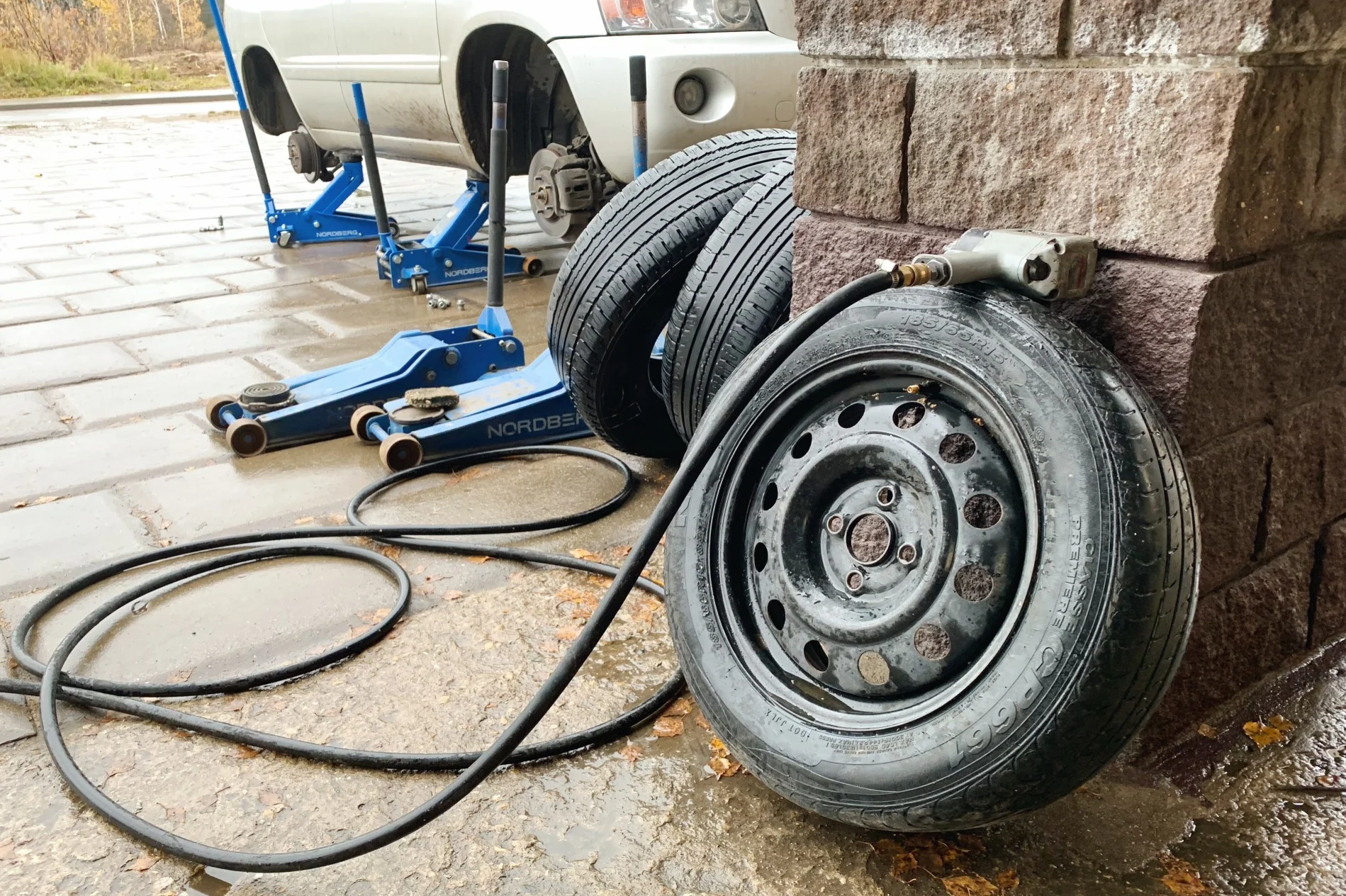 How Often Should You Check RV Tire Pressure?
To ensure a long life for your tires, check the tire pressure at least one time a month when the RV is in storage or parked at a campground. You also need to check your tire pressure before and after every road trip, no matter how short or long it is.
If you are traveling to or from elevation or experiencing drastic temperature changes on your road trip, also check your RV tire pressure during the trip.
This is made much simpler by an RV tire pressure monitoring system.
Why You Need an RV Tire Pressure Monitor
You may think, "an RV tire pressure monitor sounds expensive, and I've already put so much money into this darn RV." But here is the thing, an RV pressure monitor could actually save you money, a lot of money, in the long run by preventing blowouts before they happen.
Because a blowout will cost you money for the tire replacement, likely a new rim, and any other damage sustained by you or anyone else resulting from a potential accident.
When you're driving the RV without a pressure monitor, all you have to rely on is glancing in your mirrors to see if any of your tires look to be flat.
Does that seem effective? You're right, it's not.
So, you need an RV tire pressure monitor, because to stay as safe as possible on the road, you need to know what your tire pressure is. That way, if something comes up, you know the instant it happens.
Then you can pull over and address the situation immediately.
3 Best RV Tire Pressure Monitoring Systems
Now that you see why you need an RV tire pressure monitor, keep reading to learn about which ones we recommend and why.
EEZTire-TPMS
The EEZTire TPMS (tire pressure monitoring system) costs around $300-$600, depending on how many tire sensors you need. Prices may vary so double check before buying so the price doesn't catch you off guard.
It includes the monitoring system console which goes inside your RV to give you real-time data. It can monitor anywhere between 4 and 26 anti-theft sensors depending on how many you need for your rig.
The EEZTire system gives you peace of mind by monitoring tire pressure and temperature.
It sends immediate audio and visual warnings if a problem is detected so you can act fast.
And if you're like us and you always forget to turn things off when you're done with them, don't worry. The EEZTire TPMS will automatically go into power-saving mode after 15 minutes without motion.
This RV tire pressure monitor is easy to install and use and has a large display screen so you can read it easily at a glance. This is also a great system for people who tow with their RV. You can set it up to monitor both RV and trailer tire pressure. When you aren't towing, you can turn off the trailer tire pressure monitors.
If you run into issues, you can get quick help from technical and customer support. You can also buy this TPMS with confidence because it comes with a 3-year limited warranty.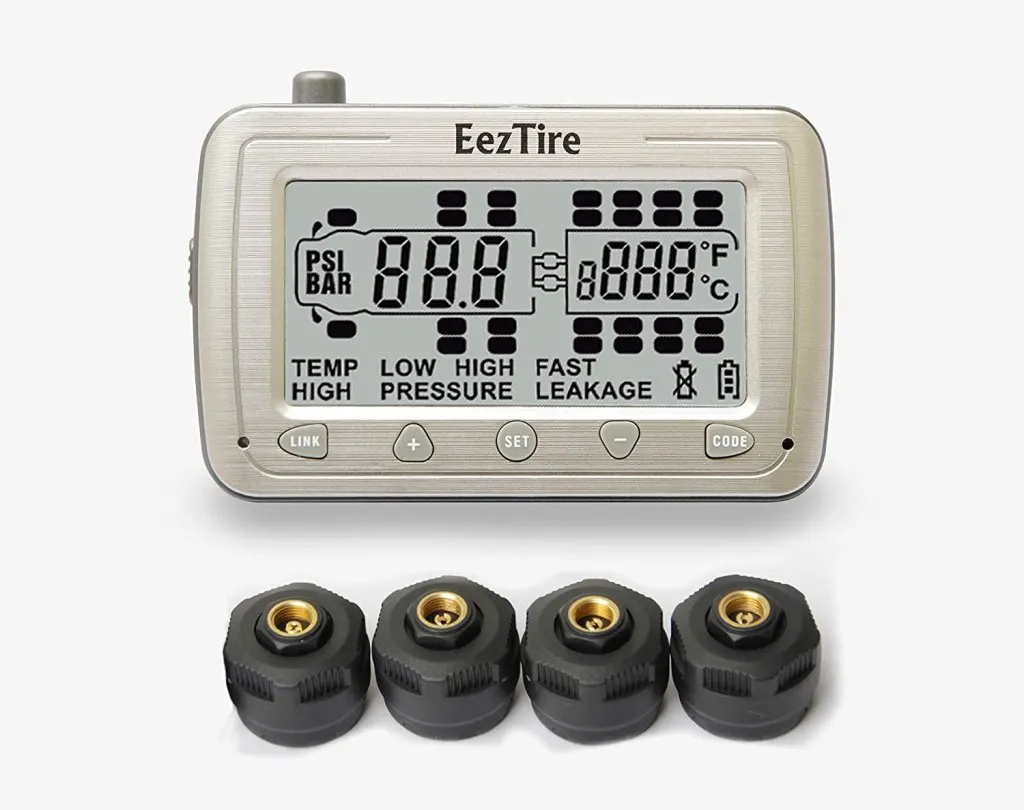 TireMinder TPMS
Another great option for an RV tire pressure monitor is the TireMinder system. It comes in with a bit higher price tag around $400-$500 for either 4 or 6 sensors. It has the ability to monitor up to 22 tires, though.
The TireMinder display console is a little smaller (because it's your smart phone), which could be nice if you want to conserve space. It also displays the PSI and temperature for each tire and has visual and audio alarms for high or low pressure. It also comes with a blowout alarm, allowing you to act fast and stay in control.
Users of the TireMinder TPMS give it 4.4 out of 5 stars so you can buy with confidence.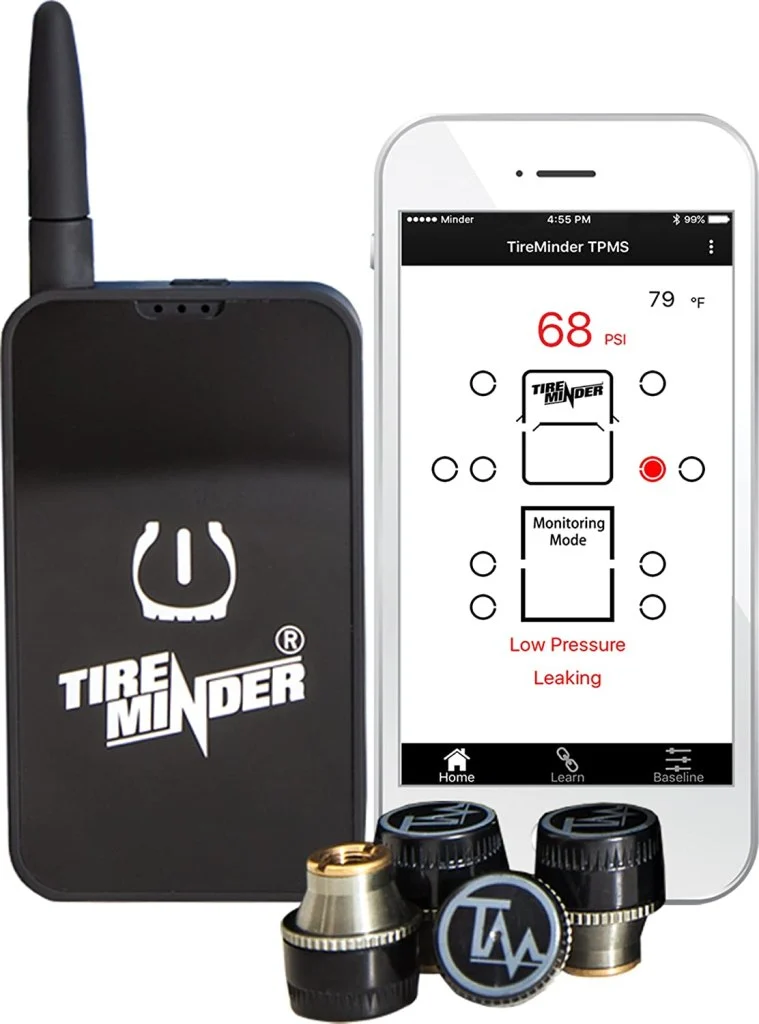 Truck Systems Technology TST 507
The last RV tire pressure monitor we love to recommend is the Truck Systems Technology TST 507. Depending on how many sensors you need, this system ranges in price from around $380 to just over $700.
One thing we love about the Truck Systems TPMS is the flexibility it offers. If you have multiple towables (RV, boat, utility trailer, or so on), you can use one system to monitor up to 4 different vehicles or trailers. Obviously, you won't be using them all at once. But the ease of simply bringing the TST along with whatever you need to tow is something that sets this TMPS apart.
You can also customize the high and low tire pressures for each axle. The monitor shows you the PSI and temperature, and the cap sensor is safe to use with rubber valve stems.
This RV tire pressure monitor is easy to install and use. And the hundreds of happy customers giving it an average rating of 4.7 out of 5 stars means you know it will do the job to keep you safe.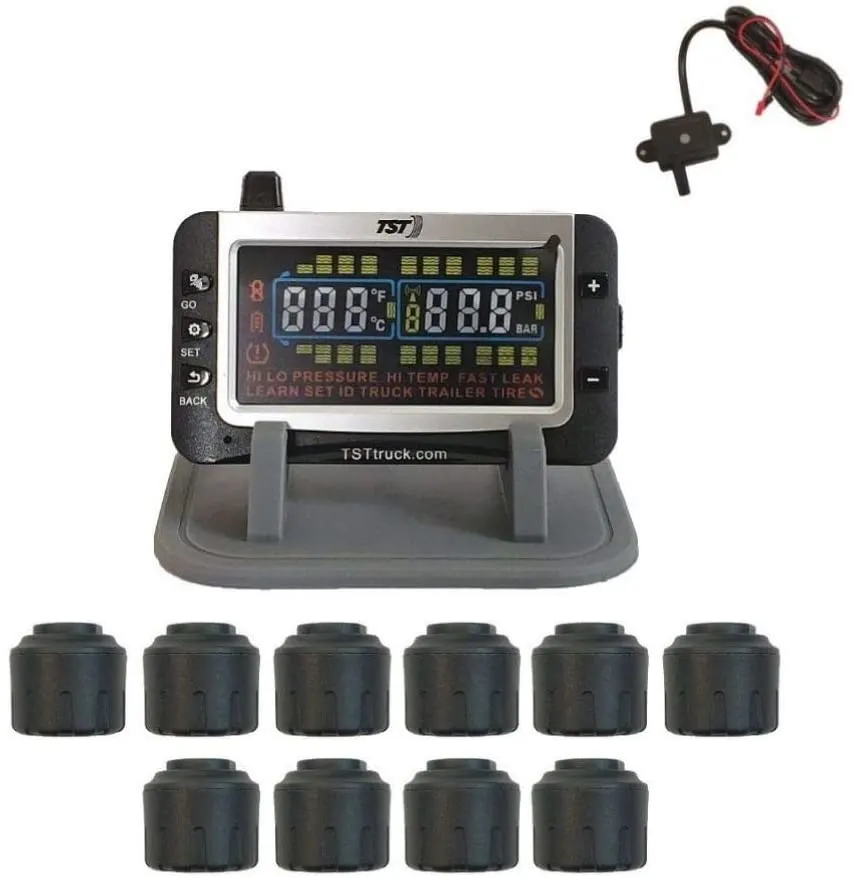 How to Choose the Right RV Tire Pressure Monitor for You
When deciding on which RV tire pressure monitor to purchase the main things you'll want to consider include safety, flexibility, ease of install and use, and also price. You also need to ensure that you purchase enough sensors for each of the tires on your rig.
If you tow multiple different things, the Truck Systems Technology 507 is the way to go. If affordability is a bigger factor, the EEZTire is what you're looking for. And for something in the middle, you'll love the TireMinder system.
Go Forth and RV Safely
Properly monitoring and maintaining your tires is a critical part of a safe RV trip. That's why we recommend every RVer purchase an easy to install and use RV tire pressure monitoring system.
The upfront cost is well worth it for the peace of mind and the long-term savings. With one of these systems in place, you can head out on your next road trip with confidence.
Discover the Best Free Camping Across the USA
To be honest with you, we hate paying for camping. There are so many free campsites in America (with complete privacy).
You should give it a try!
As a matter of fact, these free campsites are yours. Every time you pay federal taxes, you're contributing to these lands.
Become a FREE CAMPING INSIDER and join the 100,000 campers that love to score the best site!
We'll send you the 50 Best Free Campsites in the USA (one per state). Access the list by submitting your email below: