7 Best Small Towns in Florida (And Awesome Nearby Campsites)
Florida is an extremely popular place to visit, and the terrific weather for most of the year is just one of the reasons. It seems like the Sunshine State has something for everyone, especially those who love spending time outdoors.
While Florida has quite a few famous cities that are popular vacation spots, small-town charm is in big supply there, too – as long as you know where to look for it. With this travel guide, we're going to move away from Florida's bigger destinations to give you an up-close look at some of the smaller dots on the map.
Are you ready to discover the sparkle of some of Florida's hidden gems? Let's dive in to the best small towns in Florida: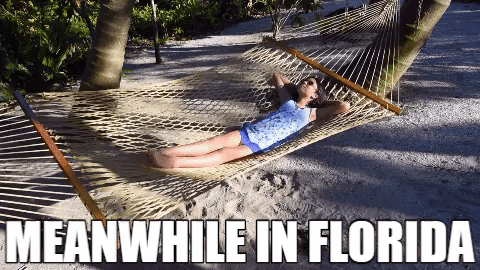 Anna Maria Island
Why You'll Love It: Outside Bradenton Beach on Florida's Gulf Coast awaits this laid-back and natural strip of white-sand beach.
Enjoy fishing and swimming in the shimmering waters or sunbathing and relaxing among the dunes of this unspoiled barrier island. A shopping district along Pine Avenue offers restaurants and galleries while the popular Bridge Street Market offers arts and crafts.
Slow down and enjoy the easy rhythms of this island getaway south of Tampa Bay.
Nearby Camping: Buttonwood Inlet RV Resort
Miles to downtown: 3.8
Just a 15-minute cruise away, Buttonwood Inlet RV Resort in the town of Cortez offers tidy and comfortable accommodations.
The shaded and paved campground is big-rig friendly and has a well-kept bath house that's cozy but clean. There's cable and good WiFi. Shopping and beach access are an easy bike ride away. And, the nearby Anna Island Oyster Bar gets great reviews, too!
Small Town Florida Vibe Score: 9.3
Captiva, A Resort Small Town in Florida
Why You'll Love It: Just outside Fort Myers, the resort community of Captiva offers a peaceful change of pace that's truly captivating.
A northern neighbor to Sanibel Island, this remote area can be reached from the mainland by a toll bridge. Once you've touched down, you can enjoy shopping or dining in the quaint village. Or, take a peek into how the other half lives in their stately homes on "Millionaire's Row."
You can indulge in some saltwater fishing or do a lazy search for seashells. When we're in a place like this, we like to do as little as possible!
Nearby Camping: Periwinkle Park & Campground
Miles to downtown: 13
A short and scenic drive from the village, Periwinkle Park and Campground has full hookups and 200 spaces, mostly level, with lots of long-term residents. It's surrounded by miles of bike paths and has easy beach access.
Pull-through sites are crushed shell and concrete, and some of them are a bit tight. No WiFi, but cell service is mostly good. Nearby attractions include the Darling National Wildlife Refuge, several museums and a farmer's market for fresh produce.
Small Town Florida Vibe Score: 9.4
Cassadaga
Why You'll Love It: And now for something really different. Not all of Florida's small communities are on the beach.
The historic town of Cassadaga in central Florida has a particularly unique claim to fame as the "Psychics Capital of the World."
Since 1894, believers have convened at the Southern Cassadaga Spiritualist Camp to try and make contact with the spirit world. But skeptics are welcome, too. Even if you're not a psychic, medium or healer, you can enjoy the charms of a historic little town as a retreat from the hustle and bustle of modern life.
Just minutes off Interstate 4, Cassadaga is literally a world away from the more congested experience of Orlando just an hour to the south.
Nearby Camping: Blue Spring State Park
Miles to Downtown: 8.4 miles
Along the St. Johns River, Blue Spring State Park in Orange City is a popular park for water sports as well as for manatee watching. The sites offer lots of privacy but they are on the small side and can be a challenge for backing in larger trailers. Pluses include paved trails for walking and cycling and a nice, clean bath house. Dump station but no full hookups.
Small Town Florida Vibe Score: 8.7
Key West Is Definitely One of the Best Small Towns in Florida
Why You'll Love It: No list of the best small towns in Florida would be complete without Key West!
The southernmost point in the United States, this place is kind of a mecca for aspiring beach bums. Because of its gorgeous coral reefs, laid-back lounging on the beach takes a back seat to more adventurous pursuits such as diving and snorkeling.
And there are plenty of historic sites to take in, from the shops, bars and cafes along Duval Street to the Ernest Hemingway Home and Museum with its famous six-toed cats. Key West has rowdy nightlife, for sure, but also a unique character that might be best experienced with a guided walking tour.
Nearby Camping: Leo's Campground
Miles to Downtown: 3.2
Leo's Campground can be a bit busy and noisy at times, but it puts you about as close to the action as you can be in Key West.
In fact, it's just off the famous Highway 1 and from Leo's it's a short, easy bike ride or bus ride into town. The campground has full hookups and accommodates RVs up to 42 feet. If you're lucky you might spot an iguana or two along the bayou at the rear of the park!
Small Town Florida Vibe Score: 9.6
Crystal River, Florida
Why You'll Love It: A bit less touristy than some of the beach towns that are popular with Spring Breakers, the town of Crystal River attracts visitors who are more into nature.
The warm spring-fed waters attract manatees, too, so this beautiful spot on western Florida's "Nature Coast," north of Tampa, is a great place to swim with them.
Must-see attractions include Three Sisters Springs Wildlife Refuge and Crystal River Archaeological State Park, where you can view remains of an early Native American settlement. Paddle boating and kayaking are popular, too, and the Plantation at Crystal River is a hotel that was converted from an antebellum home.
Nearby Camping: Rock Crusher Canyon RV Resort
Miles to Downtown: 5.6
Rock Crusher Canyon RV Resort is wide open and easy to navigate, and it's right there in Crystal River. Most of the 350 RV sites are level, but bring your blocks just in case. The majority are dirt/sand, while some are gravel and a few of them grass.
Most are back-ins, but there are some pull-throughs. WiFi is good, and other cool amenities include a heated pool and hot tub, basketball court and playground as well as a clubhouse with kitchenette, an outdoor pavilion and a dog run.
Small Town Florida Vibe Score: 9.5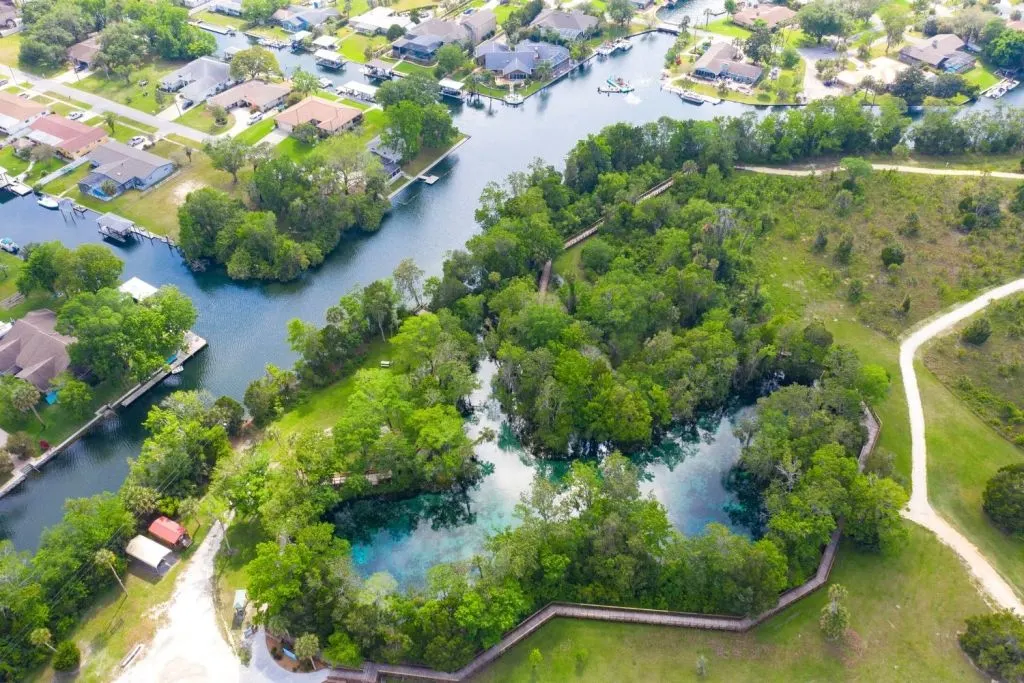 Matlacha, Florida
Why You'll Love It: This free-spirited island community on the Gulf of Mexico north of Naples is known for its top fishing spots, but there's lots more to lure visitors with more of an artistic bent.
The fishing heritage is still a strong part of this charming village's makeup, but Matlacha (from the Seminole word for "Big Warrior") has reinvented itself as a funky arts community. Colorfully painted shops and galleries and locally owned restaurants serving up that famous seafood make this one of southwestern Florida's most uniquely vibrant towns.
Nearby Camping: Sugar Sand Beach RV Resort
In the heart of town, Sugar Sand Beach RV Resort is a cozy and friendly 11-site RV park that might be a bit lacking in terms of amenities but makes up for it in personality. At water's edge with a relaxed atmosphere, it offers full hookups plus some homey touches like a tiki bar, fireplaces and a boat dock.
Miles to Downtown: .2
Small Town Florida Vibe Score: 9.4
Venice, Florida
Why You'll Love It: Don't expect gondolas floating lazily up and down the canals, because that's a different Venice.
This one, south of Sarasota, is known for its spectacular sandy shoreline and a friendly family vibe. Separated from the mainland by the Intracoastal Waterway, this coastal city is sometimes called "Venice Island."
The town has four main beaches (which are great places to find shark's teeth!) and a city pier that extends more than 700 feet over the water. The history of the area is well chronicled at the Venice Museum and Archives (housed in the old Triangle Inn), which is certainly worth a visit.
Nearby Camping: Rambler's Rest RV Campground
Miles to Downtown: 11.3
Rambler's Rest RV Campground is a 20-minute drive from town and about four miles south of Interstate 75. There are nearly 250 sites near the beaches in a shady wooded setting that's right on the Myakka River. Big rig-friendly with gravel and grass sites, full hookups and lots of amenities that include a spacious swimming pool, pickleball, horseshoes and shuffleboard.
Small Town Florida Vibe Score: 9.1
As you can see from our list, some of these great small towns in Florida are on the coast while others lie farther inland. All have something unique to offer and are truly treasures that are worth discovering.
Discover the Best Free Camping Across the USA
To be honest with you, we hate paying for camping. There are so many free campsites in America (with complete privacy).
You should give it a try!
As a matter of fact, these free campsites are yours. Every time you pay federal taxes, you're contributing to these lands.
Become a FREE CAMPING INSIDER and join the 100,000 campers that love to score the best site!
We'll send you the 50 Best Free Campsites in the USA (one per state). Access the list by submitting your email below: