Can The Toyota 4Runner Tow a Camper Trailer?
The Toyota 4Runner has been a mainstay on and off the roads for more than more than 35 years. One of the reasons it has such a loyal following is simply because it's just so versatile.
The popular midsize SUV has always been known as a rugged and reliable workhorse. And, it's also the vehicle of choice for many RVers… because of what's under the hood!
A lot of SUVs just don't have what it takes, but the Toyota 4Runner is powerful enough to be a tow vehicle for certain kinds of travel trailers.
Sure, a full-size truck can tow a lot more, but using an SUV as a tow vehicle has some advantages. For starters, they generally ride smoother and get better mileage. They handle better, too, and have more space for passengers and cargo.
Toyota 4Runner Towing Capacity
The Toyota 4Runner can tow up to 5,000 pounds! That's all thanks to a 4.0-liter V6 engine that provides 270 horsepower and 278 lb-ft of torque.
Something else you need to take into account when towing an RV is tongue weight, and the Toyota 4Runner's capacity is 500 lbs.
Toyota 4Runner Tow Features
The Toyota 4Runner is also equipped with a standard hitch receiver and a wiring harness 4-pin and 7-pin connectors, so you don't need to spring for an additional towing package.
When it comes to towing, these features give the Toyota 4Runner an edge over much of its competition. By comparison, a Honda Pilot and a Jeep Grand Cherokee Laredo each have a towing capacity of just 3,500 lbs.
Two other SUVs that are in the same league with the 4Runner are the Kia Telluride and the Hyundai Palisade, both of which share a rating of 5,000 lbs.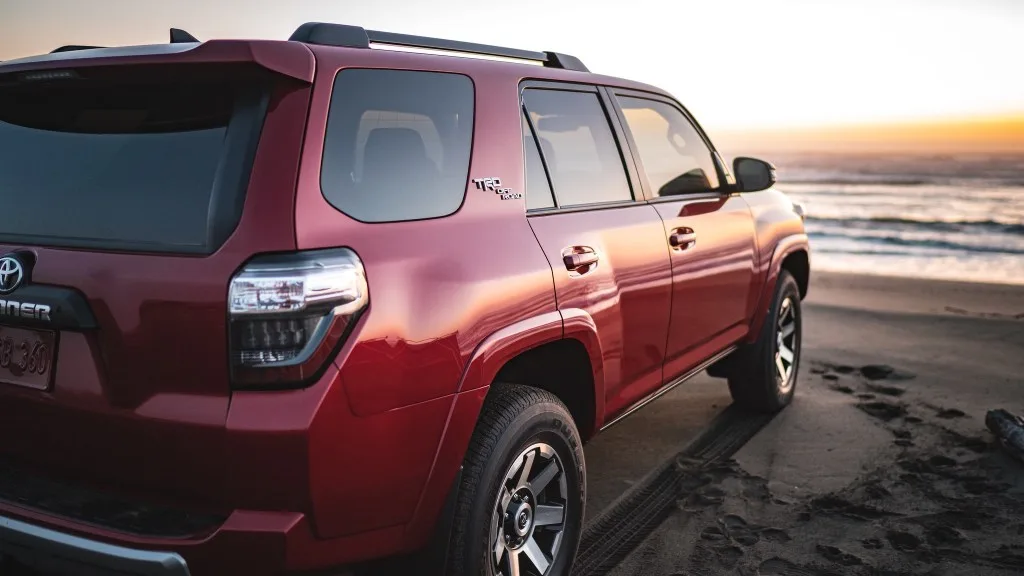 Other Specs of the Toyota 4Runner
The Toyota 4Runner has remained remarkably unchanged in recent years, which is a testament to its winning design.
Each model has a five-speed automatic transmission and a choice of rear-wheel-drive, four-wheel-drive or all-wheel-drive. With optional third row seating, it can seat up to seven and offers nearly 90 cubic feet of cargo space.
The 4Runners MSRP starts at $36,120. This SUV has a combined mpg rating of up to 16/city and 19/highway its tank holds 23 gallons. It has a curb weight of 4,400 to 4,805 lbs.
Dimensions are 190-191″ L x 76″ W x 72″ H.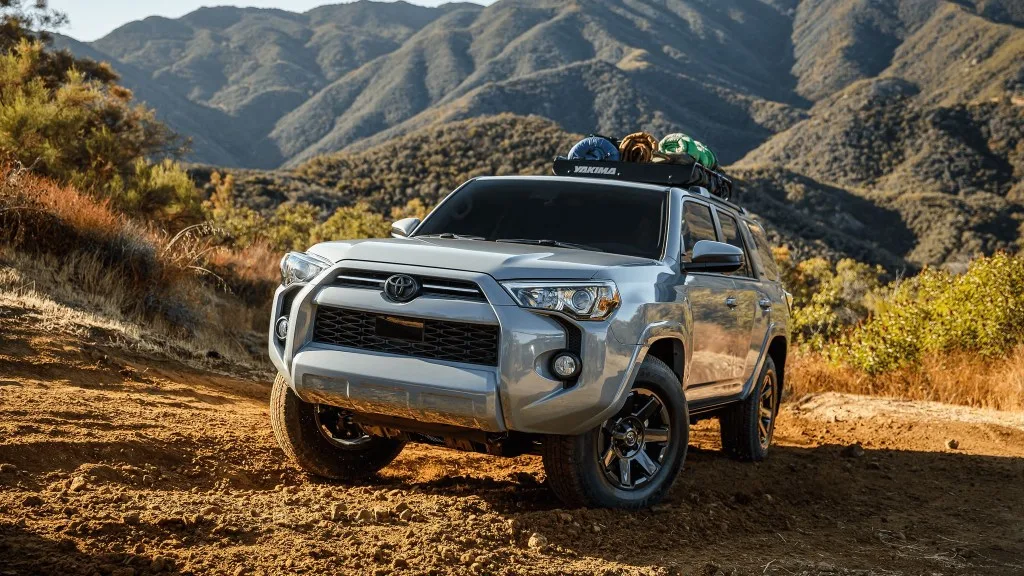 What Kind of Camper Trailer Can the Toyota 4Runner Tow?
It almost goes without saying that teardrop trailers will be no sweat for a Toyota 4Runner. They're tiny, and can easily be towed by vehicles with much less power.
Many pop-up campers are also a perfect match for the 4Runner. They're designed to be lightweight and easy to tow, and some of them expand enough to accommodate up to six people.
Pop-ups weigh less than many other types of travel trailers. This is because their sides are made of canvas or other lightweight materials. The walls extend when you set up for camp and fold back down for traveling. Most of them have a really low profile, so there's not a lot of wind resistance when you're driving.
They can be pretty heavy when they're loaded with supplies and their tanks are full, but many of them will still lie within the safe hauling range for a Toyota 4Runner.
Determining a vehicle's towing capacity is complicated because there are a lot of important factors. You have to take into account things like the Gross Vehicle Weight Rating (GVWR), Unloaded Vehicle Weight (UVW) and Cargo Carrying Capacity (CCC).
It bears repeating that you should always play it safe and be careful not to get even close to that magic number that's listed as a maximum limit. Many RVers prefer to stay 20 percent below it, in fact.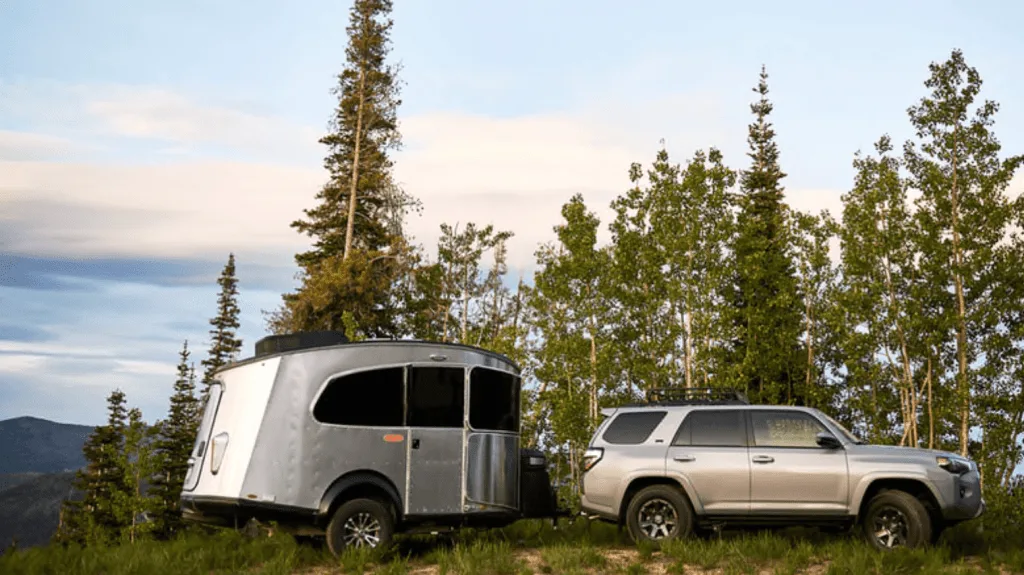 Toyota 4Runner: Tow Small Campers, ATVs, Boats, & More
Even if you're not towing an RV with your Toyota 4Runner, they are sturdy enough to hold up to all kinds of outdoor activities. They are known for their awesome off-road capabilities, as well.
Besides towing RV campers, Toyota 4Runners are useful for hauling just about anything you can put on a trailer – including ATVs or a reasonably sized boat – as long as they are safely under that 5,000 lb. towing limit.
Since being introduced way back in 1984, the Toyota 4Runner has stood the test of time and proved itself to be a great match for the outdoor lifestyle.
Discover the Best Free Camping Across the USA
To be honest with you, we hate paying for camping. There are so many free campsites in America (with complete privacy).
You should give it a try!
As a matter of fact, these free campsites are yours. Every time you pay federal taxes, you're contributing to these lands.
Become a FREE CAMPING INSIDER and join the 100,000 campers who love to score the best site!
We'll send you the 50 Best Free Campsites in the USA (one per state). Access the list by submitting your email below: