5 Best Compact Trucks for Towing
Compact trucks are larger than they used to be, and many of them are great for towing.
These smaller trucks are also known as midsize trucks, and many of them have plenty of power under the hood. In fact, some of today's compact trucks can tow more than 7,000 lbs.
This is good news for RVers. It means you don't need a monster of a truck to tow a travel trailer.
What is a Compact Truck?
The term "compact truck" is a relative one used to describe the smallest trucks on the market. These days, there are two basic sizes of trucks, full-size and mid-size, and compact is another term for a mid-size truck.
That wasn't always the case, however. Originally, compact trucks were a lot smaller than other kinds of trucks. They came along in the 1970s when there was a demand for small vehicles with better gas mileage.
They are not as big or powerful as full-size trucks, but they have a few advantages. For instance, they handle easily, get good mileage and can fit into tight spaces.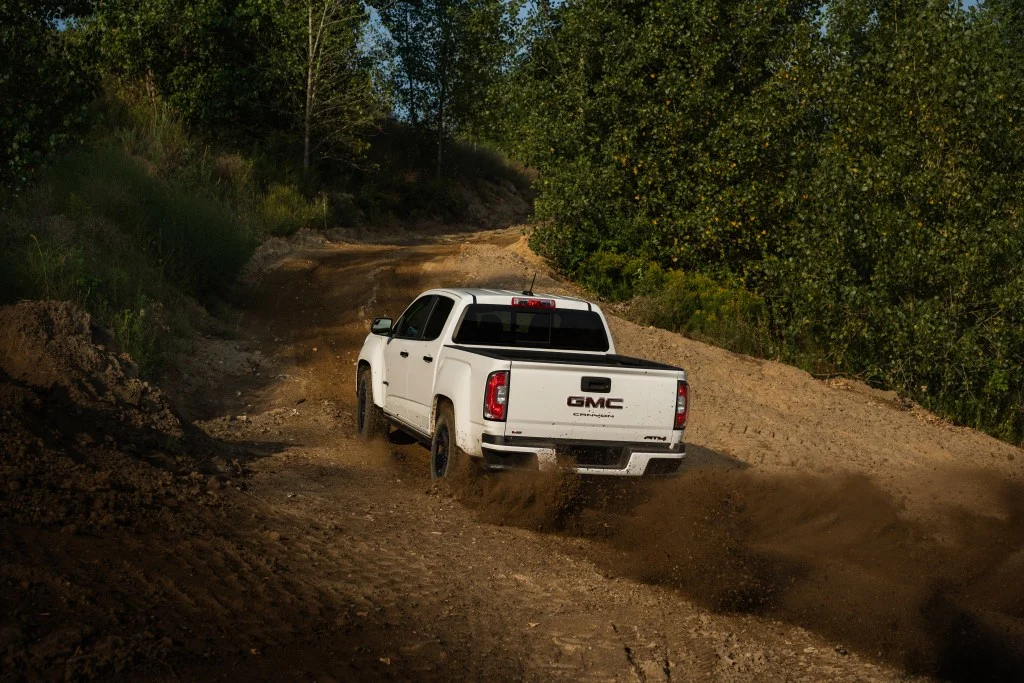 What to Look for in a Truck for Towing
To determine if a particular compact truck is a suitable camping partner, do some research. The first thing to determine is a truck's towing capacity, which is the maximum amount of weight it can haul.
Towing capacities can vary with different versions of the same truck. For instance, a truck might have either a four-cylinder motor or a larger V-6. It's a good bet that the larger engine means a higher towing amount.
The size of the engine matters, but so does torque. Torque refers to the vehicle's strength or force and is expressed in pound-feet (often abbreviated as lb-ft). Diesel engines have higher torque levels than gasoline engines, so many RVers prefer them.
Some other factors include the curb weight of the truck. In general, the heavier the tow vehicle, the more control you'll have over what you're towing.
5 Best Compact Trucks for Towing
Ford Ranger
Ford's popular midsize truck is known for its versatility and reliability. Its payload capacities range from 1,560 to 1,860 pounds, making the Ranger a leader in its class.
The Ranger has a turbocharged 2.3-liter four-cylinder engine and is available with a 10-speed automatic transmission and optional four-wheel-drive.
There are two body styles with two different bed lengths and three trim levels: basic Ranger XL, intermediate Ranger XLT, and luxury Ranger Lariat.
The Ranger's length is 210.8 inches, and the curb weight is 4,441 lbs.
Towing Capacity: up to 7,500 lbs.
Pro Tip: Here's our recent article that answers, "What Types of Camper Can the Ford Ranger Tow?"
Chevrolet Colorado
The Chevrolet Colorado is a rival to the Ranger, and it's a real workhorse.
The standard Colorado comes with a 2.5-liter four-cylinder engine, which offers great economy and can certainly tow many smaller travel trailers. Upgrade to a 3.6-liter V-6 or a 2.8 turbo-diesel engine, and you're talking real performance. The diesel version gives 181 horsepower and 369 lb.-ft. of torque.
There are four different trim levels, and the most common is the LT. The top-of-the-line model is the Z71.
Curb weight for the Colorado is 4,955 lbs, and the length is 212.4 inches.
Towing Capacity: up to 7,700 lbs.
GMC Canyon
The GMC Canyon is basically GMC's version of the Colorado but with a different badge and a few more options.
The Canyon is available with an extended cab or crew cab and comes standard with a 200-horsepower, 2.5-liter four-cylinder engine. Like its Chevy cousin, it's also available with a 308-horsepower 3.6-liter V-6 or the turbo-diesel 2.8-liter four-cylinder. The Canyon is available with rear- or four-wheel drive.
The length is the same as the Colorado's at 212.4 inches, and the curb weight is 4,616 lbs.
Towing Capacity: up to 7,000 lbs.
Nissan Frontier
Nissan's midsize truck got an upgrade with a bigger engine.
The new models benefit from a powerful V-6 instead of a smaller 4-cylinder that was standard for many years. The improvement means 310 horsepower and 281 lb-ft of torque.
The Frontier is offered in either King Cab or Crew Cab sizes and has five different trim levels. There are two separate bed sizes.
The length is 205.5 inches, and the Frontier's curb weight is 4,181 lbs.
Towing Capacity: up to 6,720 lbs.
Toyota Tacoma
The Toyota Tacoma is not as hefty as its bigger Tundra brother, but it has a lot to offer.
The base model has a 2.7-liter four-cylinder engine with 180 lb-ft of torque. The torque amount is 265 lb-ft with the larger 3.5-liter V-6, which provides 278 horsepower.
Rear-wheel-drive is the standard drive train, with a four-wheel-drive option. The transmission is the standard six-speed automatic, with a manual available.
The Tacoma is 212.3 inches long, and the curb weight is 4,661 lbs.
Towing Capacity: up to 6,800 lbs.
Pro Tip: In this article we answer, "What Kind of Camper Can You Tow with Toyota Tacoma?"
What Truck Will You Use to Tow Your Camper?
Auto designers have learned a lot over the last decades about how to improve performance. As a result, today's compact trucks are built to handle some big jobs.
As long as you don't have a colossal rig, these smaller trucks can definitely handle towing an RV trailer.
If you think you'll need more power than a compact truck offers, here are our "best of class" for all truck sizes.
Discover the Best Free Camping Across the USA
To be honest with you, we hate paying for camping. There are so many free campsites in America (with complete privacy).
You should give it a try!
As a matter of fact, these free campsites are yours. Every time you pay federal taxes, you're contributing to these lands.
Become a FREE CAMPING INSIDER and join the 100,000 campers that love to score the best site!
We'll send you the 50 Best Free Campsites in the USA (one per state). Access the list by submitting your email below: