How to Spend a Day in Carlsbad Caverns National Park
From the outside, it looks like a big hole in the side of a limestone canyon. You may find it hard to believe what lies beyond at Carlsbad Caverns National Park.
It's one of the top attractions in southeastern New Mexico, so take a visit, and you'll find out why. We'll help you make the most of your trip to this unique area on the edge of the Guadalupe Mountains.
Let's explore the park.
About Carlsbad Caverns National Park
Carlsbad Caverns, which is located in the Chihuahuan Desert, was declared a national monument in 1923 and became a national park in 1930. Now, more than 400,000 people visit each year.
The famous caverns are about 18 miles outside of Carlsbad, New Mexico. The city itself is along the Pecos River and has a population of around 26,000 people. The area has a semi-arid climate and, as a result, mild winters and warm to hot summers.
There is a rainy season from July to September, and annual precipitation averages 14.9 inches.
History and Geology
People wondered for a long time about what appeared to be an entrance to a cavern. But it was a teen named Jim White whose curiosity got the best of him back in 1898, and he decided to explore. What he found was astounding – a huge underground space that's almost 4,000 feet long and over 600 feet wide. It's tall too, up to 255 feet high in some places.
Carlsbad Caverns are believed to have been formed millions of years ago from naturally occurring acids in a petroleum deposit. The cavern is filled with amazing rock formations and has more than 100 separate chambers.
White gave some of them the descriptive names they still carry today. For example, he named King's Palace, Spirit World, and Hall of the White Giant.
Pro Tip: You may need to bring specific gear or get there by a certain time. Check for alerts before you head to the park.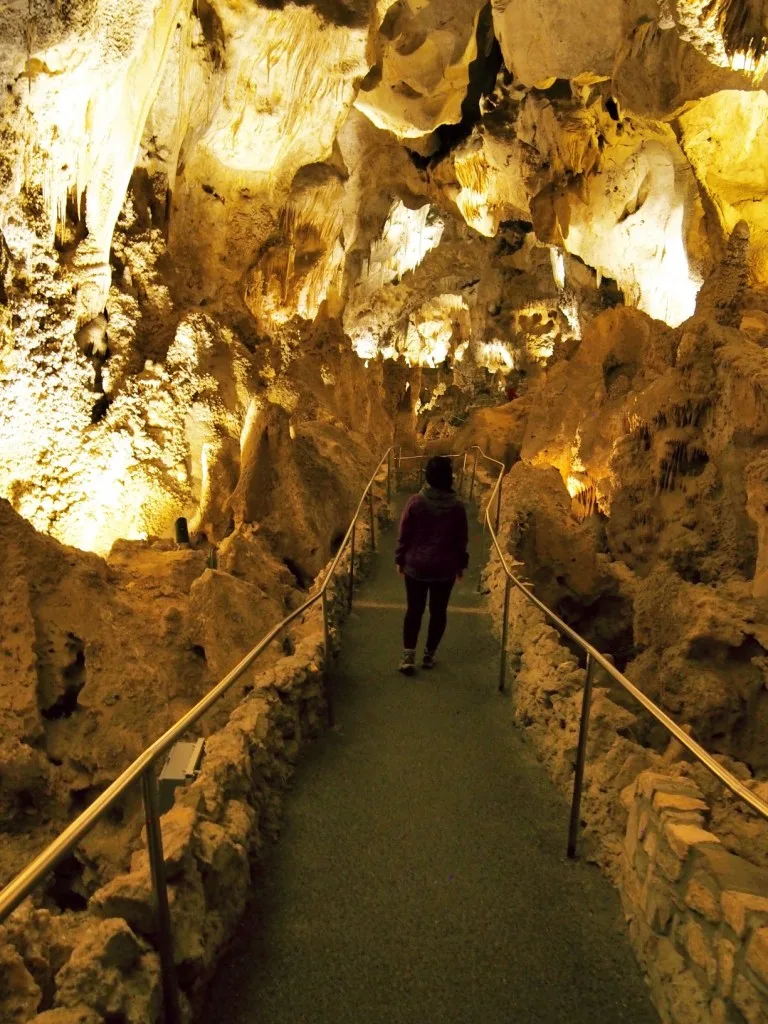 Morning at Carlsbad Caverns
Get Fueled Up at Pecos River Café
Address: 409 S. Canal St,, Carlsbad, NM 88220
Start your busy day off with a hearty breakfast from Pecos River Cafe. You might want a custom three-egg omelet or maybe a fresh-baked oversized cinnamon roll. Locals love The Pronto – a breakfast burrito filled with scrambled eggs, hash browns, thick-cut bacon, and spicy sausage.
Top it off with red or green chile.
Reasons to love it: You'll find out why this little place stays so busy. The food is top-notch, and the service is friendly and efficient. It wins the local awards in a few different categories year after year.
Tour the Visitor Center
If you're expecting nothing more than a few stalactites and stalagmites, you're going to be in for a big surprise. Besides the natural formations, an elevator, a visitor center, and even a restaurant are part of this subterranean complex.
A quick visit to the visitor center will start your tour of Carlsbad Caverns National Park on the right foot. You can watch a short film that will give you a better understanding of what you are about to experience. In addition to the film, there's a host of exhibits, a bookstore, and a gift shop.
Here's a tip: Solid footwear is a good idea because some areas inside the caverns are a bit wet. Closed-toe shoes with good traction are recommended. Make sure they're comfortable – you'll be doing lots of walking.
Afternoon at Carlsbad Caverns National Park
Begin Your Self Guided Cavern Tour
There are two ways to tour the cavern, and one of them starts right here. The entire tour covers 1.25 miles, and you can take the winding path at your own pace. You could race right through it, but you'd miss lots of cool details. You should plan on at least an hour so you can take it all in.
If you're touring in the summertime, you may not want to hurry out.
It's nice and cool inside among the damp limestone.
Grab a bite at Carlsbad Caverns' Underground Lunch Room
Fresh salads, deli-style sandwiches, and classic burgers are popular. So are Southwestern-style dishes like chicken quesadillas and pork adovada over rice.
Reasons to love it: It's not fine dining, but how often do you have an opportunity to have lunch in a cave? More than 750 below the ground, this cafeteria-style eatery was built in 1928. There's a mailbox nearby, so you can also send out a postcard if you wish.
Don't Miss the Bat Flight Program
Bats are a big part of the history at Carlsbad Caverns National Park. In warmer months, they're part of the present, too – by the thousands. A huge colony of Mexican free-tailed bats lives in a section of the cave from April to September.
It's amazing to watch a swarm of them emerge at sunset to start feeding on mosquitoes.
The swooping spectacle takes place nightly, and a special amphitheater has been built for relaxed viewing.
Know Before You Go: Make sure you time your visit right and know what you can and cannot bring.
Evening at Carlsbad Caverns National Park
Dine at Yellow Brix Restaurant
Address: 201 N. Canal St., Carlsbad, NM 88220
Head into town for an evening of casual dining at one of Carlsbad's favorite spots. Stick with a Southwestern theme or explore pasta dishes or char-grilled steaks, salmon, or pork chops. Specialties include Chicken Cordon Bleu and BRIX Meatloaf. Chocolate Lava Cake a la mode and tiramisu grace the dessert menu.
Other reasons to love it: Yellow Brix has a homey feel because it's literally inside an old home. The distinctive yellow-brick house is the former residence of a popular clothier named Albert Hendricks.
It was a coffeehouse before branching out as a restaurant with a strong accent on local flavors and ingredients.
Stargaze at Carlsbad Caverns' Dark Sky Program
Back at the caverns, it's suitably dark to enjoy the many of the wonders of the nighttime sky. Because there's minimal light pollution here, rangers often throw Night Sky viewing parties.
They set up high-powered telescopes and discuss astronomy as well as nocturnal wildlife. On full moon nights, rangers lead hikes through the park's grounds.
Stay at Brantley Lake State Park Campground
Address: 33 East Brantley Lake Rd., Carlsbad, NM 88221
It's 12 miles north of the city of Carlsbad, so it's about a 45-minute scenic drive from the park.
The state of New Mexico operates Brantley Lake State Park Campground, which is near the Old West town of Seven Rivers.
Why you'll love staying here: The campground is in a secluded lake setting and offers lots of opportunities for recreation, including hiking, canoeing, and kayaking.
There are 51 sites, but only a few with full hookups. Others have electricity and water, however, and there is a dump station on site.
A Day in Carlsbad Caverns National Park
More than just a big hole in the ground, Carlsbad Caverns National Park preserves a distinctive corner of our Desert Southwest. The network of caverns is amazing, and so are the less-known areas of the park above the caverns.
We should pay thanks to Jim White for shedding some light on these natural wonders. Without his curious nature, we might not be able to enjoy them more than a century later.
Discover the Best Free Camping Across the USA
To be honest with you, we hate paying for camping. There are so many free campsites in America (with complete privacy).
You should give it a try!
As a matter of fact, these free campsites are yours. Every time you pay federal taxes, you're contributing to these lands.
Become a FREE CAMPING INSIDER and join the 100,000 campers that love to score the best site!
We'll send you the 50 Best Free Campsites in the USA (one per state). Access the list by submitting your email below: