5 Best RV Water Heaters in 2021
Enjoying a hot shower or doing the dishes in your RV are not usually the highlights of a camping trip. But, both are certainly enhanced by the efforts of an RV water heater.
After all, cold showers and dirty dishes are not on anyone's Top Ten list of camp memories!
But today's water heaters offer much more versatility and energy conservation features than previous models, making those tasks much easier.
Let's see what's heating up in the world of RV water heaters!
What To Look For When Buying an RV Water Heater
When considering the purchase of a new RV water heater, there are a few things you will need to understand.
Size
RV water heaters are usually measured in gallons. Most standard water heaters come in standard sizes of 6 or 10 gallons. This is the amount of hot water they can store.
Obviously, the larger the tank, the longer your hot shower will last. When those gallons are used, you will have to wait for more water to be heated.
BTU
BTU is the amount of fuel used per hour to heat the water.
It stands for "British Thermal Units" and the higher the number of BTUs, the faster and greater amount of water that can be heated.
Flow Rate
Flow rate is measured in gallons per minute (GPM). It tells the user how much and how quickly hot water is being used.
With tankless water heaters, the flow rate also takes into consideration the difference in temperature between the cold water coming into the heater (and past a heating element), and the temperature of the hot water as it flows out the spigot.
PSI
PSI is a measurement of the pressure in the water heater tank. It stands for "pounds per square inch," and most tanks are designed to handle up to 150 PSI, but a good functioning water heater can work well at 80 PSI.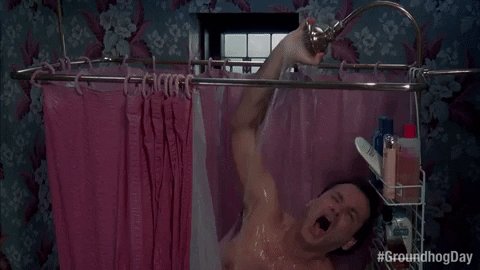 Tankless RV Water Heaters vs Regular
Many newer RVs come equipped with a tankless water heater. Their name perfectly explains their function. These water heaters don't require a tank to hold (and continue heating) hot water like the water heaters of old. This means they don't require as much room in an RV setup, and they use less power because they don't keep water hot for long periods of time.
Regular propane or electric RV water heaters need to be turned on in advance to start heating and storing hot water. Once the H2O is hot, the water heater must stay on to keep the liquid hot until you use it.
And then there is only enough hot water available as is in a 6 gallon or 10-gallon tank.
With tankless water heaters, the water passes a heating element and is immediately warmed to the temperature set, passing straight out the opened spigot. There's no waiting and no limit on how much hot water you can use if you (1) have an endless supply of water and (2) have an endless supply of fuel (either propane or electricity) to heat the water.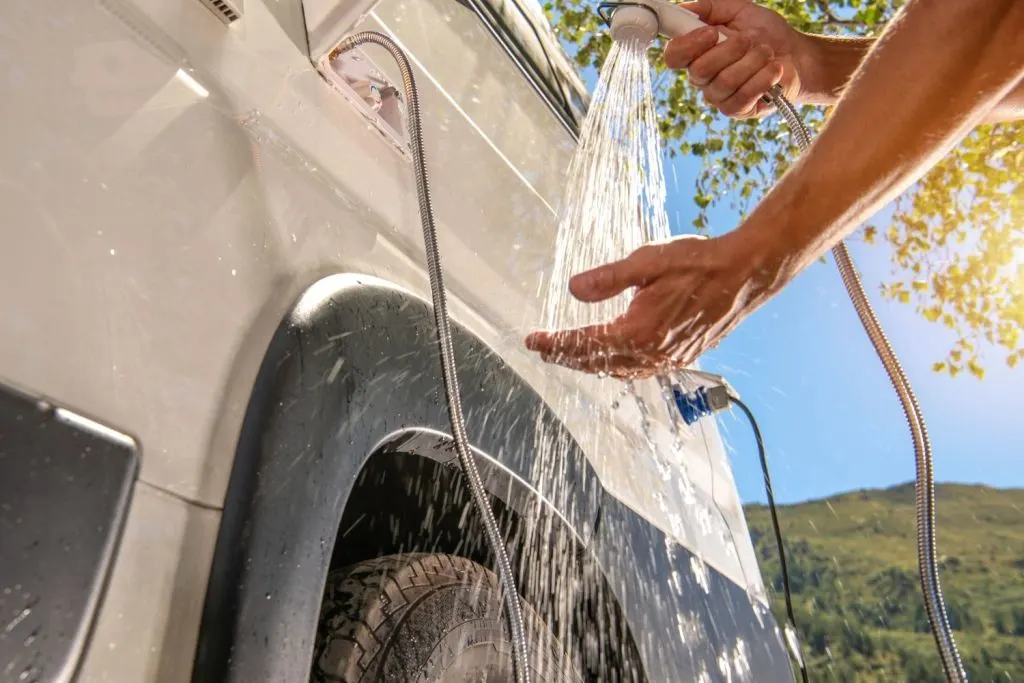 What Size RV Water Heater Should You Get?
For the classic RV water heater with a tank, most RVs use a 6-gallon size. However, you can special order anything from a 4 gallon to a 10-gallon tank and higher. There are 12 and 16-gallon tanks out there, as well.
Tankless water heaters are sized by their flow rates. So when deciding on a water heater, look at the number of gallons per minute each is rated.
For instance, some mini tankless models tout 1.8 GPM, where a good regular sized water heater might be rated at 2.7 GPM or 3.6 GPM. Base your purchase decision on how many spigots will be using hot water at the same time and how much water will be flowing at that time.
5 Best RV Water Heaters in 2021
Girard Tankless
With temperature settings from 95° to 124° and a microprocessor that monitors flow rates, the Girard Tankless Water Heater is the perfect appliance for RV use.
This water heater is a great replacement unit for water heaters with tanks. That is because it fits in the same space. It operates with 42,000 BTUs on 12-volt power and doesn't require any new plumbing or gas lines. Customers find it uses 50% less propane in operation. Cost is from $740 to $1,200.
Furrion Tankless
Furrion has created a tankless RV water heater that works at 60,000 BTUs to produce 2.4 GPM. It runs on 12 volt power and can dependably produce steady hot water even when outside temperatures are at 32°.
The unit has an automatic shut-off if the temperature becomes too hot, and a pressure relief valve for safety is standard. This water heater can withstand the vibrations of constant travel. The price of this unit is around $660.
Atwood 6 Gallon RV Water Heater
This 6-gallon water heater runs on propane or electricity, utilizing direct spark electronic ignition. Using 8,800 BTUs, it has an extended cold water tube that will keep water hot 55% longer than other units. Just flip a switch inside your coach to heat 6 gallons of water at a time.
The cost is around $550.
Suburban 10 Gallon RV Water Heater
A larger 10-gallon tank gives this Suburban water heater an edge, providing more hot water for longer showers and more cleanup time. Operating on 12,000 BTUs, the porcelain lining of its tank and an anode rod keep water from degrading it; therefore, lengthening the life of this unit. Priced around $430.
5 – RecPro Tankless RV Water Heater
This RecPro tankless RV water heater operates at 35,000 BTUs, providing hot water up to 124°. The unit comes in both black and white colors with straight-forward installation and has a remote for operation and temperature settings. It might not be suitable, however, for high altitude operation.
The cost is around $500.
RVs are homes on wheels. And part of the convenience of home is having hot water to wash dishes and clothes, take showers and clean up.
In that respect, an RV water heater is a vital necessity, so select one with care. Find the perfect one to make all of your camping trips more enjoyable and less messy!
Discover the Best Free Camping Across the USA
To be honest with you, we hate paying for camping. There are so many free campsites in America (with complete privacy).
You should give it a try!
As a matter of fact, these free campsites are yours. Every time you pay federal taxes, you're contributing to these lands.
Become a FREE CAMPING INSIDER and join the 100,000 campers who love to score the best site!
We'll send you the 50 Best Free Campsites in the USA (one per state). Access the list by submitting your email below: