I Live (and Work) in a 60 SQFT Camper
More Americans are ditching stationary living for life on the road. But, few can do it in a space as small as a pop up camper.
If you're looking for tiny-living inspiration, we've got a healthy dose today.
We're talking to Sarah Brandt, a full time RVer, entrepreneur, and dog lover. She lives (and works) full time inside her tiny home on wheels.
Today, she's sharing how she does it! And, giving us some valuable tips along the way.
Let's dive in!
Introducing Sarah Brandt
Sarah travels full time in her camper with a Bernese Mountain Dog, Sanders.
Brandt says, "I run my business, Roots Art & Nature School, from the road, trail run, create artwork and explore the places I get to call home for a time."
How long have you been RVing?
Sarah's relatively new to life on the road. She's been living in her a-frame camper full time for 8 months.
Pro Tip: Full time RVing can be an economical way to see America. However, keep in mind these unexpected expenses.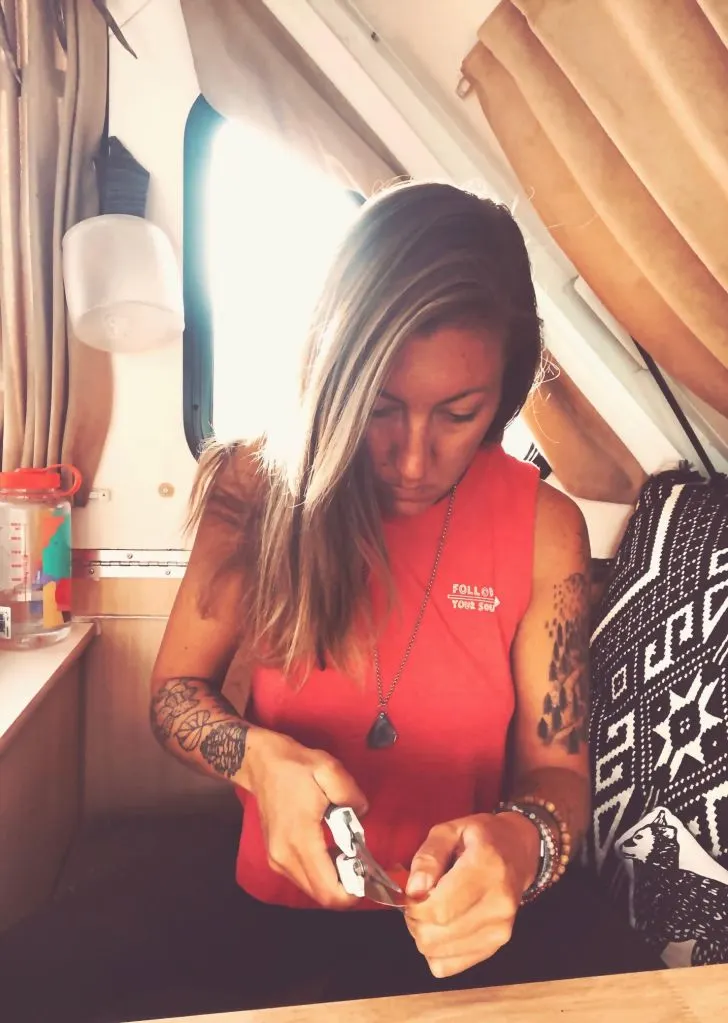 What type of RV are you currently traveling with?
Sarah travels in a Chalet Arrowhead, a pop-up A-frame camper.
The A-Frame gets its name from the A outline, with a peak that is created when the camper is assembled on site. Most weigh less than 2000 pounds, and each pound packs a punch of style. It may be small-living, but the well-organized interiors live large.
Why did you choose to an A-Frame an RV?
Sarah says, "I was immediately charmed by the triangular shape of the A-frame when I came across one in my initial searches for a camper.
After doing a little research I decided it was the perfect fit for me – light and towable by my Subaru Forester and just enough space to comfortably work, cook and sleep."
Living Area in the A-Frame
Sarah initially removed the dining table and replaced it with a small folding table to make more floor space for Sanders.
After living in the camper for a few months she found herself wanting more space to work and create, so Sarah purchased a larger folding desk.
She says, "I currently fold it down when not in use; I may remove one of the dining benches at some point to create more of an office/studio space. I also painted over the wallpaper when I first purchased the camper."
Camper Bedroom
"My bedroom features a full-size bed that lifts up and has three large storage compartments underneath. I added two mattress toppers to the existing mattress and storage baskets underneath to organize my clothes, cookware, towels, etc."
Bath Room
Sarah's camper doesn't have a built-in bathroom, however she keeps a portable toilet stored in one of the dining benches. Sarah says, "I plan to get a solar shower at some point but so far my routine of showering at the gym works for me."
Keep in mind: Most pop up campers don't have bathrooms. However, here are the rare 5 Best Pop-Up Campers with Bathrooms.
A-Frame Kitchen
"In the kitchen, I hung a gear line above the stove to utilize the vertical space and hang the cooking utensils I use most. I organized the under-the-bed storage to keep my pan and cutting board accessible through the cabinet door (rather than having to lift the bed up).
I also decided to paint over the laminate in the kitchen when I was camping in the Superstition Mountains. "
Exterior
"The front of the camper has a large storage compartment that I use to keep adventure gear, tools, etc.
There was a crack when I first bought it that allowed water to seep in; I sealed it and purchased plastic storage bins to protect items being stored in case the compartment leaks again."
What tips do you have for folks interested in RVing in a Small Trailer?
"Traveling in a small trailer is ideal for someone who enjoys having minimal possessions and a cozy living space. I enjoy the space most when I keep it tidy and well organized – everything has a place and gets put away when not in use.
I keep a small telescoping broom handy to sweep out Sanders' hair each morning."
What was the most important piece of gear you travel with?
"My Goal Zero solar panel and battery pack allow me to keep my iPad charged so I can work anywhere (as well as my charge my phone and power my lights)."
Where can people follow you?
You can follow me and Sanders on Instagram @sarmarissa, my school @rootsartnatureschool and my artwork at wildspacesstudio.com.
My school just launched our online Explorers Club for families anywhere to join Roots in our mission of nurturing creativity and curiosity; you can find details at rootsartnatureschool.com/explorers-club!
Thank you for reading and following along!
Discover the Best Free Camping Across the USA
To be honest with you, we hate paying for camping. There are so many free campsites in America (with complete privacy).
You should give it a try!
As a matter of fact, these free campsites are yours. Every time you pay federal taxes, you're contributing to these lands.
Become a FREE CAMPING INSIDER and join the 100,000 campers that love to score the best site!
We'll send you the 50 Best Free Campsites in the USA (one per state). Access the list by submitting your email below: