How to Avoid an RV Lemon (And Your Legal Rights)
RVing just keeps getting more and more popular with no signs of slowing down! The surge in RV life popularity means more and more people are hitting the road.
And that means that more and more people are buying new (and new-to-them) RVs.
We put together this article for all you RV shoppers out there to protect yourself against buying an RV lemon… and to know your rights if you end up with one anyway.
Let's dive in.
What Is an RV Lemon?
When people talk about " buying a lemon", they're commonly referring to the purchase of a regular vehicle. But RVs can be lemons, too!
So, what is a lemon, anyway?
According to FindLaw, a lemon vehicle is one that has substantial defects covered by warranty that have failed to be remedied even after various repair attempts.
For an RV, this can mean a new RV that comes with several issues and defects straight from the manufacturer. Almost all new RVs have a "shakedown" period in the beginning of ownership, where defects from manufacturing become apparent and need repaired.
Used RVs can also be lemons, and you have less protections when it comes to used RVs because most are sold "as-is".
Used RVs can have problems with the engine, the electrical system, the major components like levelers or slide-outs, have water damage, broken appliances, or more.
Is There an RV Lemon Law?
There are lemon laws in almost every state that protect buyers against faulty or severely damaged vehicles. But, in many states, this law just applies to the purchase of regular vehicles.
While the majority of state lemon laws totally exclude RVs, there is a federal protection available that may assist you in the case of purchasing an RV lemon.
The Magnuson-Moss Warranty Act is a federal law that protects consumer product warranties. This federal law may offer protection against a faulty RV, where local and state laws do not.
How to Avoid an RV Lemon
If you're purchasing a brand new RV, be sure you use it and all of it's systems rigorously in the beginning. Do this within your warranty period to be sure all defects come to the surface with enough time to be repaired.
While there aren't a lot of things you can check for when purchasing a brand new RV, there is a lot to look for when purchasing used. Here are some key things to look for to avoid buying an RV lemon.
1. Have the RV Professionally Inspected
First things first, have the RV professionally inspected. Whether you're buying from a dealership or a private party, you need to hire an inspector. This is an investment, but it's one that can potentially save you thousands of dollars down the road.
Many dealerships will tell you they have their own employees inspect it for you, but it's best to get a professional outside opinion. The dealership wants to sell you the RV, and may cut corners with their own inspection.
If possible, do a walk-through with your RV inspector. To find a professional and certified RV inspector near you, check out the National RV Inspectors Association (NRVIA) website.
2. Check for Water Damage
Water damage is a silent killer when it comes to used RVs. It can get in through the smallest hole or crack and silently fester for years, rotting the interior structure of the RV.
Water damage in an RV does so much more than just rot the wood. It causes mold growth – even the toxic black mold – which is dangerous to human and animal health.
Water damage can cost tens of thousands of dollars or more to repair and remediate.
Looking for something that is so hidden can be difficult, but there are a few main spots to check.
Push on the interior and exterior walls, around seams and windows. If there is any softness or give, this could be an indication of rotted material due to water damage.
Check the exterior walls for delamination. Delamination is a bubbling or rippling effect in the material of the RV exterior. Delamination is caused when water finds it's way inside the walls, causing the RV exterior to separate from the interior wall material.
Press on the ceiling, especially around things like vent fans and air conditioners. Again, you are looking for soft spots.
When walking around in the RV, pay close attention to how the floor feels under your feet. It should always feel hard and solid. Stand around areas like the kitchen and bathroom sink, the shower, and the toilet. These are common areas for water damage. Also press on the floor underneath windows, as leaking water from windows often travels down and rots the floor.
If any of the floor feels soft or spongy, this is a key indicator of water damage.
Other places to check for water damage include the basement storage compartments. Feel the walls and ceilings of the storage compartments, especially in areas where RV plumbing runs through.
Watch this video to get a visual demonstration of how and where to look for RV water damage.
3. Check Age and Condition of Tires
Tires are one of the most important safety features on your RV. If an RV's tires are bad, it can literally mean life or death.
It can also mean a costly repair – $1,000 or more to replace! Buying an RV and then having to replace all the tires immediately is not something you want to do.
RV tires should never be more than 5 years old. RV tires are susceptible to UV damage and dryrot, which are invisible issues that can cause blowouts.
In addition to doing an overall visual inspection of the tires, be sure to check their age. You can learn how to check the age of your camper tires here.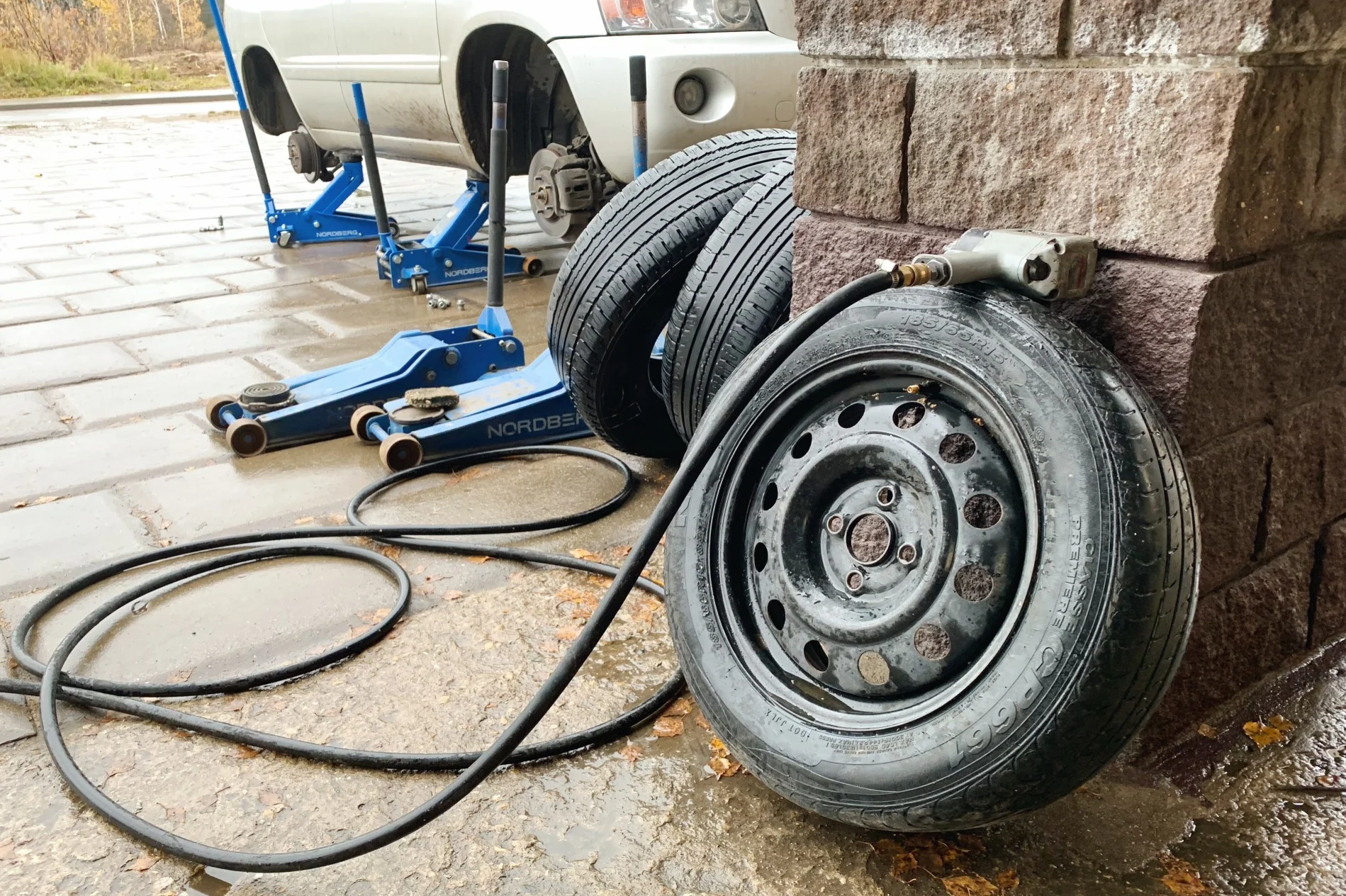 4. Test All Systems and Appliances
When you're considering purchasing an RV, make sure all the systems and appliances work. This will mean plugging it into power, water, and possibly sewer to test all systems.
Testing Kitchen Systems
Be sure that you can light the stove and hot water heater. Turn on the fridge and make sure it works on propane. If there is a microwave, test it.
Testing Plumbing
Hook the RV up to water and make sure all faucets work and that you don't see any leaks. Dump fresh water into the black and gray tanks and check exterior fittings for leaks.
Testing Slides and Levelers
Slides can have problems that are really expensive to repair, and sometimes the slideout system and leveling system are one in the same. Be sure all slides open and close smoothly and that the leveling system works as it should.
Testing Climate Systems
Be sure the AC units and furnace or heater works well, as these are costly replacements.
To turn on the AC system, the RV will need to be hooked up to enough power to run it. To run the furnace, the pilot light may need to be lit. The inspector, dealership, or RV owner should be able to help you with this process.
5. Check the VIN Number
Running a VIN number check on a motorhome or travel trailer doesn't give you a ton of information, but it can give you some insight into the RVs history.
A VIN number check will tell you information about the previous owners and it will let you know if the RV has a salvage title.
6. Check the Condition of the Roof
RV roofs are often overlooked by new buyers, but most definitely should not be! Check the roof for damage or cracks. Some RV roof material needs to be resealed or replaced periodically, and you should be able to tell by looking if the roof was well maintained.
Water damage is one of the key things that causes an RV lemon, and the roof is typically the first point of entry.
If the roof is EDPM or TPO material, walk on it and feel for any soft spots. Similar to checking the floor for water damage, you should be able to feel it on the roof as well. Just be sure to use caution up on the RV roof!
7. Take It For a Test Drive
If it's a motorhome, take it out for a test drive! A test drive will give you a feel for driving the RV and it is also a great chance to listen for any strange noises or feel for any weird sensations as the RV is in motion.
8. Have the Engine Inspected
Most RV inspectors only inspect the "living" portion of the RV, like the RV itself and it's systems. If the RV you're considering has an engine, the engine should be checked by a mechanic for any potential hidden issues.
An RV lemon doesn't always have to have problems with the "recreation" part of the rig… Sometimes engine problems can be just as costly.
9. Check Previous Maintenance Records
If the RV was well maintained, the owner should have previous maintenance records on hand. If there are no maintenance records, this could raise a red flag!
It's not always a make-or-break situation, but it will be up to you, the buyer, to decide that.
Avoid An RV Lemon By Getting Involved With The Process
Buying an RV is not like buying a car. Plan to look at several RVs, and to spend several hours any RV you truly want to purchase. Spending all this time with your potential RV will greatly reduce your chances of buying an RV lemon.
The most important thing you can do in the process of purchasing any RV is to hire an RV inspector. By now, you're informed and know the key things to look at to avoid purchasing an RV lemon.
But, certified RV inspectors have highly trained eyes and can alert you to potential problems you may overlook.
Pro Tip: Here are the first RV systems that will break according to an RV mechanic.
Discover the Best Free Camping Across the USA
To be honest with you, we hate paying for camping. There are so many free campsites in America (with complete privacy).
You should give it a try!
As a matter of fact, these free campsites are yours. Every time you pay federal taxes, you're contributing to these lands.
Become a FREE CAMPING INSIDER and join the 100,000 campers that love to score the best site!
We'll send you the 50 Best Free Campsites in the USA (one per state). Access the list by submitting your email below: