Best To Worst: Traverse City Campgrounds Ranked
Traverse City is truly a gem of a place, tucked near the Great Traverse Bay along the eastern side of Lake Michigan.
If you're taking a trip through the Midwest, there is no better place to stay! It's a great jumping-off point for exploring Lake Michigan and so much more.
Today we're bringing you all the Traverse City campgrounds, ranked from best to worst! Let's dive in.
About Traverse City
Traverse City, Michigan, is a beautiful and growing town on Lake Michigan's sandy shores. The population was just under 15,000 at the 2010 censuses, and it has been steadily increasing since then. It's a popular place to visit all year round with plenty of outdoor activities to enjoy.
Traverse City hosts an annual film festival. In addition, one of their more unique events is the world's largest Cherry Festival each summer.
Best Time of Year to Visit Traverse City
The best time of year to visit Traverse City is in the summer, especially in an RV. You can't beat hanging out on Lake Michigan during a sunny summer afternoon. The weather is perfect for camping, and there are tons of activities in the area. For instance, you can go to the beach, rent a kayak or SUP, pick world-famous cherries, and go for a hike, to name a few.
Temperatures are very comfortable with highs in the 70s to 80s, and lows in the mid to upper 50s overnight. If you visit in the winter, you'll need to come prepared because temperatures can drop below zero. Although, they're usually closer to mid-teens to low 30s thanks to Lake Michigan.
Pro Tip: Looking for free camping in Michigan? Here are our 6 favorite spots in the state.
Traverse City Campgrounds Best To Worst
If you're planning a trip to the area, keep reading for the best Traverse City campgrounds. These parks have it all and will make your Lake Michigan retreat even better.
Holiday Park Campground
If you're looking for the best Traverse City Campground, look no further. Holiday Park Campground is situated right on the shores of Silver Lake, just minutes from Lake Michigan. There's even private beach access on Silver Lake. Additionally, you'll have the option to rent a boat, take a stroll or bike ride along the miles of paved trails. All sites are full hookup with cable TV, a picnic table, and a fire ring.
A nightly site will cost between $65 and $95 during peak season. In the off-season (before 5/22 and after 9/8), a nightly stay is just $45.
Pros: Beautiful location, right on Silver Lake. Private beach access to beat the summer crowds. Several island sites are surrounded by the lake! Holiday Park nicely maintains all sites, and the park has plenty of beautiful shade trees.
Cons: The biggest downside is the 15-20 minute drive to get to Lake Michigan's Grand Traverse Bay.
Traverse City State Park
Traverse City State Park is another excellent choice for a Traverse City Campground. You'll enjoy a quarter-mile of sandy beach right on Grand Traverse Bay. In addition, this state park is just 2 miles from downtown Traverse City. Sites offer 50-amp electrical service, and you can park a rig of up to 50 feet at some sites. Pets are also allowed. Since it is a state park, there aren't as many amenities as some RV parks.
Furthermore, each site also has a picnic table and a fire pit. Like many state parks, this campground is also very affordable at just $37 per night for 50-amp service. You can also get a site for $33 a night if you want a 30-amp hookup instead.
Pros: Beautiful spacious sites with secluded beach access. Great location in the heart of Traverse City, just 2 miles from downtown.
Cons: Some visitors have reported that the campground is noisy, given its proximity to the road and airport. Another downside is they only have electric hookups (no water or sewer connections.)
Timber Ridge RV Resort
Timber Ridge RV Resort offers full hookup sites with 50-amp service. And, if you want to travel without the RV for a change, you can stay at one of the many cabins or yurts available for rent. They also have amenities like an onsite store and pool.
This RV park is perfect for outdoor lovers all year round. They have miles of trails for hiking, snowshoeing, and snow biking. Some trails are even lit at night. Snowmobile trail access is also available right from the park. You'll have easy access to state trails and can drive right back to your campsite. It is the best place to stay in Traverse City for a winter getaway.
The price of a nightly sight depends on the time of year you visit and the level of sight you want. (Basic sites include water, 30 amp, and sewer all the way to "super sites" which have water, 50-amp, sewer, cable, and a patio). Prices range from $40 to $75 a night for the offseason and $60 to $90 during the peak season.
Pros: Easy access to outdoor activities all year round. Beautiful, wooded sites with plenty of shade. The park also plans a variety of events campers can partake in.
Cons: There is an extra fee to use the trails during the winter. This fee helps cover the cost to keep the trails groomed.
Northwestern Michigan Fair Campground
This campground RV park has 50-amp hookups at all sites. There are water spigots at some sites and a dump station on-site as well. There are also bathrooms with showers available for campers. The park is located close to plenty of top attractions, making it a great Traverse City Campground. You'll get to enjoy all of Traverse City while you're here.
This is one of the most affordable RV parks in the area. The cost is just $30 per night. And if you pay for 6 nights, the 7th night is free! Pets are also allowed.
Pros: Lower cost than any surrounding parks. Within walking distance of many activities.
Cons: Doesn't offer full hookups. Doesn't allow fires. Finally, the sites are less secluded with fewer shade trees than most other campgrounds in Traverse City.
Arbutus Lake State Forest Campground
Arbutus Lake State Forest Campground is the last Traverse City Campground on our list. It is considered a rustic campground, meaning it has no hookups and few amenities. But you can dry camp here for just $15 a night. There is also access to drinking water, bathrooms, and trash collection. Arbutus Lake Campground also allows pets and campfires.
The setting is absolutely wonderful if you don't mind roughing it. The lake is gorgeous and much less crowded than nearby Lake Michigan.
Pros: Quiet, secluded park located right on the shore of Arbutus Lake. Another bonus is that it is super cheap to stay here.
Cons: Located 20 minutes outside of Traverse City. There are only 14 RV sites available on a first-come-first-serve basis. This means you won't be able to reserve in advance and pickings might be slim. The park can only accommodate rigs up to 20 feet, so plan accordingly.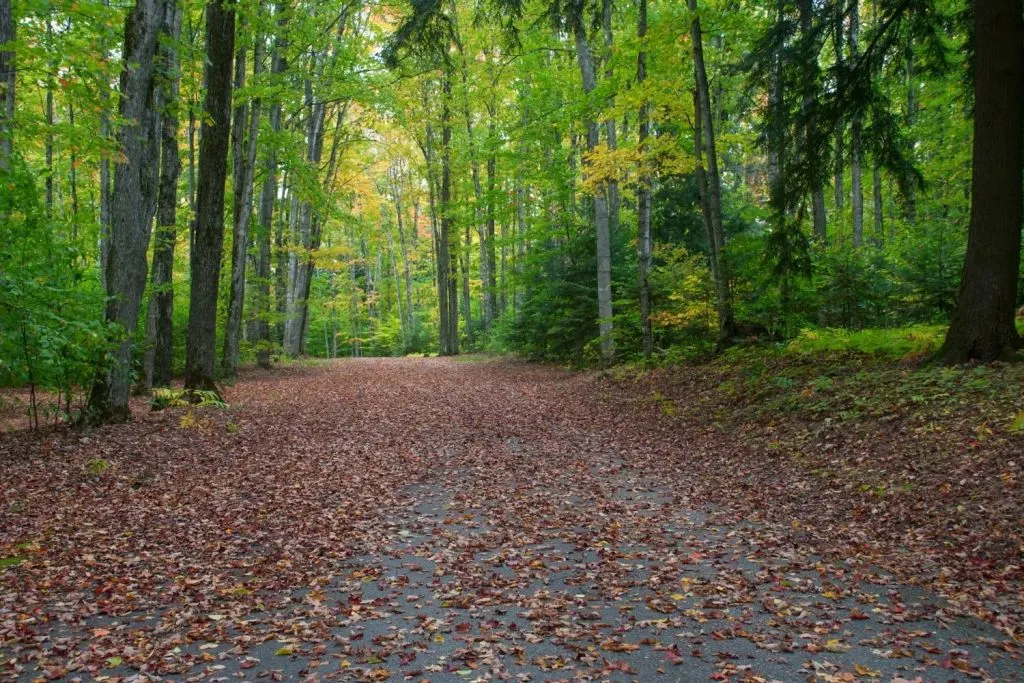 Traverse City Has It All
There are lots of amazing Traverse City campgrounds to choose from. Whether you want a more resort-like feel or a remote location, Traverse City has it all. You'll love all the cultural and outdoor activities in the area. So, book a spot and enjoy a good old sunny Lake Michigan day!
Discover the Best Free Camping Across the USA
To be honest with you, we hate paying for camping. There are so many free campsites in America (with complete privacy).
You should give it a try!
As a matter of fact, these free campsites are yours. Every time you pay federal taxes, you're contributing to these lands.
Become a FREE CAMPING INSIDER and join the 100,000 campers who love to score the best site!
We'll send you the 50 Best Free Campsites in the USA (one per state). Access the list by submitting your email below: