The Mossbrae Falls Road Trip Guide
It's a little risky, but visiting Mossbrae Falls up close is a big reward. You can admire the falls from a distance or get close enough to get wet.
Some visitors even like to perch on the bank-side boulders for a ringside seat. In fact, most everyone who's taken the trouble to get that close to Mossbrae Falls says they're glad they did.
Let's dive in!
Why Should You Visit Mossbrae Falls?
With its multiple layers of cascading water, Mossbrae Falls is one of the most scenic in northern California. Photographs of this magnificent place don't do it justice.
Also, you can't get that overwhelming feeling of calmness and relaxation from looking at a picture. Experiencing a waterfall in person seems to wake up all of the senses.
About Mossbrae Falls
These scenic falls are in a forested section near Dunsmuir, California, in the Shasta-Cascade region along the Sacramento River. It's about an hour's drive north of Redding. The gushing waters fall 50 feet before crashing into the river, and they stretch 175 feet across the steep hillside.
It's not a single waterfall. There are two main clusters, but a closer look reveals dozens of separate streams from the spring-fed pools up above. The cliff that the waters tumble over is a unique rock face that's covered in moss. And from certain angles, it looks like water is shooting straight out of the canyon wall.
How Do You Get To Mossbrae Falls?
This is the tricky part, but it's not that tricky. Mossbrae Falls is sometimes referred to as the "forbidden falls" because it's not easy to get there. In fact, you have to cross private property and walk along some active railroad tracks.
But as far as the hike itself goes, it's not much of one. It's actually a nearly effortless walk to the falls and certainly a scenic one. Because it's just a little over a mile each way, you don't have to take it at a brisk pace. Just slow down and enjoy the short journey.
Keep reading for a more detailed answer to this often-asked question.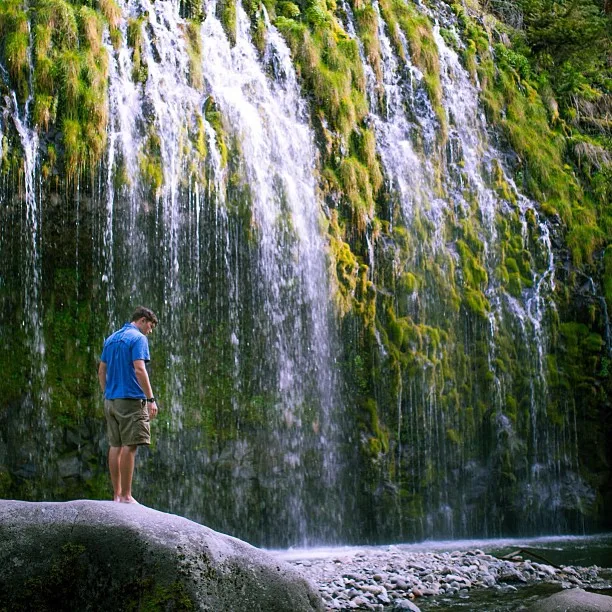 What Campgrounds Should You Stay At?
There are a few campgrounds in the area that accommodate RVs and here are three of our favorites.
Lake Siskiyou Resort & Camp
Address: 4239 W A Barr Rd, Mt Shasta, CA 96067
About: Less than 5 miles from the falls, Lake Siskiyou Resort & Camp is a destination unto itself. An older facility but packed with amenities. There are RV spaces along with tent sites and cabins, and retro trailers for rent. It's right on the lake, and the marina has a variety of boats for rent. Beware of black bears though!
Why You'll Love It: Full hookups and spectacular views of Mount Shasta and the Shasta Trinity National Forest. It's also super convenient to Interstate 5.
McCloud RV Resort
Address: 480 Hwy 89, McCloud, CA 96057
About: A sprawling campground of spacious sites with full hookups. You can expect friendly staff and lots of family activities. Conveniences include laundry, clean restrooms, and free showers for registered guests. Big rigs are no problem, and the connectivity is good.
Why You'll Love It: Rolling grass hills and panoramic views of Mount Shasta with a stream running through the grounds that offers great opportunities for trout fishing.
Friendly RV Park
Address: 1800 Black Butte Dr, Weed, CA 96094
About: Friendly RV Park has 60 mostly shaded sites with full hookups. Extras include Wi-Fi and cable TV. A nice touch is the large family-sized picnic tables made from oak and pine. Mostly quiet but with some highway noise. Cell service is excellent.
Why You'll Love It: It's a small, pretty campground tucked into the trees. It's just off the interstate and certainly lives up to its name.
What Should You Pack?
Not much, really. A light picnic lunch or at least snacks and beverages are a good idea. You might want a towel or two if you're planning on doing any wading. Hauling chairs to the site might prove to be too cumbersome, however. There's a bench near the falls, and plenty of soft ground to sit on.
Comfortable but sturdy footwear is a must. You'll want to wear something with good traction that absorbs the sharp points of the rocks along the railroad tracks. Watch your step because some of the rocks are loose. It's easy to slip if you aren't paying attention.
Mossbrae Falls Hiking Guide
Parts of the hike take place on private property, so it's possible you could be charged with trespassing. Lots of people visit the falls, though, so there's a pretty relaxed attitude about it. Just show some respect toward the businesses in the area and leave no trace, and you should be fine.
To get to Mossbrae Falls, you'll want to find the north end of Dunsmuir Avenue. Find a place to park, on this public street, near Shasta Retreat. It's a cabin that's used for retreats by a religious group. This is important: Do not use their parking lot.
Walk north along Scarlet Way (which is within the Shasta Retreat property.) You'll see an overhead sign that says Shasta at the top of a hill. Walk downhill until you come to Cave Avenue, and veer to the right. After 100 yards or so, look for a small bridge over the river that leads you to the Union Pacific railroad tracks. Walk along the right-hand side of the tracks, which is closer to the river, because there's better footing. Stay off of the tracks themselves, but do keep your eyes and ears open for approaching trains.
Keep walking until you're just past a ¾ mile marker. At this point, you should see some trails off to your right. (If you cross the train trestle, you've gone too far.) Look for a boulder with an arrow and the word "Mossbrae" painted on it. You're just 40 yards from the falls!
Mossbrae Falls is Worth the Effort
Taking the hike up to Mossbrae Falls is a fun little adventure with a nice payoff. It might seem like an ordeal getting there, but it's really not. Chances are you'll encounter some fun folks along the way as you discover this hidden California gem.
Discover the Best Free Camping Across the USA
To be honest with you, we hate paying for camping. There are so many free campsites in America (with complete privacy).
You should give it a try!
As a matter of fact, these free campsites are yours. Every time you pay federal taxes, you're contributing to these lands.
Become a FREE CAMPING INSIDER and join the 100,000 campers who love to score the best site!
We'll send you the 50 Best Free Campsites in the USA (one per state). Access the list by submitting your email below: