What Is an RV Soft Start?
An RV soft start can keep your RV cool during those hot summer days at 30-amp parks and (more importantly) when you're camping off-grid.
Summer is one of the best times to RV with the kids out of school, swimming pools open, and the sun shining bright. The warmer temperatures make it easy to enjoy hikes and see the local sites but can quickly turn an RV into an oven on wheels.
If you're cruising around in a larger RV that has two AC's and your power source is 30-amp, you'll find yourself tripping breakers. Furthermore, if you want to power your AC with solar panels or a generator, it's virtually impossible without a soft start.
However, you can easily run your two ACs and stay cool in your RV with an RV soft start.
Let's take a look at this game-changing device!
What is an RV Soft Start?
An RV soft start is a unique item that creates the lowest possible start-up current for single-phase motors. In other words, it reduces the amount of power required when starting a high-powered motor.
Soft starts in RVs are most commonly used with air conditioners while connected to 30-amp, camping generators, or even solar power.
Pro Tip: We've used multiple brands of soft starters. RV Soft Start is the most economical and easiest to install. We've put it to the test and have seen great results.
How Do RV Soft Starts Work?
The Soft Start RV Start uses a start ramp sequence to smooth out the power needed when single-phase motors start. These high-powered motors suck a tremendous amount of power when starting up.
The soft-start creates the most efficient activation process possible without damaging expensive electronics or tripping breakers. The RV Soft Start is much more affordable and efficient than replacing RV wiring to upgrade to 50-amp service capabilities.
How Much Does a Soft Start for RV AC Cost?
The Soft Start RV is the most ideal and versatile model on the market and costs $299, plus tax and shipping when purchased through their website.
Also, Soft Start RV offers big discounts when you buy multiple units.
Benefits of an RV AC Soft Start
The RV AC Soft Start has several benefits that can change where and how you utilize your RV. Let's take a look!
Reduces Power Required to Start Up AC
Through the start sequence, the RV Soft Start minimizes the power required for air conditioners and other high-energy appliances. So, by reducing the amount of power needed for these items, you're able to run more things with less energy. This is extremely helpful if you're trying to conserve power or have limited access to power.
As a boondocker, camping without power or water connections, a soft start prevents massive strains on your power supply, whether it's a generator or inverter. Maxing out your power supply can damage wiring or lead to wear and tear on a generator or inverter.
In many cases, your camping generator or onboard inverter will automatically shut down when no soft start is in use.
Reduces AC Start Up Noise
Air conditioners are great for keeping you cool while you enjoy your RV in the warmer months, but they can be incredibly loud. Reducing the amount of power required for an AC will certainly lower the decibels and prevent yelling to have a conversation in your comfortable RV.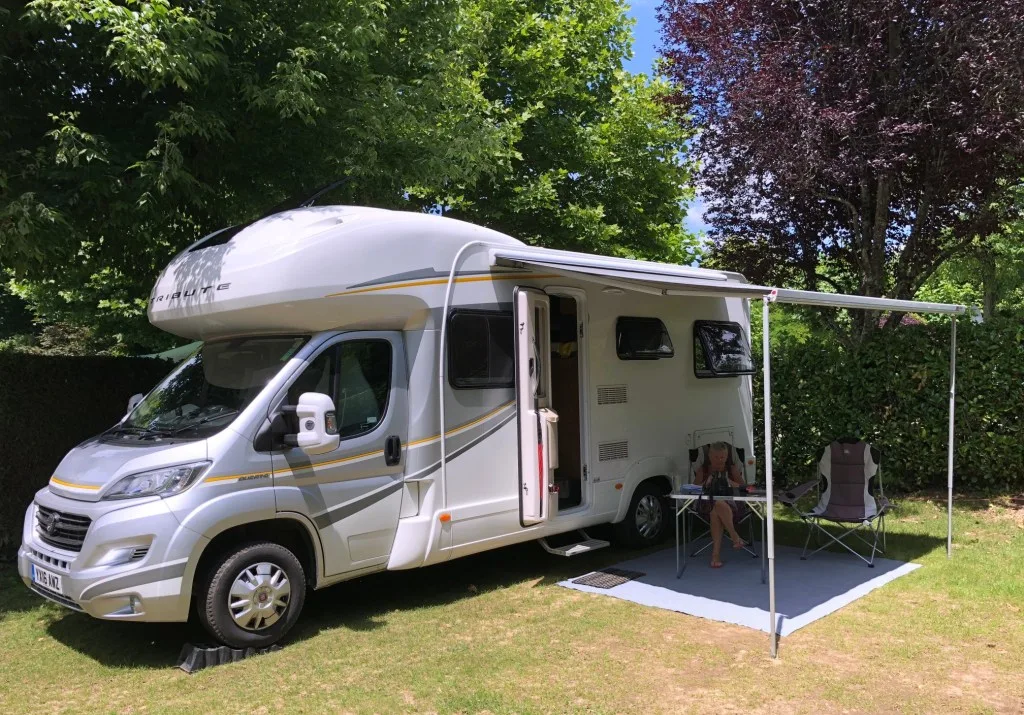 Helps with Power Management on Generator or Solar Power
Reducing the strain on your generator or solar power system is another benefit of installing a soft start on your RV's power-hungry appliances. Generators and solar power systems are not an infinite source of power. When pushed to the max, the electrical components can begin to deteriorate prematurely.
Generators and solar power systems can also be costly. Damaging them often leads to replacing them earlier than desired, which no one wants to do. Being able to run your RV's AC and other appliances with a generator or solar panels allows you to use your RV in new and exciting places without worrying about power.
And, having the capability to cool your RV after a day of adventuring is a great luxury you won't regret.
Install an RV Soft Start and Stay Cool
We think a Soft Start is a great upgrade for your RV because of the many benefits and ease of installation. Being able to use more amenities and less power is something every RVer would appreciate. How could installing a Soft Start on your air conditioning units benefit you in your adventures?
Discover the Best Free Camping Across the USA
To be honest with you, we hate paying for camping. There are so many free campsites in America (with complete privacy).
You should give it a try!
As a matter of fact, these free campsites are yours. Every time you pay federal taxes, you're contributing to these lands.
Become a FREE CAMPING INSIDER and join the 100,000 campers who love to score the best site!
We'll send you the 50 Best Free Campsites in the USA (one per state). Access the list by submitting your email below: