5 Best RV Solar Panels and How to Pick the Right Ones
Many RVers long for the freedom of exploring entirely off-grid, and the most eco-friendly way to boondock is to use solar panels to energize their RV batteries.
Sure, RVing offers independence, but many seek to be completely untethered from utility hookups and campground amenities. They long to wander through seldom-seen landscapes and visit destinations far away from population centers.
But not all solar setups are equal. So we'll break down RV solar panels for you in this short guide.
Let's jump in!
Picking the Best Solar Panels for Your RV
There are a few factors to take into consideration when picking solar panels for your RV. Here are five key factors to keep in mind.
To Mount or Not to Mount?
You may want to start with a small amount of wattage when you begin your foray into the world of solar power. For instance, you may only want a suitcase solar panel to charge your small electronics or trickle charge your RV battery.
On the other hand, many RVers graduate to larger solar systems to power their entire vehicle. This may include placing portable panels on the ground at a campsite or fixing them on the roof of their trailer or motorhome. There are obvious benefits for both types of panels.
The flexibility of portable RV solar panels makes them the perfect partner when your access to the sun's rays changes. Just move the panels to a new position, or tilt them to follow the sun.
But the quality that makes them attractive can also catch the attention of a thief. So if you plan on being away from your campsite for any length of time, finding a way to secure your solar panels will be a challenge.
Mounted panels are certainly more secure, requiring less setup (after installation), but they're usually more expensive because of their permanency. They can collect energy while you travel and generate power whenever your recreational vehicle is in the sun. And, there's no setup time needed, whether you're on the road or at a campsite.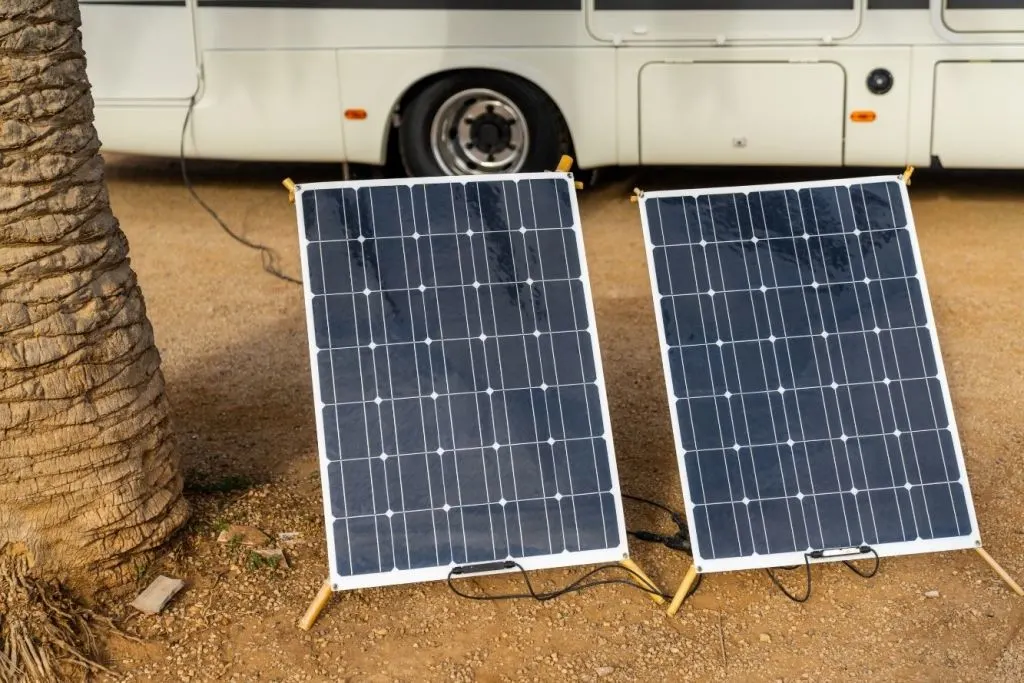 Solar Panel Type: Rigid or Flexible
If you choose to mount your solar panels, your next decision will include what type of panels to use. Rigid RV solar panels include solar cells created on a solid frame. These frames then attach to your motorhome or trailer on a rack that sits a few inches above the roof. This allows air to flow under the panels and does not transfer heat directly into the coach.
Often rigid panels can tilt to follow the sun throughout the day, making them the most efficient solar panels. Some RVers even opt to set rigid solar panels on the ground, where they can tilt or move them out of shady campsites and into the sun.
Flexible panels are great for uneven surfaces. They can attach with either screws or Eternabond tape if you don't wish to drill holes in your roof. However, they generate some heat into the vehicle because of their placement directly on your RV's roof.
In addition, when it's time to replace them, you may have a bit of a mess taking the old panel off if you used glue or tape for attachment. Flexible solar panels are generally less expensive than rigid ones, but they don't usually last as long.
Portability and Storage
If you've decided to go with portable solar panels, make sure your rig has enough storage space to pack them away when not in use and while traveling. Smaller setups can be the size of a big suitcase, but larger, more rigid panels may require more space.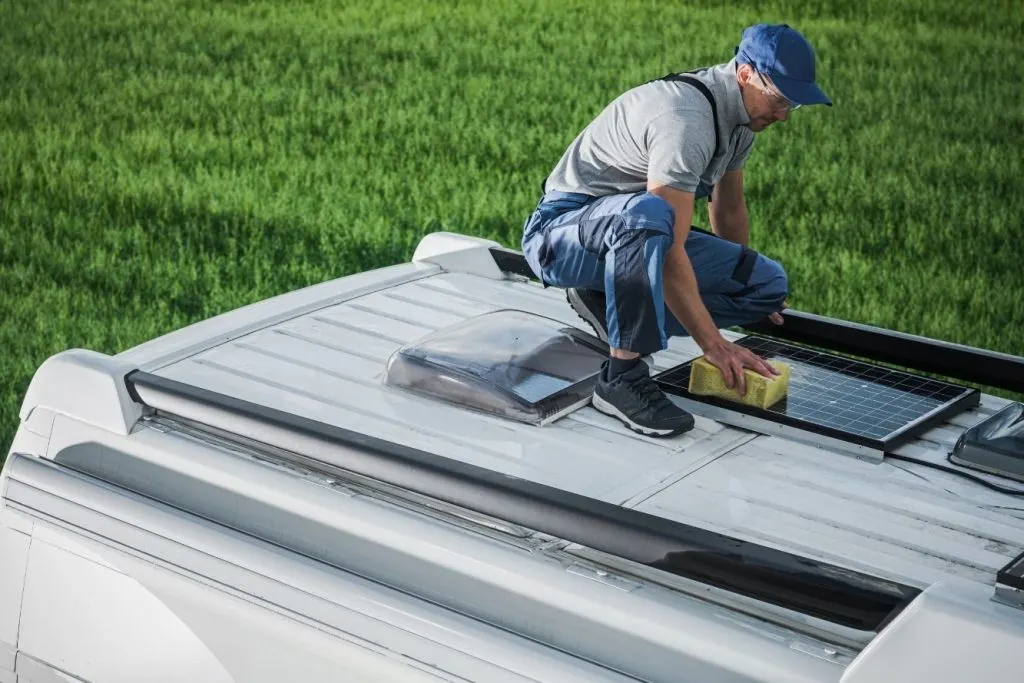 Wattage
RV solar panels of all types come in various wattages from 10 to 400 watts per panel. You may find single panels of 150 watts each, as well as 320-watt ones. Most can be mixed and matched with your system to offer the power you need collectively.
Before creating your system, you should complete a "solar" inventory to find the amount of wattage required to run your rig's electrical appliances for the desired period of time each day. Then build a solar system that will deliver that energy to your batteries on sunny days.
Pro Tip: Don't make these RV Solar Mistakes when installing your solar setup!
Price and Reviews
We reviewed five of the best solar panels used on recreational vehicles to start you on the path to your own RV solar system.
#1 – Renogy 100 Watt RV Solar Panel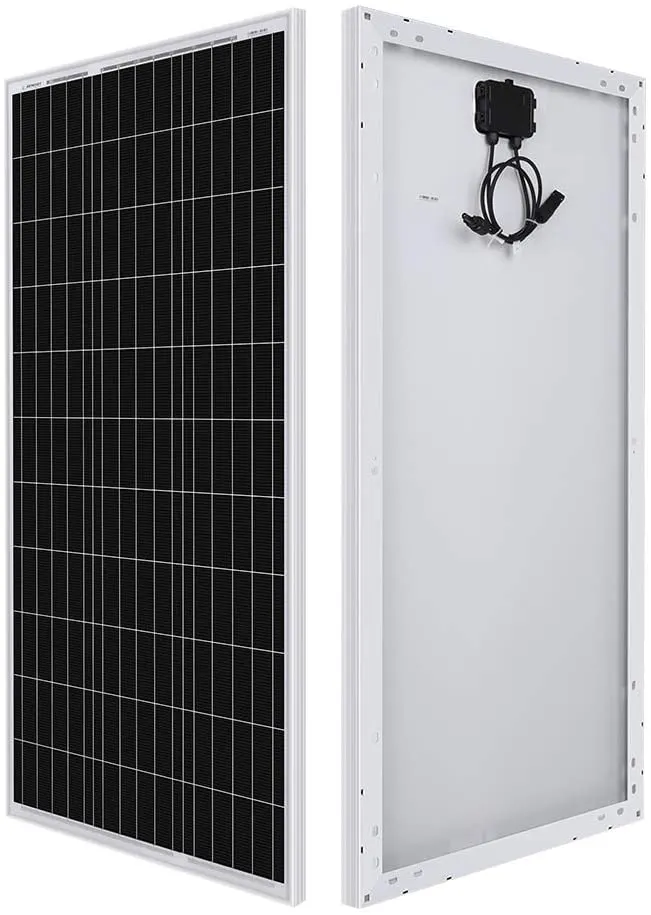 Renogy produces reliable solar equipment for RVs, and this 100-watt solar panel is perfect for a permanently mounted system. It measures 42" x 20", making it shorter than most 100 watt panels. It can also withstand high winds and heavy snow load and has a five-year warranty for materials and workmanship.
The panel operates in temperatures ranging from -40 degrees to 176 degrees. It does not come with mounting brackets. However, you can purchase a set separately to fit the pre-drilled holes on this panel.
#2 – Renogy 200 Watt RV Solar Panel Suitcase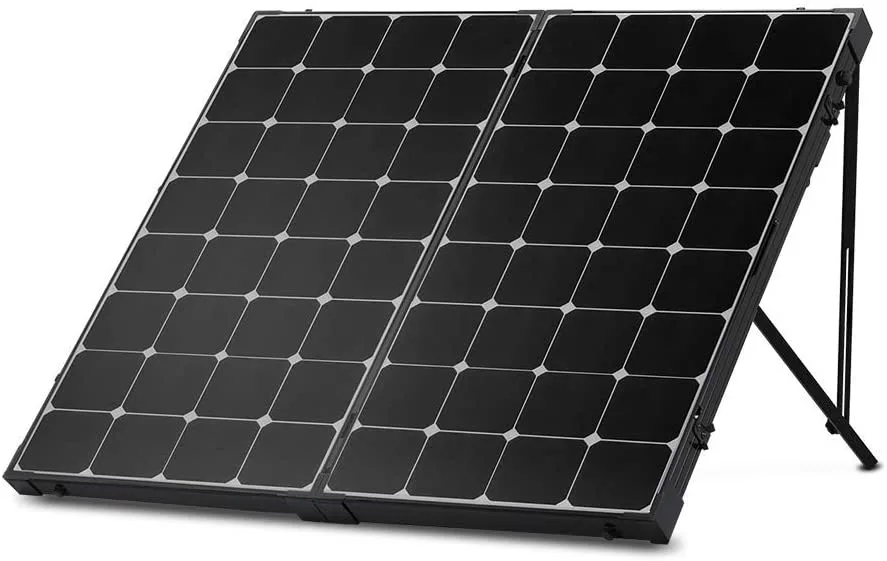 A large portable panel, this suitcase setup packs a punch with 200 watts and a solar controller. Carry your solar panel to the location of your choice, and control the flow of energy from the solar panel into your batteries with the included controller. The kit can be set up wherever you'd like, and it allows for tilting at several levels to follow the sun.
Measuring at 35.5" x 25.9", this unit is a bit heavy, coming in at 35 pounds. It operates at temperatures ranging from -4 degrees to 140 degrees.
#3 – WindyNation 400 Watt Solar Kit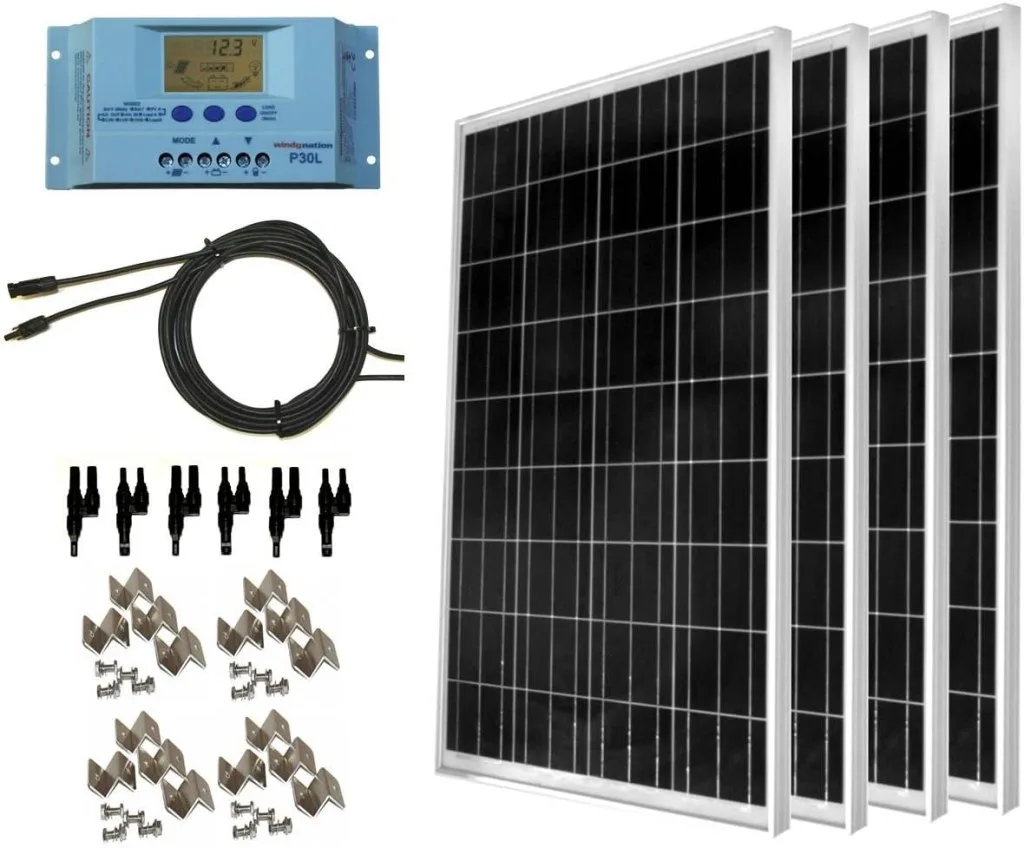 Here's a nice little kit to provide you with 400 watts of solar right off the bat. It includes four 100-watt fixed RV solar panels, a solar controller, and all of the mounting brackets, cable, and connectors you'll need to set up an entire system.
Once installed, you'll have access to your battery temperature and draw, plus the amperage, voltage, and amp-hours available on the system using the controller. Each panel measures 40" x 26" and is warranted for five years.
#4 – ALLPOWER 100 Watt Flexible RV Solar Panel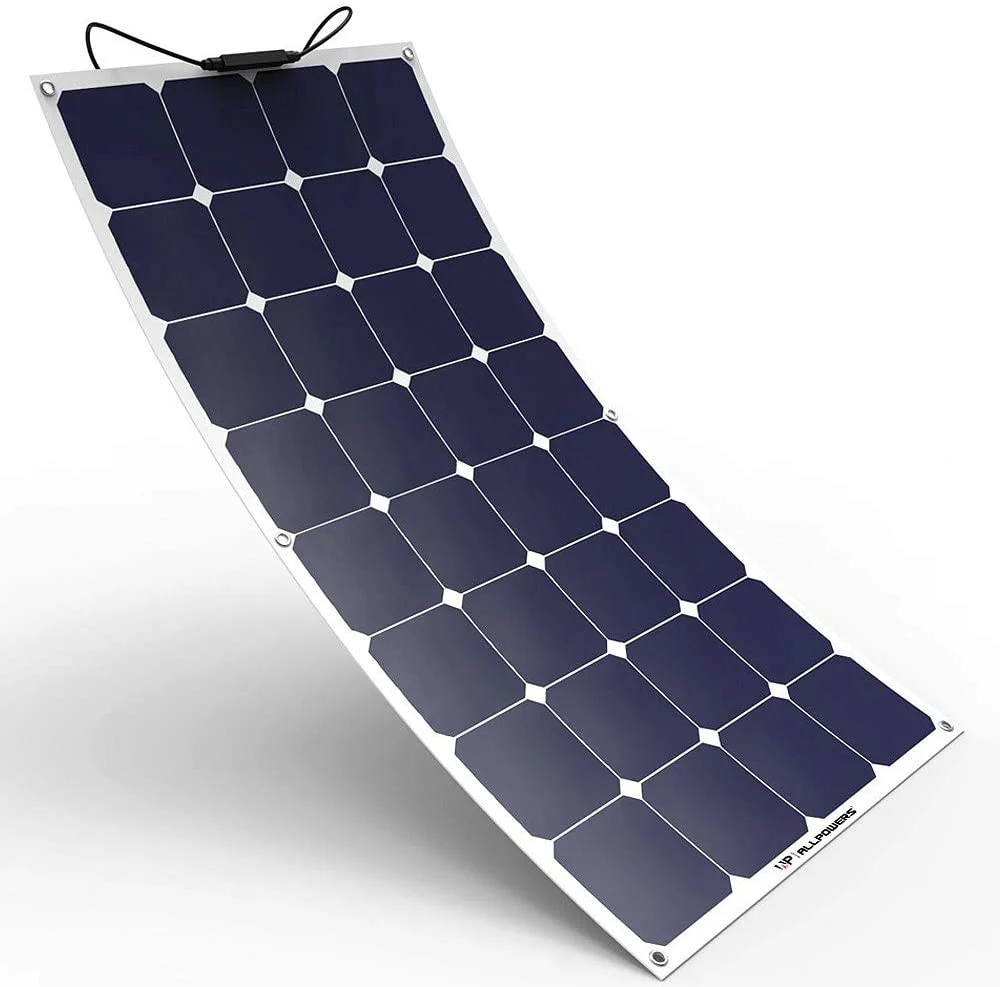 For flexible RV solar panels, this 100-watt by Allpower can fit almost anywhere. It measures 50" x 20" and weighs only 4.5 pounds. It can bend up to a 30% arc and may be more efficient at collecting energy than a rigid panel. One drawback, however, is its lifespan. It only has an 18-month warranty, and because it can bend, there may be a tendency for damage to the solar cells.
#5 – Renogy 200 Watt Solar Panel Kit
From Renogy, this 200-watt starter kit will give you everything you need to jump into the solar craze. With 2 – 100 watt rigid panels, a 30-amp charge controller, a solar connector adapter kit, cable, and mounting brackets with connectors, you'll be off and running as soon as you install it. The panels each measure 47.3" x 21.3" and are warranted for 5 years. They're mounted in an aluminum frame for long life.
Gain Even More Independence with RV Solar Panels
With the aforementioned RV solar panels, it's easy to imagine every travel trailer and motorhome in America decked out in solar arrays. Becoming energy independent, with the ability to explore the country's furthest reaches, is the dream of many an RVer. If you fall into that category, look into adding some solar power to your list of "Must Have" RV equipment.
Discover the Best Free Camping Across the USA
To be honest with you, we hate paying for camping. There are so many free campsites in America (with complete privacy).
You should give it a try!
As a matter of fact, these free campsites are yours. Every time you pay federal taxes, you're contributing to these lands.
Become a FREE CAMPING INSIDER and join the 100,000 campers who love to score the best site!
We'll send you the 50 Best Free Campsites in the USA (one per state). Access the list by submitting your email below: