The Best 3-Wheeled RV in the World
When we think of small RVs, we imagine campervans or teardrop trailers. But did you know there's a 3-wheeled RV you can actually drive? The Everbright electric tricycle RV is one such camper, and, in some circles, it could redefine how we venture outside.
While it's not the first miniature three-wheeled camper in the market, it's among the most talked-about electric models. If you fancy traveling alone or as a pair, the rig has all the basics you need to get away from it all and enjoy the simplicity of nature.
Keep reading to learn what the Everbright tiny camper has in store for you.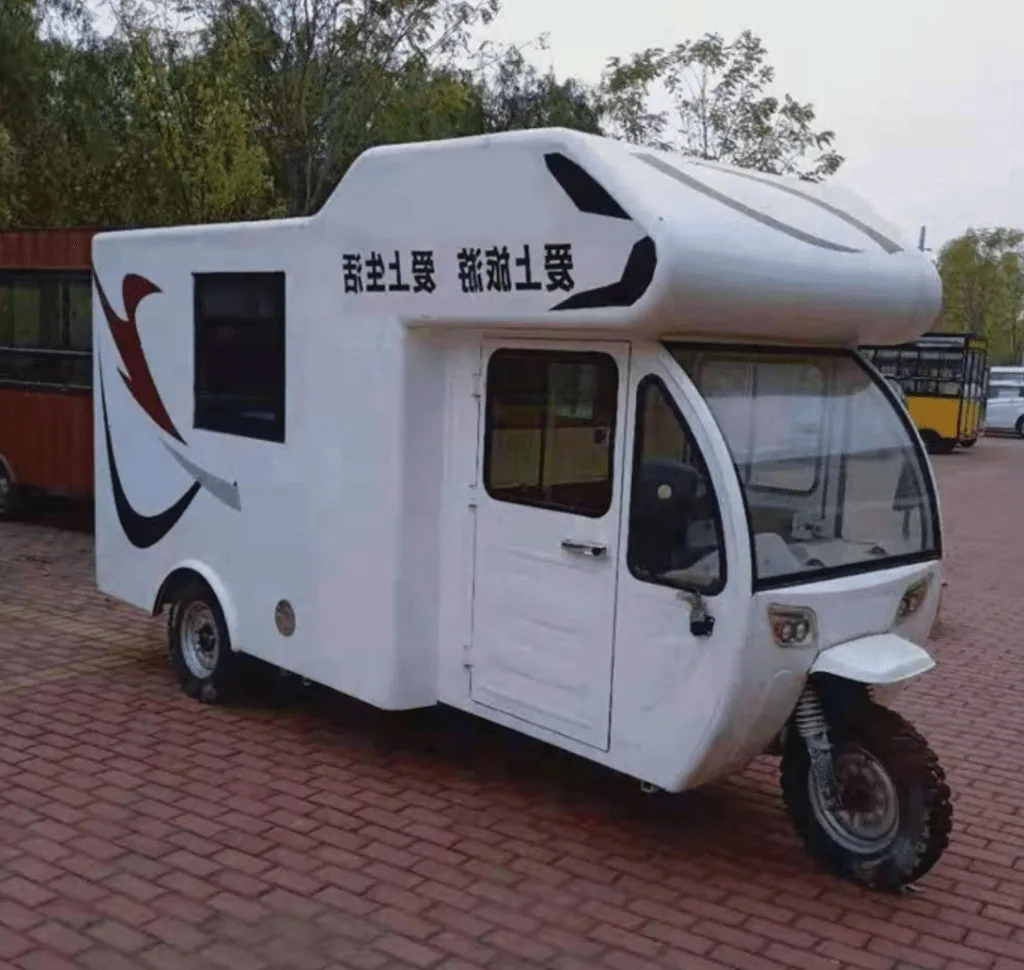 What Is a Three-Wheeled RV?
A three-wheeled RV is basically a rickshaw chassis (one wheel in front and two behind) paired with a tiny camper shell. It may be small and odd-looking, but it's outfitted with just about everything you could need to travel in comfort. Just don't plan on bringing too much on the road.
What Sets This RV Apart
Measuring only 150 in long, 60 in wide, and 90 in tall, the Everbright rickshaw camper is one of the most compact rigs that money can buy. Yet, it still has space to sit, sleeps two, and has room to pack a decent amount of stuff.
This miniature motorhome not only stands out because it's three-wheeled but also because it's fully electric. A 7.2-kWh lithium battery powers it, and it charges in around five hours. A single battery charge can get you as far as 96 miles at a top speed of 25 miles per hour.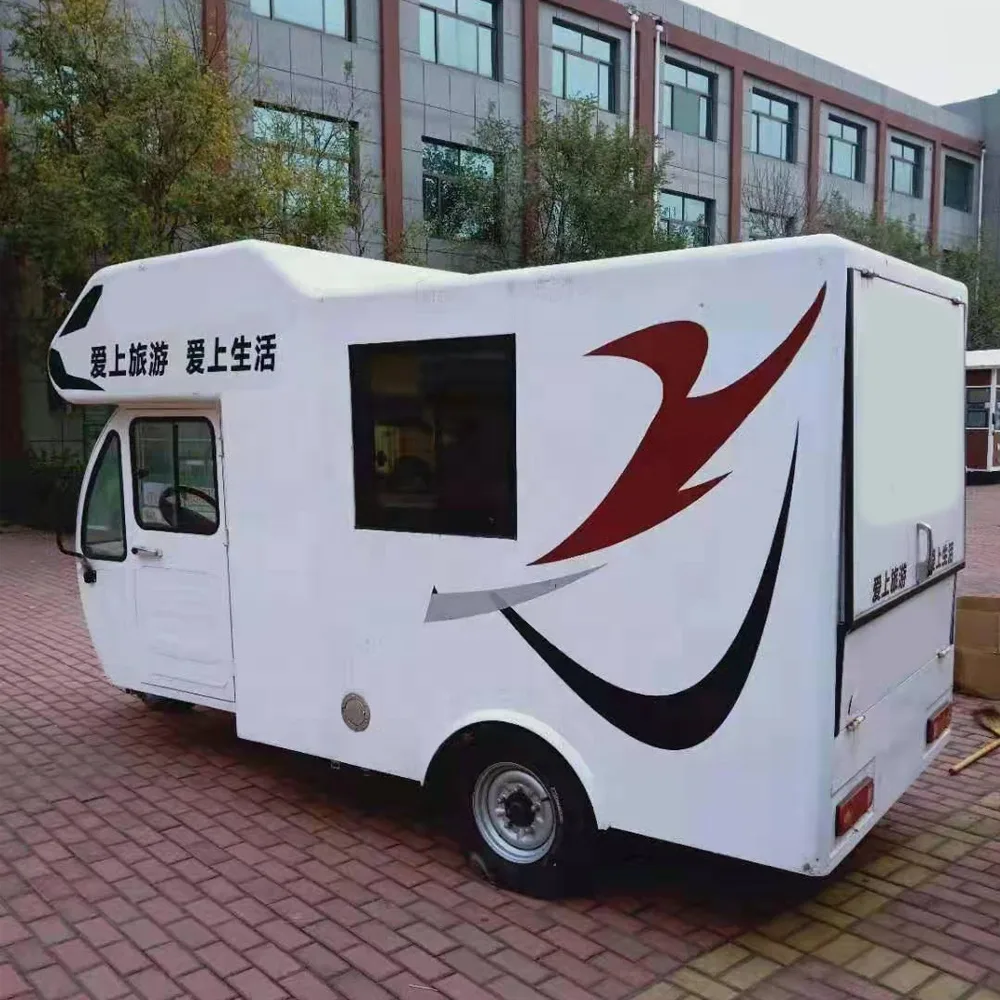 The Benefits of a 3-Wheeled RV
Wondering how a three-wheeled RV will suit your needs? It's certainly not for everyone, but if you want something unique and small for local travel, you might love the Everbright. Check out the following benefits.
The Small Size Gives You a lot of Flexibility
Thanks to the petite size, a three-wheeler camper is easier to park, store and outfit. It gives you the freedom to wander where bigger rigs can't. Compared with a larger rig, moving around is a breeze, from driving narrow and twisty roads to navigating urban traffic and finding parking.
It's Incredibly Cheap
At $6,200 brand new, the Everbright rickshaw RV is one of the cheapest motorhomes you can find. Considering that the cost of a standard mid-sized RV ranges between $50,000 and $80,000, this 3-wheeled RV is a huge bargain.
You'll not only save on the initial price but also the long-term maintenance and storage costs.
It's Purely Electric
Powered by renewable energy, the Everbright electric tricycle motorhome eliminates gas expenses. Skyrocketing fuel costs will no longer be an issue whenever you're planning to get away from it all.
Eco-Friendly
If you prefer to soak in the beauty of nature with minimal environmental impact, this mobile campsite is a good solution. Without fuel emissions, it provides a greener camping experience.
It Offers Ample Living Space
Despite its size, it offers a relatively comfortable living space. It has foldable beds that can sleep a pair, a dining area, and multiple storage compartments. Some models have a pull-out kitchen set complete with a gas stove.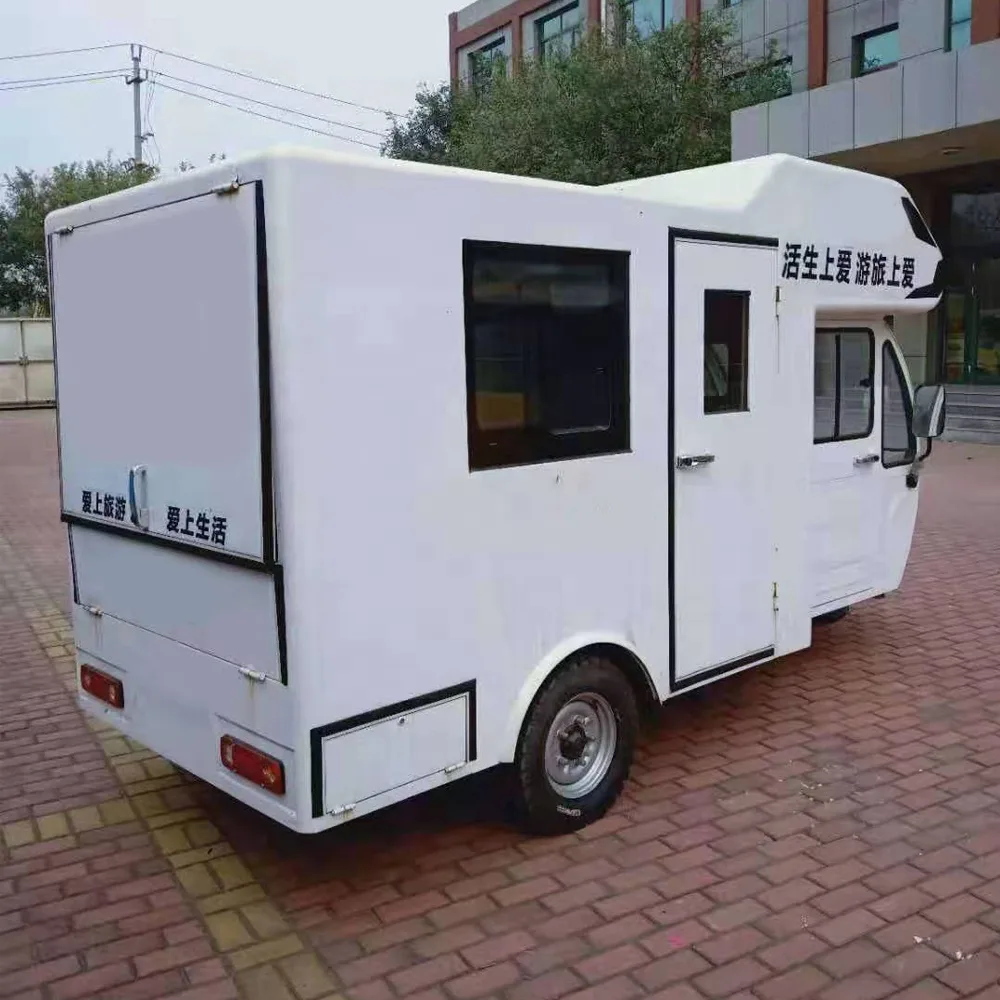 The Disadvantages of a 3-Wheeled RV
The tuk-tuk-style camper also has its downsides. If you're considering this as a potential vacation home-on-wheels, you should be aware of its cons. Here are some of them:
It's Quite Slow
Moving at a top speed of 25 mph, the Everbright three-wheeled camper is painstakingly slow. It would never work for those wanting to travel on the interstate.
Even if you did brave a longer distance, 249 miles per charge is quite the turnoff for RVers who prefer adventuring further from home.
Unless you're planning on towing it behind another vehicle or in a toy hauler, it'll only be suitable for back roads in a local setting.
Customs and Shipping Fees
While the price tag is pretty attractive, the customs and shipping fees may be a deal-breaker. Since it's made in China, you'll need to budget for import fees. According to one website, the shipping fee to the US is $2,500, increasing the overall costs to $9,700. However, if you import in bulk, you can get reduced rates.
Can You Actually Buy This?
If you feel the Everbright 3-wheeled camper is for you, you can order through Alibaba. After paying the deposit, you should expect the delivery within 15-25days.
But before committing, talk details with the vendor to ensure you're getting exactly what you want. Read reviews and look for potential scams when ordering as well. You can get many incredible things shipped to you from China, but some scammers also use the country as a front, so tread carefully!
What Other 3-Wheeled RVs Are Available?
The Everbright RV isn't the only camper on three wheels. Many innovative manufacturers actively compete to cram all the comforts of a regular-size motorhome into a three-wheeler. Here are some of the best tuk tuk RVs.
Elektro Frosch Camping Scooter
Made in Germany, the Elektro Frosch three-wheeled mini truck is fully electric, allowing you to explore the outdoors one charge at a time. It's perfect for local excursions, with a range of 37 miles and a top speed of 25mph.
Its camping kit comes complete with a two-person roof tent and an expendable kitchen set. There's also a large tarp that pulls out to cover your cooking and dining space.
Bufalino Camper
Another German tuk-tuk RV, the fuel-powered Bufalino Camper packs all your outdoor essentials in a tiny little space. It can double as a camper and a workhorse. When used as a camper, there's a bed for one or even two, if you're willing to squeeze. It also features a small kitchen, fridge, water tank, and ample shelf storage.
Is Buying This 3-Wheeled RV Worth It?
It depends on what you value most in your camping experience. While you can't take the Everbright electric tricycle RV for a cross-country road trip, it could be fantastic for local adventures.
The cost is also attractive. At less than $10,000, you'll have a cool electric vehicle that you can charge at home and travel with at a moment's notice. If you aren't planning to wander too far, it might be just what you were looking for in an affordable RV.
In all, it may be small, but it has all the basic amenities you need to explore and sleep in the great outdoors.
Discover the Best Free Camping Across the USA
To be honest with you, we hate paying for camping. There are so many free campsites in America (with complete privacy).
You should give it a try!
As a matter of fact, these free campsites are yours. Every time you pay federal taxes, you're contributing to these lands.
Become a FREE CAMPING INSIDER and join the 100,000 campers that love to score the best site!
We'll send you the 50 Best Free Campsites in the USA (one per state). Access the list by submitting your email below: