7 Best Slot Canyons in the USA
If there's a hike that feels picture-perfect, it just might involve slot canyons.
There's something magical about the sandy waves carved out of the earth.
Today, we'll help you find some of the best and most impressive slot canyons to visit during your travels.
Let's explore!
What Is a Slot Canyon?
A slot canyon is a canyon that's long and narrow. These canyons are often deep and can vary in width throughout. They're typically formed from eroded sandstone and limestone but also form in other rock types.
The depth-to-width ratio of a slot canyon typically exceeds 10:1 over its length and can even reach 100:1. You can find slot canyons all around the world, with the longest being in Australia.
7 Best Slot Canyons in the USA
Many great slot canyons are waiting for explorers throughout the United States. Many of these canyons are in Utah and Arizona, with some also in California. We've gathered a few of our favorites to get you started.
1. Antelope Canyon
Location: Antelope Canyon sits just east of Page, Ariz., within the Navajo Nation. The canyon lies only about two hours away from the Grand Canyon.
About: Antelope Canyon is a Navajo Tribal Park. To the Navajo people, the canyon symbolizes the gifts and powers of Mother Nature. Antelope Canyon is the most visited slot canyon in the Southwestern U.S. The popularity is likely due to the canyon's beauty and distinctive look.
The canyon formed from flash flooding slowly eroding the sandy land. The flooding led to the creation of beautiful formations like waves made of rock. During the spring and summer months, the sun will pour dramatic beams directly into the canyon.
2. Zion Narrows
Location: Zion Narrows is within Zion National Park in Utah.
About: The Narrows is the most narrow portion of Zion Canyon. These walls are 1,000 feet tall and tower over the gorge. In some places, the river that winds through the canyon is only 20 to 30 feet wide. Nevertheless, it's one of the most popular areas in Zion National Park.
You can see The Narrows by hiking along the paved Riverside Walk for one mile from the Temple of Sinawava. Those who want to immerse themselves can continue along the Virgin River. You can wade in the water for a short time or turn it into an all-day hike.
3. Pastel Canyon
Location: Pastel Canyon sits in southeast Nevada, approximately one hour northeast of Las Vegas.
About: This sandstone canyon located in The Valley of Fire State Park earns its name from the pink pastel colors throughout the canyon. These bright and unique colors make this an excellent place for photography and hiking. The canyon comprises a very narrow section of trail in the Kaolin Wash. Accessing Pastel Canyon involves hiking Seven Wonders Loop, a 1.8-mile hike that's great in fall, winter, and spring.
Hikers should plan to bring plenty of water, even in the cooler months. This moderate hike provides some incredible views of the Nevada desert. Download a map in advance to stay on the trail as there is minimal cell phone coverage, and hikers can easily get lost.
4. Buckskin Gulch
Location: Buckskin Gulch sits along the Utah/Arizona border, near Kanab.
About: Buckskin Gulch is one of the longest slot canyons at 15 miles. Many make this a day hike, completing the entire 15 miles in one day. Take a shuttle back to your car if you go for this. Others choose to backpack the journey and even turn around at the end and go back the way they came, making it a 30-mile trek.
Adventurers can complete the hike year-round, but the most popular seasons are spring and fall. Winter can be cold, requiring wetsuits, and summer can be swelteringly hot.
Know Before You Go: You must purchase a permit for the hike in advance, and you need to pick it up in person within 10 days of your hike's start.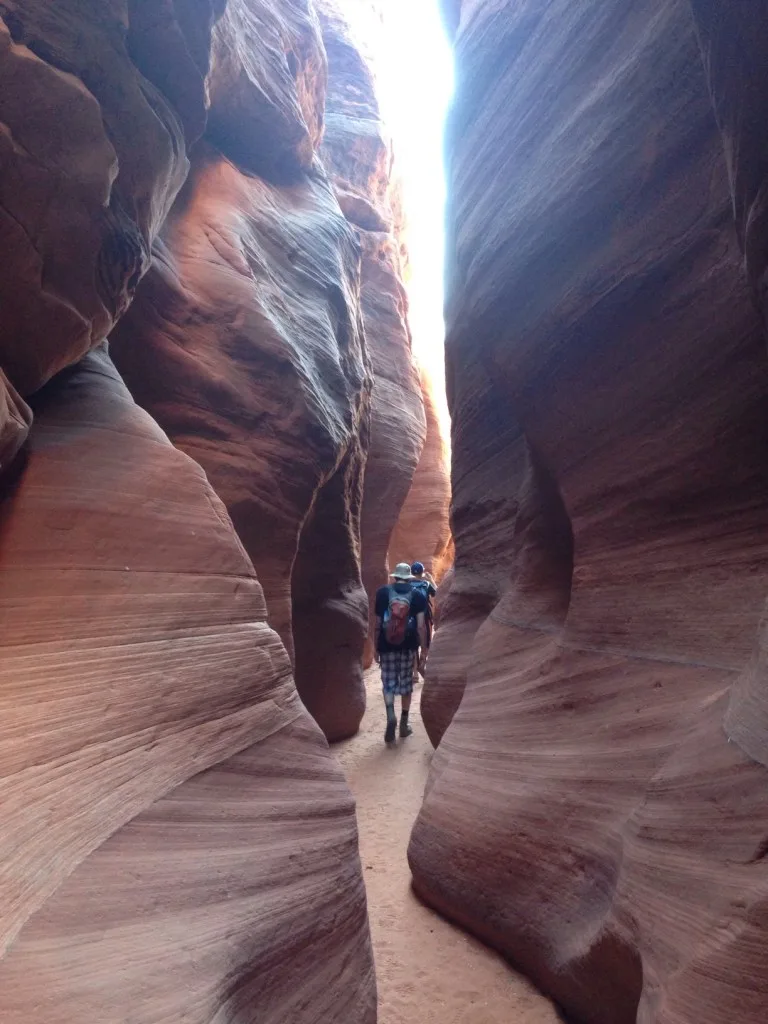 6. Zebra Slot Canyon
Location: Zebra Slot Canyon sits within Grand Staircase-Escalante National Monument in southern Utah.
About: Zebra Slot Canyon is a 5.3-mile round trip slot canyon. Zebra Canyon features a beautiful pink and white striped pattern. The canyon gets very narrow, sometimes requiring hikers to scale up the wall to continue. Depending on the time of year and conditions, you could encounter pockets of water up to waist-deep. Be prepared to get wet while journeying through this natural wonder.
It can get dangerously hot during the summer months. To beat the heat (and the crowds), arrive as early as possible. Bring plenty of water for this one.
5. Kanarra Creek Slot Canyon
Location: Kanarra Creek Slot Canyon is in the Kolob Canyons section of Zion National Park.
About: The Kanarra Creek Slot Canyon is a 3.5-mile round trip. Hikers can customize the trek to their skill level and time availability. The biggest challenge is the two waterfalls that block upstream travel through the canyon slot. If you want a short and easy hike, simply hike to the base of the first waterfall. Those wanting more of a challenge can climb the falls and continue through the canyon.
The water here flows year-round. Hikers must wade the stream in many places.
Pro Tip: You'll also need a permit to hike here, and only 150 hikers per day can snag one. You can purchase a permit at the trailhead, but we suggest buying it ahead of time online.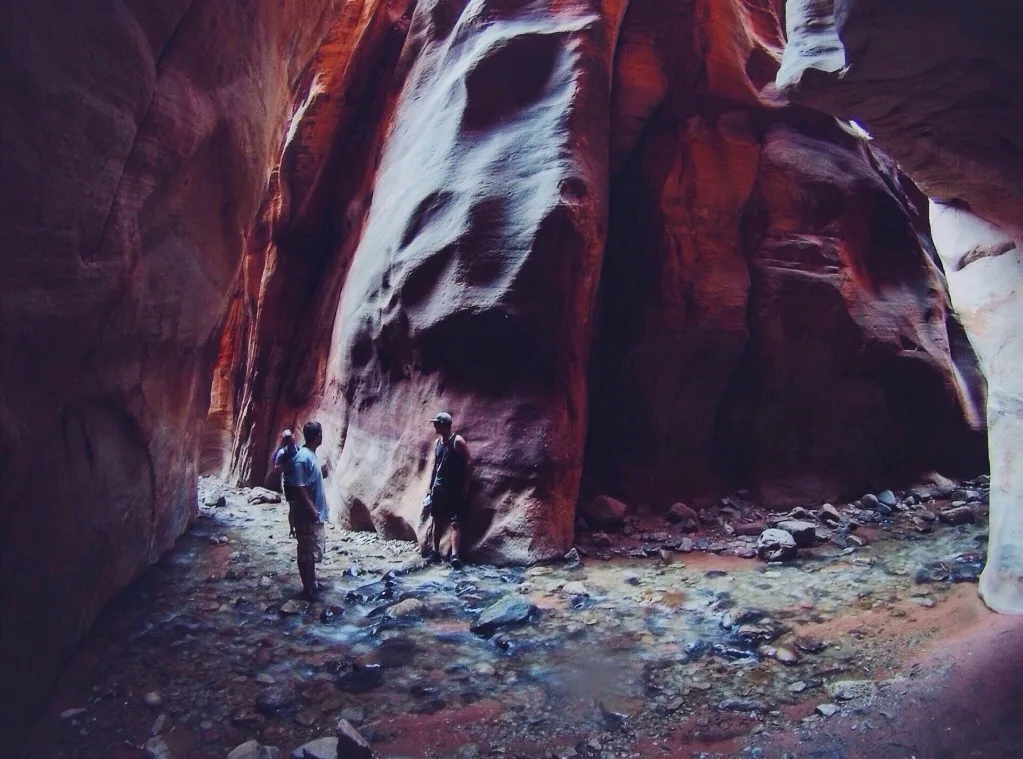 7. Little Death Hollow
Location: Little Death Hollow is slightly remote, located on the east side of the Escalante River, which is less accessible. It's in the Grand Staircase-Escalante National Monument in southern Utah.
About: Little Death Hollow stretches 21 miles round trip. The hike takes you through a canyon that you don't want to miss, though it's a difficult trek. Only those who have a lot of experience and are confident in their abilities should attempt this slot canyon trail. Hikers will experience wide open landscapes, tight canyons, and rock scrambling.
Those setting out on this adventure should bring plenty of drinking water, especially in the summer months. For an extra challenge, you can attach this hike to the Wolverine hike.
Slot canyon hikes can be awe-inspiring experiences. There's something about how the walls wind like waves in the rock and sand. Do you have a favorite slot canyon you've visited?
Discover the Best Free Camping Across the USA
To be honest with you, we hate paying for camping. There are so many free campsites in America (with complete privacy).
You should give it a try!
As a matter of fact, these free campsites are yours. Every time you pay federal taxes, you're contributing to these lands.
Become a FREE CAMPING INSIDER and join the 100,000 campers that love to score the best site!
We'll send you the 50 Best Free Campsites in the USA (one per state). Access the list by submitting your email below: