7 Best River Tubing Destinations in America
Refreshing and rejuvenating, river tubing is a great way to beat the heat by going with the flow.
Can you see yourself drifting lazily down a river relaxing and enjoying the summer afternoon?
Yes? Then today we'll explore some of the best places in the country for river-tubing.
Let's go!
What Is River Tubing?
River tubing is a leisurely water activity in which you ride down a river on an inflated tube. Traditionally they were actual inner tubes from tractor or truck tires. These days they are often commercially available flotation devices that are manufactured specifically for the sport.
These "store-bought" models often have handy improvements like handles, cup holders, mesh bottoms, and backrests.
River tubing is often a group activity. With extra tubes hauling supplies, it can sometimes turn into a party on the water. It's also fun with just a partner or two. It's a great way to enjoy nature at an easy pace and experience some places you can't reach by boat.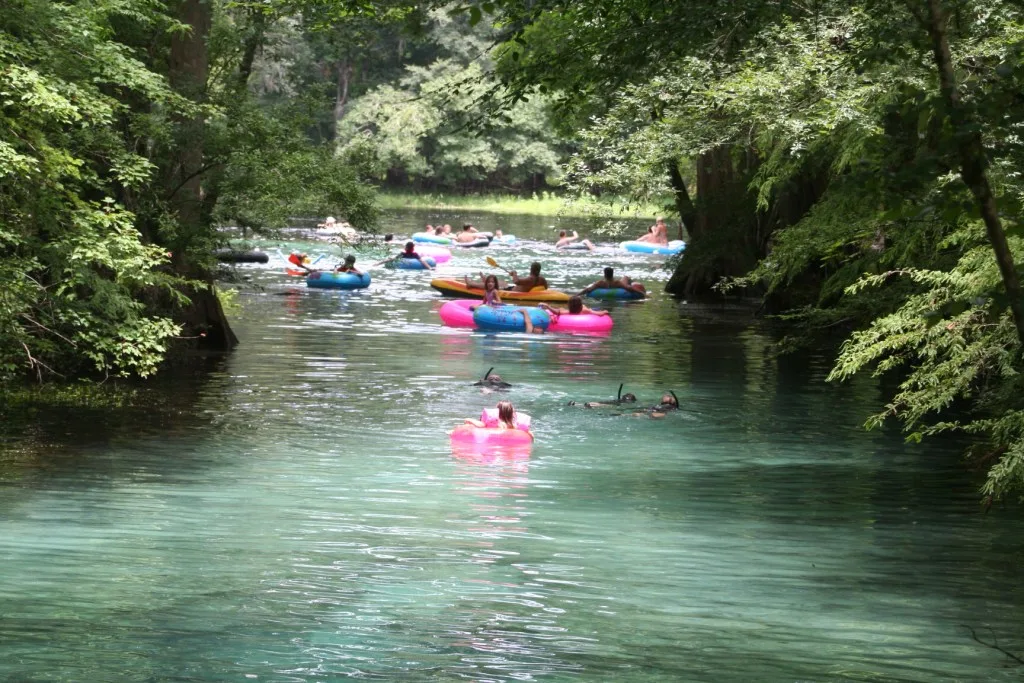 The 7 Best Places to River Tube in America
There are amazing areas for tubing in practically all parts of the country. Some are so popular that they can be congested during peak times like holiday weekends, while others offer more solitude.
Our top seven tubing destinations offer a great combination of conditions for a smooth experience on the water.
#1. Shenandoah River, West Virginia/Virginia
About the Shenandoah River: A tributary of the Potomac, the Shenandoah River flows for 57 miles through Virginia and West Virginia. It's in the heart of the Shenandoah Valley, where you'll find great views of limestone cliffs and forests. There are some nice sandy beach areas as well.
Where to Put In: The South Fork of the Shenandoah River is extremely popular for tubing as well as canoeing and kayaking. There are numerous places to rent tubes, or you can launch yourself at one of several state Department of Wildlife Resources ramps.
Summer Vibes Rating: 9.8
Pro Tip: Here are the best campsites near Shenandoah National Park.
#2. Toccoa River, Georgia
About the Toccoa River: It starts in Tennessee as the Ocoee River but is known as the Toccoa once it crosses into Georgia. The scenic river nestles among the north Georgia Mountains, which are at the southern end of the Appalachians. It's terrific for trout fishing as well as tubing.
It's mostly calm but with some small rapids for a little excitement.
Where to Put In: A popular starting point for tubers and canoeists is a U.S.Forest Service area called the Deep Hole Recreation Area. It's near the town of Suches.
Summer Vibes Rating: 9.6
#3. Yakima River, Eastern Washington
About the Yakima River: River tubing is popular in the Pacific Northwest, too, especially during the hottest months of the year. At 214 miles, the Yakima River is the longest river located completely within the state of Washington.
It's a tributary of the Columbia River and rolls through rolling hills and steep cliffs.
Where to Put In: A 16-mile section of the river known as the Yakima River Canyon is the best stretch for tubing. There are numerous drop-off points along Canyon Road, also known as State Route 821, between Ellensburg and Yakima.
Summer Vibes Rating: 9.3
#4. Ichetucknee River, Florida
About the Ichetucknee River: The Ichetucknee River is just six miles long, and most of it goes through a state park. The spring-fed waters are amazingly clean and clear, and there's lots of wildlife. It's a sweet opportunity to enjoy an unspoiled slice of the Sunshine State.
Where to Put In: To avoid the traffic downstream on the river from commercial outfitters, take your tube straight to Ichetucknee Springs State Park. It's on Highway 27 in Fort White.
Summer Vibes Rating: 9.9
#5. Lihue Plantation Canals, Kauai Hawaii
About the Lihue Plantation Canals: Leave your troubles behind and launch into the Lihue Plantation Canals. They were built a century ago on the island of Kauai within irrigation ditches on a sugarcane plantation. This gorgeous float could be a true bucket list experience.
Where to Put In: A private company called Kauai Backcountry Adventures offers this unique eco-tour experience. It's a three-hour ride, and the company provides lunch.
Summer Vibes Rating: 9.6
#6. Russian River, California
About the Russian River: The wine country of northern California has lush and fertile countryside, and the Russian River rolls gently through it. It can get swift and dangerous in the winter when there's more rainfall, but it's safe in the summer.
Don't expect any rapids, and don't get in a hurry. Sit back on your tube and enjoy the natural side of this glorious Sonoma County river.
Where to Put In: Start at Steelhead Beach in Forestville and float down to Sunset Beach. The two-mile trip should take about 4.5 hours. Start early so you can head into town and sample some wines.
Summer Vibes Rating: 9.7
#7. Current River, Missouri
About the Current River: The Current River starts in the Ozarks of Missouri and flows southwest into Arkansas. Folks in this part of the country take their tubing seriously, and many of them head straight into the Current. This crystal-clear spring-fed river runs at just the right speed, and there are many caves and gravel bars to explore.
Where to Put In: The Bay Nothing Boat Launch in the Mark Twain National Forest is a great place to start. It's a few miles outside the town of Grandin, Mo.
Summer Vibes Rating: 9.8
Pick Up a Tube and Chill on the River
No matter what part of the country you're in, getting on the water is a great way to chill. If you're doing it right, you're doing as little as possible – and seeing gorgeous scenery as you float. Have you ever gone tubing before? What are some of your favorite rivers for it?
Discover the Best Free Camping Across the USA
To be honest with you, we hate paying for camping. There are so many free campsites in America (with complete privacy).
You should give it a try!
As a matter of fact, these free campsites are yours. Every time you pay federal taxes, you're contributing to these lands.
Become a FREE CAMPING INSIDER and join the 100,000 campers who love to score the best site!
We'll send you the 50 Best Free Campsites in the USA (one per state). Access the list by submitting your email below: