Why We Chose a PullRite 5th Wheel Hitch
We chose a PullRite 5th wheel hitch for our GMC truck to tow our new 40' fifth wheel, and we're loving our choice.
So, why did we choose this specific hitch? In this article, we talk about the specs and features of this 5th wheel hitch and why we chose it above all others.
What is a PullRite 5th Wheel Hitch?
The PullRite 5th wheel hitches are American-made truck bed hitches for 5th wheel RVs and trailers.
PullRite has many different hitches and hitch systems from gliding hitches, rail-mounted hitches, gooseneck hitches, and more.
Our truck has an #1800 OE Puck Series hitch and we couldn't be more happy with it.
Why We Chose a PullRite 5th Wheel Hitch
Honestly, the main reason we chose the PullRite 5th wheel hitch is this: it's made in the USA by American workers with American parts.
This is a factor that is incredibly important to us. We know that we have a quality hitch and that we are supporting American workers and an American company.
Another deciding factor when choosing this 5th wheel hitch is how seamlessly and easily it installs on our truck, a GMC Sierra 3500.
This hitch is designed to fit our truck's puck system and installs without any tools and zero damage to the bed of the truck. We didn't have to add rails or any extra equipment, and we can remove the hitch whenever we need to use the bed of our truck.
Our Truck: GMC Sierra 3500
We chose a GMC Sierra 3500 truck to pull our new 40' fifth wheel. Our truck came with a towing package, and GMC has a puck system built into the bed that our hitch installs into.
There are 4 holes, or pucks, in the truck bed. The PullRite hitch has 4 locking 'legs' that drop through the hitch into the pucks. These legs easily lock into place without any tools required.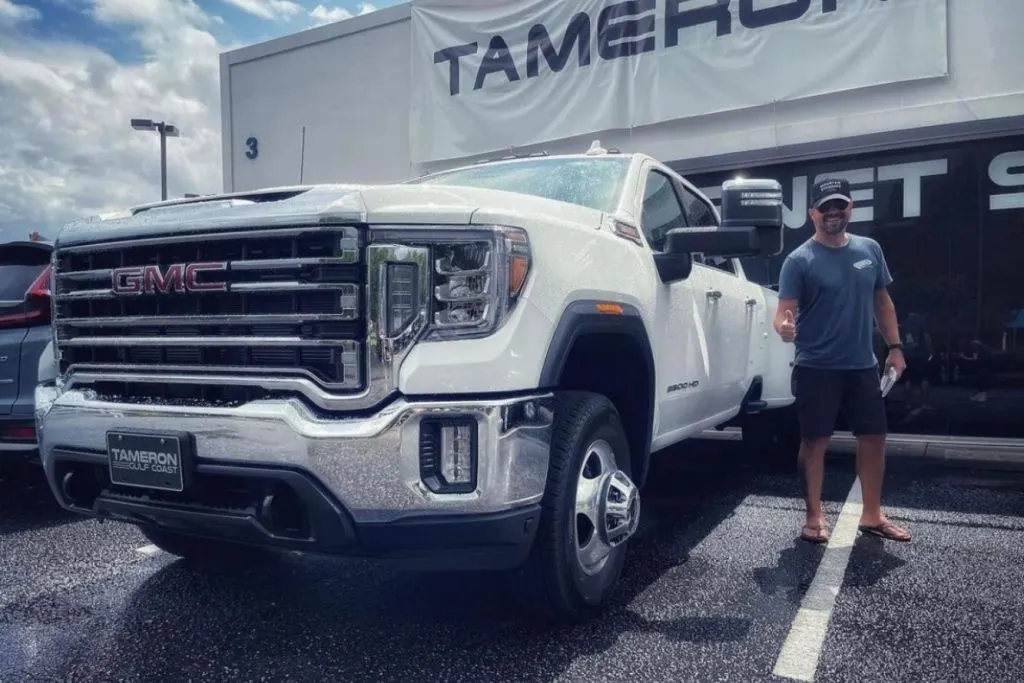 Our RV: Alliance Paradigm 390 MP
We recently purchased a 40' Alliance Paradigm 390 MP. This RV gives our family plenty of room to grow. It comes in at just over 41' in length and has a GVWR of 16,800 pounds.
With such a large RV, we wanted a hitch that we were certain could handle it. The PullRite 1800 fit the bill perfectly!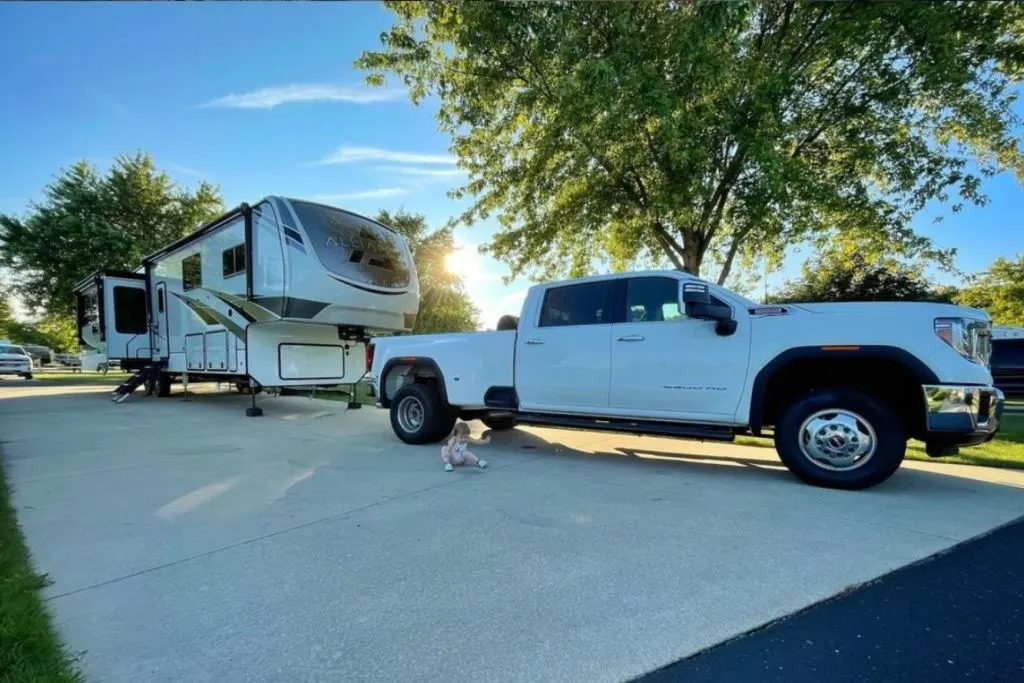 New to Towing? Here are 11 RV Towing Tips for Beginners
Our PullRite Hitch Review, Features, and Specs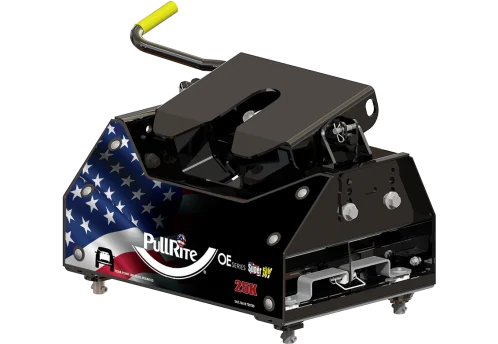 Our specific hitch is the #1800 OE Puck Series 25k Super 5th for long bed GM trucks. This hitch is rated for up to 25,000 pounds, so we knew it could handle our 5th wheel with ease.
This hitch is made for long bed trucks specifically.
For short bed trucks, PullRite has gliding hitches as well. You can find the perfect hitch for you no matter how long your truck bed is.
This hitch has a fully automatic locking jaw and is the only self-locking handle on the market.
PullRite's hitch plate allows us to couple and uncouple our fifth wheel on uneven ground, which is perfect for us because we love boondocking!
The PullRite Hitch is Great for Us
Overall, we are really happy with our purchase. We think this is the best hitch for our specific setup, and we love that it's American made. We are still getting used to towing such a big RV, but this hitch makes hooking up and unhooking a dream.
Discover the Best Free Camping Across the USA
To be honest with you, we hate paying for camping. There are so many free campsites in America (with complete privacy).
You should give it a try!
As a matter of fact, these free campsites are yours. Every time you pay federal taxes, you're contributing to these lands.
Become a FREE CAMPING INSIDER and join the 100,000 campers who love to score the best site!
We'll send you the 50 Best Free Campsites in the USA (one per state). Access the list by submitting your email below: