Do All Types of RVs Need Special Tires?
Tires are a hot topic when it comes to RV owners. Ask a handful of RV owners, and they will likely all give you different opinions on the best brand and type of tires for an RV.
But do you really even need special RV tires, or will any old tire work? Today we'll take a look at RV tires and make sure you have the best options for where the rubber meets the road when it comes to your RV.
Let's dig in!
How Are RV Tires Different From Regular Tires?
At first glance, it can be easy to assume that car, and RV tires are virtually the same. The truth is they are constructed differently and serve different purposes. You must have the right tools for the job to help avoid damage or even bodily harm to yourself or someone else on the roadways.
RV tires often have thicker, stiff sidewalls as well as more narrow tread. Trailer tires must handle the changing movement and angles caused as a result of towing. Unlike passenger tires, they are not meant to transfer power to the road nor to steer. The thick sidewalls allow for a more heavy load-bearing.
They also help avoid trailer sway, which can cause you to lose control and find yourself in a dangerous situation.
Do Different Classes Of RVs Need Different Tires?
Each class of RV requires unique tires based on the size, weight, and functionality of the RV. The tire that works on a massive 20,000lb motorhome will be different from the tire needed on a lightweight travel trailer.
The tires on a Class A motorhome are some of the largest on the market, withstanding ​​between 15,000 and 30,000 pounds. Class B tires are the smallest, with tires that can carry between 6,000 and 8,000 pounds. In between are tires rated for the weight of Class C, fifth wheels, and travel trailers.
Pro Tip: It's important to know your RV tire's load range to help avoid disaster. Before you hit the road make sure to read our tips on RV Tire Blowouts: 7 Tips to Prevent an Awful Accident.
What Is An RVIA Weight Rating And Why Is It Important?
RVIA certifies that the RV has met a variety of safety specifications. These ratings include fire codes, structural, heating, plumbing, and upwards of 500 different safety specifications. The RVIA weight rating ensures proper tire usage amongst other essential factors such as appropriate load distribution.
It is vital to know how much your specific RV can transport to help you choose which tire you'll purchase.
Improper tire selection can lead to uneven wear and even tire blowouts. An accident due to a tire failure can be catastrophic, leading to substantial damage to your unit and even injury.
Understanding the RVIA weight ratings allows you to select the proper tire for your specific situation.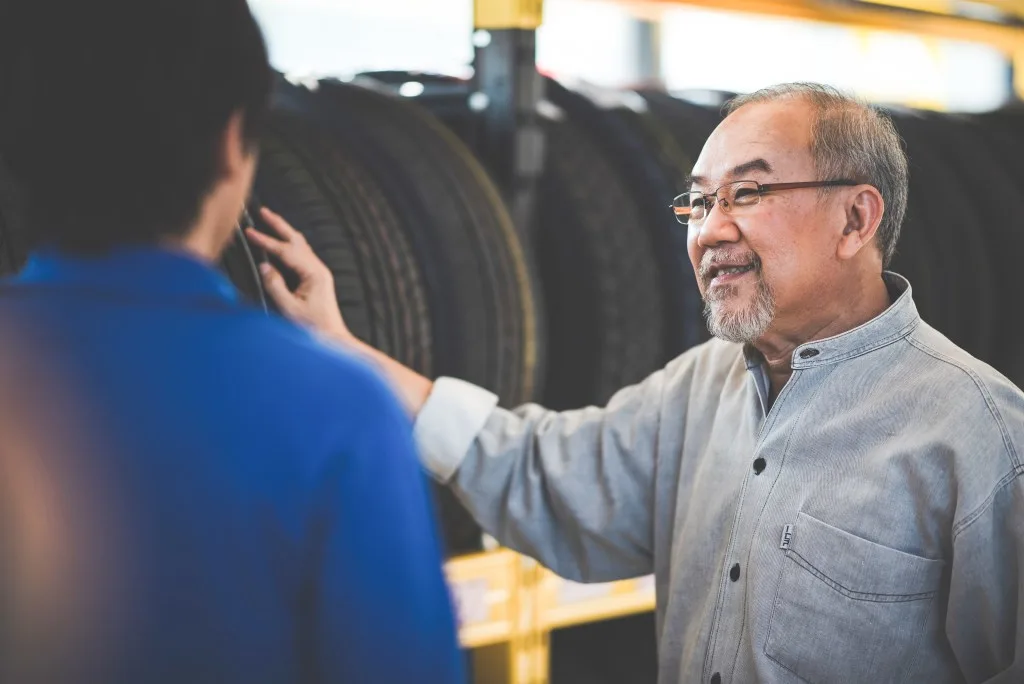 Where Can You Buy RV Tires?
You should be able to buy tires for your RV at most tire shops. If you have a favorite garage in which you take your other vehicles for service, you might be able to purchase tires for your RV at the same location.
However, not every tire shop will have the equipment to change your tires. You should make sure the tire shop can do more than just sell you the tires, but install them as well.
Your tires may not be in stock and require a special order. Be sure to give plenty of time to receive your tires if it could take days or even weeks to get your tires in stock. Due to supply shortages, some RVers report that their tires of choice are out of stock for months. So be sure to do your research and have a backup plan.
How Much Do RV Tires Cost?
Just like the tires on your daily driver, the cost is going to vary greatly. As with most companies, the cost of goods varies based on various things, such as the quality of the product.
Additionally, beefy tires for a massive motorhome will come at a higher cost than a tire for a fifth wheel.
Class A tires can easily run $600 per tire, whereas trailer tires might only run $150 each. Don't forget that you're not just buying a tire, but you're also paying to recycle the old tire, install the new tires, and any other applicable taxes and fees.
Keep in Mind: RV tires and general RV costs can get pricey. Keep your wallet prepared for these 7 Unexpected RV Expenses.
Ensure You Have the Correct Tires
Tires aren't the most exciting part of RVing, but they are essential. Having the wrong tires mounted can lead to very costly repairs and even a devastating accident. What RV tires do you currently use? Do you feel they are a good fit for your setup?
Discover the Best Free Camping Across the USA
To be honest with you, we hate paying for camping. There are so many free campsites in America (with complete privacy).
You should give it a try!
As a matter of fact, these free campsites are yours. Every time you pay federal taxes, you're contributing to these lands.
Become a FREE CAMPING INSIDER and join the 100,000 campers who love to score the best site!
We'll send you the 50 Best Free Campsites in the USA (one per state). Access the list by submitting your email below: