Does Flex Seal Tape Work on RVs?
Flex Seal Tape is a popular product made famous by infomercials that show how it adheres underwater. But does it really work? And is it a good choice for RVs?
This product makes some sensational claims, but it's actually a great addition to an RVers toolbox.
Let's take a closer look at this waterproof tape and how and where to use it on your RV.
Let's dig in!
What Is Flex Seal Tape?
Flex Seal Tape is a brand of thick adhesive tape with rubberized backing. Stores and infomercials promote it for its strong bond and waterproofing abilities.
It is said to adhere to any surface, even when applied underwater. With that kind of reputation, it's no wonder RVers everywhere are taking notice.
Is Flex Seal Tape as Good as Advertised?
Is Flex Seal Tape as good as they say? If so, this tape would be perfect for sealing up cracks and gaps on an RV.
This tape works well for making minor RV repairs and for waterproofing and sealing for some time. However, it's not a perfect long-term fix and doesn't work as well as alternatives, like Eternabond tape.
Can You Use Flex Seal Tape on RVs?
Yes, Flex Seal works great for RVs. But, keep in mind, this tape won't work as a long-term solution and isn't suitable for large jobs, like big tears in your roof material.
Flex Seal Tape is a great addition to any RVers toolbox — it's like duct tape on steroids. You can use it to hold stuff together, cover cracks and pinholes, cover small tears, and more.
Pro Tip: Flex Seal Tape is an excellent addition to your RV toolbox, but make sure you also have these Weird RV Tools That Actually Work Wonders.
Tips for Using Flex Seal Tape on Your RV
Make sure everything is clean and dry to get the best adhesion and waterproofing possible. If you want to know how to use Flex Seal Tape on your RV, here are some key tips.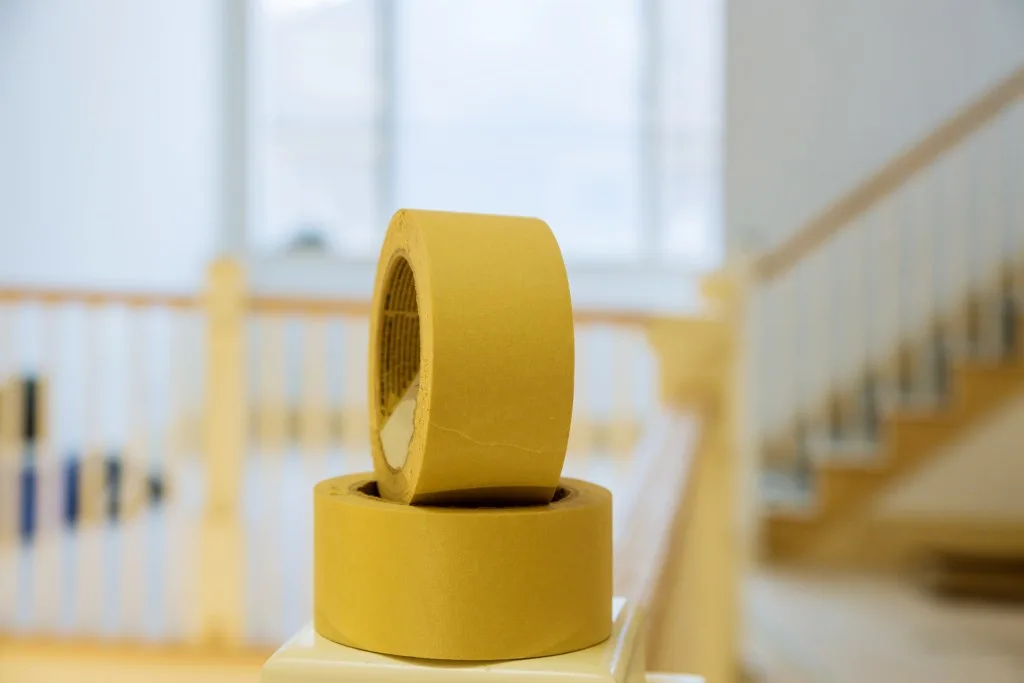 Track Down All Potential Leak Spots
If using tape to stop a leak in your RV roof or sidewall, be sure that you track down all potential leak spots. Sometimes water leaks inside in a different area than where the water is getting in. Inspect your RV for any defects — a hole as small as a pin can allow water to enter.
Be Sure the Surface Is Clean
Clean the RV surface well to remove dirt, lichen, dust, and sap. You need a clean surface to apply the tape to ensure that the edges won't peel off. After cleaning the area, you may need to use a degreaser or solvent to remove oil or grease.
Use a Degreaser to Remove Oil or Residue
Even if there's no visible oil leftover from your hands or cleaning products, it's a good idea to use a degreaser or solvent like rubbing alcohol on the area before you apply tape. This helps ensure good adhesion and will help the seal last longer.
In addition, you should make sure you have clean hands so that dirt and oil from your skin won't taint the adhesive.
Where to Use Flex Seal Tape on Your RV
You can use Flex Seal almost anywhere you'd use duct tape for a quick fix. Here are some ideas:
Roof Cracks, Pinholes, and Seams
Flex Seal is a good, short-term solution to repair small roof membrane cracks and pinholes. Additionally, you can use it to cover seams that have started to separate or for cracking sealant around things like your roof vent fan or air conditioner.
Skylight Cracks
Older RVs might have a more brittle skylight from years of exposure to the elements. A branch or small piece of hail could easily damage an old skylight. Flex Seal Tape will seal it until you can replace it.
Pro Tip: Flex Seal tape can be a great short-term solution, but RV roof sealant works wonders for sealing leaks, seams, and cracks. Read more to find out Which RV Roof Sealant Should You Use?
Shower Pan Cracks
Alternatively, you can use Flex Seal tape inside your RV to seal holes and cracks in your shower pan, sinks, or toilet.
Leaks in Plumbing
If you have a cracked pipe or a leaky pipe joint, tape it up. When used correctly, this tape is waterproof and can be a great short-term fix for leaky or cracked pipes. This is especially useful in the winter when lines tend to freeze and crack. Be sure to keep a blow dryer handy: this tape will adhere better when warm.
Is Flex Seal Tape a Good Idea for RVs?
Flex Seal is an excellent addition to your RVing toolbox, whether full-time or part-time.
Just keep in mind that it isn't a long-term fix. If you have a crack, leak, or tear in or on your RV, you should repair it quickly. But, in the meantime, Flex Seal Tape will give you peace of mind and help keep you and your RV dry.
Discover the Best Free Camping Across the USA
To be honest with you, we hate paying for camping. There are so many free campsites in America (with complete privacy).
You should give it a try!
As a matter of fact, these free campsites are yours. Every time you pay federal taxes, you're contributing to these lands.
Become a FREE CAMPING INSIDER and join the 100,000 campers who love to score the best site!
We'll send you the 50 Best Free Campsites in the USA (one per state). Access the list by submitting your email below: