Can You Visit Central Perk from Friends?
The TV show Friends featured a coffee shop named Central Perk. Viewers quickly got to know the orange sofa on which characters sat while talking about anything and everything.
Central Perk was downstairs from Friends' characters' apartments. But is it an actual coffee shop?
Can you go there to meet your own friends?
We've got the info, and we'll be there for you!
About Friends
Friends was an NBC sitcom that debuted in 1994. It followed the lives and especially the romances of six 20-somethings. It's one of the most popular and most influential tv shows of all time.
It launched the careers of its stars, including Jennifer Aniston, Courteney Cox, and Lisa Kudrow.
The "will-they-or-won't-they" love story of Ross and Rachel kept viewers wondering throughout the show.
Where Is Central Perk from Friends? Can I Get a Cup of Coffee There?
Central Perk wasn't based on a real cafe. They never even gave a street address for it. Although, it was often referred to as "downstairs."
However, you can visit it now, sort of. The Central Perk set is included on a Warner Brothers studio tour in Burbank, California. You can see the familiar signs and furniture and the door at which Ross and Rachel shared their first kiss.
A sweet bonus is that there's now a working replica of Central Perk next door to the set. You can get a cup of coffee there and grab a bite to eat. It's so convincing that you'll think Gunther's watching you.
Is Central Perk in Every Episode of Friends?
Yes. It's in every episode. After all, Joey taught us that it's only 97 steps from Chandler and Joey's apartment. How could they resist?
Pro Tip: If you're not a Friends fan, maybe Shameless is more your style. Want to explore the set? This is how You Can Visit the Shameless House.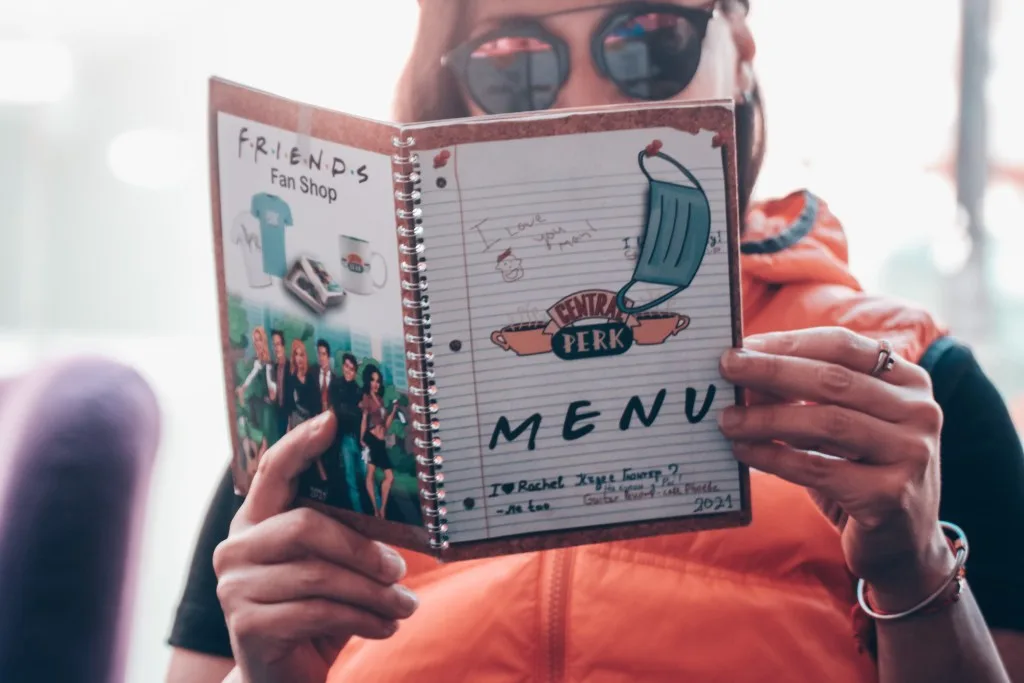 Is Monica's Apartment Real? Can I Visit It?
Monica's apartment was a set. (The fridge was real, though, and stocked with drinks and snacks for the crew.)
Warner Bros and Superfly created The Friends Experience in New York. It's a replica of the set, complete with authentic props from the show. You can enjoy Monica's apartment, sit on the Central Perk couch, and even put on Rachel's cow sweater.
The experience takes about an hour to tour, and pictures and videos are encouraged. You can also book private time there with your friends or experience it with groups of others. It's also available to rent for private functions. A second location will be opening in Dallas soon.
In 2020, Booking.com also created a replica of Monica's apartment and other rooms from Friends. This year they rented it out for just two nights, each night to a pair of good friends.
They got to enjoy the night recreating Friends moments while a professional photographer captured images.
In the morning, they bought coffee from their own Central Perk. This experience was available for $19.94 a night, a nod to the year the show debuted. Booking.com hasn't announced if they'll repeat that.
Fun Things To Do Near Central Perk
Griffith Park
If you're in Burbank touring movie sites, be sure to check out Griffith Park as well. It's one of the largest Municipal Parks in North America. It features caves, carousels, a fern garden, pony rides, and more.
The famous "Hollywood" sign is there, but the public isn't allowed to access it.
Check with the park before you go to make sure visiting hours are current.
Flappers Comedy Club
Flappers Comedy Club has two locations in California. One is in Burbank, the nearest one to Warner Brothers Studio, and one in Claremont.
Both locations are guaranteed to deliver laughs with over 40 shows a week. You'll hear some up-and-coming comedy stars and famous comedians are known to drop in. Check their calendar so you can plan what special events you'll be seeing.
Best Camping Near Central Perk
Hollywood RV Park
Hollywood RV Park has 180 sites, all of which are full hookups. It also has showers, laundry, cable, a gym, and WiFi. Its location is one of the best things about it. It's not easy to camp in the middle of Los Angeles, but this park is close to many attractions.
There are pretty murals throughout the campground, as well as a whole gallery. In addition, the Hollywood Playhouse performance venue is on-site. If you want to hear music or watch a play without going far, that comes in handy.
Reviewers also report that the owner and staff are very friendly. It's been family-owned since 1976, so it's here to stay. Sites are quite narrow, though, and the staff sometimes uses a forklift to assist.
Daily rates are $65.
Pro Tip: Enjoy the sand and sun at these Best Beach Camping Spots in California.
Is A Trip to Central Perk from Friends Worth It?
It sure is! If you're going to be enjoying movie and tv sites anyway, go check out the Central Perk set. It's a set that became so familiar to so many people and seeing it is oddly perfect.
Plus, you can get a cup of Central Perk coffee next door. That should keep you perky enough to get through "Smelly Cat" a time or two.
Discover the Best Free Camping Across the USA
To be honest with you, we hate paying for camping. There are so many free campsites in America (with complete privacy).
You should give it a try!
As a matter of fact, these free campsites are yours. Every time you pay federal taxes, you're contributing to these lands.
Become a FREE CAMPING INSIDER and join the 100,000 campers who love to score the best site!
We'll send you the 50 Best Free Campsites in the USA (one per state). Access the list by submitting your email below: