The Most Overrated California Tourist Attractions
When you think about California tourist attractions, you probably think of the ones you've seen in movies.
You dream of doing the Walk of Fame to meet celebrities. You imagine taking a selfie with the Hollywood sign.
But are those famous places really worth it? And what are some other places to see instead?
Let's take a look!
Lombard Street, San Francisco
In photos or videos of Lombard Street, cars go through eight spiral turns in the lush hedges of Russian Hill. You see luxurious mansions and the ocean. It's a stunning visual.

Though, sadly, not much more. Lombard Street is only twelve blocks, in reality, making for twelve congested blocks.
Expect your patience to be tried more than your camera is inspired.
Better San Francisco Tourist Attraction
For an equally picturesque stop that won't lead to road rage, try the mosaic stairs. There are three sets of these beautifully tiled stairs: 16th Avenue, Hidden Garden, and Lincoln Park.
The first two are close together, so let's learn more about visiting those.
The 16th Avenue Tiled Steps are less crowded than many California tourist attractions, plus it's free to see and explore them. Each step works alone as its own art piece and in combination with the rest of its flight.
Then several flights of stairs all flow together to create unique designs.
Gardens surround the stairs too, and volunteers constantly add more plants. It's a fabulous garden to see, especially if you're a fan of succulents.
The nearby Hidden Garden Steps are indeed hidden. If you see them from a distance, you might mistake them for regular stairs.
But if you walk down the steps and look up, then the stunning colors and shapes come to life. The steps feature stunning, vibrant plant life, such as a giant California poppy.
As a bonus, they don't draw a lot of traffic at all, so you'll have more time and space for yourself.
Hollywood, Los Angeles
A lot of the sites most associated with Hollywood are seriously underwhelming. Plus, when you visit, you may have to deal with days too hot or too rainy to do anything. Let's take a look at what you can skip for sure.
You can cross the Hollywood Sign off of your list for a few reasons. Though it's visible from Mt. Lee across the city, getting there is more challenging than seeing it.
That's because it's off-limits, and they have police officers there round-the-clock, some in helicopters. There are steep penalties for trespassing, and the sign is also considered a possible terrorist target. It's certainly safer to Photoshop yourself with the sign instead.
Rodeo Drive is also a miss. It's home to nice-looking boutiques and quaint eateries, but the price tags are over the top.
Plus, those celebrities you're hoping to spot aren't likely to be hanging around.
California tourists pack the Walk of Fame attraction, and it has more overpriced shopping and dining. Celebrities do pass through occasionally, but they don't have much use for a monument to fame.
While there are some good comedy clubs there, the Sunset Strip is, once again, overpriced and underwhelming.
That is unless you enjoy paying outrageous cover charges to get into bars with two (overpriced) drink minimums.
Better Los Angeles Tourist Attraction
Instead, why not try a beautiful, educational place? The California Science Center is consistently ranked highly as a tourist attraction that's worth it.
In part, that's because it's free! Yep, all the permanent exhibits are free. (IMAX shows and specialty visiting exhibits may have admission fees.)
Many love the "ecosystems" exhibit, which demonstrates how life forms interact with their environments. The Science Center's show on outer space and rockets is top-rated. Call ahead or check their website to see what current visiting policies are.
You can also head to Abbot Kinney Boulevard, a mile-long stretch of shopping and dining near Venice Beach. Stores frequently have free ice cream days, happy hour deals, free gifts with purchase, and more. You can have your pet or even your aura photographed too.
Businesses also sometimes offer workshops on topics like mending your clothes. And the sweetest part is that you'll be supporting local businesses without the price point of Rodeo Drive.
Pro Tip: Check the Abbott Kinney website before going. They'll fill you in on any current sales or deals, and there are some good ones!
Venice Beach, Los Angeles
Venice Beach is the legendary party place on the California coastline. Since it's such an iconic California tourist attraction, that makes for a lot of crowds and overpriced everything.
Street performers gather there and demonstrate their talents for audiences (mainly comprised of tourists.)
The beach does seem to live up to its reputation for hosting bodybuilders. However, crowds and expensive souvenirs might not make for a relaxing beach day.
In addition, Venice Beach admits to having a disproportionate amount of drug addicts and homeless encampments.
Better Venice Tourist Attraction
Near Venice Beach, however, are the Venice Canals. Seeing them is a step back in time. As Los Angeles grew, the city filled in many of the canals.
These waterways in Venice, however, were spared.
The Venice Canals are in a residential neighborhood. You can take a pleasant 45-minute walk without anyone trying to sell you anything – a definite plus.
The canals, bridges, and houses are all unique and lovely. The canals provide a beautiful and gentle contrast to the busy city with less crowded paths and a slower pace.
Pro Tip: Need a place to stay while exploring California? We found The Best Beach Camping in California.
Seaworld, San Diego
Seaworld is an expensive California tourist attraction. It's also stifling being packed into crowded bleachers and watching from the sidelines.
Plus, who wants to see whales in captivity when you can get up close and personal in their natural habitat?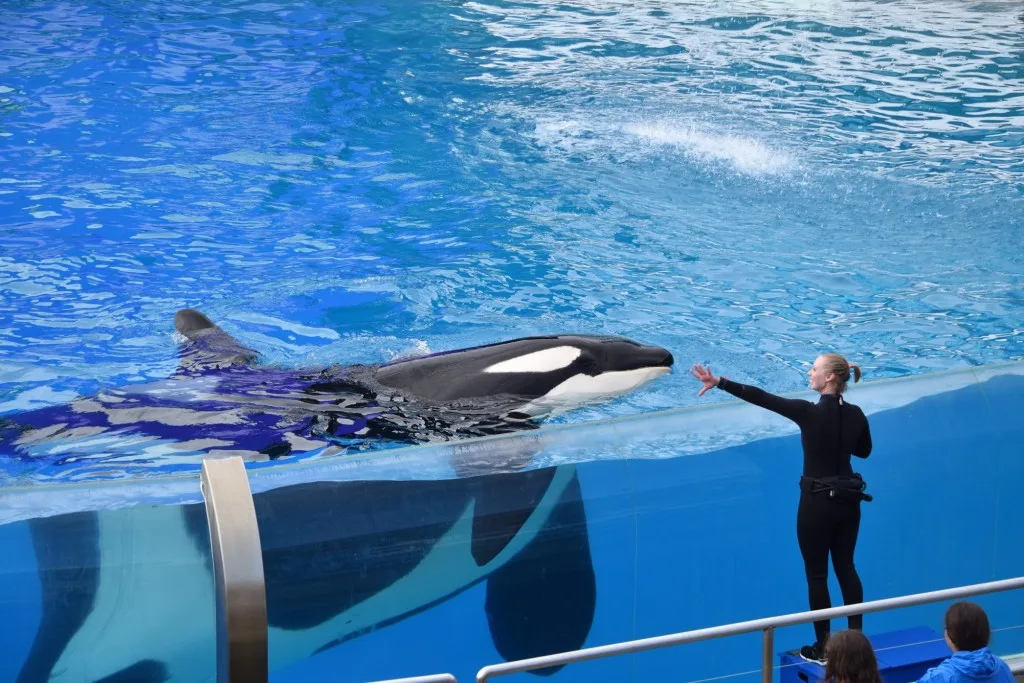 Better San Diego Tourist Attraction
Many whale-watching companies, such as Adventure Whale Watching, offer boat tours. Their vessels seat up to 10 people, and you can book private trips or join public ones.
They use low-profile boats so you can get closer to whatever animals you see.
Currently, public whale-watching trips are $98/person. (Sea World admission is $60/person, plus the add-ons like eating, choosing reserved seats, etc.) Private whale watches start at around $600, depending on the number of people.
Santa Cruz Boardwalk, Santa Cruz
The Santa Cruz Boardwalk is in a beautiful location with much to do. However, that can create a problem because California locals and tourists flock to this attraction.
Popularity makes the area quite crowded and stressful, especially in the summer. So, the off-season is a much better time to explore.
But what to do if you're there during peak season?
Better Santa Cruz Tourist Attraction
The Natural Bridges State Beach is a park, beach, and conservancy. Spread over 65 acres, the beachfront often has active sea life. You may see seals, shorebirds, and even migrating whales!
Tide pools show all kinds of rare, beautiful creatures, and the Visitors' Center can give you a map of the most active ones. In addition, 8.000 monarch butterflies feed on the milkweed at Monarch Grove.
There's a $10/day fee to park per vehicle. Also, a lot of the lifeforms there are protected.
Do not touch or take any with you.
Pro tip: If you want to get off the beaten path make sure to avoid these 5 Most Overrated American Landmarks.
Visit California's Less-Touristy Attractions
The most famous California tourist attractions tend to be expensive and underwhelming. Fortunately, you can still enjoy the state by getting a little off the beaten path.
And it's usually not far at all!
Keep your eyes peeled for hidden mosaic stairs and quiet canal neighborhoods, and you'll feel like a local. Plus, seeing whales up close beats getting arrested at the Hollywood sign any day.
What are your favorite places to see in California?
Discover the Best Free Camping Across the USA
To be honest with you, we hate paying for camping. There are so many free campsites in America (with complete privacy).
You should give it a try!
As a matter of fact, these free campsites are yours. Every time you pay federal taxes, you're contributing to these lands.
Become a FREE CAMPING INSIDER and join the 100,000 campers that love to score the best site!
We'll send you the 50 Best Free Campsites in the USA (one per state). Access the list by submitting your email below: