RVing is amazing, but RVing with toys is even better. When you have a toy hauler, you can take your favorite activities with you on the road.
The problem is that most toy haulers are huge.
And if you don't feel comfortable driving such a large rig or you don't need all the extra living space, toy haulers may seem out of your reach. But, the good news is, we've rounded up the top small toy haulers to make your dreams a reality.
Do Small Toy Haulers Even Exist?
While small toy haulers do exist, they are less common than larger toy haulers. But lucky for you, we did the legwork for you.
Keep reading to hear about the best small toy haulers on the market.
Travel Trailers Make Great Lightweight and Small Toy Haulers
When people think of toy haulers, they usually think of fifth wheels. But the best small toy haulers are travel trailers. Their small size and lighter weight give you more flexibility for your tow vehicle as well.
Another great thing about these smaller travel trailer toy haulers is that travel trailers usually come with a lower price tag than other RVs.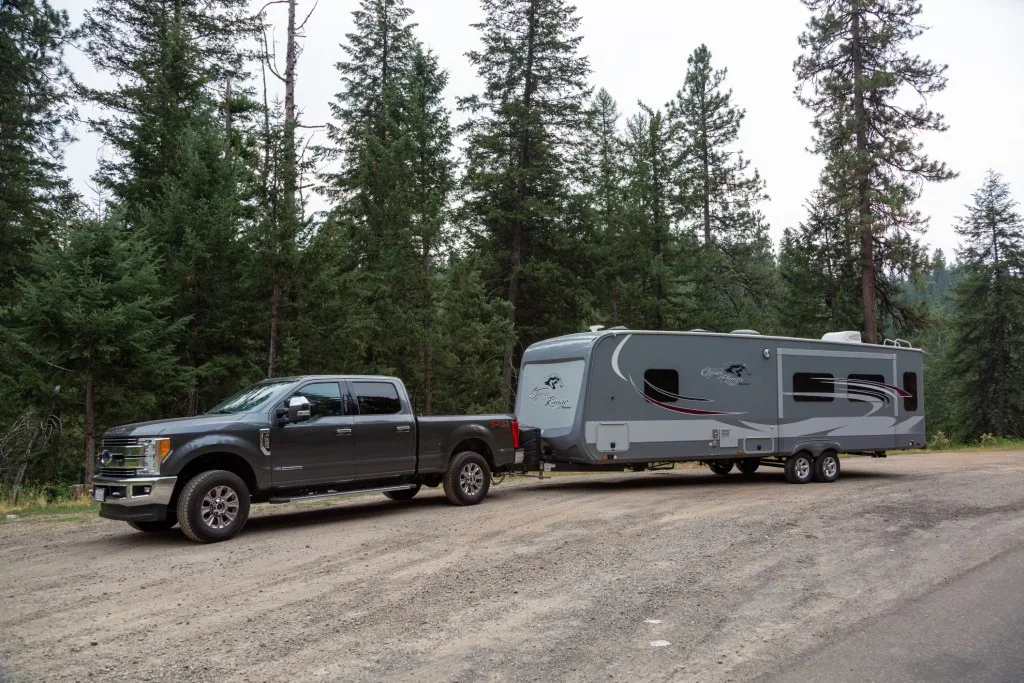 5 Best Small Toy Haulers in 2022
Quicksilver VRV
The Quicksilver Ultra Lightweight Toy Haulers are excellent small toy hauler options. The Quicksilver's quality design and engineering mean you can tow the Quicksilver VRV with the truck or SUV you already have!
The Quicksilver VRV has a completely tubular aluminum construction with an aerodynamic front panel for better gas mileage. Its independent torsion suspension, 2 electric brake axles, and safety chains mean it can conquer any road.
Floor plan options also let you customize this small toy hauler to be perfect for your needs. You have the option for adding one, two, or no tip out bunks in either standard or queen-size. Each toy hauler also has a small kitchen with an optional refrigerator and microwave. The longest model at 26 feet has a separate bedroom, while the other models have the living and sleeping quarters all in one space.
The Quicksilver VRV gives you lots of choices ranging from 15 feet and only 2,300 pounds to 26 feet and under 5,000 pounds. You'll be able to find a small toy hauler to give you exactly what you want.
KZ Escape E180TH
Another option for a small toy hauler is the 2020 Escape E180TH. This toy hauler measures in at just under 22 feet and has a gross vehicle weight rating of 5,000 pounds. It is longer than the Quicksilver and weighs a bit more. But as far as toy haulers go, it is still on the smaller end.
The Escape comes equipped with a full bath, a flip-out sofa, a small kitchen with a 4 cubic foot fridge, and a 50" by 87" bed. The interior also has overhead cabinets for extra storage, and underneath there is pass-through storage so you can bring along all your extra gear.
This toy hauler comes with a few options for interior décor but doesn't offer as much flexibility as the Quicksilver. All the same, it is another great option if you're in the market for a small toy hauler.
Forest River No Boundaries 19.1
The No Boundaries 19.1 is just under 25 feet, making it a little longer than any of the other small toy hauler options we've covered so far. But the awesome thing about No Boundaries is you get the added length, but it still weighs in at under 4,400 pounds. It is incredibly light considering its length. So, you'll have flexibility in your tow vehicle without sacrificing interior space.
The added length means more living area and more room for toys! There is 127" of space in the garage. The No Boundaries also has added storage and pantry space with a flip-up sofa in this area. In the front of this small toy hauler is a full bath and kitchen and a 60"x 80" bed.
If you're looking for a small and lightweight toy hauler that sacrifices nothing, the Forest River No Boundaries is the way to go!
Rockwood Geo Pro G19FBTH
Since Forest River designs top of the line RVs, it is not surprising that we have another one of their small toy haulers on our list. The Rockwood Geo Pro has a 6'11" cargo area and a ramp that can accommodate many toys.
The garage also houses the full kitchen and has a flip-up seat. This design makes it a more compact toy hauler than many others out there. Another awesome thing about this layout is that you can drop the ramp when you're parked and open up your living area to the outside.
In the front of the Rockwood Geo Pro, there is a full dry bathroom and a full bed. There's also a TV in the bedroom for relaxing at the end of a long day adventuring.
Lance 2612 Toy Hauler
Finally, our last pick for those of you looking for a small toy hauler is the Lance 2612 toy hauler. Even though it is smaller, it has all the features you would expect to see in a toy hauler much larger. It is the largest on our list at almost 32 feet and 9950-pound GVWR.
This means you get maximum space for your toys and your living area. The living area includes a dinette, two chairs, a roll-over sofa bed, a full kitchen, large bathroom, and a queen bed. The bedroom also has a wardrobe and additional storage space, which is a perk not seen in many small toy haulers.
The Lance 2612 has over 12 feet of open cargo space to fit even the largest of toys. RZR 1000? No problem; the Lance 2612 is up for the task. It is also equipped with a 100-gallon water tank, 40-gallon fuel tank, and electric awnings. The interior is designer quality and you'll love all the exterior add-ons including keyless entry, 4K Onan generator, solar panel, roof rack (for even more toys!), and ramp door railing.
There are also plenty of additional optional features including premium stereo, auto locating satellite dish, TV, electric stabilizer jacks, heated enclosed holding tanks, ramp door screen, and more.
Small Toy Hauler RVs Do Exist
If you've always dreamed of a toy hauler but don't want an enormous fifth wheel, you'll love these small toy haulers. They give you everything you need to bring your favorite toys on all your adventures, but without the enormous size and weight of many other toy haulers.
We know you'll love your next trip with any of these amazing choices.
Discover the Best Free Camping Across the USA
To be honest with you, we hate paying for camping. There are so many free campsites in America (with complete privacy).
You should give it a try!
As a matter of fact, these free campsites are yours. Every time you pay federal taxes, you're contributing to these lands.
Become a FREE CAMPING INSIDER and join the 100,000 campers that love to score the best site!
We'll send you the 50 Best Free Campsites in the USA (one per state). Access the list by submitting your email below: