Plugging in your trailer wiring is an essential part of towing.
And, if you've towed different trailers, you may notice some trailers have different wiring systems. Knowing which type you're dealing with and their functions is critical.
So how do seven-pin and four-pin connectors stack up against each other?
Let's take a closer look!
What Does Trailer Wiring Do?
When you connect your trailer wiring to your tow vehicle, you're sending power to various electronics on your trailer. This can include lights, turn signals, and even electric brakes.
Your tow vehicle will generate the power necessary to use these items on your trailer.
The Difference Between 7 & 4 Pin Connectors
The three-pin difference between a seven-pin and a four-pin trailer connector is significant. Four-pin trailer connections typically provide basic light functions only for the trailer, including running lights, turn signals, and brake lights.
If you're using a seven-pin connection, you get all the same benefits but gain a 12-Volt circuit, an electric trailer brake circuit, and reverse lights. Using the electric trailer brake circuit will require a brake controller installation on your tow vehicle. If your truck or SUV came with a tow package, it likely came with a brake controller.
One of the major advantages of a seven-pin connection is the 12-Volt circuit, especially when towing an RV. This circuit can charge your RV's battery while you're towing. It can also allow you to run your refrigerator while you're traveling. This can help ensure your food stays cool and you don't risk spoiling any temperature-sensitive food.
Do Most Trailers Use 4- Or 7-Pin Connectors?
You'll find trailer wiring using both four and seven-pin connectors. The type of connector on a trailer largely depends on the kind of trailer. You're more likely to see four-pin connections on smaller trailers that don't require the use of electric brakes or any auxiliary connections.
Most RVs use seven-pin connections for the simple fact that they need auxiliary power connections and electric brakes. RVs are heavy, and having electric brakes helps them stop while minimizing strain on the tow vehicle's brakes. Electric brakes on your trailer can avoid the RV pushing your tow vehicle and reduce stopping distance.
Can You Convert A 4-Pin Trailer To A 7-Pin?
If your vehicle came with a four-pin connection and you want to upgrade to a seven-pin, you can. You can purchase conversion kits that allow you to plug straight into your four-pin connection. You can then wire in the connections for your reverse lights, brake controller, and auxiliary charging.
Wiring is completely different from one vehicle to the next. You must understand your vehicle's wiring before making any significant changes to the wiring system. If you are unsure, hire a professional to make the necessary adjustments or modifications to your wiring.
Your trailer's reverse wiring will likely tie directly into the reserve lights at the rear of your vehicle. Wiring for your brake controller and auxiliary charging will need to be run to the engine compartment to connect to your battery. Avoid running them near anything hot. It's a good idea to install the wiring, so it follows your brake lines to the front of your vehicle.
Always make sure you connect a fuse and never connect the wiring directly to your vehicle's battery. This helps protect components from any damage that might occur.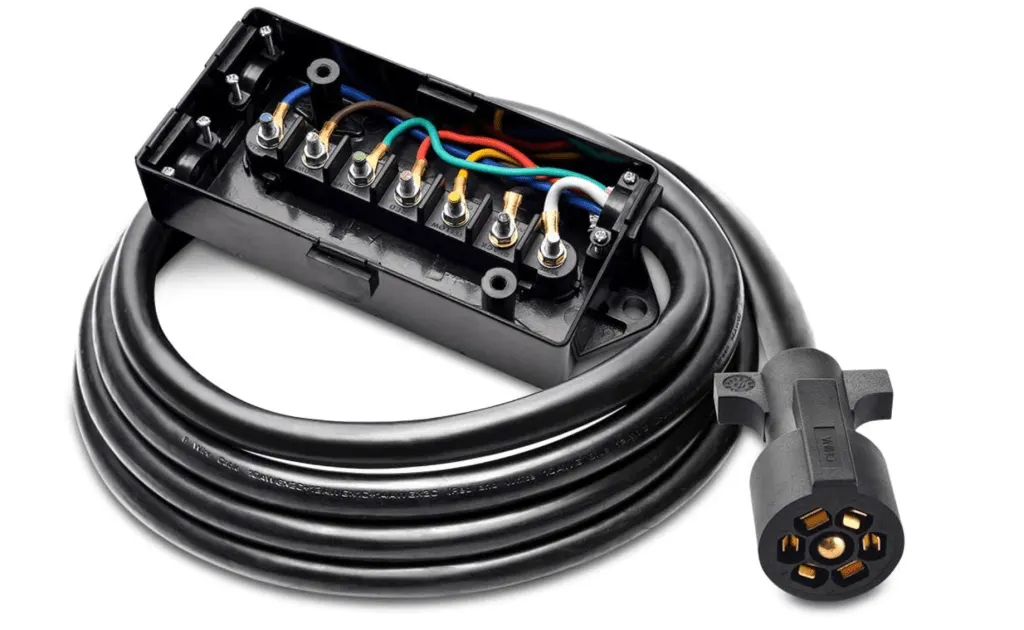 Choosing The Right Connector For Your Trailer Wiring
The proper connection depends on your trailer. If you're towing a larger trailer with electric brakes or reverse lights, you'll want a seven-pin connector. Even if your tow vehicle can easily pull a larger trailer, stopping it can do a number on your vehicle's brake system. Taking advantage of a trailer's electric brakes can give your vehicle's brakes a rest and help you avoid replacing them constantly.
If you're not planning to tow a larger trailer, you may be able to get by with a four-pin. These are typically flatbed trailers and other lighter-duty trailers used around a property. Make sure you consider what type of trailer you'll be towing before choosing your trailer collection.
Be Safer with the Correct Trailer Wiring
Having a solid connection between your tow vehicle and trailer is essential, no matter what type of trailer you're towing. Failure to have the proper connections on your tow vehicle can result in loss of functionality for your trailer and cause issues stopping.
You'll also need to communicate turns and braking with your fellow drivers. It's also important to remember that the law typically requires that you have fully functioning lights and indicators when driving, including when towing trailers. Save yourself the trouble and ensure you have the proper trailer wiring for your vehicle.
Discover the Best Free Camping Across the USA
To be honest with you, we hate paying for camping. There are so many free campsites in America (with complete privacy).
You should give it a try!
As a matter of fact, these free campsites are yours. Every time you pay federal taxes, you're contributing to these lands.
Become a FREE CAMPING INSIDER and join the 100,000 campers who love to score the best site!
We'll send you the 50 Best Free Campsites in the USA (one per state). Access the list by submitting your email below: