As camping goes viral, you'll see the entire industry change.
But how do we even know it has gone viral? What kind of changes will we see?
Read on to learn how camping is evolving and how it'll impact your RV lifestyle.
Let's jump in!
Has Camping Gone Viral?
It certainly seems like it has. Everywhere you look, you see someone camping.
Turn on the TV, and there it is—an insurance ad on the screen featuring a silhouetted camper stretching towards a glorious sunrise.
Grab your phone and check your social media accounts. It won't take you long to find the #vanlife thread. And once you do, you're bombarded with images of sculpted 20-somethings gazing out onto oceans and mountains from inside their stylish vans.
And let's not even talk about all the RVers sharing their RV travel videos.
Now, think back to just five years ago. Do you remember seeing camping plastered everywhere? No? Neither do we.
Why Has Camping Gone Viral?
Camping is beneficial to your mind, body, and soul. It's an opportunity to slow down and enjoy the simple things in life. Even if you work on the road, you can walk outside and have a quiet campfire at the end of the day. Camping allows you to destress and breathe fresh air.
Let's not forget – camping has been the only feasible way to get out and travel for the last two years.
It's also big business. Everyone's cashing in between campground and RV park owners and stores selling camping gear. There's even a market for those dreaming of camping. Head into any store, and you find t-shirts, mugs, and decor about camping and RVing.
The Disadvantages of Camping Going Viral
Crowded Campgrounds
Although there's been a massive uptick in campers, the number of campgrounds has stayed the same. This demand makes finding an available campsite difficult. Long gone are the days of pulling into a campground without a reservation.
When you do find a place to camp, it might not look like the photos either. The sites are close, the neighbors are loud, and the bathrooms are messy. There just isn't enough to go around.
Mistreating the Land
Now that camping is a sensation, people think it's just another tourist thing, like hitting up a major amusement park. The only trouble is that our public lands, national parks, and state parks are natural environments. They weren't artificially constructed.
This misunderstanding leads to campers disrespecting the land. You see campers hiking off the trail, setting up camp in prohibited areas, and feeding wildlife.
The land can't take it. As a result, these lands and parks are being closed to overnight campers – some indefinitely.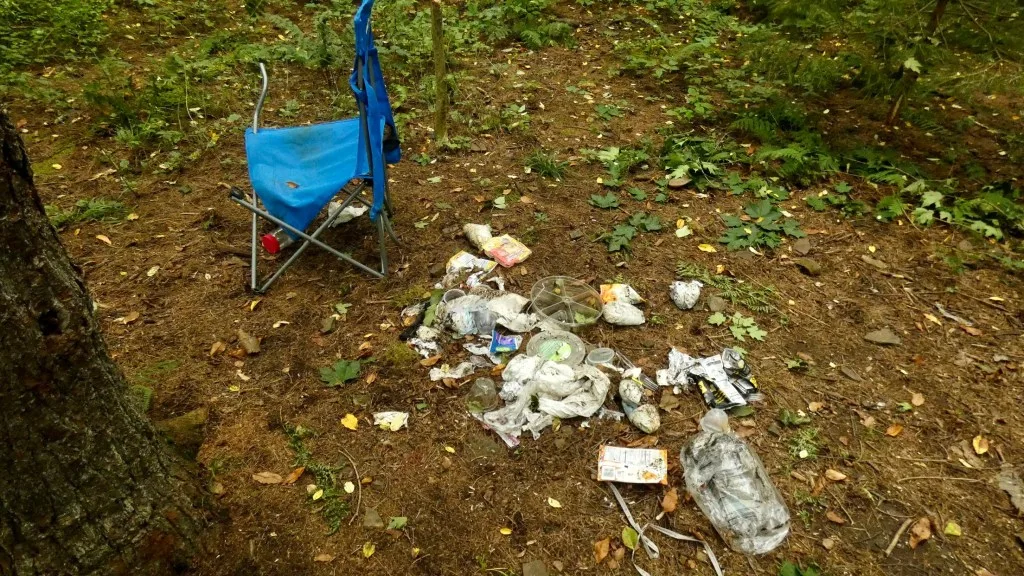 Increased Costs for Camping
Due to viral camping high demand and low supply, campers are seeing soaring prices. Not only is camping equipment skyrocketing, but so are camping fees. With demand so high, people seeking solace in the great outdoors are paying big.
Even people buying used campers aren't getting deals like they used to. It wasn't long ago that those on a budget could find a decent used RV and still have money left over. These days, everyone's paying a premium for the same product.
Social Media Glorification
We talked about social media before, but let's dig a little deeper.
While social media probably influenced many of us to hit the road, it has also had adverse effects.
What once were peaceful, sacred places like Antelope Canyon are now full of tourists trying to get just the right shot with their cell phones. Just like the ones they saw online.
Although influencers claim it's a frugal way to explore the country, it's often the exact opposite in many ways. Look at the numbers: $100 for the canyon tour, another hundred for food, high fuel costs, and expensive camping fees. Before you know it, your budget vacation turns into a budget buster.
Remember all the photos on social media of RVers parked out in beautiful remote locations? They aren't real! Well, the place is real, but it's frequently crowded with a bunch of other campers trying to get away from it all.
And how exactly did all those vanlifers put all their stuff away? How come they don't have mountains of clothes and hiking gear on their bed?
Walmart and Other Free Overnight Parking Spaces Disappearing
Unfortunately, some have taken free overnight parking in parking lots to mean that they can just camp there whenever and however they want. Companies were simply offering a safe one-night stay to tired travelers. In exchange, they hoped for extra business.
With camping going viral, what they ended up getting were people abusing the system. Campers stay for too long, set up camp, and leave the area a mess. As a result, there are fewer and fewer places for exhausted RVs to rest on long travel days.
NEWS: This Van Camper Has Slept in the Walmart Parking Lot for 2+ Years.
How Can I Avoid the Disadvantages?
Don't rush into RV life. Take the time to research and educate yourself on good etiquette and camping rules. There are a lot of resources from experienced RVers to help you. Sign up for an RV driving school, take a course for new RVers, and attend RVing events.
Do as much upfront planning as you can at every step of the way. Even if you're an experienced camper, don't assume that your knowledge still applies to what's happening today. A lot has changed in the last year or so. The last thing you want is to have a disappointing and stressful camping experience.
Use apps such as Campendium and AllStays to find your ideal campsite and read the reviews. A four-star rating could mean it used to be awesome but is now getting low reviews. Does it have the proper electric hookups for your RV, or do you need a dog bone?
Are There Any Benefits from Camping Going Viral?
Absolutely! The industry has had to change, especially with so many diverse RVers. It's no longer retirees and weekend warriors; there's an entirely new breed of camper.
Their expectations are high, and they're transforming the RV lifestyle. We can expect to see the industry cater to a younger generation seeking comfort, technology, and quality.
If a manufacturer or campground has consistently lousy customer service and products, they can't hide anymore. Upset campers now have a platform to be heard.
Is Camping Still Worth It?
Yes! Like so many other things that go viral, camping isn't perfect, but it's pretty close. There's just something about a night full of campfire laughs and drinks. Technically you can have one at home, but it isn't the same. No matter how popular it is, camping is still a great way to connect with others, disconnect from the day-to-day, and make life-long memories.
What do you think of our tips? Do you have other advice for new campers?
Discover the Best Free Camping Across the USA
To be honest with you, we hate paying for camping. There are so many free campsites in America (with complete privacy).
You should give it a try!
As a matter of fact, these free campsites are yours. Every time you pay federal taxes, you're contributing to these lands.
Become a FREE CAMPING INSIDER and join the 100,000 campers that love to score the best site!
We'll send you the 50 Best Free Campsites in the USA (one per state). Access the list by submitting your email below: