Towing an RV can be a challenge even on the best of days. Drivers usually have concerns regarding high winds, weight distribution, and pulling up steep grades.
Another concern when towing a travel trailer can be the jarring and road noise you can feel and hear in the tow vehicle.
All the stopping and starting can add to a driver's discomfort when the trailer they are pulling transfers vibrations, bumping, and rattling into the truck.
A more comfortable ride with more control can make your drive to the campsite much more enjoyable and safe. You can do this by adding a cushioned ball mount to your hitch. This simple piece of equipment can give you peace of mind while smoothing out your ride.
What Is a Cushioned Ball Mount?
A cushioned ball mount is what you may expect. The ball or the shank of the hitch sits on a cushion. This allows it to absorb much of the jolting and jarring between the travel trailer and its tow vehicle.
Manufacturers make these with a variety of materials. Some use polyurethane material on either side of the ball attachment to absorb shock. Others have cushioned isolators so the ball can pivot while attached to the trailer tongue. One feature all designs have in common is their lack of airbags or bearings, which means they are maintenance-free.
Pro Tip: Unsure what size ball hitch you need to buy? We uncovered Will Ball Hitch Size Affect My Towing Capabilities?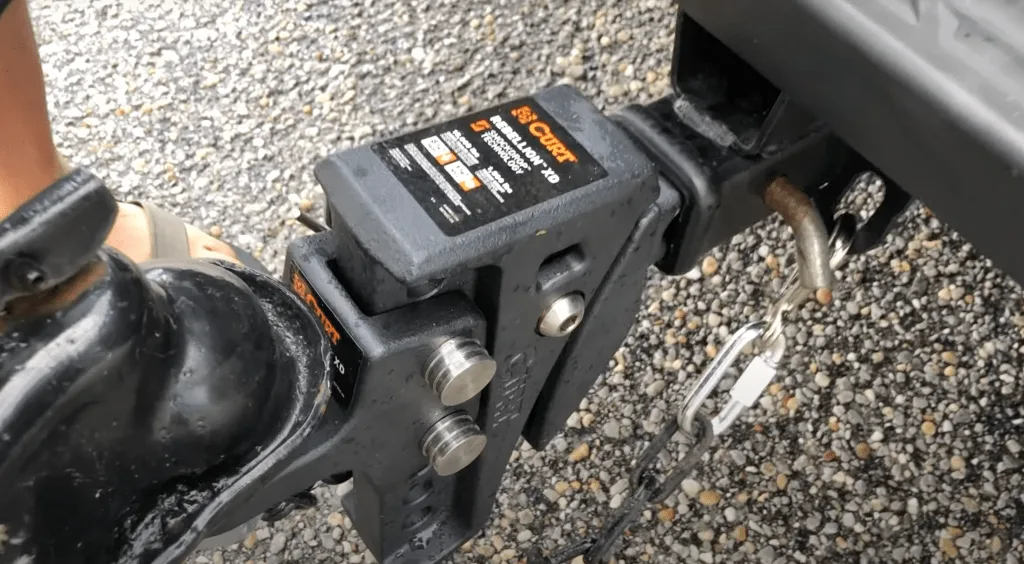 How Does a Cushioned Ball Mount Work?
There are two types of products available. In the first example, a cushioned ball will mount on any existing hitch. Its base has shock-absorbing material, allowing the ball to pivot or absorb some of the jolting that comes when hitting potholes and bumps.
The second type of cushioned ball mount uses cushioned isolators within the shank of the hitch. These isolators allow the vertical portion of the hitch to absorb movement and road noise. They tend to be for heavier towing weights and are more costly.
The other difference between these ball mounts lies in their composition. Some cushioned ball mounts utilize rubber or polyurethane, while others use flexing rubber cords. Whatever the material, these ball mounts can effectively minimize stress on the tow vehicle's suspension and braking systems.
Our Experience: Here's the cushioned ball mount we used to tow our Airstream.
How Does a Cushioned Ball Mount Affect Towing?
Regardless of the type of cushioned ball mount chosen, this piece of equipment can lessen road noise in the tow vehicle. It can also give more stability to it and extend the life of a truck's suspension and brakes.
Drivers will notice a positive change in maneuverability while towing, fewer vibrations, and more control, especially in a sudden braking situation. The driver can have more confidence and less stress with a cushioned ball mount.
Will You Notice a Big Difference By Using a Cushioned Ball Mount?
Drivers should notice the ease of installation and an improvement in control. They should also notice fewer vibrations carried into the tow vehicle when in use. The benefits of using such a device often become apparent when braking.
Pro Tip: Towing can be tricky so we put together 11 Excellent RV Towing Tips for Beginners.
How Much Does a Cushioned Ball Mount Cost?
The cost of a cushioned ball mount can vary greatly. Depending upon the type of mount and the weight ratings, these ball mounts can run from $78 to upwards of $392.
When selecting one, you should consider whether your tow vehicle will need a drop or a rise on the hitch receiver and whether a pivoting ball or a hitch shank with absorption isolators is the type of cushioned ball mount you need.
Should You Install a Cushioned Ball Mount?
It may be worth adding a cushioned ball mount to your RV towing equipment, especially if you have trouble with instability, jolting, and road noise while towing a travel trailer. If there is any question to your need, look into renting one before you buy. They are straightforward to install, and leasing will allow you to test drive this additional item.
Give Cushioned Ball Mounts a Try!
Anything that will lessen the stress of towing an RV seems like a good investment. Therefore, installing a cushioned ball mount might be an option for you. If you are still considering the benefits, think of it this way: to tow a trailer, you'll need to purchase a ball mount and hitch anyway. Why not skip the jolting and jarring, and head for a more comfortable and safe towing experience.
What is your towing set up? Tell us in the comments below!
Discover the Best Free Camping Across the USA
To be honest with you, we hate paying for camping. There are so many free campsites in America (with complete privacy).
You should give it a try!
As a matter of fact, these free campsites are yours. Every time you pay federal taxes, you're contributing to these lands.
Become a FREE CAMPING INSIDER and join the 100,000 campers that love to score the best site!
We'll send you the 50 Best Free Campsites in the USA (one per state). Access the list by submitting your email below: