The rising cost of gas has many of us looking for ways to save at the pump. Many drivers find that Costco is one of the best options to fill their tanks.
While they are a members-only club, the fuel savings might be worth becoming a member. Saving a few bucks each time you fill your vehicle with gas or diesel can add up.
So how much cheaper is Costco gas? Let's look and see!
Where Does Costco Get Its Gasoline From?
Costco buys its fuel from refineries and distributors in each area. Costco places their private label of Kirkland Signature on their fuel. They guarantee it, just like the merchandise you'll find inside their retail warehouse.
Costco is most likely getting its fuel from the same refineries as other fuel stations despite the fancy title. However, due to their pricing structure and business model, they can offer members a better price at the pump.
How Much Does Costco Gas Cost?
The price of gas at Costco varies by location. However, GasBuddy awarded Costco the title of the cheapest place to buy gas in the entire country. For example, at the time of writing, this Costco location in Nashville had regular gas for $3.95 per gallon. The neighboring MAPCO gas station had it for $4.09, which was $.14 more expensive per gallon.
This $.14 savings per gallon may not sound like much, but it would equate to a savings of $2.80 if you purchased 20 gallons of fuel. You might not be running down to join to save $2.80 on a fill-up, but if you buy this amount every week, you will save approximately $145.60 in a year. The membership can quickly pay for itself!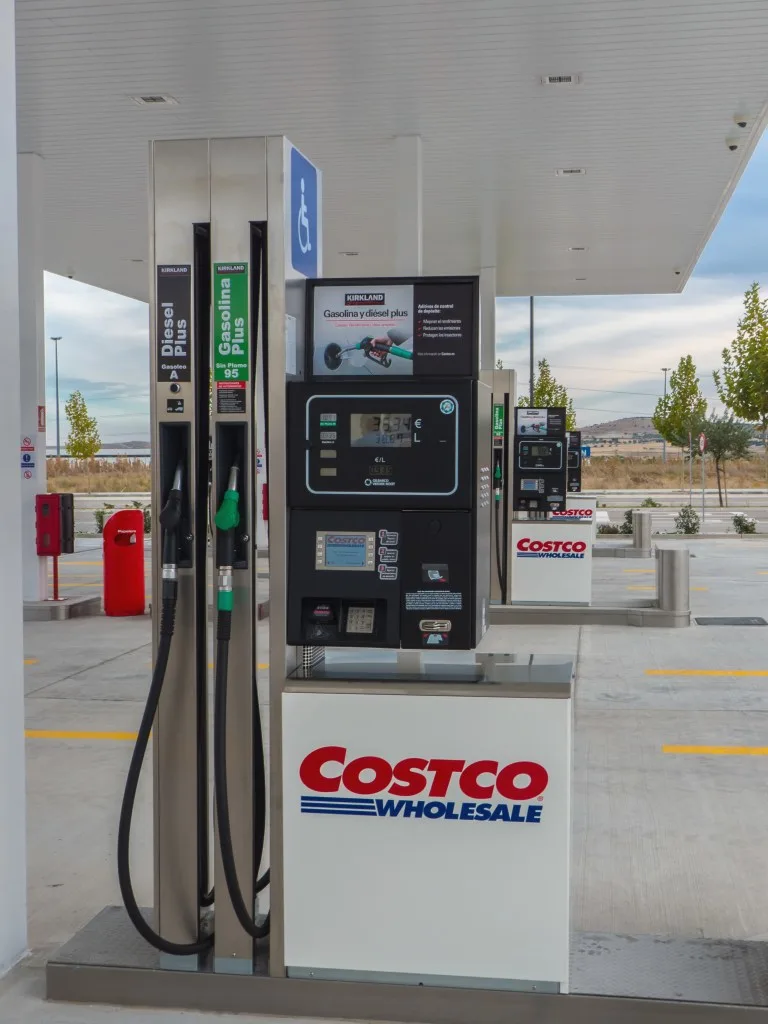 How Much Cheaper Is Costco Gas?
Costco gas is one of the cheapest places to buy gas. How much cheaper it is than its competition will vary by location and day. You can save $.30 per gallon in some areas compared to buying fuel at a neighboring station.
It's crucial to know that Costco gas stations often have long lines at the pump. You might hit the jackpot now and then, and there won't be much of a wait. However, if you think you're going to swing through and fill up on gas on your way to work, plan to make up for any lost time waiting in line. You can save a few bucks each time you fill up with Costco gas if you have some time to kill.
Can I Get Costco Gas If I Forgot My Card?
If you pull up to a Costco gas pump and realize you have forgotten your card, don't worry! All you need to do is take note of your pump number and go to the attendant booth at the fuel station. They'll be able to locate your account and authorize the pump for you.
Keep in mind this will add to the time it takes for you to fill up your tank. Those waiting in line behind you might not be all that excited. So make sure you have your card before you fill up your tank.
Can You Get Gas At Costco Without a Membership?
Costco gas stations are similar to their warehouse locations, and you need a membership to make a transaction. The cheapest annual membership is $60, and Costco doesn't offer free shopping passes. Make sure you stop by the membership counter at your nearest location or sign up for a membership online.
Is Costco Gas Less Efficient?
The gas you get at Costco is almost always equally as efficient as any other gas station. If you fill up at Costco and notice a difference, it's more likely due to a change in driving habits or conditions than the gas in your tank.
The only noticeable difference should be the price you're paying at the pump.
Is Buying Gas At Costco Worth It?
If you burn through a lot of gas, a Costco membership is worth it. Even when you consider the cost of the membership itself, saving a few bucks at each fill-up can still save you hundreds of dollars each year. You'll enjoy even more savings if you buy items in bulk from their warehouse locations.
If there isn't a convenient Costco location for you to fill up, joining might not be worth it. Unnecessarily driving across town would likely eat up any fuel savings you would experience by filling up at Costco.
Do you have a Costco membership and enjoy filling up at their gas stations?
Discover the Best Free Camping Across the USA
To be honest with you, we hate paying for camping. There are so many free campsites in America (with complete privacy).
You should give it a try!
As a matter of fact, these free campsites are yours. Every time you pay federal taxes, you're contributing to these lands.
Become a FREE CAMPING INSIDER and join the 100,000 campers who love to score the best site!
We'll send you the 50 Best Free Campsites in the USA (one per state). Access the list by submitting your email below: