Have you ever heard of the Love Circle?
Although it's a real place, most people haven't. It's a true hidden gem.
Read on to learn about the Love Circle, its history, and why people go there.
Let's dig in!
About Love Circle
Also known as "lovers lane," Love Circle was initially known as Bald Hill. At 744 feet, Love Circle is the highest point of the old City of Nashville.
In 1994, the local neighborhood association commissioned a historical marker detailing the area's history. Love Circle is just a road. It's Love Park where locals and tourists visit.
According to the historical marker, the city purchased the property from John W. Love. Although many people go to the area for a romantic date night or to propose, the name comes from the area's owner.
Where Is Love Circle?
Love Circle is a place where you can bring a blanket, picnic, and bubbly. Settle in just before sunset and relax. Take in downtown Nashville's skyline, then watch the sun as it slowly sets. The skyline changes minute by minute until the sun dips below the horizon. Love Circle is also wonderfully situated in a place that allows you to see the countryside.
You get to pick the ideal spot on Love Circle. You might be confused when you arrive since it's just a circular road in a residential neighborhood. Park on the side of the road, then climb up the steep grassy hill to the top of Love Park. There are no picnic tables or facilities, just unobstructed views of Downtown Nashville and beyond.
There's no specific address for Love Circle, but you can get close to the park if you go to 3441 Love Circle in Nashville.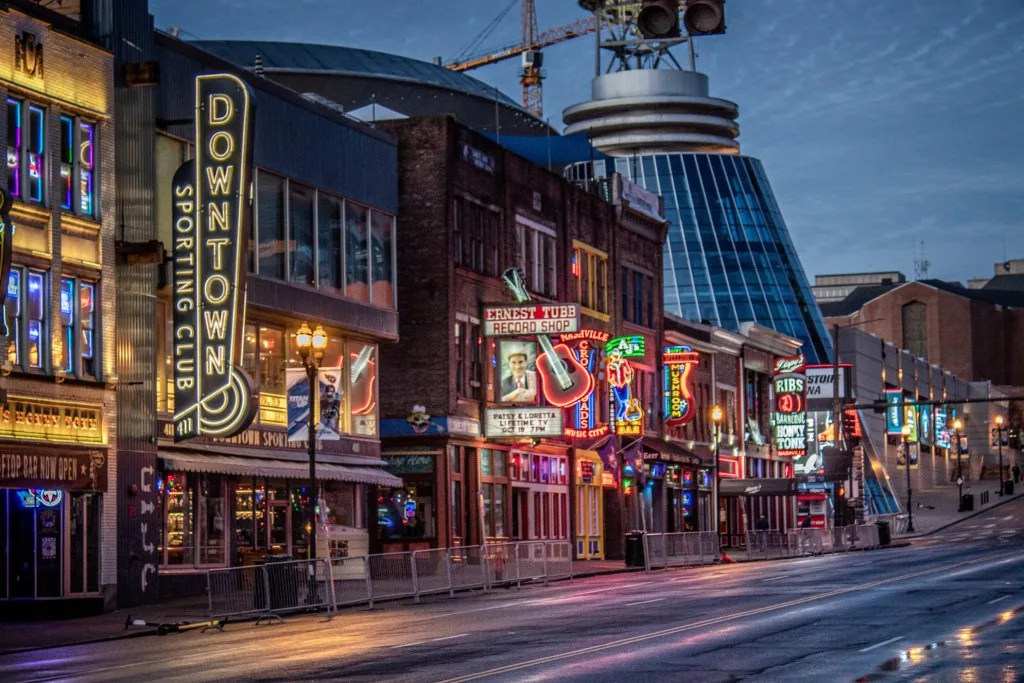 Where Is the Best View of Nashville?
Love Circle isn't the only place to get a great view of Nashville. You can also head over to the Shelby Street Bridge or hop on the Soul of Music City Night Trolley Tour.
Shelby Street Bridge
Located above the Cumberland River, Shelby Street Bridge allows visitors to enjoy skyline views of Nashville and the river. The bridge connects 2nd Avenue and the Nissan Stadium and spans 3,150 feet.
It's a pedestrian-only bridge, so you don't have to worry about slowly strolling and stopping to take photos.
The center lane is a 15-foot wide bike-only lane if you enjoy cycling. On each side of this bicycle lane, there are 10-foot wide elevated sidewalks for walking. Check out the four scenic pedestrian overlooks for magnificent views.
Pro Tip: Fuel up for your Nashville adventures with The Best BBQ in Nashville.
Soul of Music City Night Trolley Tour
If a night tour is more your speed, you might want to leave the kids at home and check out the Soul of Music City Night Trolley Tour. The excursion offers scenic views of the city, local music, and guides knowledgeable in everything you see and hear.
The double-decker trolley meanders for 90 minutes through the city's most popular points of interest. Sit back, watch and learn about Historic Jefferson Street, Music Row, and Ryman Auditorium, just to name a few.
Best Hikes Near Love Circle
Richland Creek Greenway Trail
Located just eight minutes west of Love Circle, you can enjoy a family and dog-friendly hike at Richland Creek Greenway Trail. Also known as McCabe Golf Course Loop, the 2.8-mile paved trail typically takes about one hour and 13 minutes to complete.
The trailhead is easy to spot and starts at a paved parking lot. It's an enjoyable walk, but it's heavily trafficked. Not necessarily a quiet hike in the boonies; it's more like a nice nature walk.
You can find the Richland Creek Greenway Trail at the following coordinates: 36.14473, -86.84923. Entering the following into your map app also works: McCabe Trailhead Parking, Parking lot, Wyoming Avenue, Nashville, TN.
Pro Tip: Camp out at one of these 7 Best RV Parks in Nashville, Tennessee.
Radnor Lake Trail
With a 2.7 mile loop and ample wildlife, Radnor Lake Trail is an easy hike that takes just over an hour to complete. The path is inside Radnor Lake State Park and is only one of six trails. We recommend stopping at the visitor center to make sure you choose the correct trail.
Radnor Lake Trail is a popular hiking, walking, and running area. Although dogs are allowed, they should only use paved paths. The same goes for runners.
Radnor Lake State Park is only 7 miles south of Love Circle at 1160 Otter Creek Road in Oak Hill.
Best Camping Near Love Circle
Cedar Creek Campground
Cedar Creek Campground has 60 gravel and paved campsites for RVs and tents. The campground is seasonal and only open between April and October. It's a U.S. Army Corps of Engineers campground with a maximum stay of 14 days.
All campsites have water and electric hookups and picnic tables. The campground also has an on-site dump station, laundry room, playground, swim beach, and bathhouses. You can bring your dog, but there's no dog run or dog park.
Visitors can enjoy sailing, swimming, fishing, birding, and wildlife views of deer, wild turkeys, and rabbits. The campground is near Old Hickory Lake, a 22,500-acre reservoir surrounded by shady woods and grasses.
You can find Cedar Creek Campground 26 miles southeast of Love Circle on 9264 Saundersville Road in Mount Juliet.
Two Rivers Campground
If you're interested in a campground a little more Opry, you might consider Two Rivers Campground. It's only 2.8 miles from the Grand Ole Opry.
All campsites are gravel and have at least water and electricity. There are also quite a few full hook-up campsites. Two Rivers Campground has quite a few amenities, including a playground, camp store, game room, bathhouse, pool, dog park, and dog walk area.
If you're tent camping, you'll need to find another campground. Two Rivers Campground is only for RVs.
Two Rivers is 16.5 miles Northeast of Love Circle at 2616 Music Valley Drive in Nashville.
Is a Road Trip to Love Circle Worth It?
A road trip that includes Love Circle is a must. It's an unusual spot with great rewards, and it's free. Tell us in the comments if you have ever been to Love Circle?
Discover the Best Free Camping Across the USA
To be honest with you, we hate paying for camping. There are so many free campsites in America (with complete privacy).
You should give it a try!
As a matter of fact, these free campsites are yours. Every time you pay federal taxes, you're contributing to these lands.
Become a FREE CAMPING INSIDER and join the 100,000 campers who love to score the best site!
We'll send you the 50 Best Free Campsites in the USA (one per state). Access the list by submitting your email below: