You don't need a lot to start RVing. However, there are a few items you'll need to purchase before you head out to a campsite for the first time. Wheel chocks, leveling blocks, a surge protector, and water and sewer hoses are essential.
As you continue RVing, there will be more things you'll add to your list, like a water regulator, sewer support hose, and tire pressure monitoring system.
Let's look at the two kinds of RV hoses you don't want to leave home without!
What RV Hoses Do I Need?
If you're staying at a campground with full hook-ups–electric, water, and sewer–you'll need a hose for drinking water and a hose to empty your tanks. You do not want to use the same hose for both purposes. You'll severely endanger your health if you use the same hose for potable and non-potable water needs.
Even if you're dry camping without hook-ups, you'll want to have both hoses on-hand. You'll need to fill up your fresh tank and empty your gray and black tanks.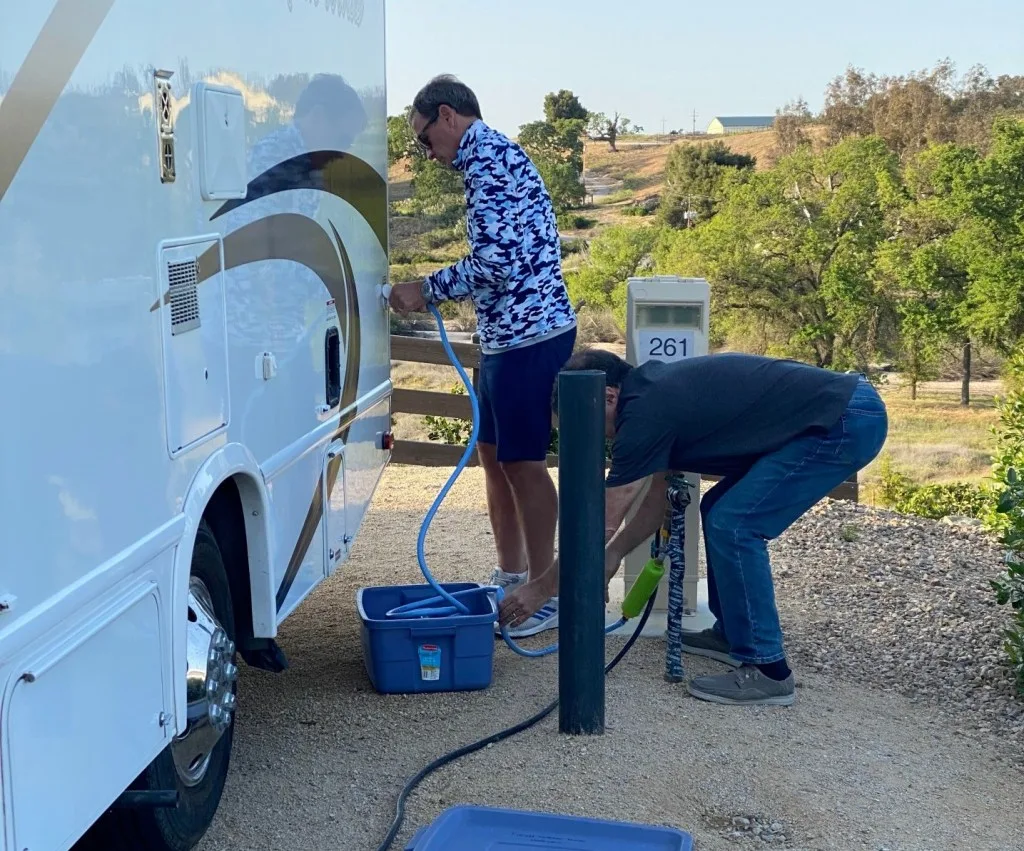 Water Hoses
Your drinking water hose needs to be long enough to reach the water spigot at a campsite. Unfortunately, there's no telling where the spigot will be. Most campers will have a 50' hose or two 25' hoses they can attach if needed. You'll also want to make sure your drinking water hose is BPA-free and lead-free. You want your hose to be made with safe materials to protect your health.
Some water hoses are kink-free, which usually means a longer lifespan.
Twisting and scuffing can lead to tears and cracks, so finding one with a reinforced design is crucial. Finally, make sure your drinking water hose and sewer hose are two colors, so you never have to worry about grabbing the wrong one.
Sewer Hoses
There are two sewer hoses you'll want to purchase. One will look like a regular hose, so you should buy a different color than the drinking water hose. You'll use this hose to flush out the black tank.
Usually, there are two hoses at dump stations. One is for potable water to fill your fresh tank if you're dry camping. The other is for cleaning your black tank. You do not want to get these two hoses confused.
The second sewer hose you'll need is the hose that connects your tanks to the sewer hook-up. Whether you're at a full hook-up campsite or dumping at a dump station, you'll need this hose. It connects underneath your rig to the tank valve. The other end connects to the ground to the sewer.
If you RV frequently, you may want to add a sidewinder support hose that lifts your sewer hose off the ground for better flow.
Pro Tip: Make sure you have these 5 RV Sewer Hose Fittings on hand when RVing.
How Many Hoses Should an RVer Carry?
It's always best to have a backup hose. If you get to a campsite and you find your hose has rotted between the last camping trip and this one, you'll be dry camping or making a trip to the nearest Walmart.
If you camp in winter conditions, you'll also want to add a heated water hose to your camping gear. These hoses have electric elements and insulation that keep your water from freezing. When not plugged in, the hose operates like a regular drinking hose. These heated hoses are a bit more expensive than the standard drinking water hoses, so it's not necessary to have one unless you plan on camping consistently in below-freezing temperatures.
Pro Tip: Doing some cold weather camping? Find out What Is a Heated RV Water Hose to keep your equipment working in all temperatures.
Do You Need Two Water Hoses for an RV?
Most RVers will need two water hoses; one for potable water and one for non-potable water. It's dangerous to your health to use the same hose to clean out your waste tanks and fill up your fresh tank. Although you may be careful, it's still possible for bacteria to collect outside the hose. If you put that bacteria into your freshwater tank, you could be in trouble.
How Long Of a Water Hose Do You Need for RV?
If you camp at national parks, you'll probably want a 50' drinking water hose because the spigots can be far from the campsites. If you tend to camp in RV parks or resorts with full hook-ups, you can probably get by with a 25' drinking water hose.
However, the length of your RV is also essential. If your fifth wheel is 40' long, you'll need to purchase a 50' hose so that if the hook-up is at the rear of your campsite, you'll be able to connect it to the front of your RV. If you have a tear-drop travel trailer, a 50' hose probably isn't necessary.
How Do You Store Hoses in an RV?
Some RVers will store the sewer hose in the rear bumper. However, they won't always fit. There's also a sewer hose carrier that connects to the frame underneath the RV. It's critical to keep the sewer hose stored separately from the drinking water hose.
You'll need to store the other hoses in a tub or container so that when water trickles out of the hose, it doesn't get the outdoor storage compartment wet. You could have a mess to clean up if you wind up the hoses and put them in a storage bay.
Can You Use a Regular Hose for RV?
A simple garden hose is perfect for cleaning out the black tank. You don't need anything special. But you want to purchase a hose made with BPA-free and lead-free materials for your drinking water hose. The sewer hose that connects from underneath the RV to the sewer in the ground is a specially-made hose with specific fittings.
It may seem like an easy solution to grab your green garden hose, throw it in your truck, and head to your local state park. However, you don't want to do that. Spend the money to get a safe drinking water hose. Perhaps you'll want to get a backup as well.
Do you have a separate hose for potable water and non-potable water? Tell us how many hoses you have in your RV in the comments!
Discover the Best Free Camping Across the USA
To be honest with you, we hate paying for camping. There are so many free campsites in America (with complete privacy).
You should give it a try!
As a matter of fact, these free campsites are yours. Every time you pay federal taxes, you're contributing to these lands.
Become a FREE CAMPING INSIDER and join the 100,000 campers that love to score the best site!
We'll send you the 50 Best Free Campsites in the USA (one per state). Access the list by submitting your email below: